1. STRONG END TO 2020 PUTS DB PLAN FUNDED STATUS BACK TO WHERE IT STARTED THE YEAR:
The funded status of the nation's largest corporate pension plans started and finished last year at the same level, as declining interest rates caused pension obligations to grow, offsetting gains from investments in equities and bonds, according to an analysis by Willis Towers Watson.
Willis Towers Watson examined pension plan data for 366 Fortune 1000 companies that sponsor U.S. defined benefit (DB) plans and have a December fiscal-year-end date. Results indicate that the aggregate pension funded status is estimated to be 87% at the end of 2020, unchanged from 87% at the end of 2019. The analysis also found the pension deficit is projected to be $233 billion at the end of 2020, slightly higher than the $230 billion deficit at the end of 2019.

In its U.S. pension briefing for December, River and Mercantile notes that global equities posted a solid month to close out the year, up anywhere from 4% to 8%, with small cap and international developed markets seeing the largest gains. For 2020 as a whole, U.S. equity markets ended the year up 15% to 19%, with international equities posting high single digit returns.

According to River and Mercantile, pension discount rates were basically flat during December, up only 0.02% during the month, leaving the total discount rate decline relative to year-end 2019 at approximately 0.70%.

The firm says plans with significant U.S. equity exposure will likely finish off 2020 in a better position than they began."December proved to be a good month for pension plan sponsors with discount rates remaining flat and positive equity returns translating into funded status gains for most plans. Going into 2021 many plan sponsors will be hoping to see the 2020 trend of declining discount rates reverse course," says Michael Clark, managing director at River and Mercantile. "With all the forces at play in the current economic environment, it's difficult to see how rates will move back to 2018 and 2019 levels in 2021. We expect some movement in discount rates with the improvement in economic activity, but not back to the levels 3.5% to 4.0% from a few years back, at least for the for the first half of 2021."

The aggregate funded ratio for U.S. corporate pension plans increased by 1.7 percentage points month-over-month in December to end the month at 86.8%, a 0.3 percentage point decrease from December 2019, according to Wilshire Associates.
"Over the calendar year, the funded ratio saw heightened volatility dropping more than 7 percentage points during the first quarter with a near full recovery over the final three quarters" says Ned McGuire, managing director, Wilshire Associates.
Wilshire says December's funded ratio resulted from a 1.5 percentage point increase in asset values and a 0.3 percentage point decrease in liability values. Over the year, there was a 10 percentage point increase in liability, mostly offset by a 9.5 percentage point increase in asset values.
The average funded ratio of corporate pension plans improved in December to 86.4% from 84.5%, according to Northern Trust Asset Management (NTAM) data. Global equity market returns were up approximately 4.6% during the month. The average discount rate increased from 2.08% to 2.1% during the month, which led to lower liabilities.
"Despite a tumultuous year in equities and rates, the average funded ratio is now back to where it was at the beginning of the year. It is noteworthy, however, that discount rates are still down 74 basis points [bps] from the end of 2019. The market rally over the last several months has been the main driver for the recovery in the funded ratio," says Jessica Hart, head of the OCIO [Outsourced Chief Investment Officer] Retirement Practice at NTAM.
Barrow, Hanley, Mewhinney & Strauss LLC has estimated that corporate pension plan funded ratio increased to 89.1% as of December 31, from 84% as of September 30. Continuing the trend since Q1 2020, strong equity market performance more than offset pension liability increases.
Jeff Passmore, liability-driven investing (LDI) strategist says, "The fact that funded status ended 2020 at 89.1%, roughly where it began the year, is ironic. In fact, average funded status fell to 72.7% as of March 23, and has improved each quarter-end since. Pensions that have implemented LDI experienced less volatility. Those that have not implemented LDI had larger swings."
Legal & General Investment Management America (LGIMA) estimates that pension funding ratios increased approximately 2.3 percentage points throughout December, with the impact primarily due to the strong equity performance outpacing plan liabilities. Its calculations indicate the discount rate's Treasury component increased 7 bps while the credit component tightened 6 bps, resulting in a net increase of 1 bp, according to the LGIMA Pension Solutions' Monitor. Overall, liabilities for the average plan remained relatively flat, while plan assets with a traditional 60/40 asset allocation rose approximately 2.9%.
LGIMA's Pension Fiscal Fitness Monitor, a quarterly estimate of the change in health of a typical U.S. corporate DB plan, found that pension funding ratios increased over the fourth quarter of last year. It estimates the average funding ratio increased from 77.9% to 82.1% over the quarter based on market movements.
Equity markets saw a strong rally over the quarter, with global equities increasing 14.8% and the S&P 500 increasing 12.2%. Plan discount rates were estimated to have fallen by 17 bps in total. Treasury rates rose 20 bps on average while A-AAA credit spreads tightened 37 bps over the quarter. Overall, plan assets with a traditional 60/40 asset allocation increased 9.1%, resulting in a 4.2% increase in funding ratios over the fourth quarter of 2020.
"The fourth quarter capped off a year of extraordinary market volatility with investors experiencing a dramatic downturn, quickly followed by an impressive recovery in asset prices," says Chris Wroblewski, solutions strategist at LGIMA. "Volatile times like this show the importance of decoupling risks that can impact pension plan funded status, such as interest rate and credit spread risk. Separating these risks can help plans design and implement a more appropriate LDI strategy. The adoption of a more tailored fixed income allocation through a completion framework can help protect funded status drawdowns and complement a plan's de-risking glide path given unexpected market volatility."
"December gave us one more turn of the screw from extraordinary 2020 stock markets, pushing pension sponsors into the black for the year," says Brian Donohue, a partner at October Three Consulting, in his December 2020 Pension Finance Update. Both model plans October Three tracks gained ground last month, with Plan A adding 3% and Plan B gaining 1% during the month. Plan A ended the year with close to a 2% gain, while Plan B managed a 1% gain during 2020. Plan A is a traditional plan (duration 12 at 5.5%) with a 60/40 asset allocation, while Plan B is a largely retired plan (duration 9 at 5.5%) with a 20/80 allocation with a greater emphasis on corporate and long-duration bonds.
"Pension funding relief has reduced required plan funding since 2012, but, under current law, liabilities will increase substantially over the next three years," Donohue says. "Plans that have only made required contributions in the past can expect significant increases in required contributions over the next couple years."
He adds that the rebound in pension finances since March has reduced the likelihood of additional pension funding relief legislation. "There is some chance we get more relief in 2021, but the recovery we have seen this year may make that less likely," Donohue says.
S&P 500 aggregate pension funded status increased in the month of December from 89.3% to 91.3%, according to Aon's Pension Risk Tracker. This is the first time the tracker showed a result over 90% since its inception in 2011.
Pension asset returns were positive during the month, ending December with a 2% return. The month-end 10-year Treasury rate increased by 9 bps relative to the November month-end rate, and credit spreads narrowed by 5 bps. This combination resulted in an increase in the interest rates used to value pension liabilities from 2.25% to 2.29%. Given that a majority of the plans in the U.S. are still exposed to interest rate risk, the decrease in pension liability caused by increasing interest rates slightly compounded the positive effect of asset returns on the funded status of the plan.
During 2020, the aggregate funded ratio for U.S. pension plans in the S&P 500 has increased from 86.8% to 91.3%, Aon finds. The funded status deficit decreased by $87 billion, which was driven by asset increases of $210 billion, offset by liability increases of $123 billion year-to-date.

NEPC's tracking of two hypothetical pension plans found that for the fourth quarter, the funded status of a total-return plan increased by 5.9%, outperforming an LDI-focused plan, which rose by 5.4%. The funded status of the total-return plan improved as risk assets gained in the quarter, and the LDI-focused plan saw a positive return in funded status from gains in risk assets, according to NEPC's Pension Funded Status Monitor. The plan is 81% hedged as of December 31. Rebecca Moore, PLANSPONSOR, www.plansponsor.com, January 11, 2021.

2. BILL TO INCREASE SOME FIREFIGHTERS' PENSIONS ADVANCES:
A Chicago pension bill that sputtered last spring is now barreling toward final passage after getting approval from the Illinois Senate over the objections of Mayor Lori Lightfoot's administration. The Senate voted 37-14 today to double the cost of living adjustments (or COLAs) for a subset of roughly 2,200 firefighters, sending the measure to Gov. J.B. Pritzker's desk for final approval. Proponents say the change would help Chicago firefighters get the same benefits as others get in the state. But the city is opposed, saying it would "cost taxpayers $18 to $30 million per year."

A mayoral spokesperson said the measure would "pass on a massive, unfunded mandate to the taxpayers of Chicago at a time when there are no extra funds to cover this new obligation."
The bill's sponsor, Sen. Rob Martwick, D-Chicago, said during brief debate this afternoon that the legislation only codifies an existing wink-and-nod city practice. The current law is "one of the oddest quirks of pension law" and is "the most austere COLA offered in any pension system in the state of Illinois," Martwick said. The proposal cleared the House in spring of 2019.
Currently, two firefighters that start on the same day and work for the same length of time could have "dramatically different COLAs" depending on their birth date. Those born after Jan. 1, 1966 get a 1.5 percent COLA adjustment with a cap of 30 percent (which they would hit in 20 years). Those born before that date receive a 3 percent annual cost of living increase with no cap.
Since 1982, Martwick says, "the Illinois General Assembly, with a wink-wink nod-nod agreement with the City of Chicago, has moved that (birth) date up, bit by bit by bit." The last year the date was inched up was 2017.
"This bill makes the law reflect what the actual practice is, and I'd suggest if what we're trying to do is achieve pension stability, that the first thing you ought to do is make finances transparent," Martwick said. "This bill puts into the statute exactly the benefit that they will receive, and it requires the City of Chicago to calculate the benefit on this actuarial ramp they are on to get funding so they can actually get to 90 percent funding that they've promised to do."

The Chicago firefighters pension "is a severely underfunded plan," according to fund's latest actuarial report. "The funded ratio is only 18.4 percent using market value of assets and the unfunded actuarial accrued liability is $5.1 billion as of December 31, 2019."
The majority of fund's costs are paid for with property taxes, and the mayor's office warns that enacting the legislation could lead to a tax hike.
"If this irresponsible piece of legislation becomes law, Chicago taxpayers will be on the hook for $18 to $30 million per year, totaling over $850 million by 2055," according to a statement. "It is these very kinds of actions that further erode confidence in government."
The measure would cost the city over $850 million by 2055, according to a city spokesperson. Lightfoot already faced significant pushback from aldermen over a relatively modest property tax hike in her most recent budget. She and Martwick have butted heads in the past. Brad Cole, the executive director of the Illinois Municipal League, said in a statement that this only makes the city's unfunded pension liability debt worse. "This is better left to the normal agreement process, where all sides can negotiate and work out their respective positions in full transparency and dialogue."
Laurence Msall, President of the Civic Federation, a fiscal watchdog group, said his organization will urge the governor to veto the legislation. "This is a total disconnect from the fiscal reality facing Chicago and its pension funds. To add benefits without any plan or connection to how the city's expected to pay for them really is concerning. The total cost of over $850 million through 2055 to Chicago taxpayers is difficult to process, and why this would be an urgent priority of the lame duck legislative session escapes us." A.D. Quig, Crain's Chicago Business, www.chicagobusiness.com, January 11, 2021.

3. PLAN ADMINISTRATORS, PLAN COMMITTEES, AND PUBLIC AGENCY 457(B) PLANS:
Many investment advisors for public agency 457(b) plans believe that their public agency clients must have a retirement plan committee in order for the plan to have a proper plan administrator or fiduciary structure. As discussed below, we think that there are a lot of good reasons: (a) not to establish a formal committee as the plan administrator; or (b) to limit the scope of a committee's responsibilities.
In a recent blog on the duties and responsibilities of plan administrators, we highlighted the fact that most plan administration deals with the day-to-day communications and dealings with participants, beneficiaries and recordkeepers. The vast majority of plan administration activities consist of these things, not the oversight or selection of plan investments.
The day-to-day administration of a retirement plan cannot be handled well by a committee of individuals dispersed throughout the organization where it might take days or weeks to schedule a meeting or call. Various matters such as the approval of unforeseeable emergency distributions, loans including CARES Act loans, domestic relations orders, or death benefit payments often cannot and should not take weeks to approve. These types of matters are best handled by staff in human resource positions who are intimately familiar with the terms of the plan and the applicable "request" processes. They are not well-suited to resolution by union or bargaining representatives, or large committees, that may be unfamiliar with such plan details.
Many, if not most, employees asked to serve on a plan administrative committee think that they will be meeting on a quarterly basis to receive reports and recommendations concerning the status of plan investments. While a committee certainly can be formed for this purpose, we think it is important to clarify the expected scope and duties of any such committee. Too often, the day-to-day responsibilities of plan administration are conflated with the more periodic investment oversight activities. If any agency wants to involve more employees, or employee groups, in plan oversight, we recommend that the committee be structured as an advisory group and only responsible for dealing with plan investment issues. Utilization of a "3(38) adviser" would make a lot of sense in this setting.
Another important reason for taking care in the formation of any plan-related committee is because of the potential application of the Brown Act's open meeting rules. We strongly believe that for a wide variety of reasons, a Brown Act committee is not the ideal vehicle for handling day-to-day plan administration and, in many cases, may not be a good vehicle for overseeing plan investments. There are ways to create and structure a plan "investment committee" that is not subject to Brown Act requirements, but this may take a bit of planning.
Given the differences between day-to-day administration and investment oversight responsibilities, we are seeing a number of public agencies adopting "bifurcated" or split plan administration structures: with specific individuals in HR or finance responsible for day-to-day administration and an investment committee responsible for more periodic oversight of plan investments.
Regardless of which structure your agency adopts, it is critical for everyone to understand the nature and scope of their duties and responsibilities and to be in a position to fulfill their duties in a prudent and timely manner. Jeff Chang, Best Best & Krieger LLP, http://focusonpublicbenefits.com, January 6, 2021.

4. FREE WEBINAR - THE CURRENT STATE OF PUBLIC DEFINED CONTRIBUTION PLANS:
Join on January 28th as the Public Retirement Research Lab (PRRL) explores inaugural findings from the first-ever comprehensive database of public sector defined contribution plans.

The PRRL database is the most extensive of its kind, containing participant- and plan level-data representing 213 457(b), 401(a), 403(b), 401(k) and other public DC plans of state, county, city and subdivision government employees.

During the webinar, we'll explore employee and employer contributions, plan balances, investments, and loans by various demographics such as age, tenure, and plan type. We'll discuss how plan sponsors and providers can leverage the data to inform plan administration, participant engagement, and more. Register today to save your seat!

The PRRL, an industry-sponsored collaborative effort of NAGDCA and the Employee Benefit Research Institute (EBRI), formed in 2019 to collect and analyze public sector plan data to provide unbiased, actionable findings.

Details:
- Date: January 28, 2021
- Time: 2:00 p.m. EST

Speakers:
- Henry C. Levy (Hank), CPA/CFE - Treasurer-Tax Collector, Alameda County
- Jack VanDerhei, Ph.D. - Research Director, Employee Benefit Research Institute (EBRI)

Click here to register. Public Retirement Research Lab, www.prrl.org, January 7, 2021.

5. MISSING PARTICIPANTS – BEST PRACTICES FOR PENSION PLANS:
Employees work hard and make sacrifices to earn and save for retirement. Sometimes, though, retirement plan participants don't apply for their pension benefits at retirement time because they don't know their pension is available or understand the consequences of failing to respond to plan communications. EBSA has undertaken a nationwide compliance initiative to help retirement plans focus on practices to maintain complete and accurate census information, communicate with participants and beneficiaries about their eligibility for benefits, and implement effective policies and procedures to locate missing participants and beneficiaries. This document outlines best practices that the fiduciaries of defined benefit and defined contribution plans, such as 401(k) plans, can follow to ensure that plan participants and beneficiaries receive promised benefits when they reach retirement age.
The first step in addressing any problem often is knowing that there is one. EBSA has learned from its experience and from plan sponsors that the following "red flags" are often warnings or indicators of a problem with missing or nonresponsive participants.
More than a small number of missing or nonresponsive participants.
More than a small number of terminated vested participants who have reached normal retirement age but have not started receiving their pension benefits.
Missing, inaccurate, or incomplete contact information, census data, or both (e.g., incorrect or out-of-date mail, email, and other contact information, partial social security numbers, missing birthdates, missing spousal information, or placeholder entries).
Absence of sound policies and procedures for handling mail returned marked "return to sender," "wrong address," "addressee unknown," or otherwise, and undeliverable email.
Absence of sound policies and procedures for handling uncashed checks (as reflected for example, by the absence of an accounting journal or similar record of uncashed checks, a substantial number of stale uncashed distribution checks, or failure to reclaim stale uncashed check funds in distribution accounts).
A common characteristic of plans with low numbers of missing and nonresponsive participants is that staff are committed to making sure that plan records are complete and up to date and to proactively taking steps to ensure that participants and beneficiaries get the benefits they have earned in a timely fashion. Those plans use "best practices" as part of their ongoing culture of fiduciary compliance rather than just as one-time or sporadic "fixes." Some of the practices used by well-run plans to connect participants and beneficiaries with their hard-earned benefits are listed below.
Not every practice below is necessarily appropriate for every plan. The examples are not listed by priority or in any other particular order. Responsible plan fiduciaries should consider what practices will yield the best results in a cost effective manner for their plan's particular participant population. In deciding what steps are appropriate, plan fiduciaries should also consider the size of a participant's accrued benefit and account balance as well as the cost of search efforts. The specific steps taken to locate a missing participant, or to obtain instructions from a nonresponsive participant, will depend on facts and circumstances particular to a plan and participant.

Examples of Best Practices.
In the course of its investigations, EBSA observed the missing participant processes and practices of several plans ranging from the poorly run to the well-run. Based on EBSA's experience working with plans, the following practices have proven effective at minimizing and mitigating the problem of missing or nonresponsive participants.
- Maintaining accurate census information for the plan's participant population.
Contacting participants, both current and retired, and beneficiaries on a periodic basis to confirm or update their contact information. Relevant contact information could include home and business addresses, telephone numbers (including cell phone numbers), social media contact information, and next of kin/emergency contact information. Well-run plans regularly reconfirm that the information in their possession is accurate.
Including contact information change requests in plan communications along with a reminder to advise the plan of any changes in contact information.
Flagging undeliverable mail/email and uncashed checks for follow-up.
Maintaining and monitoring an online platform for the plan that participants can use to update contact information for themselves and their spouses/beneficiaries, if any, and incorporating such updates into the plan's census information.
Providing prompts for participants and beneficiaries to confirm contact information upon login to online platforms.
Regularly requesting updates to contact information for beneficiaries, if any.
Regularly auditing census information and correcting data errors.
In the case of a change in record keepers or a business merger or acquisition by the plan sponsor, addressing the transfer of appropriate plan information (including participant and beneficiary contact information) and relevant employment records (e.g. next of kin information and emergency contacts). EBSA has found that in the context of an acquisition, merger, or divestiture, well-run plans make missing participant searches of plan, related plan (e.g., health plan) and employer records (e.g., payroll records) part of the collection and transfer of records.
- Implementing effective communication strategies.
Using plain language and offering non-English language assistance when and where appropriate.
Stating upfront and prominently what the communication is about – e.g., eligibility to start payment of pension benefits, a request for updated contact information, etc.
Encouraging contact through plan/plan sponsor websites and toll free numbers.
Building steps into the employer and plan onboarding and enrollment processes for new employees, and exit processes for separating or retiring employees, to confirm or update contact information, confirm information needed to determine when benefits are due and to correctly calculate the amount of benefits owed, and advise employees of the importance of ensuring that the plan has accurate contact information at all times.
Communicating information about how the plan can help eligible employees consolidate accounts from prior employer plans or rollover IRAs.
Clearly marking envelopes and correspondence with the original plan or sponsor name for participants who separated before the plan or sponsor name changed, for example, during a corporate merger, and indicating that the communication relates to pension benefit rights.
- Missing participant searches.
Checking related plan and employer records for participant, beneficiary and next of kin/emergency contact information. While the plan may not possess current contact information, it is possible that the employer's payroll records or the records maintained by another of the employer's plans, such as a group health plan, may have more up-to-date information. If there are privacy concerns, the person engaged in the search can request that the employer or other plan fiduciary forward a letter from the plan to the missing participant or beneficiary.
Checking with designated plan beneficiaries (e.g., spouse, children) and the employee's emergency contacts (in the employer's records) for updated contact information; if there are privacy concerns, asking the designated beneficiary or emergency contact to forward a letter to the missing participant or beneficiary.
Using free online search engines, public record databases (such as those for licenses, mortgages and real estate taxes), obituaries, and social media to locate individuals.
Using a commercial locator service, a credit-reporting agency, or a proprietary internet search tool to locate individuals.
Attempting contact via United States Postal Service (USPS) certified mail, or private delivery service with similar tracking features if less expensive than USPS certified mail, to the last known mailing address.
Attempting contact via other available means such as email addresses, telephone and text numbers, and social media.
If participants are nonresponsive over a period of time, using death searches (e.g., Social Security Death Index) as a check and, to the extent such search confirms a participant's death, redirecting communications to beneficiaries.
Reaching out to the colleagues of missing participants by, for example, contacting employees who worked in the same office (e.g., a small employer with one or two locations) or by publishing a list of "missing" participants on the company's intranet, in email notices to existing employees, or in communications with other retirees who are already receiving benefits. Similarly, for unionized employees, some have reached out to the union's local offices and through union member communications to find missing retirees.
Registering missing participants on public and private pension registries with privacy and cyber security protections (e.g., National Registry of Unclaimed Retirement Benefits), and publicizing the registry through emails, newsletters, and other communications to existing employees, union members, and retirees.
Searching regularly using some or all of the above steps.
- Documenting procedures and actions
Reducing the plan's policies and procedures to writing to ensure they are clear and result in consistent practices.
Documenting key decisions and the steps and actions taken to implement the policies.
For plans that use third party record keepers to maintain plan records and handle participant communications, ensuring the record keeper is performing agreed upon services, and working with the record keeper to identify and correct shortcomings in the plan's recordkeeping and communication practices, including establishing procedures for obtaining relevant information held by the employer.
U.S. Department of Labor, Employee Benefits Security Administration, www.dol.gov, January 12, 2021.

6. TUCSON MAYOR AND COUNCIL APPROVE BONDS SALE TO FUND PUBLIC SAFETY PENSIONS:
The Tucson Mayor and Council approved the sale of Certificates of Participation to fund the City's growing obligation to the Public Safety Personnel Retirement System, it announced in a news release Friday. The PSPRS system funds the fire and police personnel pension program, the City said. The PSPRS obligation currently stands at $1.5 billion and is projected to grow to a peak annual cost of $240 million to the City's General Fund, according to the City.
The strategy, approved by Mayor and Council, addresses the long-term PSPRS obligation by borrowing funding at unusually low interest rates and investing those funds. The investment earnings will be used to fund the pension obligation, the release said. This has the potential, over the 25-year plan, to save the City more than $800 million, reducing future burdens to the General Fund, preserving essential services, saving taxpayer dollars, and helping to stabilize the City's financial future, according to the City.
Mayor and Council also created the City of Tucson Public Safety Pension Trust to manage, invest, and safeguard the bond proceeds, the release said. In addition to the composition of the trustees, the Trust will have an independent investment advisor and trust administrator. The trustees will adopt an investment policy and guide the investment of the funds. Additionally, the Trust will be audited as part of the City's annual audit, according to the City.
"This is a historic, once-in-a-generation decision that puts Tucson at the forefront of our state and our nation, when it comes to securing our public safety pension system," said Mayor Regina Romero. "This move has the potential to save Tucsonans more than $800 million taxpayer dollars over the next few decades and ensure the retirement security of our first responders. My thanks to the City Manager and his financial team for their diligent work and commitment to positioning Tucson on such strong financial footing."
"The approval of the pension obligation bonds shows great vision by the Mayor and Council," said City Manager Michael Ortega. "This plan will positively affect future generations and ensure Tucson continues to thrive."
The City said staff and financial advisors are working to issue the bonds in the next few weeks to take advantage of the market's historically low interest rates, approximately 2.95%. Total issuances of the taxable bonds will not exceed $670 million. The COPs are collateralized debt, secured by City assets. When combined with the current investments at PSPRS, the City anticipates achieving at least a 75% funded level; one of the highest funded levels in Arizona. An improved level of funding also has positive credit implications for the City, potentially resulting in further taxpayer dollars savings. Chorus Nylander, https://kvoa.com, January 8, 2021.

7. HOW TO POSITION STATE AND LOCAL GOVERNMENT WORKERS FOR SUCCESS IN 2021:
Public-sector agencies are in a tricky spot. Due to significant pandemic-related impacts on 2020 tax revenue, current challenges will only continue to mutate and persist throughout 2021. The Catch-22 of it is this: Government agencies (especially on state and local levels) will likely have significantly smaller budgets than at any time in recent history, while it's never been more important they make significant investments in their workforces.
In fact, COVID-19 has continually validated the need for digital government. Agencies that already had modern technology platforms in place -- those that allowed them to adapt to new working realities and maintain operational continuity -- have leapt further ahead, while the digital "have-nots"-- whether due to budgetary or regulatory challenges, outdated workplace culture or competing priorities -- have only become more hamstrung. The time to close the gap must be now.
How can agencies step up and keep up in the new year? Ultimately, it comes down to embracing digital tools and approaches that elevate, equip and empower employees to succeed, no matter what the "new reality" looks like.
Elevate employees
Even prior to COVID-19, technology and workforce trends were already quickly encroaching upon standard operating procedures at most government agencies. Observe the following:
Staffing shortages are common in the public sector, especially in key areas like cybersecurity, acquisition management and data science.
The gap between public- and private-sector talent is growing.
Ages of IT pros at government agencies are increasing rapidly, with fewer young people set to replace retiring senior staff.
Leaders facing these challenges at the local and state levels must tackle them head-on by prioritizing employees and their experience -- and altering the culture of public service going forward.
Many public-sector leaders already know what they must do. Forty-four percent indicated in a recent IDC report that talent excellence in a collaborative and innovative culture should be a priority. A recent Oxford Economics survey found more than half of leaders believe employee satisfaction has the greatest influence on organizational strategy and success. Still, only about 22% have completely executed decisions that would improve employee experience.
This is why learning and development initiatives -- grounded in speed, cost and overall efficacy goals -- are critical to closing any related gaps. By allowing employees to embrace higher value work, L&D strategies can simultaneously modernize and humanize local and state agencies looking to operate in more agile and responsive ways, to both internal and external factors.
Equip employees
All the cultural and experiential shifts an agency could ever want mean nothing without the accompanying technological capabilities necessary to support them. According to the IDC DX Leader Sentiment Survey last year, 25% of agencies worldwide had yet to develop the capabilities required to run a digital enterprise.
State and local agencies must continue working to close that gap in 2021. That means digitizing and consolidating internal data and processes so tasks are integrated and simplified. It means adopting emerging technologies like artificial intelligence, machine learning and robotic process automation to eliminate repetitive and tedious tasks and allow employees to focus on more strategic work. It means embracing data and analytics to improve short- and long-term internal efficiencies and cost savings. And it means asking employees about their experience and listening to understand what they need to best do their jobs.
Empower employees
Tying these corresponding cultural and technological investments together positions agencies for a stronger, digitally focused and employee-centered future -- one where everyone can come together to put the efforts into action. For instance, here are some state and local government agencies who have stepped up amidst the tumult of 2020:
The IT team in Orlando, Fla., spent the better part of three years working on the city's digital transformation. Prior to the pandemic, they had already compiled a list of 300 different services that could be at least started online, such as reserving parks, reporting potholes, requesting new garbage bins and more. During the pandemic, the team has continued to study and improve their tools and technology, using feedback from citizen satisfaction surveys.
Illinois recently implemented digital ERP software, effectively transforming the way its government agencies operate statewide. Fifty-four state agencies have successfully migrated to an enterprise platform, accounting for nearly 90% of the state's overall annual budget. To execute, the state focused on three main categories: finance, analytics and human capital management.
At the outset of the COVID-19 crisis, Portland, Ore., quickly realized it needed to adjust its typical protocol for responding to emergencies. Manual processes that worked for short-term incidents simply couldn't manage the long-haul demands of the pandemic. The city refined its use of its HR software so it could more easily move team members to new positions, manage schedules and assign roles and responsibilities. Thanks to the flexibility and speed of a cloud-based solution, Portland was able to streamline the complexity of the emergency staffing process and focus, above all else, on helping community members.
A number of state and local government agencies are also modernizing the contact tracing process, as they work to keep citizens safe from COVID-19.
State and local agencies may have to contend with legacy technology and complexity to move the employee experience forward. But the reality is simple: They must invest in the future today so that those employees can build a better future tomorrow. Brian Roach, https://gcn.com, January 7, 2021.
8. HOPES RISING FOR RETIREMENT READINESS IN 2021:
This year is shaping up to be a good one for more Americans to achieve retirement readiness, and that's something to celebrate.
For one thing, plan sponsors are expected to move forward on initiatives to improve participants' financial health that had been sidelined as more pressing concerns related to the global pandemic took precedence. Look for initiatives to help participants deal with onerous student debt, set up emergency savings accounts and better manage household budgets.
Secondly, the passage of the SECURE Act in late 2019 makes the decision a lot easier for plans to consider offering in-plan insurance products, such as annuities, to ensure retirement income -- about the closest thing in the DC world to a traditional pension. The law also is expected to help employers join what's known as a pooled employer plan, which are rolling out this year. That will help more Americans gain access to a workplace defined contribution plan and save for retirement.
There's also reason to hope that lawmakers will pass another bipartisan retirement security package in 2021. A bill introduced last year in the House contains a number of provisions, including automatically enrolling workers upon becoming eligible to participate in a retirement plan and making sure that participants who change jobs don't lose track of savings left behind in the former employer's plan. One of the bill's sponsors, Richard Neal, D-Mass., said in a statement to Pensions & Investments that he expects the Securing a Strong Retirement Act will quickly advance in 2021.
A successful retirement has long been defined as a three-legged stool, with a pension, personal savings and Social Security all working together to produce a stable outcome. Traditional pensions, sadly, have become more rare as sponsors increasingly move to freeze such plans, a development that has undermined financial security.
But with these three other developments -- financial wellness, retirement income and potential new legislation -- expected to come into sharper focus in 2021, we think there's reason to believe that the new year will create more opportunities for many Americans to better their retirement prospects. Pension & Investments, www.pionline.com, January 11, 2021.

9. HOW LINKEDIN LEARNING IS HELPING THE CITY OF AUSTIN:
See how the City of Austin used LinkedIn Learning to democratize learning and ultimately create a more engaging employee experience - all during a pandemic. This spring, when COVID-19 struck, the City of Austin found itself facing a challenge many government agencies across the world were experiencing as well: Their learning needs were more acute than ever, as employees needed to quickly learn how to work from home, how to use collaboration software like Teams and WebEx and how to deal with the emotional toll of working through a pandemic. And yet, at the same time, the main channels the city used to develop its employees – in-person training and via local universities – were now offthe-table. Austin didn't panic. Instead, Donna Stephans – their organizational development manager, who got the job a week before COVID-19 struck – got to work. Collaborating with Communication and Technology Management Department Program Manager Dr. Patricia Muse and her HR business partners across the city, the group worked furiously to get a robust online learning program built. Fast. A centerpiece of that program was LinkedIn Learning, which Austin launched in record time. To drive adoption, they worked with HR business partners and executives to create a marketing buzz around the new offering.

How did the launch of LinkedIn Learning go? Beyond Dr. Muse's and Stephans' expectations. Within 100 days of launching the platform, thousands of employees dove in, watching an astonishing 247,000+ videos. Perhaps more than the usage though was the unique ways employees were using it. Two jumped out – the first being that learning groups began organically springing up across Austin, where employees would watch courses on their own and talk about what they learned together as a group. Secondarily, Austin's trainers plan to take a "flipped classroom" approach to their four employee academies. These academies – which cover topics like leadership, onboarding and employee self-development – had existed for years primarily in the standard lecture model. COVID-19 provided an opportunity to revamp their format .

For the revamp, instead of lecturing at their audiences, Austin's trainers will begin assigning LinkedIn Learning courses ahead of time. Then, classroom time – which is now classroom time via Teams – featured employees working to execute relevant tasks and getting feedback from the instructor. "We knew we needed to do this," Organizational Development Consultant Ian Hallett said. "I'm not sure we would've got there without COVID." For Dr. Muse and Stephans, this new online development model is a silver lining to COVID-19. Even when things return to normal, Stephans said the city will remain committed to continuing many aspects of this new approach, which empowers far more employees to learn. https://media.erepublic.com.
10. HELP YOUR EMPLOYEES GET FINANCIALLY FIT:
Now that wellness benefits are widely accepted as a core offering among employers, there's a new benefit on the rise: financial fitness. More and more organizations are educating their employees on financial well-being. And chances are your employees need it: Even before the pandemic, many Americans struggled with saving and managing their money.
"Most people have no personal financial acumen. It's just not something we're taught at an early age," says Shelly Horwitz, managing director at Pensionmark Financial Group. "If something bad happens--enter COVID--you're in a financial crisis really quick."
Your employees are probably stressed about their finances and looking for help. According to a report from Morgan Stanley [PDF], 78 percent of employees with high financial stress say it distracts them at work, and 74 percent say it's important for an employer to offer financial wellness benefits.
"Stressed employees are going to take time away from you. It's just like if they're not healthy, they're going to have more sick days," Horwitz says. "Health and financial wellness actually go hand in hand."
Done right, these programs are effective. In a MassMutual study, 78 percent of employers determined their financial wellness programs to be extremely or very successful, based on employee feedback, participation in programs, employee metrics, and retention. When you improve retention, you also improve organizational stability and continuity, which will make your association more appealing to potential members.
Here's what to keep in mind when developing your own program.

PROGRAM OPTIONS
One way to put together your financial wellness program is to outsource your operations. Associations can partner with financial wellness vendors such as Financial Finesse or LearnLux to create customized programs with lessons, financial coaching, digital tools, and metrics to track engagement. You can go beyond training and offer benefits that directly help employees manage their money. For example, the insurance company Unum lets its employees turn unused PTO into payments against student debt.
For associations with limited resources, these options might be too pricey. If that's the case, Horwitz suggests offering a more informal program where you curate free resources for employees. Some companies, including Horwitz's, offer free libraries of content that organizations can point their employees to as a way to provide free training.
For another way to keep costs down, the Financial Services Roundtable and the Consumer Financial Protection Bureau recommend leveraging your existing benefits resources to help create a financial wellness program, reaching out to your organization's 401(k) plan administrator, life insurance provider, and banking partner.

THREE KEY ELEMENTS
No matter how your offering is implemented, Horwitz points out three key elements of a successful financial wellness program.
It should be educational. This is step one, where you deliver information on financial wellness. This could take many forms, such as webinars, guides, classes, articles, or workshops.
It should be actionable. After each educational experience, there should be a call to action for employees to continue their training and apply their knowledge. It might be a link to a worksheet, a video with more information, a savings calculator, or a landing page where users can set up one-on-ones with financial coaches.
It should be applicable. Consider what is relevant to your employees, and make sure your program covers all the bases. For a better idea of what topics to address, you can survey employees to gauge their financial literacy and what subjects are most important to them.
"You have to make it right for the right audience," Horwitz says.

WHAT TO COVER
Horwitz says her most in-demand topics right now are managing student loan and credit card debt. Other subjects to consider include:
401(k) contributions
planning for retirement
planning for healthcare costs
estate planning
saving for education
emergency savings
investing
Covering these topics will ensure that your program helps employees in many stages of life. Michael Hickey, Associations Now, https://associationsnow.com, January 8, 2021.

11. WHO IS MOST VULNERABLE TO THE TICKING DEBT TIME BOMB IN RETIREMENT: FAMILIES WITH THE OLDEST, BLACK/AFRICAN AMERICAN, AND HISPANIC FAMILY HEADS:
Summary: Much of the attention to retirement preparedness focuses on asset accumulation in individual account retirement plans as well as the presence of defined benefit plans, but the other side of the balance sheet -- debt -- can potentially have a significant impact on the financial success of an individual's retirement. Any debt that a family may have accrued entering or during retirement can offset any asset accumulations, resulting in less retirement income security.
This Issue Brief focuses on the trends in debt levels among American families with a special emphasis on families with family heads ages 55 or older and those of different racial/ethnic groups, as financial liabilities are a vital but often ignored component of retirement income security. The Federal Reserve's Survey of Consumer Finances (SCF) is used in this article to determine the debt levels. The most recent data are for 2019, so they establish a pre-pandemic baseline.
In addition to the incidence and levels of debt, debt is examined in two ways:
Debt payments relative to income.
Debt relative to assets.
Each measure provides insight regarding the financial abilities of American families to cover their debt before or during retirement. For example, higher debt-to-income ratios may be acceptable for families with younger heads who would have long working careers ahead of them, because their incomes are likely to rise, and their debt (related to housing or children) is likely to fall in the future. On the other hand, higher debt-to-income ratios may represent more serious concerns for families with older heads, who could be forced to reduce their accumulated assets to service the debt at points where their peak earning years are ending or behind them. However, if these older families with high debt-to-income ratios have low debt-to-asset ratios, the effect of paying off the debt may not be as financially difficult as it might be for those with high debt-to-income and high debt-to-asset ratios.
This study by the Employee Benefit Research Institute (EBRI) found the following trends in the debt holdings of families:
The share of American families with heads ages 55 or older with debt increased continuously from 1998 through 2019. The 2019 level of 68.4 percent was nearly 15 percentage points higher than the 1992 level of 53.8 percent and 5.4 percentage points higher than in 2007. This increase in the incidence of debt has been driven in recent years by the families with heads ages 75 or older. For this age cohort, the share having debt increased from 41.3 percent in 2013 to the 51.4 percent in 2019. In contrast, the incidence among families with heads ages 55–64 and 65–74 experienced a small increase or decline during that period.
Debt levels, in contrast, have decreased from their peaks in 2010, although families still had debt levels that exceed their 2001 levels. The average debt amount for families with heads ages 55 or older was $88,245 in 2010; this amount stood at $82,481 in 2019 (both amounts in 2019 dollars). Furthermore, debt payments as a percentage of income fell from 11.4 percent in 2010 to 9.2 percent in 2019, and debt payments as a percentage of assets declined from 8.4 percent to 6.8 percent.
Housing debt continued to drive the level of debt payments in 2019. However, the incidence of credit card debt increased for families with heads ages both 55–64 and 75 or older in 2019, and each age group of family heads experienced an upturn in the median credit card debt held in 2019. In fact, families with heads ages 75 or older had significant growth in both median housing and median credit card debt in 2019.
Still, younger families -- those with heads younger than age 55 -- have had a higher probability of having debt and higher debt payments as a percentage of income than families with older heads.
Families with Black/African American or Hispanic heads had much higher debt-to-asset ratios than families with white, non-Hispanic heads. Further, the debt of the families with minority heads is more likely the result of consumer debt, not housing debt. This is troubling because while families can build wealth through homeownership, they cannot through consumer debt.
Furthermore, families with minority heads, particularly those with Hispanic heads, were more likely to have debt payments more than 40 percent of their income.
In short, while improving in many respects in the most recent years, the overall trends in debt are troubling in terms of retirement preparedness.
American families with heads just reaching retirement or those newly retired are more likely to have debt -- and higher levels of debt -- than past generations. Furthermore, the percentage of families with heads ages 75 or older having debt, including credit card debt, is at its highest level since 1992. Thus, more and more families are carrying debt into and throughout retirement.
All of this points to the importance of workplace financial wellness programs that support money management skills not only as a way to benefit individuals during their working years but also into their retirement. With reduced financial liabilities and a sounder balance sheet, workers not only can better focus on work but feel more secure in retiring. This is even more pertinent for families with minority heads, as they have more debt relative to their assets than families with white, non-Hispanic heads. Craig Copeland, EBRI, www.ebri.org, December 17, 2020.

12. FREE WEBINAR - DEBT; THE TICKING TIME BOMB FOR RETIREMENT; WHERE DO WE STAND AND WHAT CAN WE DO ABOUT IT?:
Much of the attention to retirement preparedness focuses on asset accumulation in individual account retirement plans and the presence of defined benefit plans. But the other side of the balance sheet -- debt -- can potentially have a significant impact on the financial success of an individual's retirement. Any debt that a family may have accrued entering or during retirement can offset any asset accumulations, resulting in lower levels of retirement income security.

This EBRIefing will discuss the trends in debt levels among American families with a special emphasis on families with family heads ages 55 or older and those of different racial/ethnicity groups, as financial liabilities are a vital but often ignored component of retirement income security. Furthermore, the impact of financial wellbeing programs on setting the course to having debt under control for retirement will be discussed.

Details:
Wednesday, February 3, 2021 (2:00 pm - 3:00 pm US/Eastern)
Speakers:
Craig Copeland, Senior Research Associate, EBRI
David Richardson, Managing Director of Research, TIAA
Mark Smrecek, Senior Director, Financial Wellbeing Market Leader, Willis Towers Watson
Greg Ward, Director, Financial Wellness Think Tank, Financial Finesse, Inc., Moderator
Click here to register. EBRI, www.ebri.org, January 8, 2021.

13. THINKING ABOUT RETIREMENT? LEADERS NEED TO GRAPPLE WITH THESE EIGHT EMOTIONAL HURDLES:
The end of the year (especially a cataclysmic one) and the turn to a new one tends to provoke consideration of major life changes. Financial planning advice for the potential late-life career change is abundant. But psychological wisdom less so. If some version of retirement is rolling around in your mind, be sure to understand the emotional landscape you will be entering. Whether you think retirement is a limiting construct, or you're embracing a traditional change from all-in work to all-leisure, a person who has spent their life doing, producing and leading faces unexpected and significant psychological challenges.

I've previously coined the phrase "starting older" for this phase of life, and I prefer it to "retirement." Retirement implies a total letting go and withdrawal. Most leaders and accomplished professionals in their late 60s do not wish to withdraw from life. They still need and intend to be productive in some way. Still, when you leave your position in the C-suite, or as partner of a law firm, or president of a not-for-profit, life will be very different.

The hurdles listed below are interactive and, at times, mutually reinforcing in negative feedback loops.
Uncertainty: One of the most disconcerting things about starting older is the sheer amount of uncertainty you have to face, compared to your reasonably predictable life when you were at the peak of your profession. On a micro level, you may not even know what you should be or want to be doing on a given day. On a broader level, you will face uncertainty about the future, your identity, the meaning of life, your purpose, the success of new ventures and on and on. Starting older is not just an event. It's a process that continues over the years between full engagement in your profession and truly advanced age. And in that period, you will go through multiple transformations of interest, desire and challenges.
Anxiety: Uncertainty and change inevitably bring with them anxiety, which may be about a specific fear or may be generalized and diffuse. Lack of clarity, loss of identity, loss of relevance all generate anxiety. Anxiety is a very uncomfortable feeling that most of us will do anything to diminish or avoid. That's what defense mechanisms like denial or disavowal do--protect us from anxiety. But they can cause problems in their own right. Anxiety can also lead to impulsive or self-destructie behavior. There's a pull to do anything that will take away that awful feeling.
Loss of identity: This one can knock the figurative breath out of you. How do you describe yourself to a stranger? (Yes, there will be a time when we go back to meeting strangers.) "I was a CEO." "I'm a doctor, but I don't practice anymore." "I was a partner at XYZ law firm, but I'm retired." None of those describe your identity now, since they all refer to what you did in the past. But how do you describe your identity at the present time? It's likely to be more complex and harder to articulate. Here's my example. I used to say, "I'm a psychiatrist and psychoanalyst." Easy and reasonably clear. The biggest challenge was explaining what a psychoanalyst was. Now I would say, "I am a psychiatrist, but I don't practice anymore. I'm interested in business consulting and writing and expert witness work. And mostly, I just want to see my grandkids." No doubt I've lost my audience by then. Is there a clearer way to define a starting older identity?
Loss of social connections: This one can be a plus or minus, depending on how much you need to connect with people or how burdensome it is to you. But your social interactions will definitely diminish, especially the brief ones that happen automatically--the doorman, the people on the train, the person at the coffee shop, the tailor and the dry cleaner. These small human connections are sustaining in a way you won't notice until they disappear. You'll let go of deeper connections, too--your team at work, your clients. In full work mode, these connections are made without conscious effort. They are a natural result of the inherent structures of your work life. In this new time of life, you have to put in more work to make and sustain human connections. We've all had a taste of this kind of loss of human connection during the Covid-19 pandemic.
Loss of structure: Being expected at the office (or on Zoom) every morning at 8:30, attending regular meetings, facing deadlines, all provide structure. Externally imposed structure can be confining and irritating. But when it disappears, you will notice the absence. When you have to structure your own day, week, year, there are wonderful opportunities to fill time as you wish, but also yawning spaces. The lack of external structure means you have to expend energy to organize your time, and this, for many, causes general anxiety.
Waves of change: Most people face changes in their core careers--new jobs, new responsibilities, new bosses, etc. But during retirement, in whatever guise you are pursuing it, change comes at a much faster and much less predictable pace. This is yet another source of anxiety.
Shame and Guilt: Many people will feel vague shame for not being productive, not doing more. Others will feel guilt over assuming a less burdened and pressured life. It's not rational, but it's real.
Irrelevance: Very successful leaders are relevant. People look to them for expertise. For, well, leadership. Their opinions are sought out. Their decisions change the course of enterprises. Immediately after retirement, your opinion and engagement may still be highly sought after. Imagine how many requests for serving on Boards Lloyd Blankfein received after leaving Goldman Sachs. But either swiftly or gradually, the feeling of relevance diminishes. Retired, very successful people struggle with a sense of irrelevance, which may increase as the years since you were totally immersed in the work world go by.
If unrecognized and not dealt with, these psychological challenges of retirement can lead to depression, marital problems, substance abuse and foolish but consequential decisions. As in any stage of life involving enormous change, there is no way to avoid anxiety and disruption. Fortunately, simple awareness of the tensions you're facing is the best protection. If you know you are going to face waves of difficult emotion and prepare yourself to roll with them (as opposed to numbing yourself with alcohol or making an impulsive decision to upend your life), you'll come out on top.

Self-awareness is the key to successfully traversing this new phase of life. Notice I haven't mentioned pursuing new hobbies, making new friends or wellness practices. All those activities are helpful (really, at any stage of life) but you really need to know what's going on with you emotionally to avoid falling down a rabbit hole. I've focused so far primarily on the negative side of this enormous life change. But if you manage those challenges, you will be able to take advantage of the tremendous upside. Freedom from other peoples' demands. Freedom to do exactly what you want on a given day. The opportunity to pursue new interests, to experiment and explore.

Knowing the emotional terrain you are crossing makes it easier and safer to avoid trips and falls and enjoy what might be the best time of your life. Prudy Gourguechon, Forbes, www.forbes.com, January 5, 2021.

14. PRE-RETIREES SHOULD START PLANNING FOR HEALTH CARE COSTS:
If you're close to retirement, you'll have several financial issues to consider, but you'll want to pay attention to one of the most important of these issues: health care costs.
How can you prepare yourself for these expenses? First, get an early start on estimating health care costs. More than two-thirds of those planning to retire in the next 10 years say they have no idea what their health and long-term care costs will be in retirement, according to the Edward Jones/Age Wave Four Pillars of the New Retirement study. And some people don't worry much about these costs, which may be considerable, thinking that Medicare will pay for most of them.
While Medicare does cover many medical expenses, it also has its own costs. You probably won't pay a premium for Part A (inpatient/hospital coverage), since you likely had this cost deducted from your paycheck when you were working. But if you are hospitalized, you'll have to pay deductibles and coinsurance (the percentage of costs you pay after you've paid your deductible).
Part B (doctor's visits) requires a premium, deducted from your Social Security checks, and you must pay an out-of-pocket deductible. After you meet this deductible for the year, you typically pay 20% of the Medicare-approved amount for most doctor's services. And when you enroll in Part D (prescription drug plan), you will likely also have to pay a monthly premium, an annual deductible and coinsurance or copays.
To help pay for the Medicare deductible, coinsurance and copayments, you may want to get supplemental insurance, known as Medigap. Premiums for Medigap vary, depending on the plan you choose.
As an alternative to original Medicare, you could select Medicare Advantage (sometimes called Part C). Medicare Advantage plans are offered by private companies approved by Medicare, but the benefits and costs vary by plan. These plans generally will incorporate Medicare Parts A and B and will provide additional medical coverage, such as prescription drugs. When you incorporate all the above, the annual out-of-pocket costs for traditional medical expenses likely will be about $4,500 to $6,500 per year, per person – not insignificant, but certainly a number that can be addressed by careful planning.
But there's one more expense to keep in mind: long-term care. The average cost of a private room in a nursing home is more than $100,000 per year, according to the insurance company Genworth. And Medicare typically pays few of these expenses. Clearly, between regular medical costs associated with Medicare or those not covered by it, and costs resulting from the possible need for long-term care, your health care bills can mount. To meet these costs, you need to plan ahead – and take action.
For example, it's essential that you incorporate health care expenses into your overall financial strategy. You can also work with a financial professional to run some "what-if" analyses to see if your strategy would be derailed by a potential long-term care stay. And the professional you work with may be able to suggest specific protection vehicles that can help you meet the costs of long-term care.

The best time to prepare for your health care costs during retirement is well before you retire. So, if you haven't already started, now is the time to do so. When it comes to paying for health care, the fewer surprises, the better. Sandy Kelch, SW News Media, www.swnewsmedia.com, January 9, 2021.

15. DOES YOUR HEALTH APP PROTECT YOUR SENSITIVE INFO?:
New health apps are popping up every day, promising to help you track your health conditions, count your calories, manage your medications, or predict your ovulation. These apps often ask for some of your most sensitive personal information, like your health history, medication list, or whether you have ever suffered a miscarriage.
Some apps use that sensitive information only to give you services. But others may use it for their own research, to target you with ads, or disclose -- or even sell -- your data to other companies. And, unlike your doctor, these apps may not be covered by health privacy laws like HIPAA.
For example, Flo is a health app that functions as an ovulation calendar, period tracker, and pregnancy guide. In a settlement announced today, the FTC said that the makers of the Flo app shared users' personal health information with marketing and analytics companies like Facebook and Google -- even though it had promised users to keep this sensitive information private. As part of the settlement, Flo Health, Inc. has agreed to get users' consent before it can share their information in the future. The settlement also requires Flo to get an outside review of the honesty of its privacy promises.
How can you avoid the risks associated with these types of health apps? Here are some things to consider:
Compare privacy protections. Many competing health apps offer similar services. When choosing between apps, compare their privacy protections. Look for a privacy notice that explains in simple terms what health information the app collects from you, as well as how it uses and shares your information with other companies and users. If the app shares your information, does it tell you why, and does it limit what others can do with it?
Take control of your sensitive information. Take a look at the app's settings to see if it gives you control over what health information it collects and shares. An app's default settings often encourage sharing, so it can be useful to select more protective options.
Keep your app up to date. App updates sometimes include important fixes for privacy or security glitches. One of the best ways to protect your information is to keep your app (and your phone's operating system) up to date.
Recognize the risks. What sensitive information will the app have access to? Are the app's services worth the risk of someone else getting hold of that? Some companies don't uphold their privacy promises. In this case, we said that even if you reviewed Flo's privacy promises and looked at the settings, your information could still have been disclosed to other companies. Sharing sensitive information always carries risks, so be sure you're comfortable with what you've shared, in case privacy promises aren't kept.
Report your concerns. If you think a health app isn't keeping up its end of the bargain, let the FTC know. The FTC regularly brings enforcement actions against companies that misrepresent how they use or disclose people's sensitive health information.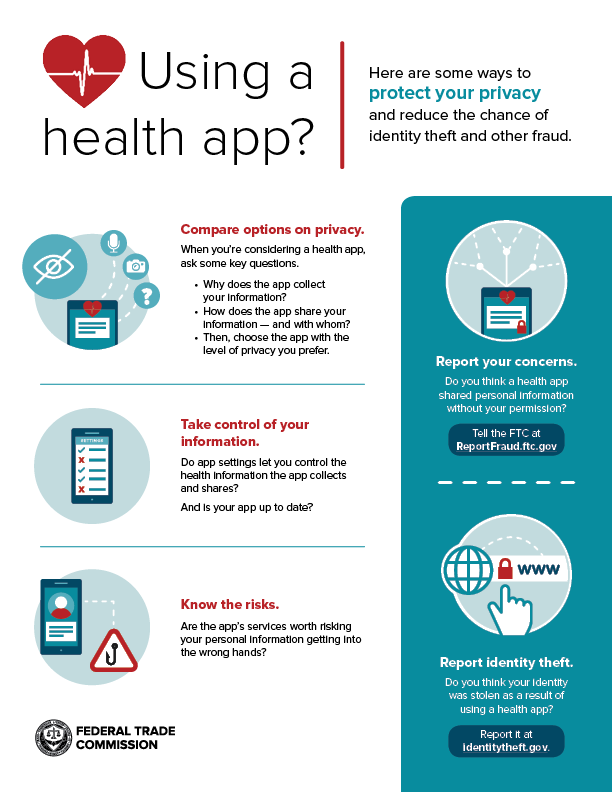 Miles Plant, Attorney, FTC, www.ftc.gov, January 13, 2021.

16. IRS READY FOR THE UPCOMING TAX SEASON; LAST-MINUTE CHANGES TO TAX LAWS INCLUDED IN IRS FORMS AND INSTRUCTIONS:
The Internal Revenue Service today assured taxpayers and tax professionals that updates to key federal tax forms and instructions are complete and will be available when Americans begin filing their tax returns.
Most individual taxpayers file IRS Form 1040 or Form 1040-SR once they receive Forms W-2 and other earnings information from their employers and payers. IRS has incorporated recent changes to the tax laws into the forms and instructions, and shared the updates with its partners who develop the software used by individuals and tax professionals to prepare and file their returns. Forms 1040 and 1040-SR and the associated instructions are available now on IRS.gov and are being printed for taxpayers who need a hard copy.
Economic Impact Payments are an advance payment of the Recovery Rebate Credit. Important updates include the Recovery Rebate Credit worksheet on page 59 of the 1040/1040-SR instructions. Anyone who didn't receive the full amount of both Economic Impact Payments should include the amounts they received, before any offsets, when they file. Anyone who received the full amount for both Economic Impact Payments should not include any information about the advance payments when they file their tax return.
Also new this year is the option to use prior year income amounts when computing the Earned Income Tax Credit and the Additional Child Tax Credit.
The IRS has not yet announced a start date for the 2021 filing season. IRS Free File will open in mid-January when participating providers begin accepting returns. The IRS Free File providers will accept completed tax returns and hold them until they can be filed electronically with the IRS.

Latest Economic Impact Payments are automatic for eligible taxpayers
This month, the Treasury Department and the IRS are sending the second round of Economic Impact Payments to millions of Americans as part of the implementation of the Coronavirus Response and Relief Supplemental Appropriations Act.
Taxpayers don't need to take any action to receive these payments. Economic Impact Payments are automatic for eligible taxpayers who filed a 2019 tax return and those who receive Social Security retirement, survivor or disability benefits (SSDI), Railroad Retirement benefits, Supplemental Security Income (SSI) and Veterans Affairs beneficiaries who didn't file a tax return.
These second round of payments follow the successful delivery of more than $270 billion in CARES Act Economic Impact Payments to about 160 million Americans in 2020.

Eligible individuals who did not receive an Economic Impact Payment – either the first or the second payment – can claim a Recovery Rebate Credit when they file their 2020 taxes this year. The IRS urges taxpayers who didn't receive an advance payment to review the eligibility criteria when they file their 2020 taxes; many people, including recent college graduates, may be eligible for a credit.
Eligible individuals who didn't receive the full amount of both Economic Impact Payments should claim the missing amount as a credit. Anyone who did receive the full amount for both Economic Impact Payments should not include any information about their payment when they file their taxes – they've already received the full amount of the Recovery Rebate Credit as advance payments.
For the latest IRS forms and instructions, visit the IRS website at www.irs.gov/forms. Please visit IRS.gov for the latest information about the Economic Impact Payments and filing your 2020 tax return. IRS Newswire, IR-2021-10, www.irs.gov, January 12, 2021.

17. WORD PLAY - FOR THOSE WHO LOVE WORDS:
Knowledge is knowing a tomato is a fruit. Wisdom is not putting it in a fruit salad.

18. A THOUGHT FOR TODAY:
"Do not wait until the conditions are perfect to begin. Beginning makes the conditions perfect." -Alan Cohen

19. TODAY IN HISTORY:
On this day in 1943, Franklin D. Roosevelt travels from Miami to Morocco to meet with Winston Churchill, becoming the first American president to travel overseas by airplane.

20. REMEMBER, YOU CAN NEVER OUTLIVE YOUR DEFINED RETIREMENT BENEFIT.
Items in this Newsletter may be excerpts or summaries of original or secondary source material, and may have been reorganized for clarity and brevity. This Newsletter is general in nature and is not intended to provide specific legal or other advice.