1. DO STATE AND LOCAL GOVERNMENT EMPLOYEES SAVE OUTSIDE OF THEIR DEFINED BENEFIT PLANS WHEN THEY NEED TO?:
As state and local policymakers enact benefit cuts to reduce the cost of their pension systems, the life-cycle model suggests that workers will adjust by saving more on their own. But, whether workers actually respond to pension characteristics remains an open question. After all, income received far in the future may not be salient to young workers deciding how much of their earnings to consume in the present. To answer the question, this paper links the Survey of Income and Program Participation to the Public Plans Database and explores whether state and local workers consider the amount of their pension savings, the funded status of their plan, or their Social Security coverage when deciding whether to participate in a supplemental defined contribution (DC) plan.
The paper found that:
Employees whose pensions provide less income are more likely to participate in a supplemental DC plan, but the effect is small.
Members of poorly funded pension plans are not more likely to participate in supplemental plans than members of well-funded plans.
Employees without Social Security coverage are not compensating with greater participation in supplemental plans.
The policy implications of the findings are:
If state and local employers are forced to further curtail their pensions, employees are unlikely to replace that income with outside savings.
In the event that poorly funded pension plans end up reducing retirement income for current employees, those employees are unlikely to have been saving more in anticipation.
In short, states and localities – especially those whose workers are not covered by Social Security – should not count on outside savings to replace pension income.
Click here to download the full paper. Laura D. Quinby and Geoffrey T. Sanzenbacher, Center for Retirement Research at Boston College, November 2020.

2. DOL GUIDANCE ON MISSING PENSION PLAN PARTICIPANTS - PART II:
Last week we shared a blog post from Verril Law regarding new Department of Labor ("DOL") guidance on missing plan participants. That post is available here, and describes the DOL's guidance on Missing Participants - Best Practices for Pension Plans ("Best Practices"). This blog post addresses two other pieces of guidance issued by the DOL in conjunction with its Best Practices guidance –(i) Compliance Assistance Release No. 2021-01 ("CAR 2021-01") and (ii) Field Assistance Bulletin No. 2021-01 ("FAB 2021-01").
Compliance Assistance Release No. 2021-01
The DOL issued CAR No. 2021-01 to the DOL's Regional Directors (i) to ensure consistent audit practices in the DOL's Terminated Vested Participants Project ("TVPP") for defined benefit pension plans and (ii) to encourage voluntary compliance by fiduciaries.
TVPP Objectives. The DOL embarked on the TVPP because it believes that better recordkeeping, plan communications, and participant search procedures will limit the number of missing and unresponsive pension plan participants whose retirement security may be at risk because of the failure to timely commence their pension benefits.
The TVPP has three key objectives for defined benefit pension plans. The first objective is to ensure plans maintain adequate records to identify (i) plan participants and beneficiaries and their contact information, (ii) the amount of benefits due under the plan, and (iii) when participants and beneficiaries are eligible for benefits. The second objective is to ensure plans have procedures in place to communicate to terminated vested participants ("TVPs") when they near both the plan's normal retirement age and the age to receive required minimum distributions ("RMDs"). The third objective is to ensure plans have appropriate search procedures in place if they have incorrect or incomplete contact information.
Investigations. Through the TVPP, the DOL investigates defined benefit plans that appear to have systemic plan administration issues, with a specific focus on problems relating to the tracking of TVPs and timely payment of benefits. The DOL may commence investigations if Form 5500 filings report a significant number of TVPs who are entitled to future benefits, a plan sponsor is involved in a bankruptcy, merger, acquisition, or divestiture, or if participants contact the DOL. When an investigation is opened, the DOL may request the following documents:
plan documents, amendments, and summary plan descriptions;
participant census records and contact information;
actuarial reports;
plan policies and procedures for participant communications including preparation and distribution of benefit statements, and claims procedures;
missing participant procedures, including internal procedures and contracts with third-party administrators; and
any other documents the DOL believes is helpful to its investigation.
The DOL typically sends out two letters requesting documents and information. The opening letter will request plan fiduciaries to produce requested documents by a response date. The follow-up letter will request targeted information based on the DOL's review of the initial documents. The DOL will (i) consider alternate document production based on costs and administrative burdens and (ii) extend response dates. However, if these efforts are unsuccessful or will unduly delay the investigation, the DOL will issue subpoenas to compel document production.
Review. During the course of a TVPP audit, the DOL will review plan documents and look for systemic issues such as record-keeping and administrative errors, and inadequate procedures for contacting TVPs as they near normal retirement age and their RMD date, identifying and locating missing TVPs, and addressing uncashed checks. The following "red flags" may lead the DOL to determine a problem exists and requires further investigation: (i) missing data in census records; (ii) returned participant communications and uncashed checks; (iii) a small number of TVPs in pay status; (iv) unclear participant communications; and (v) continued delivery of communications to known "bad addresses." The DOL also will scrutinize plans of sponsors that have been involved in bankruptcies, mergers, and acquisitions. Plan fiduciaries should use the information contained in CAR 2021-01 to review their procedures relating to TVPs and identify warning signs that will indicate missing participant issues to the DOL.
Closing Cases. After reviewing requested information, the DOL will advise plan fiduciaries of any problems they have identified and ask the fiduciaries to take appropriate corrective action. Absent substantial errors or widespread fiduciary breaches, the DOL will issue a Voluntary Compliance ("VC") letter. Plan fiduciaries will be given a reasonable amount of time to respond to the VC letter. If the plan fiduciaries provide appropriate remedies for affected participants and beneficiaries and correct flaws in recordkeeping, communications, and missing participant procedures, the DOL typically will describe the corrective actions taken by the plan to address problems in closing documents and will not cite individual plan fiduciaries for specific ERISA violations.
Through CAR 2021-01, the DOL has established standard practices and procedures relating to investigations, review, and closing cases for DOL audits in the TVPP intended to ensure consistent audit practices throughout the country. Plan fiduciaries should use the practices and procedures to identify and correct systemic issues in their administration of TVPs.
Field Assistance Bulletin No. 2021-01
FAB 2021-01 provides for a temporary enforcement policy regarding a terminating defined contribution plan's use of the Pension Benefit Guaranty Corporation's expanded Missing Participants Program.
DOL Safe Harbor. DOL regulation 29 C.F. R. 2550.404a-3 provides a safe harbor for distributions from terminating defined contribution plans and abandoned plans when a participant or beneficiary (including a missing participant or beneficiary) fails to make a timely benefit distribution election. In general, the safe harbor requires distribution to an individual retirement account or annuity ("IRA") or, in limited circumstances, to a bank account or a state unclaimed property fund.[1] If the safe harbor is satisfied, a fiduciary is deemed to satisfy its fiduciary requirements under Section 404(a) of ERISA[2] with respect to the distribution of accounts, selection of an IRA (or other transferee), and the investment of the accounts.
PBGC Missing Participant Program. In 2017, the Pension Benefit Guaranty Corporation ("PBGC") established the Defined Contribution Missing Participant Program to (i) hold retirement benefits for missing participants and beneficiaries and (ii) help participants and beneficiaries find and receive their benefits. To date, the DOL has not revised the safe harbor to cover the transfer of terminating defined contribution plan accounts to the PBGC's Program. The DOL recognizes that the economic disruption caused by the COVID-19 pandemic may increase the number of missing plan participants. Plans are being terminated due to the pandemic. Employers, fiduciaries, and service providers have closed their offices, making it difficult to maintain accurate, updated census data. Accordingly, the DOL wants to facilitate use of the PBGC Missing Participant Program through a temporary enforcement policy.
Temporary Enforcement Policy. Pending further guidance, the DOL will not pursue violations of the fiduciary provisions set forth in Section 404(a) of ERISA against plan fiduciaries of terminating defined contribution plans or qualified termination administrators (QTAs) of abandoned individual account plans if they (i) comply with the requirements of FAB 2021-01 and (ii) act with a good faith, reasonable interpretation of Section 404(a) with respect to matters not addressed in FAB 2021-01.
Under the temporary enforcement policy, a plan fiduciary or QTA that chooses to participate in the PBGC's Defined Contribution Missing Participants Program must comply with the safe harbor requirements of DOL regulation 29 C.F.R. 2550.404a-3, except that the notice to participants and beneficiaries must be modified to reflect that the transfer is being made to the PBGC instead of an IRA or other transferee. Specifically, the notice must state clearly that the funds are being transferred to the "Pension Benefit Guaranty Corporation's Defined Contribution Missing Participants Program" and include the PBGC's website address and contact number. The Program may be used for participants and beneficiaries who fail to make timely distribution elections and for lump sum recipients who were paid by check if the check remains uncashed after (i) the "cash by" date prescribed on the check (or described in the notice) that is at least 45 days after the check's issue date or (ii) the check's stale date if no "cash by" date is prescribed.
The PBGC may charge a fee for accounts transferred to the Missing Participant Program. Under the temporary enforcement policy, a plan fiduciary may pay the fee out of a participant's account if permitted under the plan document. A QTA may pay the fee out of an abandoned plan account regardless of whether the plan document permits payment of the expense out of plan assets.
A fiduciary that does not elect to transfer the account balances of all missing participants to the PBGC may, but is not required to, notify the PBGC about the disposition of some or all other account balances. The DOL strongly encourages plan fiduciaries to notify the PBGC of other dispositions.
Although FAB 2021-01 provides relief for plan fiduciaries and QTAs to use the PBGC Missing Participant Program, it does not preclude the DOL from pursuing violations of ERISA for a plan fiduciary's failure to (i) maintain adequate plan and employer records and (ii) diligently search for participants prior to a transfer of accounts to the PBGC. Accordingly, plan fiduciaries should establish procedures described in the DOL's Best Practices guidance and use the PBGC's Missing Participant Program for participants and beneficiaries that cannot be located only after the fiduciaries have completed diligent participant searches. Kimberly S. Couch, Attorney, Verrill Law, https://www.verrill-law.com, January 21, 2021.

3. CALSTRS PARTICIPANT RETIREMENTS JUMP IN SECOND HALF OF 2020:
CalSTRS had an unexpected large wave of teacher retirements, 3,202 in the last six months of 2020, up 26% from the year-earlier period, said Jack Ehnes, CEO of the $283.4 billion pension fund.
In an internal survey of retirees, 62% of the 517 respondents indicated they had retired earlier than planned, according to the survey conducted by the staff at the California State Teachers' Retirement System, West Sacramento.
The top three reasons selected by the respondents for taking an early retirement: 56% of the retirees said they made the decision due to the challenges of teaching during the COVID-19 pandemic, 35% did not want to continue working remotely and 35% did not want to risk exposure to COVID-19.
Meanwhile, retirements at the $447.9 billion California Public Employees' Retirement System, Sacramento, remained flat in the 2020 fiscal year -- 34,756 -- from 34,643 in fiscal year 2019, said spokewoman Amy Morgan in an email.
However, there were some variance among employers, Ms. Morgan said. School and public agency retirements decreased about 7% over the last year, while state retirements increased about 12%.
CalPERS did not survey the retirees but, CalPERS participants are older and baby boomers are still retiring, explaining the increase in state retirements, Ms. Morgan said. "We anticipate overall that the number of retirements will continue to increase over the next five to 10 years as more baby boomers leave the workforce." Arleen Jacobius, Pension & Investments, www.pionline.com, January 25, 2021.

4. PUBLIC PENSIONS' FUNDED RATIO SOARS TO RECORD-SETTING 78.6% IN Q4 2020:
Milliman released the fourth quarter 2020 results of its Public Pension Funding Index (PPFI), which consists of the nation's 100 largest public defined benefit pension plans.
Public pensions had a stellar final quarter of 2020, with the funded status of the Milliman 100 plans increasing from 72.6% at the end of September to 78.6% as of December 31. This funded ratio is the highest recorded in the history of Milliman's Public Pension Funding Study and marks quite a swing from Q1 2020, at the onset of the COVID-19 pandemic, when the funded ratio hit a low of 66.0%.
The first and fourth quarters of 2020 illustrate just how closely public pension funding is tied to the vagaries of the market. Given the swings we saw this past year, the start of 2021 is a good time for plan sponsors to revisit their plans' investment portfolios to make sure the investment strategy matches their current risk appetite.
In aggregate, PPFI plans experienced an estimated investment return of 8.36% in Q4 2020, resulting in a $388 billion gain in the market value of assets. This was offset by approximately $25 billion flowing out of the plans, as benefits paid out exceeded contributions coming in from employers and plan members. Twenty-nine plans now stand above the 90% funded mark, compared with 12 plans at the end of Q2 2020. Meanwhile, at the lower end of the spectrum, four plans moved above 60% funded, bringing the total number of plans under this mark to 22.
To view the Milliman 100 Public Pension Funding Index, click here. Becky Sielman, Retirement Town Hall, https://www.retirementtownhall.com, January 21, 2021.

5. EMPLOYERS CONTINUING TO ADJUST BENEFITS IN 2021:
A new survey from employee benefit and investment advisory firm Conrad Siegel shows how employers have adjusted their retirement plan and health care benefits during the COVID-19 pandemic.
Of the 100 plan sponsors who were surveyed, 57% said the biggest change to their total benefits packages last year was the increased opportunity for staff to work remotely. Additionally, 40% of employers reported that they made changes to accommodate flexible work schedules. Only 9% of employers in the survey made changes to the retirement plan, 7% made changes to health care benefit and 6% made changes to parent and child care benefits. Forty percent of employers reported zero changes to their total benefits packages.
When it came to employment, 12% of employers implemented permanent layoffs and 23% furloughed staff members. Seventy-five percent of employers took no action with employment.
The survey reports there were few changes made to most retirement plan benefits. Only 2% of plan sponsors eliminated employer contributions and 4% reduced employer contributions. In fact, 94% of employers reported no changes to retirement plan employer contributions. Instead, more than half (52%) of employers added an in-service withdrawal provision from the Coronavirus Aid, Relief and Economic Security (CARES) Act, and 25% increased retirement plan loan limits in line with what was permitted by the act. Nineteen percent of organizations included retirement plan employer contributions on Paycheck Protection Program (PPP) loan forgiveness applications.
The coronavirus pandemic underscored a massive demand for quality health care benefits and led many to question weaknesses in the health care industry. Forty-nine percent of employers reported their biggest challenge in employer-sponsored health plans was standard and ongoing health costs not related to COVID-19, and 31% reported additional cost increases due to COVID-19 as their greatest test.
However, most employers do not anticipate that the pandemic will have a large impact on projected health care costs in the immediate future. Fifty-four percent expect the pandemic will not materially increase or decrease estimated health care costs. Ten percent expect a decrease in overall estimated costs and 34% predict an increase.
Other challenges included providing adequate mental health services for members (22%) and the availability of maintenance care or preventative care services for members (15%). Because of these challenges, more employers are expecting to make well-being services more widely available, and others are expanding benefits. Fifty-four percent of employers anticipate an increase in mental health/substance abuse services in 2021 due to COVID-19. Twenty-five percent of employer-sponsored health plans have extended cost-free virtual visits for members because of the pandemic, and 17% of employers extended additional paid time off due because of pandemic. Amanda Umpierrez, PLANSPONSOR, www.plansponsor.com, January 25, 2021.

6. IRS ISSUES ANNUAL UPDATE TO DETERMINATION LETTER PROCEDURES:
Rev. Proc. 2021-4 contains annual updates to procedures for requesting IRS determination letters, private letter rulings and other tax advice on employee plan matters. Key changes to last year's procedures, which focus mainly on determination letter requests, include:
Form 5310. Section 6.02 (a) explains that Form 5310, Application for Determination for a Terminating Plan, must be filed electronically starting Aug. 1 and may optionally be e-filed starting April 16.
Leased employees. Section 9.08 notes that if an applicant for a determination letter also seeks a ruling on the status of leased employees, the applicant must specifically request the ruling in a cover letter (in addition to providing information set forth in Section 17).
Preapproved plans. Section 12.01 (formerly Section 12B.01) now reflects the July 31, 2022, deadline to adopt preapproved defined contribution plans for the third remedial amendment cycle and submit determination letter applications (as announced last year). The section also provides that the period for adopting preapproved defined benefit plans for the third remedial amendment cycle will not occur during 2021 — as IRS had originally anticipated — but will be announced later.
Governmental plans. Sections 12.02–12.04 (formerly Sections 12B.02–12B.04) include a new category for determination letter requests for preapproved governmental pension plans with a normal retirement age that doesn't satisfy any of the regulatory safe harbor definitions.
Multiple-employer plans. Section 12.03(1)(a) (formerly Section 12B.03(1)(a)) and Section 14 now clarify that the controlling member of a multiple-employer plan is the adopting employer that submits a determination letter application for the plan.
Employee stock ownership plans (ESOPs). Section 13.03 now includes instructions for ESOP sponsors submitting a determination letter request using Form 5307, Application for Determination for Adopters of Modified Volume Submitter Plans.
User fees. Updates to Appendix A include user fees for two new categories of opinion letters for preapproved plans, as well as the previously announced user fee increases for certain types of employee plan letter rulings and determination letter requests, as shown in the table below.


Ellen Stone, Margaret Berger and Brian J. Kearney, MERCER, https://www.mercer.com, January 22, 2021.

7. UNEMPLOYMENT CAUSED BY COVID DRIVING UP FLORIDA'S MEDICAID ROLLS - AND COSTING BILLIONS:
When newly-elected state Rep. Allison Tant began to prepare for Florida's 2021 legislative session, she spotted a big hole in the state's health care budget. Florida's unemployment rate is more than double what it was a year ago, according to the Bureau of Labor Statistics, which has led to nearly 700,000 people signing up for Medicaid, the federal-state health care insurance plan that pays for the treatment of low-income patients.
That will increase the state's cost to participate by about $1.2 billion for the 2021-22 budget year, according to state economists.
"We're going to have to figure out how to pay for that," said Tant, D-Tallahassee, who was named to the House Health and Human Services Committee. "The number of people now qualified for Medicaid is going to put a very stringent burden on us."
Most of the state's general revenue comes from sales tax collections, which are down due to coronavirus restrictions and people's reluctance to travel. That means most of the 695,680 people who have signed up for Medicaid since March, according to the Agency for Health Care Administration, will likely remain on the rolls for quite a while.Economists expect it will take until 2023 to recover most of the coronavirus-caused job loss, and up to a decade for the travel and leisure industry to fully rebound.
Tant wants a long-term plan to deal with coronavirus consequences: "My goal is to keep our hospitals as financially secure as possible so they can continue to provide the critical services we are going to need, but we also have mental health, substance abuse and multiple of multiples of (health) care impacted across the system."
With more than 2 million Floridians lacking health insurance, according to a Georgetown University report, the crisis has taxed Florida's hospitals, with unexpected expenses.
A Florida Hospital Association (survey of its 214 members found between March and January the coronavirus bill to the industry is at least $3 billion. Mary Mayhew, the group's CEO, said the calculation includes expenses such as overtime for staff, additional equipment and supplies, plus the loss of revenue due to restrictions on elective surgery and people fearful of seeking care.
"And even with federal relief fund through the CARES Act, that still leaves a revenue shortfall of over $2 billion," Mayhew said. With Medicaid, Washington picks up about 61% of the cost, with Florida paying the rest. State economists said earlier this month that Florida was on track to spend $31.6 billion on Medicaid in this budget year that ends in June. That's a 19% increase above last year.
Since April, Medicaid enrollment has increased on average by 86,960 people a month. Subtract federal coronavirus relief programs and the new enrollees add an additional $1 billion in Medicaid costs to Florida for the remainder of this budget and another billion dollars projected for the next one.
"That's going to blow a big hole in our budget. We're going to have to figure out a way to pay for it," Tant said. Just how effective Tant, the former chair of the Florida Democratic Party, can be as a minority member of the committee remains to be seen. Multiple requests for comments to members of the chamber's Republican leadership have gone unheeded over the last two weeks.
The Health and Human Services Committee is led by Rep. Colleen Burton, R-Lakeland. A conservative standard bearer, Burton is past chair of the Health Quality Subcommittee and has focused on programs for newborns and young children and has sponsored bills to restrict abortion rights. She declined to respond.
Rep. Jay Trumbull, R-Panama City, chairs the House Appropriations committee but did not respond to questions about how he plans to bridge the gap. Mayhew said the FHA is particularly concerned about any cut to Medicaid reimbursements to hospitals as a way to balance the state budget. Sen. Shevrin Jones, D-West Park, and Rep. Nicholas Duran, D-Miami, want to bridge the budget shortfall by expanding Medicaid, an idea that has been raised by Democrats in recent years and always shot down by the controlling GOP majority.
They say if lawmakers act on their proposal (SB 698, HB 341) the state would draw down an additional $14.3 billion through 2024. "Drawing down new federal Medicaid funds will be one of the fastest, proven-effective ways to deliver fiscal relief to Florida's economy during this economic downturn," Duran said. The proposal would expand coverage to an estimated 850,000 residents, and the way Jones and Duran calculate the workings of the Medicaid program, would also reduce the state's current Medicaid expenses by as much as $77 million annually. "Rather than cutting critical services in the midst of a public health crisis, we must make smart investments in our people because it's the fiscally, and morally, responsible thing to do," Jones said.
The FHA has supported Medicaid expansion in the past: "One way to help offset the state's revenue shortfall is to draw down more Medicaid dollars," Mayhew said. But the group has yet to do a detailed analysis about expansion under the current circumstances.
"We have to work on what is the state options for addressing the shortfall that is driven by those who are today eligible for the program and on the program," Mayhew added, that "is different from opening up the program to more individuals." Rep. Ramon Alexander, D-Tallahassee, is the senior member of Leon County's delegation to the House and now sits on the Appropriations Committee, where lawmakers will write the state budget.
He said the coronavirus has exposed the lack of access to health care throughout Florida, including rural and urban areas. Alexander thinks once lawmakers start to discuss the numbers in budget talks, the issue of Medicaid expansion under the Affordable Care Act will be the proverbial elephant in the room. The Republican-controlled Legislature has rejected proposals to expand Medicaid twice since 2012. A 2015 plan was approved by the Senate but the House unexpectedly adjourned the session and left town before the Senate bill was introduced.
Under Obamacare, the federal government would pick up 90 percent of the cost.


A report by the Commonwealth Fund projects expansion would provide Florida an additional $14.3 billion in Medicaid money over the next five years, at a cost to the state of $516 million. Those costs would be offset by moving current Medicaid clients into the new program, reducing the state's match from 39% to 10%. "I think when decision makers get past ideology, when (they) get to the reality of what people are facing every single day, I think we will have movement," Alexander said. Medicaid expansion is no longer a partisan issue, he added: "This speaks to the purpose of government, to be focused on the health and well being of the people." James Call, Tallahassee Democrat, January 25, 2021.

8. FIVE KEY TAKEAWAYS FROM HEALTHCARE IN 2020:
In 2020, a once-in-a-century pandemic turned the healthcare industry upside down. Stakeholders from every industry and profession -- elected officials, tech experts, racial justice advocates and more -- are having incredibly important conversations about the future of healthcare while our country continues to battle the ongoing crisis. As we reflect on the past year, five key changes have set the trajectory for 2021.
The Explosion Of Telehealth
Though many have touted the potential of telehealth for years, legal challenges, regulatory red tape and slow patient adoption held down growth. A 2019 survey of consumers found that while 66% were willing to try telehealth services, only 8% had, and only 22% of doctors had seen a patient with telehealth. By October 2020, 59% of consumers had used telehealth for the first time, and 80% of physicians were seeing patients through telehealth. Patient satisfaction with telehealth is "among the highest of all healthcare, insurance and financial services industry studies."
Though people are using telehealth less now than at the start of the pandemic, many of the barriers to patient and physician adoption have been removed. Today, telehealth has proven its worth to consumers and businesses. Tomorrow, stakeholders must work together to better integrate virtual services into the care continuum and improve user experience.
The Calls To Make Racial Health Equity A Reality
The atrocious acts of brutal racism against Black men and women like George Floyd, Ahmaud Arbery, Breonna Taylor and so many more led to calls to address systemic racism in America. The Covid-19 pandemic then demonstrated the devastating impacts of racism on public health — despite making up a little more than 30% of the population, Black and Hispanic people make up half of in-hospital Covid-19 deaths.
One critical facet of uprooting systemic racism is ensuring racial health equity. In 2020, many in the healthcare industry (including Advantia Health) affirmed that Black Lives Matter and took steps to support Black doctors, nurses, patients and community members. As healthcare industry leaders, we cannot let the importance of health equity fade away with news cycles. It must be a central focus of every health system and individual provider for the coming year and every year after.
The Ongoing Growth Of Women's Healthcare
2020 was expected to be a banner year for investment women's healthcare -- our own January funding announcement helped to kick it off. Throughout the last ten months, the Covid-19 pandemic has illustrated the importance of growing this industry. 54% of OB-GYNs saw fewer patients, a decline that will result in fewer early cancer diagnoses. Working women and mothers have added more child care and household responsibilities to their already overbooked schedules. The Covid-19 virus impacts men and women differently, underscoring the physiological differences that must be accounted for in medicine. .
Despite the difficult economic and healthcare environments, investment in women's healthcare continued to grow in 2020. There are a plethora of exciting healthcare opportunities designed specifically for women that will additionally benefit all public health by lowering maternal mortality rates and improving infant health. In 2021, the industry is poised to continue growth in pregnancy and breastfeeding, which is important as my company's research shows that women are more likely to breastfeed during the pandemic but believe it will be more difficult. At the same time, investors see growth opportunities in additional care areas including menopause and diabetes
The Movement Toward Value-Based Care
Many (but not all) providers struggled under the traditional fee-for-service (FFS) care model during the pandemic, as elective procedures were postponed. In the FFS model, providers typically depend on profits from high-dollar elective procedures to offset the cost of services with lower revenue margins, such as preventative care. Conversely, a value-based care (VBC) model rewards providers for improving health outcomes and leads to long-term savings for both practice and patient. VBC is particularly exciting in women's healthcare, where there is a huge opportunity to lower costs and improve outcomes during pregnancy.
The industry's transition to VBC is more urgent than ever as the pandemic exacerbates the need to lower the cost of healthcare. By 2025, the Centers of Medicare & Medicaid Services (CMS) aim to use VBC in 50% of Medicaid and commercial contracts. In the coming years, we will see more adoption of smarter, effective VBC contracts in both the public and private healthcare sectors.
The Needs Of Front-Line Healthcare Workers
In the last ten months, front-line healthcare workers have woken up every day to run toward the fire. Sometimes without personal protective equipment, sometimes without enough staff, and sometimes without public support. We may never know precisely how many lives front-line healthcare workers have saved, but we do know the devastating toll it has taken on them.
"I can't sleep at night."
"The last eight months almost broke me."
"We are exhausted, scared and shaken."
We must start preparing now for the mental health epidemic that has begun during the Covid-19 pandemic and that will grow during and after vaccination distribution. Many front-line healthcare workers did not get the support they needed to fight the pandemic. In 2021, we owe them the support they need to recover from it.
To The Future and Beyond
In 2021, many urgent challenges still need to be addressed in responding to the pandemic and helping our front-line healthcare workers. After the rapid expansion of telehealth and the fastest vaccine development in history, our understanding of what is possible in healthcare has changed. Building on this momentum, we must continue to accelerate innovative solutions to our biggest challenges, including health equity, as we move forward. Sean Glass, Forbes, https://www.forbes.com, January 25, 2021.

9. WEBINAR - COVID-19, TELEMEDICINE, AND MORE; FINDINGS FROM THE 2020 CONSUMER ENGAGEMENT IN HEALTH CARE SURVEY:
Explore new research findings on COVID-19, telemedicine, trends in health plan enrollment, plan choice, views of use of health savings accounts (HSAs), and cost-conscious decision-making in our latest webinar on the EBRI/Greenwald Research Consumer Engagement in Health Care Survey (CEHCS).

The CEHCS is an online survey of privately insured adults ages 21–64. The CEHCS is conducted to provide reliable national data on the growth of consumer-driven health plans and high-deductible health plans and their impact on the behavior and attitudes of health care consumers. The 2020 survey also examined issues related to COVID-19 and telemedicine.

Details:
Date: Tuesday, February 24, 2021
Time: 2:00 – 3:00 pm Eastern Time
Speakers:
Paul Fronstin, Employee Benefit Research Institute (moderator)
Edna Dretzka, Greenwald Research
Other speakers to be announced
Click here to register. EBRI, https://www.ebri.org, January 22, 2021.

10. IRS URGES TAXPAYERS TO GATHER TAX DOCUMENTS NOW FOR SMOOTH FILING LATER:
The Internal Revenue Service is reminding taxpayers that organizing tax records is an important first step for getting ready to prepare and file their 2020 tax return.
Taxpayers should keep all necessary records, such as W-2s, 1099s, receipts, canceled checks and other documents that support an item of income, or a deduction or credit, appearing on their tax return.
Taxpayers should develop a system that keeps all their important information together, which could include a software program for electronic records or a file cabinet for paper documents in labeled folders. Having records readily at hand makes preparing a tax return easier.
To avoid refund delays, taxpayers should be sure to gather all year-end income documents so they can file a complete and accurate 2020 tax return.
Most taxpayers will receive income documents near the end of January including:
Forms W-2, Wage and Tax Statement
Form 1099-MISC, Miscellaneous Income
Form 1099-INT, Interest Income
Form 1099-NEC, Nonemployee Compensation
Form 1099-G, Certain Government Payments; like unemployment compensation or state tax refund
Form 1095-A, Health Insurance Marketplace Statements
View IRS account online
Taxpayers can view their online account allowing them to access the latest information available about their federal tax account and most recently filed tax return through a secure and convenient tool on IRS.gov. This can help taxpayers if they need information from last year's return.
Additionally, in the coming weeks, individuals with an account on IRS.gov/account will be able to view the amounts of the Economic Impact Payments they received as well as the latest information available about their federal tax account. Eligible individuals who did not receive the full amounts of both Economic Impact Payments may claim the Recovery Rebate Credit on their 2020 federal tax return. In order to claim the full amount of the Recovery Rebate Credit, taxpayers will need to know the amount of the Economic Impact Payments received.
Visit Secure Access: How to Register for Certain Online Self-Help Tools for more information about how to create an account or how to reset the username or password.
Remember unemployment compensation is taxable
Millions of Americans received unemployment compensation in 2020, many of them for the first time. This compensation is taxable and must be included as gross income on their tax return.
Taxpayers can expect to receive a Form 1099-G showing their unemployment income. Taxpayers can elect to have federal taxes withheld from their unemployment benefits or make estimated tax payments, but many do not take these options. In that case, taxes on those benefits will be paid when the 2020 tax return is filed. Therefore, taxpayers who did not have tax withheld from their payments may see a smaller refund than expected or even have a tax bill.
Individuals who receive a Form 1099-G for unemployment compensation they did not receive should contact their state tax agency and request a corrected Form 1099-G. States should not issue Forms 1099-Gs to taxpayers they know to be victims of identity theft involving unemployment compensation.
Taxpayers who are victims of identity theft involving unemployment compensation should not file an identity theft affidavit with the IRS.
Individuals can find more details on taxable unemployment compensation in Tax Topic 418, Unemployment Compensation, or in Publication 525, Taxable and Nontaxable Income, on IRS.gov.
Taxpayers can use 2019 income for Earned Income Tax Credit
For taxpayers with income less than $56,844 in 2020, they may be eligible to claim the Earned Income Tax Credit. The EITC Assistant, available in English and Spanish, can help determine who is eligible. The EITC is as much as $6,660 for a family with children or up to $538 for taxpayers who do not have a qualifying child.
And this tax season, there's a new rule that can help people impacted by a job loss or change in income in 2020. Under the COVID-related Tax Relief Act of 2020, taxpayers may elect to use their 2019 earned income to figure the credit if their 2019 earned income is more than their 2020 earned income. The same is true for the Additional Child Tax Credit. For details, see the instructions for Form 1040 or Publication 596, Earned Income Credit.
Electronic Filing makes filing easy
The best way to file a complete and accurate return is to file electronically and there are several options for doing this – some at no cost. Visit irs.gov/filing for more details about IRS Free File, Free File Fillable Forms, Free tax preparation sites or by finding a trusted tax professional. Free File is a great option for people who are only filing a tax return to claim the Recovery Rebate Credit, either because they didn't receive an Economic Impact Payment or did not receive the full amount.
Use IRS.gov
IRS tax help is available 24 hours a day on IRS.gov, the official IRS website, where people can find answers to tax questions and resolve tax issues online from the safety of their home. The Let Us Help You page helps answer most tax questions, and the IRS Services Guide links to other important IRS services. IRS Newswire IR-2021-18, www.irs.gov , January 22, 2021.

11. ALL TAXPAYERS ARE NOW ELIGIBLE FOR IDENTITY PROTECTION PINS:
The IRS has expanded the Identity Protection PIN Opt-In Program to all taxpayers who can verify their identity.
The Identity Protection PIN is a six-digit code known only to the taxpayer and to the IRS. It helps prevent identity thieves from filing fraudulent tax returns using a taxpayers' personally identifiable information.

Here are a few key things to know about the IP PIN Opt-In program.
This is a voluntary program.
Taxpayers must pass a rigorous identity verification process.
Spouses and dependents are eligible for an IP PIN if they can verify their identities.
An IP PIN is valid for a calendar year.
People must get a new IP PIN each filing season.
The online IP PIN tool is offline between November and mid-January each year.
Correct IP PINs must be entered on electronic and paper tax returns to avoid rejections and delays.
Taxpayers should Never share their IP PIN with anyone but their trusted tax provider.
The IRS will never call, text or email requesting their IP PIN.
People should beware of scams to steal their IP PIN.
There currently is no opt-out option but the IRS is working on one for 2022.
How to get an IP PIN
Taxpayers who want an IP PIN for 2021 should use Get an IP PIN tool on IRS.gov. This tool uses Secure Access authentication verify a person's identity. Taxpayers should review the Secure Access requirements before they try to use the Get An IP PIN tool. There is no need to file a Form 14039, Identity Theft Affidavit, to join the program.
Once a taxpayer have authenticated their identity, their 2021 IP PIN immediately will be revealed to them. This PIN must be used when prompted by electronic tax returns or written near the signature line on paper tax returns.

Options for taxpayers who can't verify their identity online
Taxpayers whose adjusted gross income is $72,000 or less may complete Form 15227 (EN-SP), Application for an Identity Protection Personal Identification Number PDF, and mail or fax it to the IRS. A customer service representative will contact the taxpayer and verify their identity by phone. Taxpayers should have their prior year tax return for verification process.
Taxpayers who verify their identity this way will have an IP PIN mailed to them the following tax year. This is for security reasons. Once in the program, the IP PIN will be mailed to these taxpayers each year.
Taxpayers who can't verify their identity online or by phone and are ineligible for file Form 15227 can contact the IRS and make an appointment at a Taxpayer Assistance Center to verify their identity in person. They'll need to bring should bring two forms of identification, including one government-issued picture identification.
Taxpayers who verify their identity in-person will have an IP PIN mailed to them within three weeks. Once in the program, the IP PIN will be mailed to these taxpayers each year.

Confirmed identity theft victims
Current tax-related identity theft victims who have been receiving IP PINs by mail will experience no change.
Taxpayers who are confirmed identity theft victims or who have filed an identity theft affidavit because of suspected stolen identity refund fraud will automatically receive an IP PIN by mail once their cases are resolved.

More Information
IRS Tax Tip 2021-07, www.irs.gov, January 26, 2021.

12. CRACKING DOWN ON TICKET BOTS THAT LEAVE YOU OUT IN THE COLD:
For most of us, it's been a long time since we've been able to attend a live event. Think back, if you can, to the last time you tried to buy tickets online to go to a concert, a game, or a play. Were you shut out because tickets sold out before you got yours? You're not alone.
So what happened? Sometimes there just aren't enough tickets available for everyone who wants to attend an event, especially if promoters save tickets for artists and other VIPs. Ticket bots may also be a factor. People may use software to buy tickets quicker than the average consumer. They also might use bots to cheat the ticketing system and bypass ticket limits or to buy tickets using fake names and addresses. Then they resell the tickets for higher prices. Congress passed the Better Online Ticket Sales (BOTS) Actto address these problems.
We (the Federal Trade Commission) settled three cases with companies that violated the BOTS Act. The companies circumvented Ticketmaster's security measures to buy thousands of tickets that they later re-sold at a profit. The court orders require the companies to stop their illegal ticket-buying practices and impose civil penalties. (Read the business blog post to learn more about the case.)
The next time you're looking to score tickets to a must-see event:
Look for opportunities to buy tickets before they go on sale to the public. Sign up for newsletters or alerts from ticket sellers, artists, or venues, or follow them on social media. And check with your credit card company about promotions.
Set up an account with the ticket seller. That way you'll be ready to buy as soon as tickets go on sale.
Check back. The promoters might make more tickets available after the initial release or add another show.
Alvaro Puig, Consumer Education Specialist, FTC, www.ftc.gov, January 22, 2021.

13. SCAMMERS CASH IN ON COVID-19 VACCINATION CONFUSION:
With every passing day, the news on COVID-19 vaccine distribution seems to change. One reason is that distribution varies by state and territory. And scammers, always at the ready, are taking advantage of the confusion. Besides a big dose of patience, here are some tips to help you avoid a vaccine-related scam, no matter where you live:
Don't pay to sign up for the vaccine. Anyone who asks for a payment to put you on a list, make an appointment for you, or reserve a spot in line is a scammer.
Ignore sales ads for the COVID-19 vaccine. You can't buy it – anywhere. The vaccine is only available at federal- and state-approved locations.
Watch for unexpected or unusual texts. If your health care provider or pharmacist has used text messages to contact you in the past, you might get a text from them about the vaccine. If you get a text, call your health care provider or pharmacist directly to make sure they sent the text. But scammers are texting, too. So don't click on links in text messages – especially messages you didn't expect.
Don't open emails, attachments, or links from people you don't know, or that come unexpectedly. You could download dangerous malware onto your computer or phone.
Don't share your personal, financial, or health information with people you don't know. No one from a vaccine distribution site, health care provider's office, pharmacy, or health care payer, like a private insurance company or Medicare, will call, text, or email you asking for your Social Security, credit card, or bank account number to sign you up to get the vaccine.
Stay connected to stay informed. Subscribe to consumer alerts from the FTC. When you do, you'll get updates delivered right to your email inbox. If you know about a COVID-19 vaccine scam, let the FTC know at ReportFraud.ftc.gov. Or, file a complaint with your state or territory attorney general through consumerresources.org, the consumer website of the National Association of Attorneys General.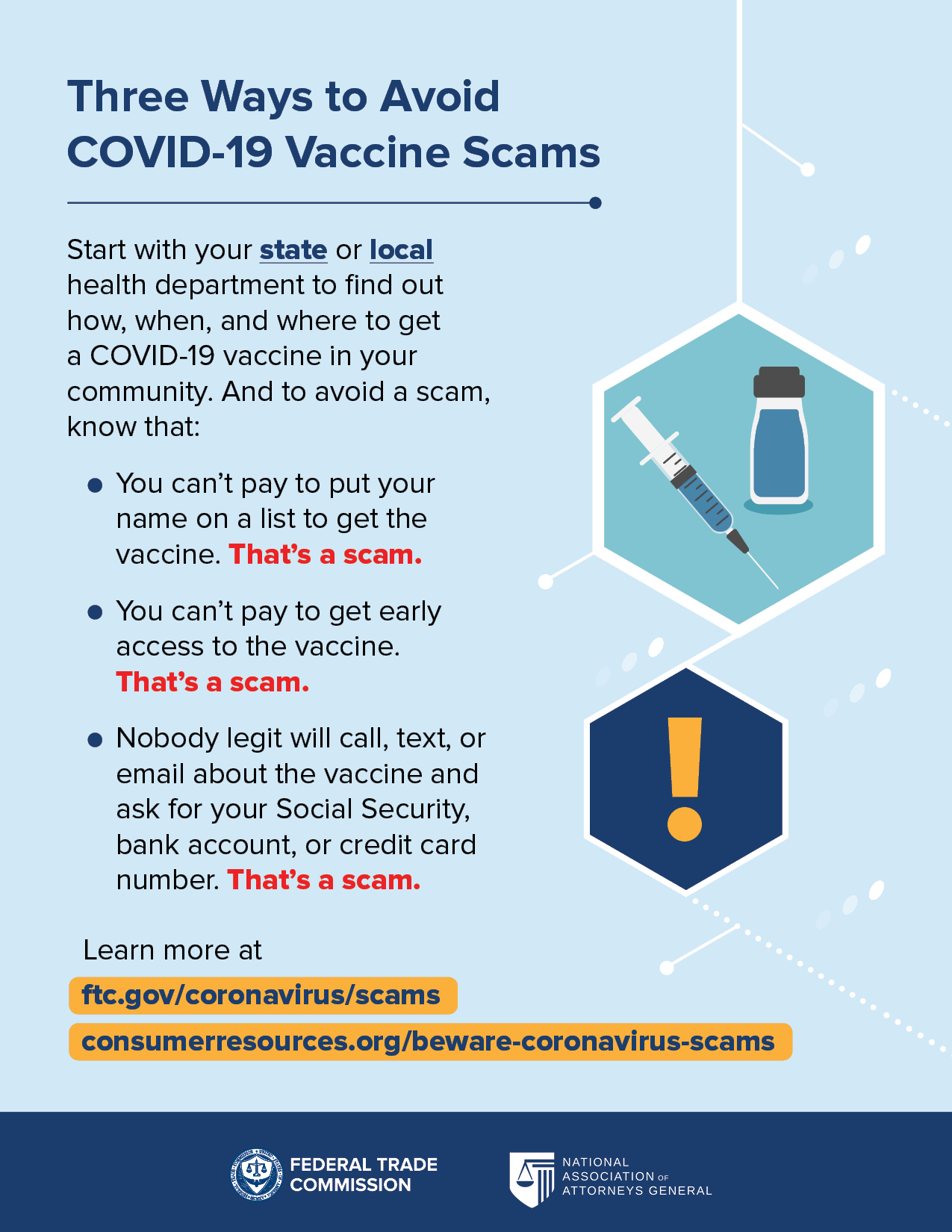 Colleen Tressler, Division of Consumer and Business Education, FTC, www.ftc.gov, January 27, 2021.

14. WORD PLAY - FOR THOSE WHO LOVE WORDS:
Two wrongs don't make a right--but three lefts do.

15. A THOUGHT FOR TODAY:
"I like the dreams of the future better than the history of the past." -Thomas Jefferson

16. TODAY IN HISTORY:
On this day in 1986, Space Shuttle Challenger explodes 73 seconds after liftoff from Cape Canaveral, with all 7 crew members killed, including Christa McAuliffe who was to be the first teacher in space.

17. REMEMBER, YOU CAN NEVER OUTLIVE YOUR DEFINED RETIREMENT BENEFIT.

GIVE US YOUR FEEDBACK! PLEASE CLICK HERE TO TAKE A BRIEF SURVEY TO HELP US IMPROVE THE CONTENT OF THIS NEWSLETTER.
Items in this Newsletter may be excerpts or summaries of original or secondary source material, and may have been reorganized for clarity and brevity. This Newsletter is general in nature and is not intended to provide specific legal or other advice.