PLEASE GIVE US YOUR FEEDBACK!
CLICK HERE TO TAKE A BRIEF SURVEY TO HELP IMPROVE THE CONTENT OF THIS NEWSLETTER.
1. IRS WON'T ISSUE DETERMINATION LETTERS FOR PRE-APPROVED PEPS:
Determination letters issued for modified third-cycle preapproved defined contribution (DC) plans won't cover amendments adding a pooled employer plan (PEP) feature, IRS recently announced. IRS is currently developing model PEP language for employers to use if they want assurance that their amendments satisfy the applicable Internal Revenue Code requirements.
The Setting Every Community Up for Retirement Enhancement (SECURE) Act (Pub. L. No. 116-94) authorized PEPs -- a new type of open multiple-employer plan -- starting Jan. 1, 2021. IRS issued opinion letters for pre-approved DC plans for the third remedial amendment cycle on June 30, 2020, covering changes through the 2017 Cumulative List. Employers that make minor modifications to preapproved plan documents have until June 30, 2022, to apply for a determination letter using Form 5307. However, these determination letters won't cover the addition of a PEP feature since the SECURE Act change occurred after the publication of the 2017 Cumulative List. Opinion letters issued for the fourth remedial amendment cycle presumably will cover these provisions.
IRS is currently working on model language for PEP plans. Employers may write their own amendments to add a PEP feature, but only the IRS language will give reliance on those provisions. The deadline for adopting SECURE Act amendments -- including amendments adding a PEP feature -- is the last day of the first plan year starting on or after Jan. 1, 2022 (2024 for governmental plans). Brian Kearney and Margaret Berger, MERCER, www.mercer.com, January 28, 2021.

2. DOL, PBGC ANNOUNCE RETIREMENT PLAN CIVIL PENALTIES FOR 2021:
The Department of Labor (DOL) and Pension Benefit Guaranty Corp. (PBGC) have published their 2021 inflation-adjusted civil monetary penalties for retirement plans. The agencies must annually adjust these fines for inflation under the Federal Civil Penalties Inflation Adjustment Act Improvements Act of 2015.

DOL penalties
The chart below shows DOL's maximum penalties relevant to single-employer defined benefit (DB) and defined contribution (DC) plans for 2021 and 2020. The increases apply to penalties assessed after Jan. 15, 2021, for violations occurring after Nov. 2, 2015.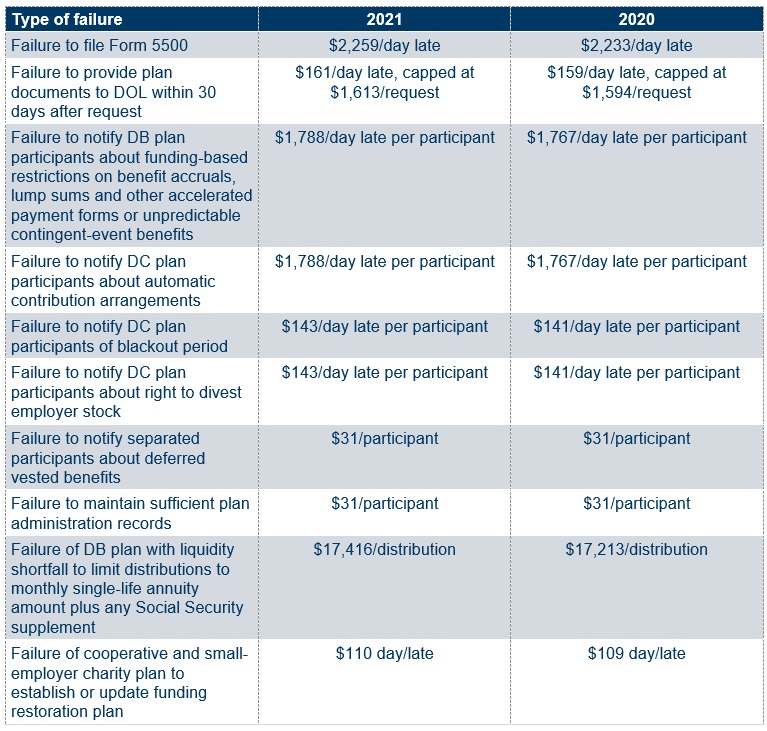 PBGC penalties
PBGC's 2021 maximum penalty under ERISA Section 4071 for single-employer DB plans is $2,259 a day (up from $2,233 in 2020) for each day a filing, notice or other information is overdue. The higher rate applies to penalties assessed after Jan. 13.

Broad scope
The $2,259 per day maximum penalty potentially could apply to virtually any late PBGC information or premium filing for a single-employer plan, including:
Premium filings (the late-filing penalty is separate from the penalty on premium underpayments)
ERISA Section 4010 controlled-group financial and plan actuarial information filings
Form 10 or 10-Advance reportable-event filings
Form 200 filings to report missed contributions in excess of $1 million
ERISA Section 4062(e) notices (when permanent cessation of operations at a facility results in a workforce reduction affecting more than 15% of all employees eligible to participate in any qualified retirement plan in the controlled group)
ERISA Section 4063 notices (when a substantial employer has withdrawn from a multiple-employer plan)
Maximum penalty rarely assessed
In practice, PBGC rarely assesses the maximum penalty. The agency's current penalty policy calls for mush smaller penalties, especially when a delinquent filing is made soon after the due date or the plan is small. However, depending on the facts and circumstances, PBGC might assess the maximum penalty in two situations:
A sponsor fails to file Form 200 reporting a missed contribution that brings the total unpaid amount (including interest) to more than $1 million -- or files the form more than 10 days after the missed contribution's due date -- if PBGC would have perfected a lien had the agency known about the missed contribution. (If the sponsor promptly deposits the missed contribution, the agency typically won't perfect the lien.)
A nonpublicly traded employer with large unfunded vested benefits (for variable-rate PBGC premiums) fails to provide advance notice of a reportable event under ERISA Section 4043(b).
Related resources
Ellen Stone and Margaret Berger, MERCER, www.mercer.com, January 28, 2021.

3. PUBLIC OFFICIALS SEE SALARIES INFLATE WITH COVID OVERTIME:
Erie County, N.Y., Health Commissioner Dr. Gale Burstein collected $183,414 in overtime last year -- or 91 percent of her base salary. Her total compensation of $385,726 reflected 1,266 hours of overtime. That makes her one of the highest paid employees in government.
A new report by County Comptroller Stefan Mychajliw shows that Burstein was the largest single recipient of taxpayer-funded overtime. It also shows that top Sheriff's Office administrators continued to receive more Covid-19 related overtime than members of any other department in county government.
Of the 26 non-union appointees who each received more than $10,000 in overtime covered by federal stimulus money last year, 42 percent were Sheriff's Office administrators who were paid $483,582, collectively.
Among all county employees, 1,226 staffers received $5.9 million in overtime related to the new coronavirus health crisis last year and saw their paychecks grow thanks to federal CARES Act stimulus money awarded to Erie County. But of the nearly $6 million in Covid-19-related overtime paid out last year in federal funds, 54 political appointees received $1.3 million of it. In other words, those 4.4 percent of the workers got 22.1 percent of the money.
These government administrators would not typically receive overtime pay. However, Erie County Executive Mark C. Poloncarz allowed all non-union, managerial confidential employees to accept overtime pay for their Covid-19 related work because he said his administration received explicit guidance that CARES Act federal stimulus money allows non-union managers to collect it.
"I think a lot of people are going to be very angry that the health commissioner makes more than the governor, the vice president of the United States, and has a salary that is comparable to Dr. Anthony Fauci," Mychajliw said, referring to the federal government's leading infectious disease physician.
Administration spokesman Peter Anderson said in an email that Poloncarz was unavailable to comment on the report Thursday and that it was inappropriate to comment on the draft findings.
"What we've got here is a draft 'report' cobbled together by the comptroller's team with the usual inaccuracies and accusations to continue the comptroller's monotonous attacks on the people who are trying to keep the community safe," Anderson said. "Please bear in mind that the Health Commissioner not only leads the response to the pandemic, but also continues to oversee all the non-COVID responsibilities her department has, which are numerous."
He also said it was ridiculous that Mychajliw is criticizing hard work done by other county employees when the comptroller has been repeatedly accused of not coming into work. Anderson did not cite any specific examples of report errors.
County leaders have previously defended the overtime payments by providing time sheets, reports and verbal explanations showing how administrators devoted extra work time to the public health crisis since it broke in March. The additional hours listed far exceed how much money these employees would have been able to recover in the form of compensatory time off, they said.
But the practice of allowing government appointees to collect so much federally funded overtime is out of step with what other counties in the state have done. According to research shared by the Comptroller's Office, other counties have either awarded much more limited amounts of overtime money to non-union employees, or none at all. In response to a FOIL request, New York City officials sent the Comptroller's Office an email indicating that no Covid-19-related overtime money was paid to any non-union appointees.
Any overtime for county employees has long-term cost implications for taxpayers because state government pensions are based on an employee's highest compensation years.

Burstein's Overtime
Dr. Burstein does not earn as much Dr. Fauci, whose pay exceeds $417,000, but according to See Through NY, which collects public payrolls from across the state, Burstein's compensation for last year would make her one of the highest paid employees in state, city or county government.
Burstein has been the top administrator spearheading the county's Covid-19 response. Anderson has previously pointed out that Erie County is one of the few counties in the state with its own public health lab and is much more involved in the statewide response to Covid-19 than other communities.
Burstein's hourly rate of pay is higher than other county employees. But she takes the top spot for both overtime hours -- 1,266 -- and compensation.

Sheriff's Office Overtime
While Burstein may have logged more Covid-19 related overtime hours and pay than any other individual employee, the Sheriff's Office has been the largest overtime recipient -- by far -- of any unit of county government.
While 11 Sheriff's Office administrators received more than $10,000 in overtime totaling $483,582, seven of them ranked in the top 10, with amounts ranging from $45,353 to $79,329. The other overtime recipients listed in the comptroller's report were spread over eight different departments.
The Democratic-led Erie County Legislature has previously taken the Sheriff's Office to task for its Covid-19 related overtime claims, noting that these claims are coming at a time when the county inmate population is falling to all-time lows due to bail reform laws.
Meanwhile, Mychajliw, a Republican -- as is Sheriff Timothy B. Howard -- has focused his attention on criticizing overtime received by members of Poloncarz's Democratic administration.
The most he would say about the high amount of overtime claimed by the Sheriff's Office is, "If you're a political employee and a managerial confidential employee, I don't care where you work, you should not get one dime in Covid-related overtime, or any overtime, because you're a salaried employee. Political appointees who sign up know the rules going in."
Only elected officials in county government are actually salaried, which is why none of them claimed overtime, but while non-union administrators are considered hourly workers, they are normally only entitled to comp time for extra hours worked.
Howard did not respond to a request for comment, but in an email, spokesman Scott Zylka defended the overtime claims, saying "... the Sheriff's Office needed to develop and implement new policies and procedures to react to the COVID-19 pandemic for both employees and inmates," as well as for other units, including "the road patrol platoons, Investigative Services, Narcotics and Intelligence Unit, and the Special Services Unit."
"The agency also worked closely with the County's Department of Health for compliance and security for COVID-related activities, including testing sites, hospitals, and quarantine locations," he wrote, as well as in implementing "the mandates handed down from federal and state agencies." Sandra Tan, The Buffalo News, January 29, 2021.

4. FIREFIGHTERS FACE UNIQUE CHALLENGES WITH DEFERRED COMP:
If you're a firefighter who's saving for retirement via your deferred compensation (457) plan, you've probably told your non-firefighter friends who have 401(k)s that your deferred comp is pretty similar.
And it is. The money you put into your deferred comp each paycheck goes into your deferred comp account without you having to pay income taxes on it. That's just like a 401(k). Your deferred comp balance grows tax-deferred, until you withdraw money from it. But what you -- and your 401(k) friends -- probably aren't thinking about while you're working is that when it's time to take the money out of your deferred comp plan, you'll owe ordinary (earned) federal income taxes on your money.
Even if you don't need the money, the IRS will make you start taking money out of your deferred comp plan at age 72, and the IRS will assess ordinary (earned) federal income taxes on every penny … because you've never paid a penny of federal income tax on any of the money that's in your deferred comp plan.
And if you leave your deferred comp to your kids, they'll inherit not only your deferred comp, but they'll also be on the hook with the IRS for the federal income taxes that you never paid as the money is forced out of the plan. That can push your kids into a higher federal tax bracket.

Triple Tax Trouble
Not only is your monthly pension federally taxable as earned income, your deferred comp is taxed in retirement by the IRS as earned income as well. And let's say you're married, and your spouse has Social Security. Your federally taxable income from your pension, and from your deferred comp, can make up to 85% of your spouse's Social Security federally taxable as well.
Because most fire departments are on the one-on/two-off schedule, you may have a side job, so maybe you were able to stuff away much of your fire department pay into your deferred comp plan.
Odds are the guys at the firehouse, the union and your deferred comp rep all have said that the smartest thing to do was to jam as much money as possible into your deferred comp. Your accountant probably agreed because it kept your taxable income down each year.
But what the guys at the firehouse, the union, the deferred comp rep and even your accountant probably aren't asking themselves is, "What happens when you're retired?"

You Need a Plan to Manage Taxes Through Retirement
Accountants are great at accounting. Or in looking at this year's tax liability. Or last year's tax liability. But accountants aren't financial planners. They don't specialize in minimizing income taxes 10 or 20 years from now. They tend to use the rearview mirror, but not the windshield.
Without a well-thought-out retirement tax-reduction plan, you may very well end up paying a considerable amount of federal income taxes in retirement. And when federal tax rates go up in 2026, as is current federal law under the Tax Cuts & Jobs Act of 2017 (TCJA), you could be shocked at the federal tax bracket that you find yourself in.

How high could federal income tax rates go? Well, in 1944, the top federal income tax rate was 94% on taxable income (which is what deferred comp is) over $200,000. And, over the next three decades, the top federal income tax rate never dropped below 70%. Today, the top federal income tax rate is 37% under the Tax Cuts & Jobs Act of 2017. But when the TCJA's tax cuts end at the end of 2025, federal income tax rates go back up.
Your non-firefighter friends and relatives with their traditional 401(k)s, 403(b)s and IRAs face the same problem with their tax-deferred accounts, too. But do they also have a federally taxable monthly pension?

Tax Strategies to Consider
The good news is that there are ways to restructure your deferred comp so that the IRS has as little impact upon your retirement funds as is possible.
The exact right strategy for you will vary based upon how old you are now, when you plan to retire, or if you're already retired, and other factors. But the goal is the same: to turn tax-deferred savings in your deferred comp plan into tax-free retirement income.
Here are a couple of possibilities to consider:
One strategy that might work for you is transferring money from deferred comp to a traditional IRA, then converting to a Roth over a prescribed period of time.
Something most folks don't seem to know is that you can perform Roth conversions at any age, at any income and with any amount, so this is not something you want to put off considering. This is especially true as the Trump tax cuts are set to expire at the end of 2025.
Please keep in mind that a Roth conversion is a federally taxable event and may have several tax-related consequences. So it's recommended that you consult with your financial planner, as well as your tax professional, before making any decisions regarding Roth conversions.

Don't Forget Your Legacy in Your Tax Plans
What you may not want to do is leave behind unspent deferred comp to your kids in the form of deferred comp. When you leave behind deferred comp, you leave behind your unpaid federal income taxes. Under The SECURE Act of 2019, if your kids inherit your deferred comp as an Inherited IRA, they are required to liquidate the entire federally taxable account within 10 years of your passing. This means that they have to pay ordinary (earned) federal income taxes on all of your deferred comp that they inherit. If you fail to tax-plan now, you can push your kids into a higher federal income tax bracket.
There's a lot to discuss, and there's lots to consider.
Because of the complexities involved with federal income tax rules, various deferred comp plans and managing multiple retirement income streams, this part of retirement planning shouldn't be left to chance.
If you're not sure what steps to take, consider looking for a financial adviser who understands fire department deferred comp plans, fire department pensions, tax planning for firefighters in retirement, Roth conversions, Section 7702 of the Internal Revenue Code, and all the other specific challenges you face as a firefighter preparing for retirement. Scott Tucker, Kiplinger, www.kiplinger.com, February 1, 2021.

5. PUBLIC FUNDS PRESS BLACKROCK ON POLITICAL SPENDING:
Nearly two dozen fiduciaries of public retirement plans and others expressed concern over BlackRock's internal practices and stewardship stances on companies' political spending and lobbying activity.
In a letter to BlackRock Chairman and CEO Laurence Fink, the state treasurers and trustees of public pension funds and retirement savings with a collective $1 trillion in assets said the events of Jan. 6 that included an assault on the U.S. Capitol "add greater urgency to concerns and expectations regarding corporate political spending and lobbying transparency and practices."
The signatories call for BlackRock to reform its own corporate practices and to set a leading example, "not to set out those practices for others and then follow outdated norms of transparency."
They cite the "reputational damage" of BlackRock's political action committee donating $85,000 to 15 legislators who continued to deny the results of the 2020 presidential election even after the invasion of the Capitol, and said the asset manager's temporary pause on PAC donations does not mitigate the damage. Further, payments through trade associations to electoral vote challengers present another concern, they said.
"BlackRock's disclosure of its own activities on its website falls short of the expectations BlackRock set for portfolio companies in December," the fiduciaries said, noting that BlackRock ranks below more than 150 S&P 500 companies in the 2020 CPA-Zicklin Index of Corporate Political Disclosure and Accountability.
The fiduciaries also criticize BlackRock for a "historic failure to support efforts by other shareholders to promote greater transparency regarding political spending and lobbying at S&P 500 companies, including voting against all 48 such proposals in the 2020 shareholder season. In those cases, eight proposals would have received majority support if BlackRock had supported them and 19 would have received support of a majority of shareholders if both BlackRock and Vanguard had supported them, they said. Hazel Bradford, Pension & Investments, www.pionline.com, January 26, 2021.

6. POLICE REFORMERS' NEXT STEP: A HARD LOOK AT UNION CONTRACTS:
State and local elected officials reacted quickly to the deaths of George Floyd and other African Americans at the hands of police last year by passing a raft of new laws and enacting new policies to reduce police violence against civilians. While those measures seek to change police practices from the top down, reformers' next step should be to work from the bottom up to enhance police accountability through collective bargaining processes.
Opportunities abound. Major cities, including Houston and St. Paul, are currently renegotiating their collective bargaining agreements (CBAs) covering police. Other major cities with police union contracts expiring this summer include Baltimore, Boston, Cincinnati, Memphis, Phoenix and San Francisco. Chicago has been in the midst of heated contract negotiations between the local police union and Mayor Lori Lightfoot.
CBAs determine many police department policies, and are typically renegotiated every three to five years. The stakes are high: America's 20 cities and counties with the largest police departments paid over $2 billion to settle claims of officer misconduct between 2015 and 2020.
CBAs too often protect bad cops and keep them on the beat until something tragic happens. This is because CBAs detail the procedures by which officers can file grievances against superiors, the steps in misconduct investigations, how civilians can file complaints and the keeping of officer performance records. All of these add up to significant officer job protections and constraints on police leadership, especially related to misconduct and discipline.
Today's CBAs have been long in the making. Over multiple rounds of negotiations, the number of job protections has slowly ratcheted up in many contracts as unions representing police pushed for rules that protect their members. For officers, job protections are highly valuable. Getting sacked mid-career can kick former officers out of the middle class, as the skills they've acquired are not easily transferrable to other jobs. Management, on the other hand, has too often seen job protections as something to be traded away in place of raising salaries or benefits. Wage or benefit increases cost money in current dollars; job protections don't.
To improve department operations, policymakers need to comb through current contracts, review existing and past practices, and devise strategies to weed out obstacles to accountability. As outlined in a new Manhattan Institute paper, reformers need to prioritize removing obstacles to the receipt of civilian complaints and their investigation, the determination of any penalties, and the keeping of good records. That means focusing on the following areas of their existing CBAs:
Grievance proceedings: Grievance procedures allow officers disciplined by superiors to challenge their actions. The potential problem is that by empowering officers to push back against management, they decrease superiors' incentive to make tough decisions because they do not want to fight grievances.
Arbitration: Arbitrators have power over contested disciplinary cases. Arbitrators can overturn decisions made by police department leadership, even reinstating officers who have been fired, sometimes with back pay. But overturning leadership decisions can undermine accountability. It's hardly legitimate to accuse a chief of running a department poorly if multiple officers who would have been disciplined or dismissed are pardoned or reinstated by arbitration panels.
Misconduct reporting: It's vital to review CBAs to ensure that they aren't erecting too many barriers to civilians identifying bad cops through misconduct reporting. Easing misconduct reporting will inevitably lead to more frivolous and false accusations and more time wasted investigating them, but it is arguably worth the trade-off if it makes civilians feel that they can be heard and taken seriously — an important step to improving community trust in the police.
Investigatory procedures: Collective bargaining agreements often detail the processes by which any complaint is investigated. However, some steps in this process can tilt the playing field too far in favor of the accused officer. It is also important to determine whether current processes lead disciplinary cases to be decided on procedural rather than substantive grounds.
Record-keeping: Policymakers should push to store officers' disciplinary records in searchable electronic databases. The too-common practice of purging of officer records deprives supervisors of accurate information necessary for managing their organizations effectively. However, to ensure that officers are not held overly liable for unsubstantiated allegations or misconduct from long ago, departments should develop rules for who can consult past records and how they can be used.
As the ink dries on the new laws, reformers should not rest on their laurels. To make further change palatable to officers and their unions, policymakers will need to offer things that can help recruit and retain officers, such as higher starting pay or more flexible retirement arrangements.
Ultimately, communities, police officers and departments will all benefit if the links in the chain of accountability are stronger and tighter. Improving accountability is an important step toward reducing unnecessary use of force, changing public perceptions of police departments and bolstering community trust in the police. Daniel DiSalvo, Manhattan Institute, www.manhattan-institute.org, February 2, 2021.

7. VALUE OF RI PENSION FUND HITS $9.5 BILLION AMID MARKET SURGE:
The value of Rhode Island's state pension fund investments hit a record $9.5 billion at the end of 2020, as retirees and taxpayers continued to reap the benefits of surging capital markets.
General Treasurer Seth Magaziner announced the figure in a news release Wednesday, giving part of the credit to a shift in the fund's investment strategy away from the hedge funds that his predecessor, now-Gov. Gina Raimondo, had embraced.
"Even in a time of extreme market volatility, my Back to Basics investment strategy has protected the pension fund for those families whose livelihoods depend upon it and has spurred growth, resulting in the fund closing out the year at an all-time high," said Magaziner, a second-term Democrat who is eyeing a 2022 run for governor.
The treasurer's office said the pension fund earned 11.87% in 2020, slightly better than the 11.49% growth of its benchmark. The S&P 500 stock index gained 16.26% for the year.
This November will mark a decade since Raimondo engineered an overhaul of the state's pension system that reduced and restructured benefits in an effort to improve its long-term stability. The changes won her the everlasting enmity of many retired teachers and other workers, but also received praise for tackling a difficult problem.


The most recent report from the state's actuaries, released in December, put the funding levels of the two biggest state pension plans at 56.2% (for teachers) and 54.2% (for state employees) -- meaning that the fund's current value is enough to cover a little more than half the future benefits promised to active and former workers.
That is an improvement over the 48.4% funding level of both pension plans in 2010, before passage of the overhaul, which was later amended in a legal settlement after unions challenged the law. But it's actually down from the roughly 60% level both plans reached in the immediate aftermath of the changes, due to a rise in liabilities exceeding the rise in assets.
However, the actuaries project the situation will improve markedly over the next decade. The funding level for both plans is forecast to top 75% by 2030, due to the whittling down of the liability for unfunded benefits granted years ago and the rising value of the pension fund's investments. Ted Nesi, www.wpri.com, January 27, 2021.

8. FORMER FORT SMITH POLICE, FIREFIGHTERS FACE UNCERTAINTY IN RETIREMENT, EVEN WITH CITY EFFORTS:
The City of Fort Smith has dedicated an additional $2 million to the state's police and fire retirement payments to generate money to help support retired public servants. The additional money is expected to yield between 7%-10% interest, or $140,000-$200,000 annually, to help fund the retirement pensions for its police and firefighters who began their careers before 1983, according to Deputy City Administrator Jeff Dingman.
"For a good long while there, governments were promising, but not funding (retirement) enough," said Fort Smith Finance Director Andy Richards. "It's basically funding prior service." According to city records, Fort Smith had 182 police and firefighters and their beneficiaries in 2019 who began their careers before 1983.
Fort Smith paid $5.18 million to those in the old retirement system that fiscal year. Richards said the average amount paid to those on the new plan is unavailable because it's "a cost-sharing number among all the police and fire in the state."
The $5.18 million was funded by 25% of the city's property taxes, state insurance turnbacks, a portion of the city's sales tax, and a small amount from court fines, Richards said. The property tax toward the retirement systems was passed in 1989 and is intended to fund retirement pensions of all police, firefighters and additional beneficiaries, said City Administrator Carl Geffken. However, due to past underfunding, the retirement plan for police and firefighters who began their careers before 1983 and their beneficiaries is not fully funded.

"About 10 years ago, I was told by a police officer and a city official, the best thing I could do for the city was die," former Fort Smith police officer Kim Thompson, 67, said. "I told them, 'That's fine and good, but you forgot -- my wife gets it until she dies.'"

"I can't speak for prior administrations, or boards of directors, or whatever on why the payments weren't made, but I do know that payments have been made, and the new plan is paid up," Geffken said. Thompson, who began his 25-year career in 1975, said the city matched the amount taken out of officers' paychecks for their retirement funds while he was on the force. In the mid-1980s, he and other officers were told they were not contributing enough to the fund.
During the early 1980s, for example, he said some officers who began before him were getting just $75 per month in retirement from the old system.
"It's the quintessential kicking the can down the road -- we'll promise you retirement penchants in the future, but we won't set aside enough money to fund it now," Richards said.
Richards said Arkansas' police and fire retirement system now ensures enough money is put into the fund. But for now, the city is trying to ensure the retirement fund is solvent in 17 years, he said.
This can leave the retirement recipients with uncertainty, some say.
"(Police and firefighters) have legitimate concerns where, at some point, the city won't fulfill that obligation," said Paul Smith, 56, former director of the 12th and 21st District Drug Task Force, who began his career as a Fort Smith police officer in 1987 under the new retirement system.
Dingman said pension payments "will be made" even if the city's general fund has to make up for the short. When asked what he would like to see Fort Smith do with the retirement system, Thompson said he would like the city to "uphold their promise, to pay the state what's due to them, to cover us."
"This administration is doing what previous administrations have done -- they've passed the buck," Thompson said. "They've known about this for 30 years." Max Bryan, Fort Smith Times Record, https://www.swtimes.com, February 1, 2021.

9. HOW TO GET PARTICIPANTS MORE ENGAGED IN FINANCIAL WELLNESS PROGRAMS:
More employers today are investing their time and money in financial wellness programs. Now, many of them are trying to figure out ways to calculate the return on investment (ROI) of such programs.
But experts say employers should also figure out ways to make their financial wellness programs more appealing so that more workers will take full advantage of them.
The first thing an adviser counseling a plan sponsor client on their financial wellness program should do is "engage initially with the corporate sponsor to try to understand their culture and the various segments of their employees," says Nancy DeRusso, managing director and head of coaching at Ayco, a Goldman Sachs company. "Perhaps they learn that the majority of the company's employees don't work at their desk with a computer," so in that case, a mobile app or one-on-one coaching from a call center would be the best ways to reach them, DeRusso says.
"The next step is to meet employees where they are in their financial journey," DeRusso says. Ayco -- which provides more than 1 million eligible employees across corporate America access to financial counseling, including at 50% of the Fortune 100 companies -- covers seven topics: tax planning, risk management, benefits and compensation, cash flow planning, investment planning, retirement planning and estate planning. Regardless of the level of their employment, Ayco has found that these seven topics resound the most for workers, DeRusso says. They are simply delivered differently, depending on the person's job.
Ayco delivers its financial wellness program three ways: through group educational meetings, digital tools and one-on-one counseling. The most popular method among employees is the one-on-one meetings, DeRusso says.
TIAA has found that the most important topic to workers is "managing their daily finances, which includes budgeting and emergency savings," says Snezana Zlatar, senior managing director, financial wellness advice and innovation, at TIAA. "The second area that they are interested in is saving and investing for retirement and other long-term goals, and, third, protecting against risks."
Tom Kelly, principal and voluntary benefits leader at Buck, agrees that immediate concerns need to be addressed first in financial wellness programs, and that means cash management and budgeting.
"In the past, employers defined financial wellness programs as helping with retirement readiness," Kelly says. "But there has been a shift. Today, employers acknowledge that short-term financial stressors need to be addressed before a participant will be in a position to be able to save for retirement. That means helping them with their budgets, including paying down high interest credit card debt, student loan debt and the like. To be successful, a financial wellness program needs to address real-world solutions."
Matt Compton, director of retirement services at Brio Benefit Consulting, says reducing people's financial stress improves their quality of life. "Employees worry just as much about quality of life as they do their salary," he says. "We believe a sound financial wellness program should help employees keep spending within their means, and this can be achieved by giving them access to a comprehensive suite of tools to make good decisions."
Compton also says it is important for companies to keep their financial wellness programs separate from their other benefits.Finally, the Retirement Advisor Council suggests that employers give their workers financial incentives for participating in their financial wellness program, much as they do with health benefits for such actions as scheduling a preventative care checkup with a doctor or going to the gym. Lee Barney, Planadviser, www.planadviser.com, January 26, 2021.

10. JOB HUNTING; HIGHER PAY VS. BETTER BENEFITS:
When looking for a job, people often focus on finding a job that pays the most. But, unless the difference in pay is significant, more pay does not always determine the best job offer. When choosing between offers, it is important to consider the entire package: salary, medical and dental benefits, insurance coverage, and especially retirement plans under which an employee would be covered.


Healthcare Benefits
According to a July 2017 release by the Bureau of Labor Statistics (BLS), 70% of civilian workers surveyed had access to retirement and healthcare benefits from their employers.
In terms of healthcare benefits, those employers paid 80% of the cost of premiums for single coverage and 68% of the cost of family coverage for their employees. Those premiums amounted to an average of $6,690 per year for a single person and $18,764 a year for family coverage, according to the Kaiser Family Foundation's 2017 Employer Health Benefits Survey. So, the more of the premium a potential employer will pay, the better. Smaller companies can combine their costs with a MEWA option.

Retirement Benefits
The retirement plan program is an important part of your compensation package and could determine the lifestyle you can afford during your retirement years. Below are some choices you may face.

Higher Salary vs. Retirement Plan
An employer that does not offer a retirement plan might not be worth considering unless the salary being offered is such that it will allow you to comfortably add contributions to your nest egg on your own. These contributions should be comparable to those offered by other companies with a retirement plan.
If your employer offers a 401(k) plan, the IRS allows you to contribute up to $19,000 of your salary per year tax-free as of 2019. In addition to the benefit of your retirement account being funded with pretax dollars, some employers offer matching contributions, matching the amount the employee contributes up to a certain percentage. Any matching contributions, profit-sharing contributions, and the income tax that you would save through salary deferral should be taken into consideration when comparing job offers.

Defined-Contribution vs. Defined-Benefit Plan
If potential employer A offers a 401(k) plan and potential employer B offers a defined-benefit plan, employer B is often the better choice.
With a defined-benefit plan, your plan benefits are not affected by market performance. Instead, investment risks are borne by your employer, and unless your employer files for bankruptcy and is unable to fund the plan, your pension is guaranteed.
Some may argue that, by nature, defined-benefit plans are risky given the probability of the employer being unable to fund the plan. However, these plans are protected by the Pension Benefit Guaranty Corporation (PBGC), and while your benefits may be reduced, you are guaranteed to receive a minimum percentage of your promised benefits.
With a 401(k) plan, you accept responsibility for the investment risks and potential losses due to market fluctuations.

Choosing Between Two Defined-Contribution Plans
If you are trying to choose between two employers that offer defined-contribution plans, look for the following features:
Guaranteed contributions: Money-purchase pension plans and target-benefit plans include guaranteed contribution features. As such, the employer is mandated to make contributions to the plan each year for as long as the plan is maintained or be subject to stiff penalties. Profit-sharing plans often include discretionary contribution features, which means the employer is not required to fund the plan each year. This makes the money-purchase and target-benefit plans more attractive than a profit-sharing plan. There are exceptions to this general rule, as an employer does have the option to include a mandatory contribution feature in its profit-sharing.
Salary deferral and matching contributions: If both plans include a salary deferral feature, check to see if there is a cap on the amount that can be deferred other than the statutory limit. For instance, the employer may limit deferrals to 10% of compensation. If that is what you will be deferring anyway, it is not an issue, but if you would like to defer more than that amount, the plan may be too restrictive for your retirement needs. Check for matching contributions as well, to see which plan offers the higher matching contribution amount.
Choosing between a qualified plan and an IRA-based plan: Qualified plans usually include distribution-restriction features that may force you to leave the funds untouched until you retire or change employers. This can be a good feature because it prevents the removal of funds from the nest egg for non-necessities. IRA-based plans, such as SEP IRAs and SIMPLE IRAs, have no distribution restrictions, which means that withdrawals from the fund are allowed. Other features, such as contribution limits and creditor protection, should be considered if you need to choose between the two potential plans.
If you are weighing two employers and neither one offers a retirement program, you can consider looking elsewhere or determine whether the compensation package will allow you to fund your own retirement accounts, such as traditional IRAs, Roth IRAs, tax-deferred annuities and other savings programs.

Cafeteria Plan Benefits
Choosing the employer with the better cafeteria plan benefits may mean fewer out-of-pocket expenses for medical and dental needs, as well as better insurance protection for your dependents. A cafeteria plan is an employee benefit plan that allows staff to choose from a variety of pretax benefits. It is also referred to as a "flexible benefit plan" or Section 125 plan.
Cafeteria plans include benefits such as:
For employees, lower out-of-pocket expenses mean more disposable funds, and these can be added to your retirement nest egg.

The Bottom Line
Bear in mind that your total employment compensation is not limited to your salary. Consideration must be given to the benefits an employer offers.
If you want to get a good understanding of a potential employer's benefits package, ask for a copy of its summary plan description (SPD). SPDs are usually provided to current or former employees and beneficiaries; however, if this employer has a good package and you are an impressive candidate, the employer may be willing to make an exception on your behalf. Denise Appleby, Investopedia, www.investopedia.com, May 25, 2020.

11. UPDATE ON MILLENNIALS' READINESS FOR RETIREMENT – KEY FINDINGS:
The brief's key findings are:
A prior CRR study found that, in 2016, Millennials lagged behind Gen Xers and Late Boomers in retirement preparedness.
New data for 2019 show that Millennials are catching up in the labor market and in getting married and buying houses.
However, despite also having similar retirement saving, Millennials' huge student debt burden still leaves them well behind prior cohorts in wealth accumulation.
This slower wealth buildup is of particular concern as Millennials will need more than prior cohorts due to longer lifespans and less support from Social Security.
Click here to view and download the full report. Anqi Chen and Alicia H. Munnell, Center for Retirement Research at Boston College, Issue Number 21-3, February 2021.

12. THREE SURPRISING PITFALLS OF WORKING DURING RETIREMENT:
There are plenty of good reasons to hold down a job in retirement. Not only can working provide extra income and thereby compensate for a lower retirement plan balance, but it can also serve as entertainment. Many people find it difficult to go from a full-time work schedule to having no place to be all week. Working in some capacity could help structure your days and give you an activity that earns you money instead of requiring you to spend it.
That said, working during your senior years could actually come back to bite you if you aren't prepared. Here are three pitfalls to bear in mind.
You may have some Social Security benefits withheld
If you've reached full retirement age (FRA) for Social Security purposes, you can earn as much money as you'd like without that income impacting your benefits. If you're collecting Social Security prior to FRA, though, you'll risk having benefits withheld if your earnings exceed a certain threshold.
This threshold changes from year to year. In 2021, you can earn $18,960 from a job without impacting your benefits. From there, you'll have $1 in Social Security benefits withheld for every $2 you earn. If you'll reach FRA in 2021, that limit increases to $50,520. Beyond that point, you'll have $1 in Social Security withheld for every $3 you earn. Those withheld benefits won't be lost permanently, but you'll need to wait until FRA to get that money back.
You may be taxed on your Social Security income
If Social Security is your sole income source during retirement, you may not get taxed on your benefits. Federal taxes on benefits do apply once your provisional income (your non-Social Security income plus half of your total annual benefit) exceeds a certain threshold.
If you're single with a provisional income between $25,000 and $34,000, you may be taxed on up to 50% of your benefits. Beyond $34,000, you could be looking at taxes on up to 85% of your benefits. If you're married, you'll risk taxes on up to 50% of your benefits with a provisional income of $32,000 to $44,000. Beyond $44,000, married people risk taxes on up to 85% of their benefits.
Earning money from a part-time job could propel your provisional income to a level where taxes on your benefits apply. It may still be worth holding a job, but you'll need to account for those taxes when deciding.
You could pay higher taxes on retirement plan distributions
The higher your income in retirement, the higher the tax bracket you'll fall into. Working during your senior years could bump you into a higher bracket, causing you to pay more tax on your IRA or 401(k) distributions. That said, if you keep your retirement savings in a Roth account, withdrawals will be yours to enjoy tax-free, and in that case, holding down a job won't impact your distributions.
There are plenty of benefits to working in retirement, and in some cases, doing so may be a necessity. If you're going to hold down a job, be aware of the various tax and Social Security implications so you're not caught off guard. Maurie Backman, Motley Fool, www.fool.com, January 31, 2021.

13. COVID-19 HAS HURT WOMEN'S RETIREMENT ACCOUNTS - HERE'S HOW TO REBUILD:
Women were already less prepared for retirement than men. Then the pandemic hit. The gender gap in retirement savings has long been an issue even among those with adequate investment accounts, and the coronavirus pandemic has made the disparity even worse, according to a survey released Monday from the Nationwide Retirement Institute.
Nearly three in four women with investable assets of $100,000 or more said the pandemic has negatively affected their ability to retire, according to the survey, which questioned more than 2,500 investors, advisors and financial professionals online between May 17 and June 25, 2020.
In addition, the survey showed that women may be less prepared than men to protect their invested assets in volatile markets or have an established strategy against outliving their assets. It also showed that women's top concerns over the next 12 months are protecting their portfolios from Covid-related losses, protecting assets and the cost of health care.
"The impact of Covid has been profound," said Lori Hall, director of strategic accounts at Nationwide Financial. "But it's part of a more systemic issue."

Covid made the existing gender gap in retirement worse. In 2016, the median household income for women 65 and older was $47,244, including earnings and income from retirement, property and Social Security, according to a December 2020 paper from the National Institute on Retirement Security. For men 65 and older, the figure was $57,144.

There are many things that contribute to a gender gap in retirement savings. Women, for example, still generally make less than men and take more time out of the workforce to care for children or family. Women also tend to outlive men, meaning that they need more savings in their later years.
The coronavirus pandemic has exacerbated many of these already existing issues and is why the ensuing recession has been dubbed a "she-cession."
Women, and especially women of color, have been more likely to lose their jobs due to overrepresentation in industries hit by Covid, such as leisure and hospitality. They've also been more likely to lose work due to caregiving duties, either of children that are doing online schooling at home or elderly family members.
All of these things negatively impact the ability to adequately save for retirement. To be sure, pausing or saving less for retirement during the pandemic because you've lost your job, some of your income or had any other change in circumstance is okay. It is possible to get back on track and rebuild your retirement savings.
"In the short term, it is okay if you have to adjust," said Marguerita Cheng, a certified financial planner and CEO at Blue Ocean Global Wealth in Gaithersburg, Maryland.
One way to rebuild your retirement savings is to continue to make any contributions you can to your 401(k), or an individual retirement account if you've lost your job and access to employer-sponsored plans, said Kelly DiGonzino, CFP, director of financial planning at Beacon Pointe, an independent advisory firm in Newport Beach, California.
Any amount that you're able to invest will grow over time aided by the stock market. "The market has been going up like crazy," DiGonzini said.
If you can't save consistently, allocating part of windfalls such as a stimulus check or tax refund is a good way to contribute to retirement, said Cheng, who is a member of the CNBC Advisor Council.
Women should also focus on spending and living within their means, especially if they've changed, said Shweta Lawande, a CFP and analyst at Francis Financial, a New York-based firm dedicated to serving women, couples and those experiencing divorce.
"What we're trying to share with our clients in this time is to focus on what they can control," she said. While they can't control lockdowns or the job market, they can make sure their budgets are airtight, she added.
And, those with an existing portfolio can take some time to check their asset allocations to ensure they're invested in a diverse group of stocks, bonds, real estate cash and more, said Lawande, adding that it reduces risk.
"Even in a year like 2020, we saw the benefits of our clients who have stayed invested in the market and diversified," she said.
Working with a financial advisor, if possible, can also help women make sure they're on track to retire when they'd like to and to formulate a strategy to course correct if they're not.
Fortunately, data from the Nationwide survey showed that many women are already taking this step -- 67% of women said they'd worked with a financial advisor or planner in 2020, up from 58% in 2019.
"I was surprised and encouraged and excited to hear that women have closed the gap on seeking advice," said Ann Bair, senior vice president of marketing at Nationwide Financial. "It really speaks to women kind of taking control and knowing that they need to be on top of this." Carmen Reinicke, CNBC, www.nbcnews.com, January 27, 2021.

14. SURVEY; FEWER THAN 4 IN 10 AMERICANS COULD PAY A SURPRISE $1,000 BILL FROM SAVINGS:
As the pandemic enters its most intensive phase yet and job growth stalls, just 39% of Americans surveyed say they could comfortably cover an unexpected expense of $1,000.
Underscoring the shaky finances of many Americans, Bankrate's January Financial Security Index finds that fewer than 4 in 10 U.S. adults could absorb the cost of a four-figure car repair or emergency room visit by tapping into savings.
Fully 18% of respondents said they would put the expense on a credit card and pay it off over time, incurring interest charges. Another 18% said they could handle a surprise expense without borrowing, but would have to make room in their budgets by scrimping on other items.
An additional 12% said they would borrow from family or friends, while 8% said they would take personal loans. "The precarious state of Americans' emergency savings has been further set back by the pandemic, with nearly as many needing to borrow to cover a $1,000 unplanned expense as those that can pay for it from savings," says Greg McBride, CFA, Bankrate chief financial analyst.
Key findings:
During booms and busts, the share of Americans struggling with financial instability has held steady.
Nearly 4 in 10 Americans would need to borrow to pay an unexpected bill.
There are 44% who expect their financial situations to improve this year.
The results of Bankrate's surveys have remained consistent for years. Since 2014, the percentage of U.S. adults who would tap cash reserves to cover a $1,000 emergency has hovered between 37% to 41%.
The results echo findings from the Federal Reserve and the Pew Charitable Trusts. Both have reported that many Americans haven't managed to stash away rainy-day savings, and therefore must rely on credit cards or borrowing from friends and family for an unexpected expense.
The higher your household income, the more likely you would be to use savings to pay for unanticipated costs. For households earning $75,000 or more annually, fully 58% have built enough of a nest egg to absorb a $1,000 hit, the Bankrate survey found. For households making less than $30,000, just 21% have a rainy-day fund to cover $1,000.
Age also matters. Only a third of millennials could turn to emergency funds to pay $1,000. By contrast, 46% of Gen Xers and 45% of baby boomers said they could cover a $1,000 emergency.

Fortunes improve for some, decline for others
Affluent Americans have done well during the coronavirus recession. Many white-collar workers switched to working from home and continued to collect paychecks. With the stock market and home values at record levels, those who own assets have thrived.
However, service-sector workers haven't fared so well. Many have lost their jobs as customers stay home. Those who kept their positions have risked their health at workplaces that put them in close contact with other people.
Economists have begun to refer to that disconnect as the K-shaped economy: Those at the top enjoy improving fortunes, while those at the bottom see their financial situations decline.
"Things are getting better for some while getting worse for others," McBride says. "While things were certainly dire in 2020 for the millions of households that lost a job, had a health issue or suffered an income disruption due to the pandemic, for millions of other Americans, 2020 was a year of significantly boosting savings and paying down debt. Stimulus checks and money not being spent on vacations, ballgames and concerts helped a lot of households better secure their financial foundation."

On the food line in Florida: 'We're surviving'
Long lines of cars at food banks throughout the country illustrate the stark reality of life on the bottom of the K. At a recent food giveaway at a church in West Palm Beach, Fla., school secretary Pamela Bryant was among the two dozen or so motorists waiting in a queue that stretched for two blocks.
Bryant said she lost income to the COVID-19 pandemic and burned through her modest savings. "The little that I did have, I had to use," she said. "It's just a tough situation."
A few vehicles away, Casimira Rodriguez said she lost all of her income as a self-employed house cleaner when the pandemic struck in March. Her husband is still working, but the couple has exhausted their savings.
"We're surviving," Rodriguez said.
She hopes to go back to work when the spread of the coronavirus slows, but she's unsure when that will happen.
For adults who would need to borrow to cover a $1,000 emergency, the most common option is putting the expense on a credit card now and dealing with the financial consequences later. A credit card debt was the preferred payment method for 18% of Americans.
However, going into debt to deal with a rainy day is expensive. Even as interest rates have plunged on other types of debt, the average interest rate on a credit card remains north of 16%, according to Bankrate's national survey of lenders.
If you don't pay off that surprise expense quickly, credit card finance charges can add hundreds of dollars to the cost of that mechanic's bill or hospital visit.
As for the 8% who said they'd need a personal loan, many face unsavory options such as high-interest payday loans, says Signe-Mary McKernan, vice president at the nonprofit Urban Institute. She says consumers should look for better options, such as personal loans from credit unions or from employers that offer emergency loans as a worker benefit.
Americans are optimistic that 2021 will be better for their finances, with 44% forecasting their finances will improve.
That includes 12 percent who say their fortunes will get significantly better and 32% saying they will get somewhat better.
Just 14% expect their finances to get worse in 2021.
Optimism about an improved financial situation in 2021 declines with age. Younger millennials, ages 24 to 30, are the most optimistic, are the most optimistic, with 53 percent expecting an improved financial situation this year. Just 28 percent of Americans age 66 and older think things will improve in 2021.
Half of the highest-earning households expect an improved financial situation in 2021, while just 37 percent of the lowest-earning households feel that way.
Political differences are evident, too. While 56 percent of Democrats expect an improved financial situation in 2021, just 33 percent of Republicans feel that way.
Preparing for tough times
The U.S. economy endured a sharp downturn in 2020. Unemployment spiked into the double digits.
The coronavirus recession served as a stark reminder of the wisdom of stashing away three to six months of living expenses in a no-risk account. While that basic bit of advice hasn't changed for decades, many Americans still struggle to save, whether it's because their incomes are barely enough to cover their cost of living or they lack financial discipline.
The results of Bankrate's latest survey serve as a reminder to get into the habit of saving, McBride says.
"Establishing the habit via direct deposit from your paycheck or automatic transfer from checking into savings is critically important, especially if you're starting from a position of little or no savings," McBride says. "If you wait until the end of the month and try to save what is left over, too often there is nothing left over. Becoming a good saver isn't just a switch that you flip one day."
While you'll ultimately want to amass a few thousand dollars in savings, McKernan says workers who are living paycheck to paycheck should start with a modest goal.
"When you hear three months of living expenses, that can be daunting," she says. "Even small amounts of savings help." The Urban Institute's research shows that setting aside as little as $250 can help consumers avoid eviction, disconnected utilities and other financial calamities, McKernan says.

Methodology: This study was conducted for Bankrate via telephone by SSRS on its Omnibus survey platform. The SSRS Omnibus is a national, weekly, dual-frame bilingual telephone survey. Interviews were conducted from Dec. 8-13, 2020, among a sample of 1,003 respondents in English (970) and Spanish (33). Telephone interviews were conducted by landline (293) and cell phone (710, including 469 without a landline phone). The margin of error for total respondents is +/-3.58 percent at the 95 percent confidence level. All SSRS Omnibus data are weighted to represent the target population. Jeff Ostrowski, www.telegraphherald.com, January 31, 2021
15. FTC'S CORONAVIRUS ADVICE FOR CONSUMERS:
Avoid Coronavirus Scams:
Learn how to tell the difference between a real contact tracer and a scammer. Legitimate tracers need health information, not money or personal financial information.
Don't respond to texts, emails or calls about checks from the government. Here's what you need to know.
Ignore offers for vaccinations and miracle treatments or cures. Scammers are selling products to treat or prevent COVID-19 without proof that they work.
Be wary of ads for test kits. Many test kits being advertised have not been approved by the FDA, and aren't necessarily accurate. Almost all authorized home tests don't provide rapid results and require you to send a test sample to a lab for analysis.
Hang up on robocalls. Scammers are using illegal robocalls to pitch everything from low-priced health insurance to work-at-home schemes.
Watch for emails claiming to be from the CDC or WHO. Use sites like coronavirus.gov and usa.gov/coronavirus to get the latest information. And don't click on links from sources you don't know.
Do your homework when it comes to donations. Never donate in cash, by gift card, or by wiring money.
Click here to learn more. FTC, www.ftc.gov.

16. IRS UPDATES FAQS ON PAID SICK LEAVE CREDIT AND FAMILY LEAVE CREDIT:
The Internal Revenue Service today posted updated FAQs about recent legislation that extended and amended tax relief to certain small- and mid-sized employers under the Families First Coronavirus Response Act (FFCRA). The FAQs are available at COVID-19-Related Tax Credits for Required Paid Leave Provided by Small and Midsize Businesses FAQs.
The updates to the FAQs cover how the COVID-related Tax Relief Act of 2020, enacted December 27, 2020, extends the availability of the tax credits created by the FFCRA to eligible employers for paid sick and family leave provided through March 31, 2021, as well as other amendments to the credits.
The paid sick and family leave credits, which previously were available only until the end of 2020, have been extended for periods of leave taken through March 31, 2021.
The paid sick leave credit is designed to allow qualified businesses – those with fewer than 500 employees and who pay "qualified sick leave wages" – to get a credit for wages or compensation paid to an employee who is unable to work (including telework) because of coronavirus quarantine or self-quarantine or has coronavirus symptoms and is seeking a medical diagnosis. Eligible employers may claim credit for paid sick leave provided to an employee for up to two weeks (up to 80 hours) at the employee's regular rate of pay up to $511 per day and $5,110 in total.
In addition, an eligible employer can receive the paid sick leave credit for employees who are unable to work due to caring for someone with coronavirus or caring for a child because the child's school or place of care is closed, or the paid childcare provider is unavailable due to the coronavirus. Eligible employers may claim the credit for paid sick leave provided to an employee for up to two weeks (up to 80 hours) at 2/3 the employee's regular rate of pay, or up to $200 per day and $2,000 in total.
Employers are also entitled to a paid family leave credit for paid family leave provided to an employee equal to 2/3 of the employee's regular pay, up to $200 per day and $10,000 in total. Up to 10 weeks of qualifying leave can be counted towards the family leave credit.
Eligible employers are entitled to immediately receive a credit in the full amount of the paid sick leave and family leave plus related health plan expenses and the employer's share of Medicare tax on the leave provided through March 31, 2021. The refundable credit is applied against certain employment taxes on wages paid to all employees.
Eligible employers may claim the credits on their federal employment tax returns (e.g., Form 941, Employer's Quarterly Federal Tax Return), but they can benefit more quickly from the credits by reducing their federal employment tax deposits. If there are insufficient federal employment taxes to cover the amount of the credits, an eligible employer may request an advance payment of the credits from the IRS by submitting a Form 7200, Advance Payment of Employer Credits Due to COVID-19. IRS, IR-2021-26, www.irs.gov, January 29, 2021.

17. WORD PLAY - FOR THOSE WHO LOVE WORDS:
Do you know the difference between 'Feign,' 'Feint' and 'Faint'? Find out here.

18. A THOUGHT FOR TODAY:
"Don't be afraid to give up the good to go for the great." -John D. Rockefeller

19. TODAY IN HISTORY:
On this day in 1789, 1st US electoral college chooses George Washington as President and John Adams as Vice-President.

20. REMEMBER, YOU CAN NEVER OUTLIVE YOUR DEFINED RETIREMENT BENEFIT.
Items in this Newsletter may be excerpts or summaries of original or secondary source material, and may have been reorganized for clarity and brevity. This Newsletter is general in nature and is not intended to provide specific legal or other advice.