---
PLEASE GIVE US YOUR FEEDBACK!
CLICK HERE TO TAKE A BRIEF SURVEY TO HELP IMPROVE THE CONTENT OF THIS NEWSLETTER.
---
1. NEW JERSEY GOVERNOR TO PROPOSE FULL PENSION PAYMENT FOR FIRST TIME SINCE 1996:
New Jersey Gov. Phil Murphy is expected to propose making a full payment to the state's chronically underfunded pension system for the first time since 1996, a sign that the blow from the pandemic to all states' finances isn't as brutal as officials originally feared.
Mr. Murphy, a Democrat, will call for a $6.4 billion payment to the pension system in his budget address Tuesday, senior members of his administration said. The Murphy administration has been ramping up pension payments and originally intended on making a payment of $5.76 billion for the fiscal year that begins in July.
In New Jersey, as in many other states, tax revenues have outperformed earlier projections. When the pandemic hit, states projected revenue would drop off significantly. State revenues ended up falling 1.6% in fiscal year 2020 and were 3.4% lower than projected before the pandemic, according to the National Association of State Budget Officers. While states expect revenues to fall 4.4% in fiscal 2021, which ends on June 30 for most, 18 states are seeing revenues come in above forecasts.
Federal aid for businesses and households helped prop up incomes and consumer spending across the U.S. Unemployment fell and economic activity picked up much faster than expected.
State and local budget shortfalls have been at the center of discussions in Washington since last spring over what to include in another economic relief package.
Congress has provided state and local governments more than $300 billion in federal aid, including grants for education and higher federal matching funds for Medicaid, though the funds came with restrictions on how they could be spent. Democrats are now proposing $350 billion in flexible funding to plug state and local budget holes, a provision Republicans have opposed.
Mr. Murphy's pension payment proposal, which will be included in broader budget discussions with the Democratic-led legislature that formally kick off Tuesday, doesn't use any federal stimulus funds, the officials said. And making a full pension payment for the upcoming fiscal year isn't contingent on raising taxes, they said.
"With this payment, we are keeping our word to hundreds of thousands of retirees who have paid into their pensions even while past administrations continually kicked the can down the road," Mr. Murphy said. "I am proud that we are able to finally meet our obligations without attacking the middle class and slashing services."
In the spring of 2020, New Jersey budget officials expected tax revenue would fall during the economic crisis fueled by the Covid-19 pandemic. And while some revenue streams are down, others like sale-tax revenue--driven by holiday shopping--and state lottery revenue are doing better than anticipated. Federal stimulus has also infused more money in the state.
The improved financial picture means the state could avoid the most painful of spending cuts that many feared would be on the table this budget year.
Many past administrations, led by both Democrats and Republicans, failed to make full payments or skipped payments altogether, increasing the burden on the state to make up those contributions in the future and making New Jersey's pension system one of the worst funded in the country, according to the Pew Charitable Trusts.
New Jersey's $71.9 billion in unfunded pension liabilities has also put pressure on the state's credit rating. Both S&P Global Ratings and Fitch Ratings downgraded New Jersey's debt in 2020, citing the state's high pension obligations, and projected weak revenue growth stemming from the pandemic.
Last year, New Jersey borrowed $4.5 billion to help pay for operating expenses at the same time it made the $4.77 billion pension payment, drawing objections from some Republicans. The Murphy administration has defended its approach, saying it made financial sense to take advantage of low interest rates and take on more debt, rather than cutting spending more deeply or making a smaller pension contribution. Joseph De Avila, The Wall Street Journal, February 22, 2020.

2. WHEELING APPROVES DEFERRED RETIREMENT OPTION FOR FIRE DEPARTMENT:
The city of Wheeling has approved a new Deferred Retirement Option Plan for eligible senior members of the Wheeling Fire Department, and city leaders will explore a similar plan for the city's police pension fund to help retain veteran officers.
Last week, Wheeling City Council authorized the fire department to participate in the DROP program as proposed by the city and as administered by the West Virginia Pension Oversight Board. It's the second such program the city has participated in, City Manager Robert Herron said, both in the fire department.
"Basically it enables firefighters who are eligible for retirement to enter the DROP," he said, "and basically it freezes their pension for up to a five-year period where it is set aside, and they can continue to work in the fire department."
At the end of the five-year period when participating firefighters leave the DROP program, they then receive a lump sum payment of five years worth of pension benefits that they would have received had they retired, Herron explained.
"The benefit to the city is that it enables us to retain senior members of the fire department for that five-year period," he said, "and also it enables the pension fund to utilize those funds that otherwise would be drawn down."
Herron noted that the first pension DROP program in which the city's fire department participated saw their pension fund come out ahead by about $800,000 over that five-year period. Herron said the current DROP program for the fire department will conclude this year around June 30.
Initially, the city did take somewhat of a "hit" five years ago when the first DROP program was adopted, according to Herron, who explained that about 11 fire department employees entered the program. Had those employees retired five years ago, the city would have been able to replace them in the state pension fund at a lower annual cost.
"However, because this particular DROP program will include between five and six eligible employees, that cost has already been absorbed within the budget, and actually we'll see a slight reduction," Herron said. "So from a budgetary perspective, this time around it's actually a benefit."
Herron said there also was an actuarial study done that projects into the future for the five-year period of the upcoming DROP program, and in order to qualify, the financial outcome has to be actuarially either neutral or beneficial. The DROP program is approved by the Municipal Pension Oversight Board, which most recently gave the green light in December to the city's new program.
"I fully support this," Herron said. "It does enable us to retain valuable employees who otherwise would probably retire."
Councilman Dave Palmer noted that a DROP program could also be utilized for the city's police pension fund.
"I think we need to have a discussion probably with the chief to form some type of committee to see if we can find some interest for possible retention of our senior officers, and also for recruitment in the future of officers," Palmer said.
The city manager noted that five years ago, there was not an overwhelming response of interest from eligible members of the police department to start a DROP program for officers nearing retirement at that time. However, recent discussions about police staffing and a growing desire to put more officers on the streets makes a DROP program for the police department worth revisiting. Eric Ayres, www.theintelligencer.net, February 22, 2021.
3. COULD THERE BE A RENEWED INTEREST IN DB PLANS?:
Over the years, the retirement plan industry has introduced new features for defined contribution (DC) plans to mimic the advantages participants received from defined benefit (DB) plans. It seems that although DB plan sponsors have been eliminating or offloading their obligations, the industry has recognized the benefits of a plan design in which employees automatically participate and receive guaranteed payments for life.
Richard Hudson, a consulting actuary with First Actuarial Consulting Inc. (FACT), says the real problems for DB plan sponsors, and the reasons many are offloading their plans, are risk and unknown costs. "If DB plan sponsors knew consistently what their costs would be, they would be more inclined to stick with it," he says.
Hudson explains that with a traditional DB plan, an employer might decide to target a replacement of 60% of employees' income. An actuary would figure out the benefit formula to get to that target and calculate the cost to the employer at, for example, 6% of payroll. That might have been the cost when the employer started the plan, but as interest rates have been falling, the cost of providing that benefit has increased. It now could be 15% of pay, Hudson says. "Instead of changing the benefit formula, the escalating cost moves them instead to eliminate the plan altogether," he says.
Syed Nishat, a partner at Wall Street Alliance Group, says the main concern for DB plan sponsors is risk; their costs are sensitive to interest rates. "If interest rates go up, it helps funded status and the plan sponsor doesn't have to put in more money. If rates go down, liabilities and funded status deficit decrease, and the plan sponsor may have to come up with more money," he explains. "For plan sponsors, it is difficult to predict what rates will do."
Nishat says this is one of the reasons many plan sponsors got rid of their plans. Another reason is the huge expense of Pension Benefit Guaranty Corporation (PBGC) premiums.
Nonetheless, DB plans offer important benefits to employees.
"Data shows people are worried about being able to retire and they want to know they won't outlive their savings. There's comfort in being paid forever no matter how long you live," John Lowell, an actuary and partner with October Three Consulting, says. "More people are saying they need guaranteed lifetime income in order to feel comfortable about retirement. Their DC plan balances may be big, but looking at the rates of returns they can get--1% on a good day in a money market fund--those balances are limited in what income they can provide."

Nontraditional DB Plan Designs
Hudson sees some plan sponsors starting new DB plans. He notes that he helped one client move from putting contributions into a DC plan to offering a DB plan. The client kept the DC plan open for employee deferrals.
He says most plan sponsors that are taking this approach are interested in new DB plan designs that seek to eliminate the problems with traditional pensions. He explains that the traditional final pay plans have a lot of variability and volatility, as they are sensitive to plan liabilities. "If employers are looking for stability, traditional plans are not the answer," he says.
According to Hudson, a new DB plan design gaining traction among plan sponsors is a variable/adjustable plan. With this plan design, the employer decides what it can afford to put into the plan and the actuary calculates the level of benefits this can provide. For example, an employer cost of 6% of pay might provide a benefit level of 1% of pay.
The advantage to the variable/adjustable plan is that when interest rates and mortality tables change, the benefit accrual changes, not the employer contribution. "So, next year, if interest rates move, with 6% of pay, the plan may only provide a benefit of 0.9% of pay, for example," Hudson explains. "With this plan design, employers have cost security and participants get retirement security with lifetime income. The plan sponsor pays out benefits via an annuity."
Hudson notes that actuarial costs are about the same as with a traditional DB plan, but computer models allow for actuarial calculations to be done much more quickly than before. However, variable/adjustable plans can cut plan sponsors' PBGC premium expenses. "Variable plans usually target being slightly overfunded, 110% or so. The ones I've worked on have never paid a variable rate premium [VRP]," he says.
Cash balance plans have become more popular since the passage of the Pension Protection Act of 2006 (PPA). "Now, about 30% to 40% of DB plans are cash balance plans," Nishat says. Cash balance plans are easier for employees to understand and appreciate because they look like a DC plan in that they receive a statement of their account balance each year, he explains.
With a cash balance plan, the balances participants see on their statements are guaranteed benefits. The account balance is the accumulated value of employer contribution credits (defined in the plan as a percentage of pay or a flat amount) and a guaranteed investment return, or interest crediting rate. When they retire or leave their job, participants can take their balance as a lump sum or choose to annuitize it. "Although sponsors of cash balance plans have to offer employees the opportunity to take their benefit in the form of an annuity, usually benefits are paid as a lump sum, which mitigates mortality risk," Hudson notes.
"Because the participants' account balances are not subject to the interest rate fluctuations, a cash balance plan is easier to manage from a fiduciary point of view when compared to a traditional DB plan," Nishat says.
He adds that participants in a cash balance plan can accumulate nearly double the benefits they would in a 401(k).
One reason an employer would want to offer a cash balance plan is that it is easier to manage the funding. If the plan sponsor wants to decrease or increase its contribution, it can change the plan's contribution formula, Nishat says. Changing the contribution in a traditional DB plan is much more complicated since it depends on the legislated actuarial assumptions to determine plan liabilities. Cash balance plans can be amended before employees accrue 1,000 hours--typically by May of that year--so the plan sponsor contributes less, Nishat says. He notes that changes must be communicated to participants.
There is also more flexibility for employers if they want to control their costs. When designing the plan, highly compensated employees or certain job classifications (e.g., nurse practitioners, physician assistants, etc.) can be excluded if the plan sponsor thinks the contributions for them would be too high, Nishat says. He notes that these exclusions need to be stated in the plan document.
The Setting Every Community Up for Retirement Enhancement (SECURE) Act also made it easier for employers to adopt a cash balance plan, Nishat notes. Previously, employers had to adopt one and fund it by the end of December. "This caused great concern because employers didn't know how their businesses would fare in the following year," he says. "Now, employers can decide whether to adopt a cash balance plan and fund it by their tax filing deadline. This is better because they know their business' budget for the current year."
Plan sponsors can mitigate cost volatility in cash balance plans by using certain interest crediting rates. However, Hudson says approximately two-thirds use an interest crediting rate tied to the Treasury rate, which makes it more difficult to provide a reasonable benefit due to today's low interest rate environment. Hudson suggests that plan sponsors combine the concept of a cash balance plan with a variable plan to adjust each year the amount of pay credit it gives participants. "If plan investments don't earn enough to cover the interest credit, the plan sponsor would lower the pay credit so the amount of funding it has to put into the plan remains solid," he explains.
Lowell says if plan sponsors have a market-return cash balance plan, or, to a lesser extent, a variable annuity plan, they can create a scenario where they can use investments to create a liability hedge and see very little volatility. "Whatever the contribution and interest credit formula is, that is your cost, plus you'll have administrative costs," Lowell says.
Employees are attracted to retirement plan designs that include the ability to get guaranteed lifetime income, Lowell says. "Plans in which employees are paying fair prices for guaranteed lifetime income rather than going into the market and purchasing an annuity are going to be from employers of choice," he says.
Lowell acknowledges that it's hard to go against the grain. "It's hard for a CFO [chief financial officer] or human resources [HR] officer to say, 'We're going to be different,' and I think that's what stopping things right now," he says.

Benefits of Offering a DB Plan for Employers
Hudson says a problem with offering employees a DC plan rather than a DB plan is that participants may defer retirement if they are not comfortable retiring with a plan that doesn't offer lifetime income.
"An aging workforce precludes a company from the natural movement of employees through the ranks, and employers may see increased medical and disability costs," he says. "When deciding to move from a DB plan to a DC plan, sponsors typically only look at costs and not the whole effect on their workforce." Hudson says a DB plan is valuable because it provides a subsidy to Social Security so employees will have guaranteed income for life.
Lowell says now that the majority of employers offer DC plans, they're missing out on the ability to create a retention mechanism. "Going back 30 years, a company offered a pension and its design would incentivize employees to stick around. If they stay until age 55, for example, they got better benefits," he says. "With a 401(k), there's nothing to keep people around. It's both a beauty and a curse they are portable, and because many employers want a safe harbor plan design, employees are vested immediately."

There are also no longer features in DC plans to help organizations differentiate themselves, Lowell contends. "If someone is looking for a job and gets multiple offers, they may ask whether there's a 401(k) plan and some might even know enough to ask whether there is a match, but they almost never ask how good the match is," he says. "I think if an employer can tell a candidate, 'We have a retirement plan that gives you guaranteed lifetime income,' that has a huge amount of pizzazz right now." Rebecca Moore, PLANSPONSOR, www.plansponsor.com, February 18, 2021.
4. STATES PUSH AHEAD ON PRIVATE-SECTOR INITIATIVES:
Despite the economic stress caused by the pandemic -- or possibly because of it -- interest in state private-sector retirement programs continues to grow.
"It seems like momentum is picking up," said Tobias Read, treasurer of Oregon, the first state to launch a retirement savings program for private-sector workers. Mr. Read regularly talks with officials in Nevada, Pennsylvania, Hawaii and other states interested in starting their own programs. "People really get the power of what we have done here. We are turning apathy and inertia into an ally," Mr. Read said.
Virginia and Wisconsin are the latest examples of the trend.
In Virginia, legislation establishing an auto IRA appears headed for passage, propelled in part by an estimate that inaction would cost Virginia taxpayers $11.8 billion over the next 15 years due to a lack of retirement preparedness and increased reliance on social services.
The bill's sponsor, House Appropriations Committee Chairman Luke Torian, D-Prince William, said the new program, to be housed within the state's 529 office but administered by a separate board, is an opportunity for all Virginia workers to build portable savings.
"I am hopeful that Virginia529 can do for retirement planning what it did for college savings," he said.
Earlier this month, a Wisconsin retirement security task force convened by the governor recommended a private sector auto-IRA program, WisconsinSaves, and incentives to encourage auto enrollment in workplace plans. Wisconsin was "in trouble when it comes to retirement security" even before the coronavirus pandemic, the report noted.
The pandemic and some of the political measures being taken to help people impacted by it may be responsible for some of that momentum, said Angela M. Antonelli, executive director of Georgetown University's Center for Retirement Initiatives. She noted that one COVID- 19 relief measure, the CARES Act, could negatively affect retirement security because it allows people experiencing hardships to tap into their retirement accounts, making an acknowledged retirement security problem even worse.
"When the sun shines, there is going to be a greater appreciation for savings. Emerging from all of this is the value of helping people," Ms. Antonelli said.
To date, 12 states and Seattle have enacted retirement savings programs for private-sector workers. They include OregonSaves with more than 90,000 funded accounts and $92 million in assets, the Illinois Secure Choice retirement savings program with $52.6 million and 82,852 funded accounts, and the $38 million CalSavers Retirement Savings Program that as of February had enrolled 274,024 participants, with another enrollment phase coming up.
The predominant model is an auto IRA, in which employer participation is required if no plan is already offered. Other options are a voluntary payroll deduction Roth IRA, a multiple employer plan, and a service provider marketplace, or a hybrid.
Colorado, Connecticut, Maryland, New Jersey and Seattle are in the process of implementing similar auto-IRA programs, while New York chose the voluntary IRA. Massachusetts and Vermont chose a voluntary multiple employer plan, Washington state has a service provider marketplace and New Mexico is building a hybrid of the marketplace and multiple employer plan.
And more innovations are in the works. "At the end of the day, there is room for a lot of solutions," Ms. Antonelli said.
In 2020, at least 20 states and cities introduced legislation to establish new programs or form study groups to explore options.
In 2021, "the legislative sessions are off to a really strong start," said Jessica Eckman, Washington-based senior legislative representative at AARP, where such programs are a priority. She noted that Colorado enacted a program in the midst of the pandemic last July, and while state budgets "are in complete disarray, we are still seeing that momentum in a lot of different states," including Kansas, North Carolina and Delaware.
"There are always states building toward a bill. It's very encouraging. This is a non-partisan issue," Ms. Eckman said.
Part of what is compelling to both red and blue states to consider programs are the economics of public support for older people underprepared for retirement vs. ways to encourage workers to save for retirement. "The cost savings to states definitely resonated in the past and it continues to resonate. It's going to cost now or later," Ms. Eckman said.

'Very practical solution'
"This is a very practical solution to the coverage gap, and there are also taxpayer implications," said Lisa Massena, who served as the founding executive director of the OregonSaves program and now consults with states on retirement savings policy and innovation. Her research shows that roughly 5% of participants in programs up and running appear to have needed the funds for emergency purposes due to a lack of savings. "The programs are retirement programs but they really accommodate both. States understand that. We continue to see percolation in all kinds of states — blue, purple, red," Ms. Massena said.
Advocates for private-sector retirement programs are also encouraged that more states are considering collaborating to tap into existing programs or perhaps a new model. Oregon, for example, amended its program through additional legislation that now allows it to accept accounts from other states. "We are seeing more language being included to keep that as an option," Ms. Eckman of AARP said. "It's going to be important for states to be able to do that."
More talk of a collective approach could emerge in 2021, said Ms. Massena, who hopes that the robust state activity and ongoing innovations will ultimately lead to a federal approach. As more states launch or refine programs, "there is going to be a consortium at one point," Ms. Massena said.
And, as more programs build up assets, the initial resistance to state-run private-sector programs from retirement service providers is fading, she said. "The financial industry has really shifted from seeing it as a threat to the opportunity that it really is. It is hard to not see that workers are taking advantage of the opportunity. The problem is large. The gap is large," Ms. Massena said.
Mr. Read of Oregon thinks all approaches underway or under consideration by states matter. "It can be a nudge to employers, too," he said. "In the long run, that might be the next thing." Hazel Bradford, Pension & Investments, www.pionline.com, February 22, 2021.

5. HOW TO SUPPORT EMPLOYEE WELLBEING WITHIN LOCAL AUTHORITIES:
Grainne Elliott, CMO of Thrive, describes four things that employees of local authorities need to support their wellbeing both on and off the job and can be delivered via this new emphasis on digital tools
There's probably never been another time when employers everywhere have been so focused on employee wellbeing. Not only have employers had to figure out how to keep operations running and objectives humming during these past several months, but they have also had to identify and implement resources aimed at safeguarding employee health -- physical as well as mental.

Challenges for Local Authorities
One area where employee wellbeing has been compromised is amongst employees of local authorities. Since the last recession, those who work for local authorities have faced a heap of challenges. First came significant funding cuts, job losses, consolidation and the resulting disruption and transition hiccups. Then came COVID-19, and with it, new blows to morale and wellbeing.
COVID-19 has taught us a number of things about not just running organisations, but also about the need for resilience and that employers need to invest in supporting employees through crises.
And employers are often eager to do their part. One study found that 36% of employers surveyed were concerned about the health and safety of employees during the pandemic. This goes for the public sector, as well. Local authorities have reconsidered how they can keep in touch with employees and transform ways of working in a pandemic age that serves their team members.
Thankfully, we are in a time when not only are there innumerable resources we can look to in our effort to promote health and happiness for ourselves and for team members, there are also vast digital-based choices for connection. Local authorities, in particular, have seen the pandemic as a wake-up call, accelerating their adoption of digitalisation and tools for their employees, such as employee apps, something that has been needed for quite some time.
This is particularly nice for public sector employees, who are increasingly reliant on these kinds of tools for support, motivation, and purpose-finding in their work. As they strengthen the communities in which they work, they must feel supported by the local authorities that employ them, and digital tools are one way they can feel connected to their roles and to others within their organisation.

Four wellbeing needs of Local Authority employees
Here we explore four things that employees of local authorities need to support their wellbeing both on and off the job and off that can be delivered via this new emphasis on digital tools.

#1: Employees need to feel in-the-know
For those working in local authorities, especially those who are dispatched out in the community, access to a computer and company email is either difficult or basically non-existent. This can have some problematic consequences, from employees feeling in the dark, to full-on safety breakdowns.
The Antrim and Newtownabbey Borough Council in Northern Ireland is one example of this. 26 local councils were consolidated into 11 so-called 'super councils' nearly six years ago. As a result of the restructuring, 39% of employees reported feeling dissatisfied with the council's internal communication. Because 50% of the employees don't have access to a computer, they suggested an employee app as a way to connect and get up-to-the-minute, personalised and hyper-relevant information.
Meath County Council in Ireland launched an app to help them bridge a broad communications gap for its entire workforce. Their app, MCC Connect, has content specifically focused on physical and mental health, connecting employees to wellbeing information, safety information, and COVID-19 updates and much more.

#2: Employees need to feel like someone is listening
One of the ways that local authorities can take a proactive approach to protecting the wellbeing of their employees is to not just disseminate information but to listen to what employees have to say. Given the opportunity, employees will probably have much to report about the effect of the pandemic on their roles and responsibilities, and specific concerns and challenges they face with respect to mental and physical health.
One of the best things about employee apps as communications tools is the fact that they come with built-in listening opportunities. In fact, one of the best uses of an employee app is to use it as a listening tool, not just an information dissemination tool. Let's face it: Email is great at pushing out one-sided information but what's more needed at this time are ways that employees can post, react, create, and share. And then for HR professionals and senior leaders to take note of what their employees are saying and make necessary adjustments or provide timely, relevant support.

#3: Employees need positive feedback
Nothing drains morale more than not receiving recognition for a job well done, or only receiving negative feedback or -- and this may be worst of all -- feeling like your role and efforts go unnoticed.
On the other hand, a thank you -- even a small one, like a virtual high five or badge given within an employee app -- can go a long way toward an employee's wellbeing. An employee app can facilitate the routine feedback needed to keep morale high, by offering features that enable peer-to-peer recognition, the promotion of award programmes, and celebrations of team accomplishments.

#4: Employees need social interaction and connection
COVID-19 has taught us about the woes of isolation and its effects on wellbeing. This is critical for employees of local authorities, many of whom are outdoors workers or whose roles aren't based in a central location. Some employees may go days without interacting with peers or citizens, and in these days of social distancing and lockdowns, the effects of isolation can really be aggravated.
Not everything that goes on in an employee app needs to be strictly work-related. Employees want to feel valued for who they are as people, not just for the responsibilities they check off when they clock in.
An employee app can foster the building of colleague-to-colleague relationships and connect employees from different locations and departments who may not otherwise interact. Features like photo walls, fun mini competitions, digital book clubs, virtual casual lunch or other breaks, and so on can provide that much-needed connection. Open Access Government, www.openaccessgovernment.org, February 24, 2021.
6. HOW THE PANDEMIC IS IMPACTING PERSONAL FINANCE HABITS:
Have you found yourself thinking more about saving money over the past year? If so, you're not alone.
A survey from online lender CreditNinja shows the average Wisconsinite who has been working full-time has saved $269 per month since the start of the coronavirus pandemic. That's actually less than the national average, which came in at $329.
People in Alaska saved the most, $655 on average, while Louisiana saved the least, with people there averaging $150 per month.
What's leading to the savings? Those conducting the survey say people are likely saving on gas, commuting and eating out as social distancing has shifted many people to work from home and not be able to sit in bars and restaurants.
Other habits have changed, too. The survey found that 23% of respondents have been avoiding using cash because of the risk of virus contamination. The vast majority, 86%, say they will keep trying to save more money through 2021 as a precaution, with the economic effects of the pandemic lingering for an unknown length of time.
One of the tools the U.S. government has been using to blunt that economic impact is stimulus checks. SocialCatfish.com, an identity verification service, says there has been a rise in scams associated with stimulus checks. The company has released a list of common frauds and how to avoid them:

Robocall check scams
The scammer will call pretending to be the IRS and ask for your personal financial information. They will claim they need this to deposit the stimulus check into your account and will also ask for a fee to deposit said check. The truth is, they want your information so that they can pretend to be you and claim the check for themselves. They can also drain your bank account with this information and will keep the fee for themselves for good measure.
How to Avoid: Do not give out any personal information. The government already has your information on file from when you filed your taxes. The stimulus check will either be automatically deposited into your account or you will get it mailed to your house.

Email and text message scams
Scammers will send you a phishing email, text message, or message on social media claiming that they are the government. They may email you telling you to click on a link to "verify" information, or text message you a link to fill out an application to receive your check.
How to Avoid: Do not click on any links that are emailed or texted to you. Again, the government already has your information and checks or debit cards are either directly deposited or mailed to you.

Fake websites
If you click on suspicious links, they will likely take you to fake websites that will download malware onto your device and steal your information to drain your bank account. These sites also contain fake forms so any personal or financial information you provide will go to the scammer.
How to Avoid: Do not go to any website that does not end in ".gov". There are no non-government websites giving stimulus checks. If you suspect a fake website, get off it immediately and report it.

Phony checks
Scammers have been mailing fake checks that look exactly like the official government-issued paper stimulus checks. Once deposited, the scammers text you pretending to be the government asking for some of the money back claiming too much was sent.
How to Avoid: Make sure the check is legitimate, ask your bank to verify it. If anyone asks for a portion of the check back, tell your bank immediately. Scott Hurley, FOX 11 News, https://fox11online.com, February 21, 2021.
7. DON'T CONFUSE WEALTH CREATION WITH RETIREMENT SAVING:
Building retirement savings is not the same as wealth creation.
Wealth creation, and getting rich quick, are very tempting, especially in an era of high-flying stocks and mega-growth companies.
But stock grants and stock options today -- and the promises of wealth they offer -- are not a substitute for retirement security in 20 or 30 years. Outside of a retirement account, what is to prevent someone from spending a windfall when it lands? It is unclear how this equates to preparing for retirement.
Pensions & Investments on Feb. 8 reported that Tesla Inc. in 2020 did not make matching contributions to its 401(k) plan, and had not for three consecutive years.
The plan allows for an "employer discretionary matching and/or an employer discretionary non-elective contribution subject to certain eligibility requirements." Those requirements were not met for the 2019 plan year. The nature of the requirements for Tesla to make contributions to the 401(k) plan was not available.
In a tweet, Tesla CEO Elon Musk had this to say to a question about the lack of a 401(k) contribution: "Everyone at Tesla receives stock. My comp is all stock/options, which I do not take off the table. That's what you're missing."
In other Twitter comments on P&I's story, some said that stock grants and options are more attractive to employees -- and maybe more valuable -- than a matching 401(k) contribution.
And they cited the automaker's soaring stock price. For the year ended Dec. 31, it was up 695%.
That may be true, but they are not equal and there are risks.
Buying or holding stock in the same company that pays your salary is often seen as a sign of loyalty and faith in the business. It is also the opposite of diversification and an example of putting all your eggs in one basket.
And there are additional risks of which employees (and others) looking at that stock price may not be aware.
Olivia Mitchell, executive director of the Pension Research Council at the The Wharton School of the University of Pennsylvania, noted that when stock and stock option grants are held outside of a retirement account often they cannot be sold immediately, and any gains will be taxable when exercised. Also stocks and options typically have vesting periods, which could run to several years. The latter makes stock and option grants riskier, as the price could go down in that period.
"My general view is that most employees would be better off with a tax-qualified retirement account invested in a well-diversified, low cost, indexed fund, unless the risk compensation paid to hold the risky stock/options were truly substantial," she said.
Tesla, and any company, is within their rights to offer whatever pay and benefits they choose, and employees should be able to decide for themselves what kind of compensation they want for their labor, but it is wrong to conflate wealth creation and retirement security.
They are not the same thing. Investing Signal, https://investingsignal.com, February 22, 2021.
8. EXPECTED TAX HIKE COULD AFFECT RETIREMENT FUNDS:
Tax rates are at a historical low, courtesy of the Tax Cuts and Jobs Act (TCJA) that was signed into law in 2017 by former President Trump. That may change in the near future.
In 2017, a single filer whose taxable income was between $91,900 and $191,649 fell under the 28% tax rate bracket, according to Investor's Business Daily. A year later, in 2018, after TCJA was fully implemented with a new tax bracket, a single filer whose taxable income was between $82,500 and $157,499, fell under the 24% tax rate bracket.
The tax rates have continued to shrink in all income brackets, including for married joint filers and heads of households. The tax rate for single filers who were making between $85,526 and $163,300 in 2020 was 24%. This year, single filers earning between $86,376 and $164,925 will have a 24% tax rate, per Investor's Business Daily.
The TCJA is set to expire after 2025; however, with a new administration and mounting national debt, Mitch Lyons, a former NFL player, financial expert and founder of Mitch Lyons Wealth, said tax rates are bound to increase sooner rather than later.
"I foresee taxes going up in the future due to an ever-increasing national debt of $28 trillion," he said.
President Joe Biden was vocal about raising taxes on the rich while he was running for president. His new official tax bracket has yet to be revealed. Nevertheless, Lyons said he believes the tax rates will increase, which will, in turn, affect people who have 401(k) plans or a Roth IRA (individual retirement account) and are poised to retire soon.
"Ultimately, there is going to be less money for your retirement," he said. "If your 401(k) is worth $1 million on paper, you really don't have any idea what that is really worth because you don't know what the tax rate is going to be when you end up taking that out. You are going to be taxed on all $1 million. If you are in a 25% tax bracket, then you are going to pay $250,000 to the government. But if you are in a 40% tax bracket, you are going to end up paying $400,000. So, you really don't know how much you have in your retirement account because you don't know what the tax environment is going to be when you pull that money out when retiring."
As a result, Lyons said he is advising his clients to seek other options when saving their money for retirement.
"I'm recommending my clients look at investment strategies that mitigate the risk of higher taxes," he said. "While Roth IRAs are a step in that direction, frankly, I don't have a lot of confidence that the rules pertaining to tax-free Roth distributions will remain unchanged by Congress. With that in mind, I utilize insurance-based strategies that allow for tax-free policy loans. These insurance-based strategies are a private contract between you and an insurance company, which makes it more unlikely Congress can affect them."
In addition to steering his clients away from the investment options that are dependent on tax rates, Lyons said investing retirement savings in the stock market also can negatively impact the value of savings because of volatility in the market.
"The pandemic showed us again how quickly our retirement accounts can be decimated by factors out of our control," he said. "While the market has recovered in record time, it doesn't lessen the likelihood it could happen again. I utilize strategies that completely eliminate the downside risk associated with the stock market which allows my clients to rest easy knowing that won't lose value due to things beyond their control such as pandemics, financial crises or market bubbles bursting." Danielle Nelson, Grand Rapids Business Journal, https://grbj.com, February 19, 2021.
9. PEOPLE SHOULD BE ON THE LOOKOUT FOR IDENTITY THEFT INVOLVING UNEMPLOYMENT BENEFITS:
The IRS urges taxpayers whose identities may have been used by thieves to steal unemployment benefits to file a tax return claiming only the income they actually received.
In 2020, millions of taxpayers were affected by the COVID-19 pandemic through job loss or reduced work hours. Some taxpayers applied for and received unemployment compensation from their state. By law, unemployment benefits are taxable.
Scammers also took advantage of the pandemic by filing fraudulent claims for unemployment compensation using stolen personal information of individuals who had not filed claims. Payments made as a result of these fraudulent claims went to the identity thieves.
Taxpayers who receive an incorrect Form 1099-G should contact the issuing state agency to request a revised form. If they're unable to get a timely, corrected form from states, they should still file an accurate tax return, reporting only the income they received. They should save whatever documentation they have regarding their attempts to receive a corrected form from their state agency.
What people should if they think they might be an identity theft victim
People should visit Identity Theft Central for more information about the signs of identity theft.
Taxpayers do not need to file a Form 14039, Identity Theft Affidavit, with the IRS about an incorrect Form 1099-G. An affidavit should only be filed only if the taxpayer's e-filed return is rejected because a return using the same Social Security number already has been filed.
If a taxpayer is concerned that their personal information has been stolen and they want to protect their identity when filing their federal tax return, they can request an identity protection PIN from the IRS.
An Identity Protection PIN is a six-digit number that prevents someone else from filing a tax return using a taxpayer's Social Security number. The IP PIN is known only to the taxpayer and the IRS, and this step helps the IRS verify the taxpayer's identity when they file their electronic or paper tax return.
States should not issue Forms 1099-Gs to taxpayers they know to be victims of identity theft involving unemployment compensation.
More Information
Publication 525, Taxable and Nontaxable Income
Identity theft guidance regarding unemployment compensation reporting
Share this tip on social media -- #IRSTaxTip: People should be on the lookout for identity theft involving unemployment benefits. https://go.usa.gov/xsKwa. COVID Tax Tip 2021-24, www.irs.gov, February 24, 2021.

10. NATIONAL CONSUMER PROTECTION WEEK 2021 BEGINS SUNDAY, FEBRUARY 28:
The Federal Trade Commission and more than 100 federal, state, and local agencies, consumer groups, and national advocacy organizations, will participate in the 23rd annual National Consumer Protection Week (NCPW), held February 28 – March 6, 2021.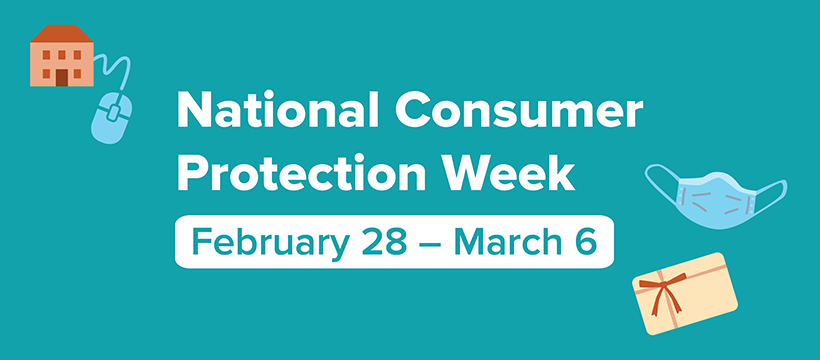 NCPW is a coordinated campaign designed to focus on the importance of keeping consumers informed while providing them with free resources explaining their rights in the marketplace.
This year, the FTC and its partners will participate in a series of events including webinars, Facebook Live events, and Twitter chats throughout the week. These virtual events will cover a range of topics, including avoiding coronavirus scams, government imposters, and cyber fraud. This year's schedule of NCPW activities include:
Sunday, February 28 – Saturday, March 6
Follow FTC and USAGov on social media for quick, shareable consumer tips all week long:
Monday, March 1
Thursday, March 4














During NCPW, partners and hundreds of community groups across the country host events to promote consumer education or highlight a specific consumer protection issue. For more information on NCPW and how to get involved, visit ftc.gov/NCPW and subscribe to Consumer Alerts.
The FTC's Bureau of Consumer Protection protects people from scams, identity theft, and other unfair, deceptive, and fraudulent business practices. In addition, the Bureau of Competition further supports Americans by promoting a competitive marketplace, which can deliver lower prices, enhance innovation, and increase quality and choice for consumers.
The Federal Trade Commission works to promote competition and to protect and educate consumers. You can learn more about consumer topics and report scams, fraud, and bad business practices online at ReportFraud.ftc.gov. Like the FTC on Facebook(link is external), follow us on Twitter(link is external), get consumer alerts, read our blogs, and subscribe to press releases for the latest FTC news and resources. FTC, www.ftc.gov, February 23, 2021.

11. FOR THOSE WHO LOVE WORDS:
"Sparkling Water" vs. "Seltzer" vs. "Club Soda": What's The Difference? Find out here.

12. A THOUGHT FOR TODAY:
The quickest way to double your money is to fold it over and put it back in your pocket. - Will Rogers

13. TODAY IN HISTORY:
On this day in 1862, First Legal Tender Act is passed by the US Congress, authorizing the United States note (greenback) into circulation, the first fiat paper money that was legal tender in America.

14. REMEMBER, YOU CAN NEVER OUTLIVE YOUR DEFINED RETIREMENT BENEFIT.
Items in this Newsletter may be excerpts or summaries of original or secondary source material, and may have been reorganized for clarity and brevity. This Newsletter is general in nature and is not intended to provide specific legal or other advice.