---
PLEASE GIVE US YOUR FEEDBACK!
CLICK HERE TO TAKE A BRIEF SURVEY TO HELP IMPROVE THE CONTENT OF THIS NEWSLETTER.
---
1. INITIAL IMPACT COVID-19 ON UNITED STATES ECONOMY MORE WIDESPREAD THAN ON MORTALITY:
The initial impact of the COVID-19 pandemic on the U.S. economy was widespread and affected people across all age groups and all states while the initial mortality impact targeted mostly older people in just a few states according to independent research by the U.S. Census Bureau.

During April 2020, the first full month of the pandemic, the United States experienced an additional 2.4 deaths per 10,000 individuals beyond predictions based on historical mortality trends. This was a 33% increase in all-cause national mortality -- deaths caused directly or indirectly by the coronavirus.




These additional deaths during the early days of the pandemic were highly concentrated in older age groups and in a few states. Recent research examined the relationship between the pandemic's mortality and economic impacts across different age groups and geography.

Economic Impact of COVID-19 Pandemic
The COVID-19 pandemic has caused a devastating loss of life but it has also devastated the nation's economy.

Similar to the excess mortality concept, the pandemic's economic impact is calculated by taking the difference between what is expected (based on historical trends) and what actually happens during a given period.

The ratio of employment to population is one measure of economic activity that shows the share of population 16 years and older working full- or part-time.

This measure closely tracks other possible measures of economic activity such as unemployment rate, percent of population with unemployment insurance claims, consumer spending, and small business employment.
Declines in the employment-to-population ratio that exceeded predictions indicate there was additional employment loss in the country due to the pandemic.

The decline in the employment-to-population ratio in the United States in April 2020 was significant. Historical trends predicted a 61.3% ratio but it turned out to be 51.5%. This additional national decline was 9.9 per 100 individuals in April 2020 (Figure 1). That means there were fewer people employed than was expected before the pandemic.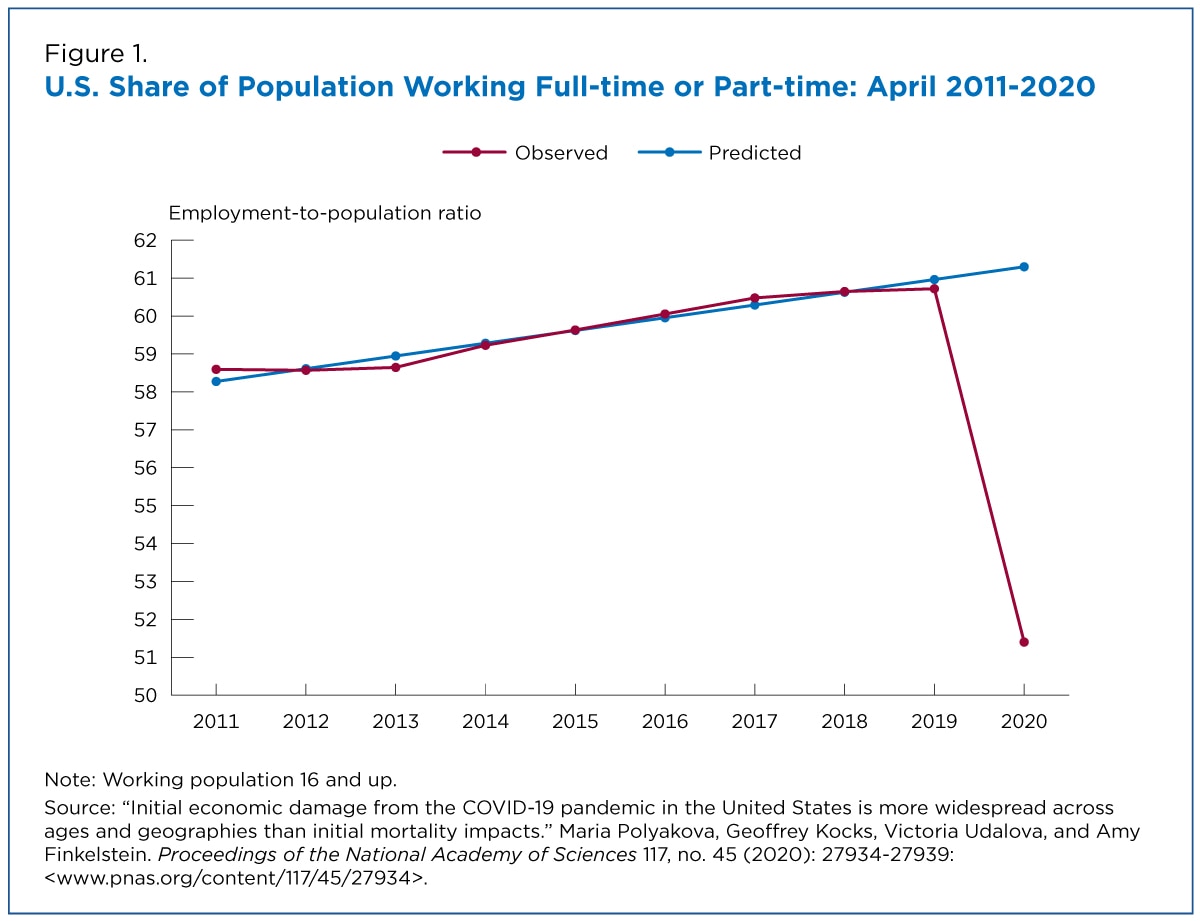 Impacts Varied by Geography
Deaths caused directly or indirectly by COVID during the first full month of the pandemic were highly geographically concentrated.
About half of all national excess deaths were in just two states: New York and New Jersey.

But the economic impact pattern was completely different because it was more geographically widespread.

Every state, except for Wyoming, experienced a statistically significant decline in the employment-to-population ratio during that time.

The two states with the largest initial declines in employment -- Nevada and Michigan -- only accounted for about 7% of the national employment displacement.

There was a weak correlation between increased mortality rates and negative economic impact across states. There were states that experienced significant employment displacement but no additional mortality, for example. On the other hand, there were states that experienced large mortality impacts but modest economic impacts.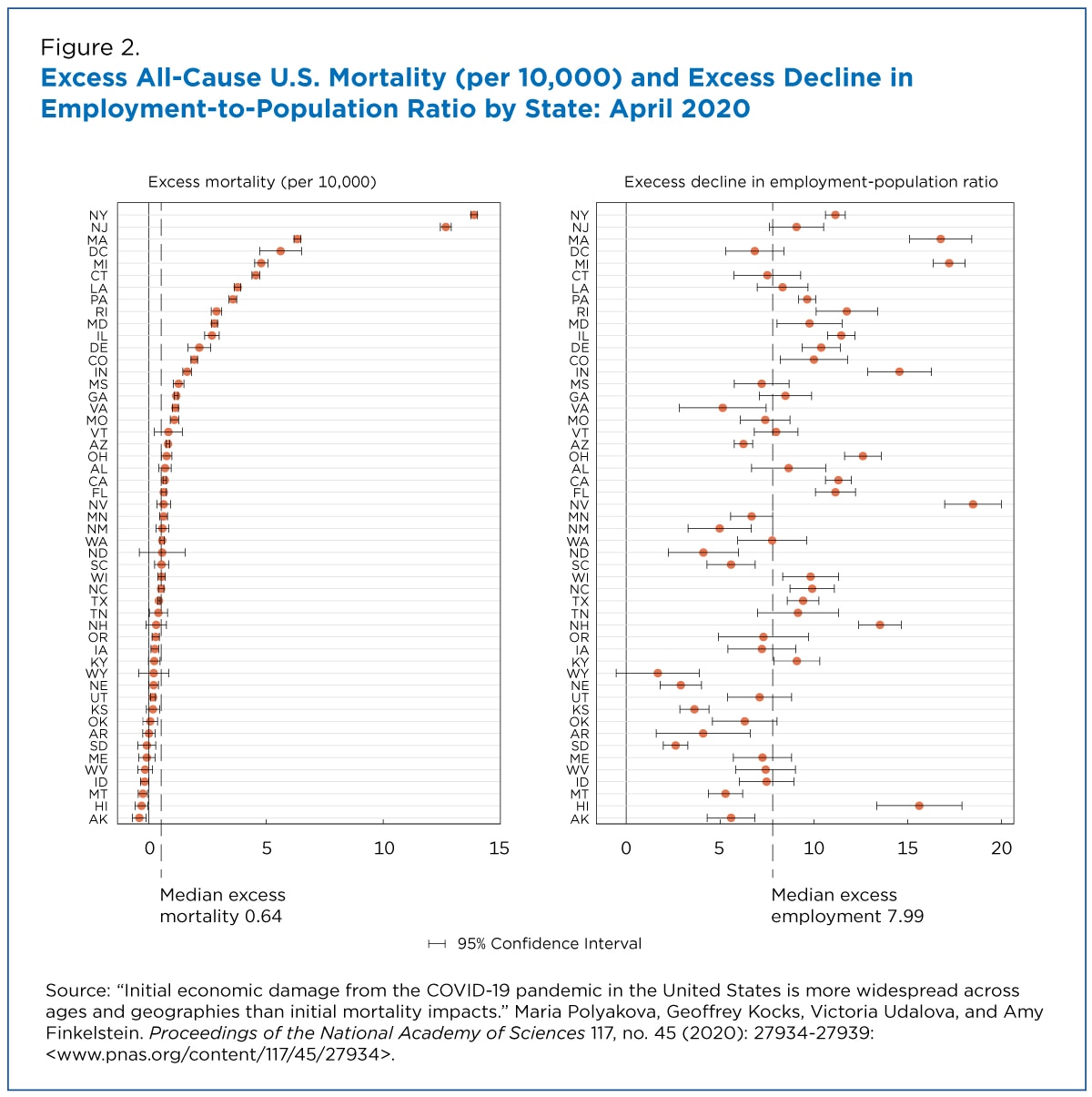 Different Patterns by Age
As with geography, job loss was more widespread than excess mortality across age groups.

In April 2020, excess mortality increased with age and was largest among the oldest age group. Individuals ages 85 and older represent only 3% of the total U.S. population ages 25 years and older but accounted for 34% of the overall excess mortality in the country.

On the other hand, employment displacement decreased with age. It was largest among the younger age group (ages 25 to 44). These individuals make up only 39% of the U.S. population ages 25 and older but accounted for about half of the people 25 and older who lost their jobs nationwide.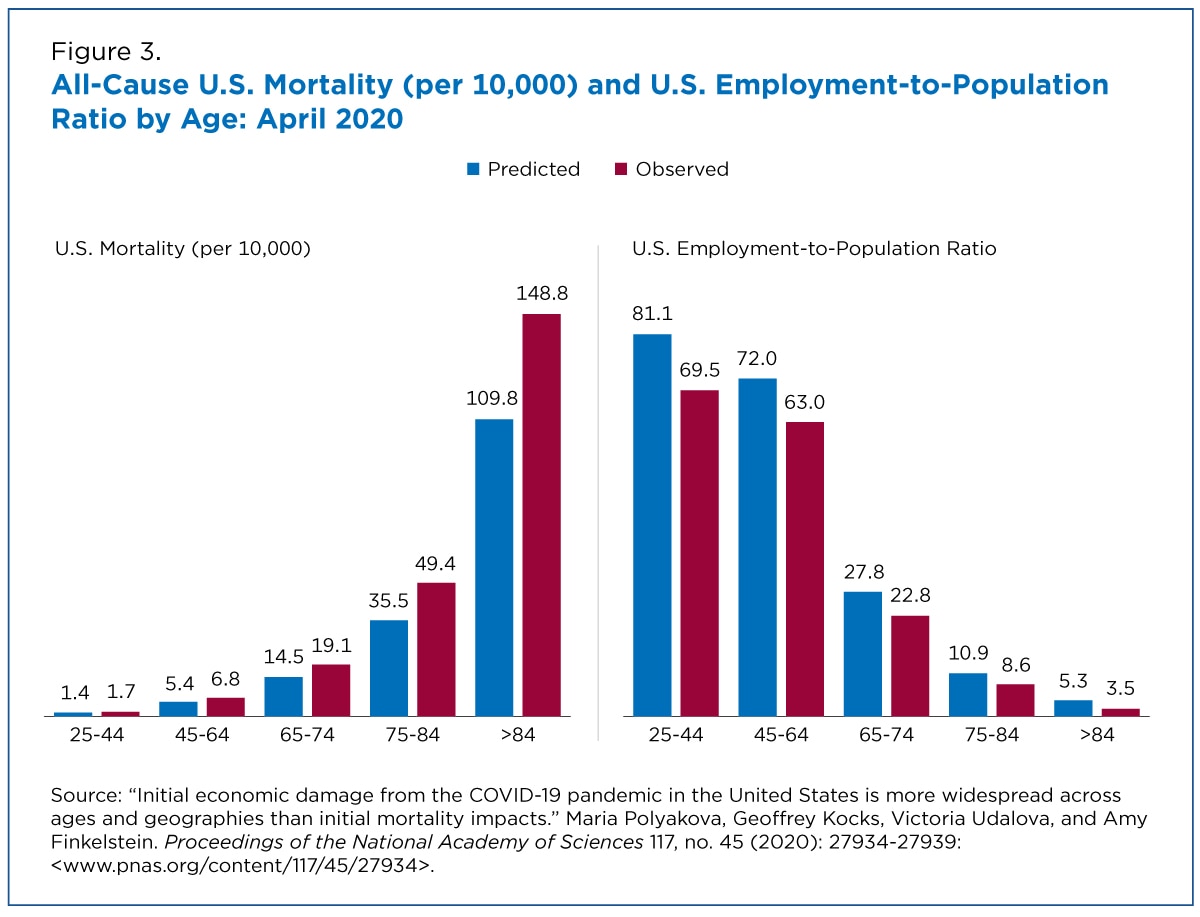 Beyond the First Month of Pandemic
Findings presented here document the pandemic's impacts during April 2020. As the policy response and individuals' behaviors change over time, the mortality and economic impacts will continue to evolve.

Beyond the virus itself, economic decline caused by the pandemic may have had an indirect impact on the U.S. death count. Excess all-cause mortality measure would capture any such changes -- from, say, fewer workplace fatal accidents to more drug overdoses -- but the extent to which it happened and the mechanisms underlying the relationship between economic activity and mortality must be addressed in future work. Victoria Udalova, United States Census Bureau, https://www.census.gov, March 8, 2021.

2. TAKING STOCK: NEPC FEBRUARY 2021 PENSION MONITOR:
NEPC's monthly pension funded status monitor tracks the funded status of two hypothetical plans to gauge the impact of movements in markets, interest rates, and credit spreads on pension plans.
Driven by an increase in Treasury rates and strong equity returns, the funded status of typical corporate pension plans improved in February. Total-return plans outpaced LDI-focused plans that hedge more interest-rate risk, as losses from fixed-income assets eroded gains from equities. While credit spreads remained mostly flat for the month, the Treasury curve increased and steepened, reducing plan liabilities. Based on NEPC's hypothetical open- and frozen-pension plans, the funded status of the total-return plan rose 5.2%, while the LDI-focused plan increased 1.9%.
The funded status of the total-return plan increased 5.2%, driven by a decrease in liabilities and gains from risk assets.
The funded status of the LDI-focused plan increased 1.9% as shrinking liability values were offset by losses from fixed-income mandates. The plan is 84% hedged, as of February 28. Click here to view the NEPC's Pension Funded Monitor report. NEPC, www.nepc.com, March 2, 2021.

3. MORNINGSTAR SAYS WOMEN BUILD BETTER DC PLANS:
Taking notice that women are playing a bigger role in defined contribution plan administration, researchers at Morningstar Inc. wanted to know if greater gender diversity in plan administration led to better practices.
The answer is a resounding "Yes," according to a study that measured three characteristics of what the Chicago-based research firm considers enlightened plan design.
"We find that the probability of a plan offering these services is higher if the plan administrator is female, and the differences are statistically significant," said the Morningstar report. "In other words, female plan administrators run better plans than their male counterparts."
The report, "Wonder Women: Why Defined Contribution Plans Benefit from Female Plan Administrators," was issued March 2.
"The effect is incredibly strong," said David Blanchett, head of retirement research, in an interview, referring to the link between female DC administrators and higher quality plans as measured by the three factors — use of auto enrollment, offering of defaults (primarily target-date funds) and compliance with a series of ERISA best practices guidelines.
Using Form 5500 data, Morningstar researchers tracked the increasing percentage of female plan administrators over time and then matched those results with the growth of those three factors.
The best practices component is defined by compliance with ERISA Section 404(c). Compliance "relieves plan sponsors and other fiduciaries from liability from losses resulting from participants' direction of their investments," the report explained.
Compliance is voluntary and "is assumed to be a 'signal' for quality overall plan governance," the report said. Plans that signify compliance "are assumed likely to have better plan governance procedures than those without."
The best practices include, among other things, offering a broad range of investments and providing adequate information to participants about investment options.
Unambiguous factors
Morningstar chose the Form 5500 data because "we wanted to find factors that were unambiguous," said Julie Varga, vice president, investment and product specialist, in an interview. Ms. Varga and Mr. Blanchett said they were unaware of other research tying gender diversity among DC plan administrators to DC plan quality.
Administrators checked boxes in the Form 5500 to signify that their plans offered defaults, employed auto enrollment and complied with Section 404(c). Because the Form 5500 only requires a plan administrator's name, Morningstar had to establish the probability that the administrator was male or female. Morningstar also was unable to assess administrators' ethnicity from this document, Ms. Varga said.
Women are playing a bigger role in DC plan administration, according to Form 5500 data. In 2000, an average 32% of DC plan administrators were women. By 2009, it was 42%. In 2017, the last year for which research was conducted, it was 49%.
To assess the impact of plan quality linked to female administrators, Morningstar also looked at the auto enrollment, default investments and Section 404(c) data from 2009 through 2017. Researchers chose this period because 2009 was the first time auto enrollment and defaults had been included in the Form 5500. The Section 404(c) information had been listed in previous Form 5500 filings.
Morningstar found that the percentage of all plans offering auto enrollment rose to 31.4% from 11.5% during this period. The percentage of plans using defaults -- primarily target-date funds -- rose to 89.2% from 58.1%. The Section 404(c) compliance percentage rose to 95.3% from 87.3%.
"There is clear evidence that the probability of offering the respective service initially (2009) or adding (2017) is lower if the plan administrator is male," the report said.
Ms. Varga, who said the research took six months, added that Morningstar welcomes comments about the report, noting that her firm might look at other variables in the future to expand its research. Robert Steyer, Pension & Investments, www.pionline.com, March 8, 2021.

4. A CHECKLIST FOR RETIREMENT PLAN COMMITTEES:
Given that there are so many considerations to weigh when overseeing a retirement plan, it is important for plan sponsors to have a checklist for their committees--whether the sponsor has a single retirement plan committee or dual investment and administrative committees--to cover in quarterly meetings. These meetings typically last between one and two hours.
The overriding theme of retirement committee meetings should always be whether the committee is acting in the best interest of plan participants and if it is improving the plan, says Michael Webb, senior financial adviser at CAPTRUST.
There are two main areas that retirement plan committees need to cover: settlor, or administrative, functions and fiduciary functions, says Cliff Dunteman, a partner with Francis Investment Counsel.
A best practice, and a commonsense one at that, is to circulate an agenda to the committee members beforehand, says David Klimaszewski, a partner with Culhane Meadows. At the top of the meeting, it is common for the committee to approve the minutes from the previous meeting, Klimaszewski says.
Following that, "we start off with the fiduciary functions, starting with the investments," Dunteman says. "The investments are the fundamental action items that need to be discussed."
Webb says it is important for the committee to discuss "if the investments are best in class and participants are utilizing them correctly."
Dunteman continues: "Generally speaking, we first address funds that have been put on the watch list. The issues here can be both qualitative and quantitative. We'll discuss the five P's as they pertain to investments: philosophy, people, process, performance and price. Quantitative issues involve performance and price, and qualitative issues involve the philosophy of the management of the fund; the people, or the fund managers; and process. A committee should review performance relative to a passive index and actively managed peers. When it comes to the qualitative review, the committee will need to discuss any management strategy and/or management changes. Any time there is more than a 50% change in a management team in any one quarter, we advocate that the fund be put on the watch list."
If there are new managers at the helm of the fund, the committee should discuss their backgrounds, Dunteman says.
"We need to find out if they have been in charge of decisionmaking previously or if this is their first time in charge of a fund, as well as how long they have been with the investment firm and the previous background," he says. "Once you have addressed the 'problem children' on an investment menu, then it makes sense to talk more broadly about how the overall menu has done. As target-date funds [TDFs] garner such a large portion of plan assets, it is important for the committee to discuss the TDFs in every meeting. They need to be benchmarked relative to their main peers, those being the largest TDF providers in their category--Vanguard, T. Rowe Price, Fidelity--to gauge how they are performing, net of fees. The committee also needs to explore whether there were any changes made to the glide path tactically or strategically that might affect performance, and how those changes compare to changes by other TDF managers."
Following that, Dunteman says, "The committee can look at the entire investment menu as a 'batting average.' Because there is so much focus today from an excessive fee litigation perspective, you want to understand how your 'non-problem children' are performing, net of fees, relative to passive indexes. This is called the 'batting average': the percentage of the funds outperforming their benchmarks."
Once the investments have been covered, the committee can delve into other topics, such as fiduciary training, he says.
"We have heard from the Department of Labor [DOL] and auditors that when they are doing audits, they are now asking what kind of ongoing fiduciary training a plan sponsor is providing to their committee members," he says.
It is also critical for the committee to stay on top of any new rules or regulations. "Last year, for example, the DOL rolled out new e-delivery rules," Dunteman says. "The fiduciaries must understand how these new processes might change how the plan interacts with participants and how their recordkeepers might implement these new rules."
As another important example of new developments, Congress passed the Setting Every Community Up for Retirement Enhancement (SECURE) Act in late 2019 and the Coronavirus Aid, Relief and Economic Security (CARES) Act last spring. If a plan adopted provisions of those acts, it would have to change its plan design and plan documents, Dunteman says. "Your checklist might incorporate plan design changes, be they temporary or on an ongoing basis," he says.

Reviewing Participant Data
Another key area that retirement plan committees need to discuss is participant data, including changes to participation rates, average balances and deferrals; maximization of the match; utilization of Roth provisions; and loans and withdrawals, he says.
Dunteman says that because there are so many topics for a plan committee to cover, it might set a calendar agenda for its quarterly meetings. The first quarter meeting, for example, could cover annual benchmarking studies where the committee takes a look at how its participants' utilization of the plan compares to companies of similar size or industries, he says.
The second quarter meeting could delve into fees. The committee should ask itself if the fees are reasonable and have if they have been benchmarked through industry studies, requests for proposals (RFPs) or requests for information (RFIs), Dunteman says.
The committee could discuss audit results in its third quarter meeting, he says. "Most plan sponsors we work with have an annual audit," Dunteman says. "It is a good idea for whoever coordinates that audit to report to the retirement plan committee."
The upcoming education plan for participants for the next year could be the centerpiece for the fourth quarter meeting, Dunteman says. The committee can rely on resources from its recordkeeper and/or its consultant for this information, he says.
Retirement plan committees also need to discuss the performance of their service providers, Klimaszewski says.
One last area for committees to cover is "making sure that the various reporting and disclosure requirements are being complied with," says Julia Zuckerman, vice president with Segal.
And, of course, the committee must be diligent about taking detailed minutes and documenting the processes for each of its decisions, Zuckerman says, "so that if there is an issue down the line, there are details on how and why the committee reached its decision." Lee Barney, PLANSPONSOR, www.plansponsor.com, March 4, 2021.

5. RETIREE HEALTH CARE PODCAST - EPISODE 6: WHO'S TO COMPLAIN?:
Get the scoop on what it's like for a retiree to transition from a group health plan to a Medicare marketplace. In this episode, a retiree talks candidly about her Medicare marketplace transition experience, including her aha moment while at an introductory seminar on Medicare, how she selected her health care plan, and her enrollment experience. Finally, she covers why she prefers the Medicare marketplace to her former group health plan.
Listen to the full episode here. You can also subscribe on Apple Podcasts or bookmark the Eye on 65 page. John Barkett and Marianne Steger, GOVERNING, https://www.governing.com.

6. 'MIGHT AS WELL KEEP WORKING.' PANDEMIC PROMPTS SOME FEDS TO DELAY OR RECONSIDER RETIREMENT PLANS:
Far fewer federal employees retired in 2020 compared to previous years, and for some, the pandemic and new telework arrangements have played a prominent role in their decisions to delay and their views about their jobs.
A total of 92,008 federal employees retired in 2020, the fewest in nearly 10 years, according to a Federal News Network analysis of monthly data from the Office of Personnel Management.
By contrast, OPM processed 101,580 retirements in 2019 and 107,612 in 2018. 2020's total comes close to the number of federal employees who retired in 2016, -- 93,713 according to past OPM data -- but it still doesn't the match the lows from 2010, when just 84,427 people left government in retirement.
Federal retirements jumped during the following years, as sequestration and furloughs pushed employees out the door. In 2013, a total of 114,697 federal employees retired that year, a record in the last decade.



Benefits experts said they too had noticed fewer federal clients retiring halfway through 2020. The stock market volatility last spring scared off some employees who were considering retirement last year, the experts said. Others delayed retirement as they grew accustomed to working from home without the stresses of the daily commute.
As federal employees have said in the past, choosing when to retire is a complex decision driven by a variety of factors, including their age, finances, health and job satisfaction. A Federal News Network survey of roughly 800 federal employees shows the pandemic, in some cases, was just another complicating factor, and the ability to telework on a near full-time basis is reshaping their views about their jobs, for better and worse.
Federal News Network surveyed its readers about their retirement plans between Feb. 15-22. Because respondents chose to participate in the survey, the results are not meant to be a comprehensive representation of the entire federal workforce and their views. Of the roughly 480 employees who said they were currently eligible, nearly 26% said they had planned to retire in 2020 or 2021 but delayed to a later date, in part, because of the pandemic.
Another 15% said they planned to leave earlier than they initially planned for a pandemic-related reason. Roughly 44% said the pandemic had no impact on their plans, but another 14% said they weren't sure how the pandemic might affect their retirement choices.

Pandemic conditions prompt retirement changes
For some, telework is an incentive to keep working beyond their originally planned retirement goals.
"Teleworking this last year has reenergized me to stick it out," one employee said. "Once [my] daily commute starts back up this could easily be adjusted."
Others said they may change their retirement plans if their agencies allow them to continue working remotely.
"My retirement date of Dec. 31, 2021 is firm," one person said. "However, if we are still teleworking, I may consider staying for another year. The largest dissatisfier I have with my [position] is the daily commute (one hour each way)."
Several others agreed. "I was going to retire because I hate the commute," another respondent said. "Now that we telework 100% of the time, I am staying. When telework ends I will go ahead and retire!"
Others are taking a wait-and-see approach, which they said will depend on how flexible their agency is after the pandemic. "A lot depends on how much my agency pushes for everyone back in the office," one person said. "I hate the commute, and if they want everyone back five days a week that's it for me."
For many, the pandemic has made some of the usual benefits of retirement less appealing or impossible, at least at the moment.


"There is little incentive to retire into an environment not conducive to retirement plans -- travel, visiting family and recreation," one employee said. "COVID restrictions are definitely having a impact. Until I have my freedom, why retire? Might as well work for a bit and have a more solid financial footing to enjoy freedom when it returns."
Several federal employees said they "might as well keep working" as long as the pandemic and social distancing requirements restricted their ability to travel, see friends or volunteer.
"My retirement plans include a lot of travel and volunteering," another respondent said. "Since I am stuck in my apartment 24/7 anyway, I may as well continue to work and draw a paycheck. But the election results also affected my desire to continue working. In my opinion, there is much to 'fix' that would benefit from my experience, and the Biden administration will likely make my work as a government scientist more appreciated and a higher priority."
But for some, reporting to work during the pandemic was the last straw.
"I actually just now retired because of COVID," one federal employee said. "As an essential supervisor, I got tired of doing all the work while my [more] essential personnel got to stay home on administrative leave or telework."

Job satisfaction plays large role in employees' retirement decisions
There are, of course, those who have retirement plans and are sticking to them.
"Work-from-home and pandemic related issues have not influenced my plan to retire. After 42 years of federal service (half military/half fed) it's just time to leave (mid-June)," one respondent said.
Another respondent said telework was good practice for retirement later this year. "[I] have always planned for this year," the employee said. "The pandemic (max telework) simply allowed me to get a better feel for being at home 24/7."
When asked to choose from a variety of factors that might influence their retirement decisions, 53% of all respondents named job satisfaction as a major consideration. About 49% named financial reasons as a major factor that influenced their thinking. A few respondents said they were helping family members who had been financially impacted by the pandemic and were changing their retirement goals accordingly. Age is also a major actor, as the Federal Employee Retirement System (FERS) incentivizes participants to keep working until age 62.
Financial planners say this is a key target for many federal employees, especially for those who have been investing with the Thrift Savings Plan and have created specific retirement plans.
Many federal employees said their job satisfaction, stress and pressures at work are major factors as they plan for and consider retirement. And even if the pandemic hasn't directly changed their retirement plans, it has, in some ways, become yet another factor or has shifted in their thinking about their jobs.
"My agency has too few employees," one person said. "They continue to pile the work on with no end in sight. I'm eligible, I don't need the headache." Another respondent said the pandemic has been exhausting. "My workload is higher than ever and supervising remotely is more time intensive," this person said. "I can't keep this up."
About 34% of all survey respondents identified their ability to work remotely as one of several factors that will influence their thoughts on retirement. "Job satisfaction will be a huge part of my retirement decision, as well as the obvious health/family reasons and financial reasons," one employee said. "My ability to work remotely will play in to this decision, but it isn't the driving factor."

For many others, the pandemic and the experiences of working from home are reshaping their views about their jobs. "I want to build up more of a nest egg for retirement, or I might have thought about retiring earlier as my job satisfaction has stagnated," one employee said. "But the ability to work for home has really increased my motivation." Others agreed.
"[The] main factor in determining my retirement is satisfaction with my job," another employee said. "Teleworking has led to greater satisfaction, but second is of course that I'm not getting any younger! No one dies saying they wished they had worked more. For me, I just wanted to go out on my terms and not forced to go due to a pandemic or horrible boss." Nicole Ogrysko, Federal News Network, https://federalnewsnetwork.com, March 3, 2021.

7. THE COST OF RETIREMENT HAS TRIPLED! BUT A NEW WAY OF PLANNING CAN HELP:
With today's low interest rates and paltry dividends, the old way of saving for your retirement and living off your dividends and income to preserve your principal for a legacy doesn't work like it used to. But don't panic. Consider this new Legacy Income Planning method instead.

You will need much more in retirement savings today to produce the same amount of retirement income as before, Advisor Perspectives magazine reported last month. Three times more!
Current low interest and dividend rates simply make it impossible, the article said, to replicate the income of just a few years ago. For instance, historically it has cost $26,267 in savings to produce $1,000 of annual income with a 50/50 portfolio. As of January 2021 you need about $79,118 to reap that same $1,000.
The article may be a little gloomier than necessary. For example, it doesn't take into account the higher income from annuity payments, or the possibility of drawdowns from the equity in your home. Or the fact that you must spend some of your savings (specifically the portion in an IRA) to comply with tax rules. But the authors are on the right track: We cannot plan for retirement as we did a couple of decades back.

Living Off Interest and Preserving Principal
In the past and as revealed in the study, retirees hoped the principal they had saved would create enough income in the form of interest and dividends to preserve their lifestyle -- so they could leave the savings untouched as a safety net or as a legacy to their heirs.
In today's low interest and dividend rate market, unless you have a huge amount of savings it doesn't work, and even if it did, mathematically, I don't believe it is the right approach. A better approach addresses the current market conditions and allows retirees to continue to generate needed income while leaving a substantial legacy for the kids and grandkids.
Let's focus on your personal after-tax savings, which you are not required to draw down during your lifetime. That is the money not in an IRA, 401(k) or similar retirement account, but money you earned, paid taxes on and then socked away in a bank or investment account. We'll work with an example of a 70-year-old retiree with $2 million in personal savings.

The Income Allocation Approach to Lower the Cost of Retiring
Our retiree likely learned a few basic retirement rules from her parents:
Live off the interest and dividends generated by your nest egg.
Don't touch the principal.
She's finding those rules are not providing enough flexibility in today's market. Fixed income investments, such as 20- year Treasury bonds earning 2.03% or a corporate bond ETF paying 2.74%, are not generating enough income today (or expected to in the future). And she's not comfortable chasing yields with higher-risk investments -- she figures they call them junk bonds for a reason.
It's important that our retiree change her mindset. Here are new rules that she can follow to boost her income as well as expand her financial legacy:
Turn your savings into growing lifetime income.
Take a portion of that income each year and use it to augment your legacy.
In other words, pay yourself first.
The approach that I advise for step No. 1 is called Income Allocation. It provides the road map to achieving income goals that might have at one time seemed incompatible. Income Allocation, as opposed to traditional asset allocation planning, examines how to earn the most from your savings with annuity payments, lower taxes and lower fees, as well as a mix of interest on bonds, dividends on stocks, and IRA withdrawals. You can adjust your plan to specific needs for the present and future.
My approach to step No. 2 is a new tool called Legacy Income Planning. A portion of the income from your Income Allocation plan, for example, can be invested in tax-favored accounts, such as a Roth IRA. You can choose to invest some of that income -- money you don't need at the moment -- into accounts that will boost your legacy.

A New Way of Thinking about Legacy Planning
An Income Allocation plan designed specifically for you provides more income. A Legacy Income Plan allows you to invest some of your added income and boost that legacy. You will have the flexibility to use your income however you choose; perhaps one year you decide to pay down a part of your mortgage with it instead of investing. You can restart your Legacy Income Plan the next year if you wish.
In the example below, our retiree decides to manage both her income and legacy with her savings of $2 million, based on assumptions she considers reasonable.
Her Original Go2Income Plan: Her income at age 70 is $62,000 and it grows each year, reaching $115,000 for a cumulative total of $2.4 million. Her legacy at age 95 under this plan will be $1.9 million.
Refining with Legacy Income Planning: She sets aside $12,000 of her income per year to help grow her legacy and increases that contribution by 2% a year. Because her legacy is for the next generation, she is able to invest that money more aggressively, but with less stress, using a dollar-cost averaging approach. Under this approach, she will end up with a legacy of over $2.7 million at age 95 — up 40% over her original income plan.
With the extra income, our retiree could also consider alternatives to expanding her legacy, aside from the one I describe above. She might buy life insurance with her extra income to provide a legacy payoff. She might be concerned about long-term care as she gets older and use that income to buy long-term care insurance. She could also give money as gifts to her children, grandchildren and others while she is alive and be able to enjoy the appreciation of the recipients.

Comparison with a Traditional Asset Allocation Plan
The Retirement Trifecta of income, legacy and low risk is possible despite low interest rates. It requires an overall view of your savings and financial options that must adapt with the changing markets.
Compared against a traditional asset allocation plan, our retiree above will enjoy a 41% advantage in cumulative income and a 2.5% advantage in legacy. And the guaranteed annuity payments provide additional peace of mind. Of course, the Legacy Income Planning can be adjusted to rebalance the advantages between income and legacy.
By managing your retirement savings with common sense and easy-to-achieve tactics, you can earn more income while also leaving a significant gift to your heirs. Jerry Golden, Kiplinger, https://www.kiplinger.com, March 5, 2021.

8. FOURTEEN STATES THAT DON'T TAX PENSION PAYOUTS:
Retirement income comes in all forms, and pension payouts are just one of them. To the federal government, most pension payouts are fully taxable as income. To the 50 states and the District of Columbia, the tax picture for pension payouts is a bit more complicated.

A patchwork of tax rules
Eight states – Alaska, Florida, Nevada, South Dakota, Tennessee, Texas, Washington and Wyoming – don't tax income at all. A ninth state, New Hampshire, only taxes capital gains and dividend income. (Tennessee taxes capital gains and dividends for the 2020 tax year, but not for 2021 and thereafter.) And five states – Alabama, Illinois, Hawaii, Mississippi and Pennsylvania – exclude pension income from state taxes.


If you don't live in those 14 states, you still may avoid paying taxes on all or some of your pension. According to Wolters Kluwer, a tax publishing company, 27 states tax some, but not all, of retirement or pension income. Typically, these states tax pension income only above a certain level of adjusted gross income. For example, Iowa allows joint filers 55 and older to exclude $12,000 from state taxable income. Other filers older than 55 may exclude $6,000.

A patchwork of retirement income
Pensions pay out a defined amount each month until an employee dies, which is why they are called defined benefit plans. Your payout typically depends on your salary over time, and how long you worked with the company. Pensions are becoming increasingly rare among private employers, however: Only 14 percent of Fortune 500 companies offered a pension plan to new hires in 2019, down from 59 percent in 1998.
Increasingly, Americans have had to rely on defined contribution plans, such as 401(k) plans, for retirement income. The payout from these plans depends on how much you (and often your employer) contribute, as well as the investment returns in the plan. In most defined contribution plans, distributions are taxed as ordinary income by the federal government, but taxation varies from state to state. Of the 14 states that won't tax your pension, two states – Alabama and Hawaii – will tax your income from defined contribution plans such as 401(k)s.
Finally, there's Social Security income. The federal government can tax some Social Security benefits, depending on your income. You'll be taxed on:
up to 50 percent of your benefits if your income is $25,000 to $34,000 for an individual or $32,000 to $44,000 for a married couple filing jointly.
up to 85 percent of your benefits if your income is more than $34,000 (individual) or $44,000 (couple).
And 13 states -- Colorado, Connecticut, Kansas, Minnesota, Missouri, Montana, Nebraska, New Mexico, North Dakota, Rhode Island, Utah, Vermont and West Virginia -- can tax all or part of your Social Security benefits.

Taxes aren't everything
States need money to pay for roads, services and education, and if they don't tax retirement benefits, they will find the money elsewhere -- typically in property or sales taxes. And there are other considerations, too. The Tax Foundation, a nonpartisan think tank, rates Alaska as one of the most tax-friendly states to live in. Your decision to move to Alaska should also take into account your fondness for cold winters and bears. John Waggoner, AARP, www.aarp.org, March 4, 2021.

9. WHEN ASKED ABOUT BENEFIT TRADE-OFFS, PARTICIPANTS SHOW PREFERENCE FOR GUARANTEES:
The 2020 PLANSPONSOR Participant Survey shows that if retirement plan participants are given a choice between two benefit options, in most cases, they are just about evenly split between them. However, it does show a slight preference among participants for guarantees and amply demonstrates that company matches matter.
For example, if the participant was offered the choice between a one-time $5,000 bonus or a one-time $5,000 contribution to their 401(k) account, 54% would choose the former and 46% would choose the latter.
There seems to be a higher preference, however, for a higher employer contribution to the plan, even if it means waiting during a vesting period, as 62% said they would choose a 6% employer contribution that is vested after five years, but only 38% would go with a 3% contribution that is immediately vested.
Participants also indicate a slight preference for a more favorable health care plan, with 51% saying they would take a $250 per month reduction in health insurance premiums and 49% preferring a $250 per month increase in employer contributions to their 401(k).
Contributions by the employer do, indeed, matter. Fifty-four percent would prefer a $3,000 annual contribution to their 401(k) from their employer, even if it required the employee to put $6,000 of their own money into the account. By comparison, 46% would just take a $1,500 annual nondiscretionary contribution from their employer that didn't require them to make any contribution of their own.
Participants also indicate they would slightly prefer being offered a 401(k) plan over a higher salary. Fifty-two percent said, if given the option, they would prefer to work for a company that has a 401(k) plan but that pays 10% less, but 48% would prefer to work for a company without a 401(k) plan that pays 10% more. The results change, ever so slightly, when it becomes a question of a 20% difference in pay, with 52% choosing the hypothetical option of working for a company without a 401(k) but that pays 20% more, and 48% going with the choice of working for a company with a 401(k) but that pays 20% less.

Preference for Guarantees
When it comes to performance, participants also show a preference for guarantees over the possibility of losing money. Fifty-eight percent said they would take a guaranteed 3% annual return over a market-based return that might greatly exceed 3% but that could also lose money (42%).
"Women have a much stronger preference for guarantees than men," says Brian O'Keefe, vice president, research and surveys, at Institutional Shareholder Services (ISS), parent company of PLANADVISER and PLANSPONSOR magazines. "If you look at the splits by gender, responses to most scenarios are pretty consistent between men and women. However, women are far more likely to favor guarantees than men. Additionally, women are consistent in their preference for guarantees. The percentage of women favoring a guarantee of 2% or 3% is basically the same, while the percentage of men willing to accept the guarantee increases as the guarantee increases."
In addition, O'Keefe continues, "lower-income respondents also have a strong preference for guarantees. As household income increases, the percentage of people preferring guarantees drops. This is not all that surprising."
On the same note, 60% would prefer guaranteed, lifetime, tax-free monthly payments of $200 a month starting by at least age 60 over a one-time $10,000 contribution made to their 401(k) account today (40%). Fifty-one percent would be willing to pay higher fees in hopes of receiving above-average returns, but slightly less (49%) would go with the opposite, that is, paying lower fees but accepting below-average returns.
The online questionnaire was completed in September 2020 by 1,163 individuals, ages 23 and older, 220 of whom were unemployed. Lee Barney, PLANADVISER, www.planadviser.com, March 5, 2021.

10. TIPS TO HELP TAXPAYERS SPOT AND AVOID TAX SCAMS:
Tax season is also busy season for savvy criminals. Scammers impersonating the IRS either over-the-phone, by email or in-person can steal money from people. All taxpayers should stay vigilant against these schemes. Here are some tips to help people recognize and avoid tax-related scams.

Email phishing scams
The IRS does not initiate contact with taxpayers by email to request personal or financial information. Generally, the IRS first mails a paper bill to a person who owes taxes. In some special situations, the IRS will call or come to a home or business.

Taxpayers should report IRS, Treasury or tax-related suspicious online or email phishing scams to phishing@irs.gov. They should not open any attachments, click on any links, reply to the sender, or take any other actions that could put them at risk.

Phone scams
The IRS generally first mails a bill to a taxpayer who owes taxes. There are specific ways to pay taxes. The agency and its authorized private collection agencies will not:
Leave pre-recorded, urgent, or threatening messages on an answering system.
Threaten to immediately bring in local police or other law enforcement groups to arrest the taxpayer for not paying, deport them or revoke their licenses.
Call to demand immediate payment with a prepaid debit card, gift card or wire transfer.
Ask for checks to third parties.
Demand payment without giving the taxpayer an opportunity to question or appeal the amount owed.
Criminals can fake or spoof caller ID numbers to appear to be anywhere in the country. Scammers can even spoof an IRS office phone number or the numbers of various local, state, federal or tribal government agencies.
If a taxpayer receives an IRS or Treasury-related phone call, but doesn't owe taxes and has no reason to think they do, they should:
If a taxpayer wants to verify what taxes they owe the IRS, they should:
More information:
Avoiding Social Engineering and Phishing Attacks - Department of Homeland Security
Security Awareness for Taxpayers
Share this tip on social media -- #IRSTaxTip: https://go.usa.gov/xsmjS
IRS Tax Tip 2021-30, www.irs.gov, March 8, 2021.

11. FAKE PRIZE OFFERS DON'T PAY:
The pandemic has caused financial distress because of lost jobs, income, and homes, and emotional distress because of social isolation. This week, during National Consumer Protection Week (NCPW), we want your help to reach people who might be a bit cut off from their social network. The FTC knows that people who talk about scams are less likely to fall for them, and we hope to spark discussions by offering conversation-starting ideas. To close out NCPW, here are a few ideas to help you and the people you care about spot and avoid a "free prize" con.
Prize and lottery scams can start many ways, but they often begin with an unexpected phone call. The scammers may claim to be from the government. Or an official-sounding organization. They make wild claims about big winnings, and demand payment up front. If you get a call like this, hang up. You probably already know that. But you may know someone who doesn't. So give a call to someone who might be a bit isolated, who could use a reminder about these scams. Chances are, they would like to hear from you, and have a chance to talk about how things are going and what's on their mind.
Here are a few tips you can share about prize and lottery scams when you chat:
Legitimate contests don't ask you to pay a fee, or give your bank account or credit card number to get your prize.
Never send money by wire transfer, gift card, or cryptocurrency. Anyone who asks you to pay for things that way is a scammer.
Don't trust caller ID. Scammers can make it look like they're calling from anywhere.
After you talk, invite your friend or relative to call you back if they have questions, or if they get a surprise phone call. If they say they already spotted a scam or sent money, please ask them to report to ReportFraud.ftc.gov. You're welcome to file report for someone, if they ask for help. Bridget Small, Division of Consumer & Business Education, FTC, www.ftc.gov, March 5, 2021.

12. FOR THOSE WHO LOVE WORDS:
What's The Difference Between "Assure," "Ensure," And "Insure"? Find out here.

13. A THOUGHT FOR TODAY:
"Two wrongs don't make a right, but they make a good excuse." - Thomas Szasz

14. TODAY IN HISTORY:
On this day in 1993, the First woman U.S. attorney general is appointed. Janet Reno wins unanimous Senate confirmation and is sworn in the next day, to be the first woman U.S. attorney general.

15. REMEMBER, YOU CAN NEVER OUTLIVE YOUR DEFINED RETIREMENT BENEFIT.
Items in this Newsletter may be excerpts or summaries of original or secondary source material, and may have been reorganized for clarity and brevity. This Newsletter is general in nature and is not intended to provide specific legal or other advice.