---
PLEASE GIVE US YOUR FEEDBACK!
CLICK HERE TO TAKE A BRIEF SURVEY TO HELP IMPROVE THE CONTENT OF THIS NEWSLETTER.
---
1. PUBLIC SECTOR EMPLOYEES NEED A PUSH TO SUPPLEMENT PENSIONS:
Researchers for the Center for Retirement Research (CRR) at Boston College say a simple lifecycle model predicts that employees will respond to a one-dollar decrease in their defined benefit (DB) plan expected benefits by increasing their supplemental savings by one dollar. In reality, however, they find that public sector employees do not respond in this way.
As the researchers note, income provided by DB plans varies, some plans are poorly funded and not all workers will receive Social Security . Prior research has also pointed out that in the wake of the financial crisis of 2008, public pension plans made several reforms , including cutting benefits and increasing the age and tenure required to claim benefits.
All state employees and most local employees have access to supplemental savings vehicles--i.e., 457, 401(k), 401(a) and 403(b) defined contribution (DC) plans--where they could adjust their savings to offset insufficient income from DB plans or a lack of Social Security benefits.
Results of the researchers' analyses suggest that employees do respond to changes in the income provided by their primary DB plan, but the magnitude of their response is small. They also found that employees in pension plans with the lowest funded ratios--those in the bottom third--are no more likely to participate in a DC plan than employees in plans in the top two-thirds.
"This finding suggests that workers in poorly funded plans may be unprepared if sponsors cut benefits for existing workers in order to reduce costs," the researchers say in an Issue Brief.
The analyses found lacking Social Security coverage also appears to have no effect on participation in a supplemental plan. "Since uncovered state and local workers sometimes participate in pensions that fail to fully replace Social Security benefits, this result suggests that they may end up less prepared for retirement than their covered counterparts," the researchers say.
They found the same results when looking at whether public sector employees adjust savings in vehicles outside of employer-sponsored DC plans.
The researchers say state and local employees may not be aware of how much is accruing through their DB plan, the extent to which their plan is adequately funded and whether they are covered by Social Security. These are points to possibly be made in communications from plan sponsors. The CRR's Issue Brief may be downloaded from here . Rebecca Moore, PLANSPONSOR, www.plansponsor.com , March 19, 2021.

2. LOUISIANA MUNICIPAL POLICE SETS NEW FIXED-INCOME TARGET:
Louisiana Municipal Police Employees Retirement System, Baton Rouge, created a target to diversified multisector fixed income, raised its overall target allocation to equities, and reduced targets to core fixed income and core real estate.
The $2.6 billion pension fund's board approved the changes at its meeting Wednesday following the recommendation of investment consultant NEPC to increase its equity exposure to be more in-line with NEPC's equity market values, said Benjamin Huxen II, executive director and general counsel.
Within its overall equity allocations, the pension fund increased targets to domestic large-cap equities to 20% from 17%, domestic smidcap equities to 10% from 8% and emerging markets equities to 9.5% from 8.5%, while the target to international equities was reduced to 16% from 18%.
Within fixed income, the pension fund created a new 11.5% target to diversified multisector fixed income and reduced the target to core fixed income to 11.5% from 25% and the target to emerging markets debt (local currency) to 4.5% from 5.5%. The target to high yield remains unchanged at 3%.
Within alternatives, the target to core real estate was reduced to 7% from 8% and the target to private equity remains unchanged at 7%.
The current actual allocation is 23.7% core fixed income, 19.9% international equities, 19.1% domestic large-cap equities, 8.7% domestic smidcap equities, 8.6% emerging markets equities, 6.9% core real estate, 4.7% emerging markets debt (local currency), 4% private equity, 3.5% high yield and the rest in hedge funds.
No manager terminations are scheduled.
Separately, the board named finalists in the shortlist search for a private equity manager to run a $215 million customized private equity fund of one portfolio, Mr. Huxen said. Adams Street Partners , HarbourVest Partners and Portfolio Advisors are scheduled to make presentations at MPERS' April 21 board meeting, with a decision expected shortly thereafter. Rob Kozlowski, Pension & Investments, www.pionline.com , March 19, 2021.

3. KEEPING PROMISES TO PENSIONERS:
The slashing of monthly checks in 2018 to Teamster retirees and their beneficiaries in Western Pennsylvania may be old news for most people. But for the 17,000 people who saw their hard-earned pensions summarily reduced, they've been getting a reminder every month. It's a cautionary tale that highlights the importance of federal pension protection.
Congress has seen the light. The $1.9 trillion American Rescue Plan includes an aid package for multiemployer pension funds that cover union workers including truck drivers, grocery store employees and construction industry workers.
Many multiemployer pension plans, which are operated jointly by unions and employers, were at risk. There are about 1,400 such plans in the United States (covering more than 10 million people) and most are solvent, but more than 100 (varying estimates peg the number at between 130 and 185) were in trouble and jeopardizing the current or future pensions of more than a million people.
The aid package that is part of the latest COVID-19 relief action ensures that promises from employers to employees are kept. A tip of the hat goes to Sen. Sherrod Brown, a Democrat from Ohio and chairman of the Senate Banking Committee, who worked hard to get the protection package included in the American Rescue Plan.
The measure shores up multiemployer pension funds that were shattered by a variety of factors, including the stock market crash and the ensuing financial crisis, circa 2008, then were further damaged by the ongoing pandemic. Mr. Brown had wrangled the protection into the latest relief bill but also had introduced it in the Senate (for a second time) as a fallback. Called the Butch Lewis Emergency Pension Plan Relief Act, Sen. Brown also had introduced it in 2019 with 39 co-sponsors, including Sen. Bob Casey, D-Pa., who was an original co-sponsor. The bill was named for the late retired head of the Teamsters Local 100 from West Chester, Ohio.
In 2018, administrators of the Western Pennsylvania Teamsters and Employers Pension Fund announced it would cut benefits by 30% for 17,000 Pittsburgh-area retirees or their beneficiary survivors. The cut was needed to avoid insolvency and an accompanying collapse of the pension structure. Now, it is expected that those cuts will be restored.
Pension protection is critical, both for its morality and for its necessity. Pensions are a lifeline for older citizens. They should not lose their retirement money at the time they are depending on it -- when they are no longer able or intending to work. The alternative reasonably could be poverty.
Were it not for the language in the new federal law, many people who spent decades toiling in union jobs would be in jeopardy of losing their benefits through no wrongdoing on their part. Forces conspired to put their retirement plans at risk. These are plans that were negotiated. These are plans that were promised. Nonetheless, many of the employers have gone out of business and have left their pension liabilities inadequately funded.
The largest of the failing multiemployer pensions is the Central States Pension Fund, which covers 400,000 retirees. Insolvency was projected for 2025. Failure to protect the pensions of our retirees would be a failure of government and of ethics.
With the new program created by the federal legislation, cash payments would be made by the federal Pension Benefit Guaranty Corp. In essence, there now is a fail-safe for private pension funds that would have, indeed, failed. The buffed up Pension Benefit Guaranty Corp. will be able to keep the multiemployer plans solvent for 30 years with no cuts to the benefits of participants and their beneficiaries. And it also would restore full benefits for those who have taken cuts in recent years.
The rescue plan will cost $86 billion. But it will be money spent to ensure that hardworking people who earned a pension aren't at risk of spending their golden years in need. Pittsburgh Post Gazette, www.post-gazette.com , March 20, 2021.

4. BEYOND PENSION DEBTS, ILLINOIS OWES $73.7 BILLION IN PUBLIC-EMPLOYEE RETIREMENT BENEFITS:
Net liabilities in Illinois for so-called other post-employment benefits (OPEBs), which consist mainly of health care obligations to retired public employees, stood at about $73.7 billion in fiscal-year 2019, according to a new analysis from the Reason Foundation.
With a population of 12,671,821, the state posted a per-capita OPEB liability of $5,814, which represents the eighth highest value among the 50 states and the District of Columbia, the Reason study found.
In total, these liabilities amount to 6 percent of the U.S. gross domestic product, the researchers said. These debts are also geographically concentrated, with 15 government jurisdictions representing 50 percent of the total, the study found.
In addition, any plan to expand Medicare to those under age 65 would result in the federal government assuming a large share of state and local OPEB liabilities, according to the Reason Foundation. This would effectively transfer wealth to states such as New York, New Jersey, Delaware and Connecticut, the researchers found.
Meanwhile, states such as South Dakota don't offer such OPEB benefits, and other agencies are ending such benefits for new employees, according to the analysis.
Fiscal-Year 2019 State and Local OPEB Liabilities
| | | | | |
| --- | --- | --- | --- | --- |
| State | OPEB Debt | Population | OPEB per Capita | Rank (OPEB per Capita) |
| New York | $313,920,086,646 | 19,453,561 | $16,137 | 1 |
| New Jersey | $101,478,261,992 | 8,882,190 | $11,425 | 2 |
| Delaware | $8,657,258,594 | 973,764 | $8,891 | 3 |
| Hawaii | $12,393,188,491 | 1,415,872 | $8,753 | 4 |
| Connecticut | $28,336,538,083 | 3,565,287 | $7,948 | 5 |
| Massachusetts | $47,523,075,688 | 6,892,503 | $6,895 | 6 |
| Maryland | $38,942,487,377 | 6,045,680 | $6,441 | 7 |
| Illinois | $73,679,046,562 | 12,671,821 | $5,814 | 8 |
| Louisiana | $23,581,901,691 | 4,648,794 | $5,073 | 9 |
| California | $183,614,985,491 | 39,512,223 | $4,647 | 10 |
| Vermont | $2,868,911,672 | 623,989 | $4,598 | 11 |
| North Carolina | $41,342,789,101 | 10,488,084 | $3,942 | 12 |
| Texas | $110,800,605,210 | 28,995,881 | $3,821 | 13 |
| Rhode Island | $3,370,956,915 | 1,059,361 | $3,182 | 14 |
| Michigan | $30,953,054,436 | 9,986,857 | $3,099 | 15 |
| South Carolina | $15,792,680,769 | 5,148,714 | $3,067 | 16 |
| Pennsylvania | $38,539,986,433 | 12,801,989 | $3,010 | 17 |
| District of Columbia | $2,120,897,000 | 750,749 | $2,825 | 18 |
| Alabama | $12,177,481,861 | 4,903,185 | $2,484 | 19 |
| Georgia | $24,075,621,495 | 10,617,423 | $2,268 | 20 |
| New Hampshire | $2,973,172,943 | 1,359,711 | $2,187 | 21 |
| Maine | $2,924,651,882 | 1,344,212 | $2,176 | 22 |
| New Mexico | $4,499,598,848 | 2,096,829 | $2,146 | 23 |
| Wyoming | $1,137,947,859 | 578,759 | $1,966 | 24 |
| Kentucky | $7,988,647,139 | 4,467,673 | $1,788 | 25 |
| Alaska | $1,293,880,851 | 731,545 | $1,769 | 26 |
| Tennessee | $10,172,688,062 | 6,829,174 | $1,490 | 27 |
| West Virginia | $2,670,376,857 | 1,792,147 | $1,490 | 28 |
| Wisconsin | $7,122,825,062 | 5,822,434 | $1,223 | 29 |
| Nevada | $3,497,420,356 | 3,080,156 | $1,135 | 30 |
| Florida | $22,837,941,233 | 21,477,737 | $1,063 | 31 |
| Ohio | $11,592,626,048 | 11,689,100 | $992 | 32 |
| Washington | $6,799,221,754 | 7,614,893 | $893 | 33 |
| Arkansas | $2,495,413,962 | 3,017,804 | $827 | 34 |
| Missouri | $5,044,035,010 | 6,137,428 | $822 | 35 |
| Virginia | $5,716,050,225 | 8,535,519 | $670 | 36 |
| Oklahoma | $2,199,836,311 | 3,956,971 | $556 | 37 |
| Oregon | $2,144,405,865 | 4,217,737 | $508 | 38 |
| Minnesota | $2,742,244,233 | 5,639,632 | $486 | 39 |
| Nebraska | $889,275,137 | 1,934,408 | $460 | 40 |
| Colorado | $2,584,825,548 | 5,758,736 | $449 | 41 |
| Iowa | $1,379,321,377 | 3,155,070 | $437 | 42 |
| Arizona | $2,322,647,300 | 7,278,717 | $319 | 43 |
| Mississippi | $789,643,944 | 2,976,149 | $265 | 44 |
| Montana | $280,486,910 | 1,068,778 | $262 | 45 |
| Kansas | $568,013,022 | 2,913,314 | $195 | 46 |
| Indiana | $1,245,566,292 | 6,732,219 | $185 | 47 |
| Idaho | $254,923,323 | 1,787,065 | $143 | 48 |
| Utah | $375,298,520 | 3,205,958 | $117 | 49 |
| South Dakota | $75,933,081 | 884,659 | $86 | 50 |
| North Dakota | $62,375,435 | 762,062 | $82 | 51 |
Source: Reason Foundation
The Center Square, www.thecentersquare.com , March 19, 2021.

5. PENSION BAILOUT A BLOW TO AMERICA:
Of the $1.9 trillion American Rescue Plan Act malarkey, there's a lot to make one believe another giant hole has been drilled in the bottom of USS America. You'll remember the moral hazard discussed in 2008, of bailing out the financial sector of America without demanding substantive change in the habits of the banking industry.
This time it's the Pension Benefit Guaranty Corporation, which will receive $86 billion in order to backstop the Central States Pension Fund, which is only 34% funded. Yahoo Finance reports Sen. Sherrod Brown as saying the bill "fixes the multi-employer pension system... That's probably 100,000 people in my state." Other Democrats agreed this was an important piece of the legislation. Critics of the provision say it has nothing to do with the coronavirus pandemic, while others don't like how the money is distributed.
Gordon Gray, director of fiscal policy at the American Action Forum, said, "I'm sympathetic to these workers" but the deal "is completely irresponsible and doesn't, frankly, reflect the bipartisan nature that Congress had been pursuing for years." Gray claimed there was no way Congress was going to let these plans go bankrupt but he wished that structural reforms had been part of the deal, specifically changing how the pension plans calculate their future liabilities.
Without more long-term changes, Gray said, "we're going to have to come back and do it again when these plans end up in trouble 30 years from now." Sen. Chuck Grassley was one of the Republicans who has worked on this issue and blasted the final product. "It's just a blank check, with no measures to hold mismanaged plans accountable."
To the self-employed and those who fund their own retirement accounts I would ask, How's the funding for your retirement plan going since the government shut your business down? Tim Bible, The Daily Record, www.the-daily-record.com , March 20, 2021.

6. PA.'S LARGEST PENSION PLAN HIRES LAWYERS TO PROBE ITS MISTAKE:
The board of the $62 billion Pennsylvania public school pension system on Friday hired a pair of law firms to look into what the fund is now calling a "misstatement" in its profit reporting.
The Anglo-American law firm Womble Bond Dickinson will investigate what the board had previously called an "error," while Philadelphia-based Morgan Lewis will check the math and tax issues.
The mistake may have wrongly spared teachers a potential hike in their pension payments while simultaneously passing that burden onto taxpayers.
The audit and compliance committee for the board of PSERS -- the Public School Employees' Retirement System -- met behind closed doors recently for the third time over the issue. The committee, headed by state Rep. Frank Ryan, R-Lebanon, voted unanimously to hire the two firms after reviewing teams of lawyers earlier this week.
The investigators will scrutinize what went wrong with the way PSERS reported investment results in December. Those performance numbers are critical because they are used for a so-called "shared risk" calculation to figure out how much taxpayers and school staff must pay to fund the system.
Womble Bond Dickinson is charged with "a thorough and independent investigation of the circumstances surrounding the inaccurate reporting of PSERS' investment performance numbers," state Treasurer Stacy Garrity, a board member, said in a statement.
The firm has offices in nine United Kingdom cities and 19 in the United States. It does not have a Philadelphia office.
Morgan Lewis will "examine federal tax qualification issues involved with the shared risk calculation," she said. She provided no further explanation.
The board in December officially concluded that PSERS yearly investment returns had averaged 6.38% -- just enough to avoid a threatened increase in teacher payroll deductions. The state's "risk sharing" law requires school staff to pay more, as taxpayers do, when PSERS investments underperform.
But on March 12 in a terse announcement, the PSERS board said it "was recently made aware of an error regarding the reporting of investment performance numbers."
The Inquirer reported how some dissident trustees were skeptical of the performance numbers in December, and how top PSERS officials insisted the figures were accurate.
In a later written statement, board Chairman Chris Santa Maria said taxpayers and teachers have not "paid any more or less because the rates set in December 2020 were all prospective and not in effect yet."
He also said: "We do not have any information at this time that anything criminal occurred.
"Our present concern resulted from the admission of an error by one of our outside consultants," he added. "This error was brought to the attention of the board by PSERS management."
PSERS officials wouldn't say who made the error, pending the investigation.
The original performance report was compiled by a unit of New York-based Buck Global LLC, using PSERS data collected from a unit of Aon Investment Consulting Inc.
Buck was paid $226,000 for actuarial services -- projections of future pension costs -- for PSERS in the current fiscal year. Aon, based in Illinois, collected $763,000 for "general investment consulting."
The 6.38% return was below the system's official target figure (now 7.25% a year) but just above the lower 6.36% threshold needed to avoid an increase in pension payments from 100,000 school employees hired since 2011.
Using state data, The Inquirer estimated teachers would have to pay more than $25 million a year if returns had come in lower -- a bump over their current payment of $1.1 billion yearly. PSERS officials declined to comment on that estimate or provide their own, citing the pending investigation. Joseph N. Distefano, Tribune News Service, March 20, 2021.

7. REBALANCING CAN BE AN IMPORTANT TOOL FOR DB PLANS DURING VOLATILE MARKET:
The 2020 funded status of the 100 largest corporate defined benefit (DB) plans by assets rose only slightly as double-digit equity returns were offset by a decline to record-low discount rates, according to a proprietary analysis conducted by J.P. Morgan Asset Management.
The report, written by Michael Buchenholz, head of U.S. pension strategy, institutional strategy and analytics, reveals the benefits that came from rebalancing liability-driven investing (LDI) portfolios during the market volatility of last year. He first points out that for plan sponsors to have meaningfully rebalanced into risk , they would have needed a two-way glide path permitting re-risking or an investment team with wide discretion; the ability to quickly raise liquidity, in the portfolio or from the sponsor; and the capacity and ability to conduct transactions on short notice.
To illustrate the potential benefits of reallocating, J.P. Morgan took a simple 50%/50% LDI portfolio and estimated returns under different rebalancing policies. Without any rebalancing, the sample portfolio--50% MSCI All Country World Index (ACWI), 40% U.S. long credit and 10% U.S. long Treasuries--earned 15.2%, a bit better than the top 100 plans' average return of 14.2%. Rebalancing monthly back to target allocations earned an additional 80 basis points (bps), while rebalancing just once at March 31 earned an additional 225 bps.
Buchenholz notes that hedge portfolios are still the focal point of most LDI strategies, but he suggests that corporate DB plans might have put up an illusory line of defense with corporate credit.
"One of the most pernicious adversaries of hedge portfolio effectiveness is credit defaults and downgrades, generating fixed income losses and liability increases as higher yielding bonds exit the pension discount curve universe," the report says. "Corporate bond hedges become … sources of vulnerability."
However, in late March, the Federal Reserve's announcement of policy measures, including primary and secondary market corporate bond-buying programs, helped drive long corporate spreads down from a peak of 360 bps on March 23 to about 230 bps by the end of April. Buchenholz says these downgrades, in addition to leniency from credit agencies, might be keeping liability valuations artificially depressed. He adds that the proprietary analysis found less than 10% of fixed income portfolios are allocated away from traditional investment grade credit and Treasurys to hedge diversifiers such as mortgage loans, securitized assets and emerging market debt.
The report notes that employer contributions into DB plans surged in the fourth quarter of 2020. Buchenholz says it's understandable that DB plan sponsors waited for economic conditions to stabilize before committing mostly voluntary contributions to their plans, but cash infusions tend to be most valuable during periods of economic stress. J.P. Morgan examined contribution scenarios with varied timing and fund allocation and found that the best opportunities were contributing to fund equities in March. This would have returned almost 50% or cost roughly 68 cents to buy a dollar of end-of-year assets.
Taking the lessons from the past year, J.P. Morgan recommends that re-evaluating glide path triggers and bands while permitting re-risking can set plans up to take advantage of future market dislocations.
The firm also suggests that corporate DB plans fortify their hedges with diversified exposures such as securitized assets.
In addition, DB plans should consider alternative assets. "As expected returns have continued to fall, alternative asset classes have an increasingly important role to play in generating returns, diversification and income. By taking stock of intermediate-term liquidity needs like benefit payments and potential risk transfer transactions, corporate pension plans can better understand their tolerance for illiquid assets in the portfolio," the report says.
The full report may be downloaded from here . Rebecca Moore, PLANSPONSOR, www.plansponsor.com , March 22, 2021.

8. STRUGGLING COUNTIES GET A BOOST FROM STIMULUS WINDFALL:
Thanks to the latest stimulus, every county in the country will receive money directly from the federal government, based on population. This fulfills a goal local governments have pursued since the pandemic began a year ago.
"I've got 147 million ways to say this relief plan is going to have an impact for us," says Larry Johnson, a commissioner in DeKalb County, Ga. "We're all glad to have the money go directly to our counties and not go through the state first."
County leaders insist the windfall will be put to good use. They're receiving a lot of federal money, but face many competing demands for it. Even as distributing vaccines and dealing with the pandemic remain the most pressing business, counties have to perform all their normal functions – running courts, building roads, providing public safety and transit and all the rest.
"In the spring, we have potholes after winter," says Gary Moore, judge-executive of Boone County, Ky. "Those same crews are trying to help at vaccination sites."
The top officials at the National Association of Counties held a Zoom call with Governing, discussing the challenges counties face as the pandemic enters its second year and how the federal aid will help them meeting those challenges. Moore is NACo's president, Johnson its first vice president.
The Trump administration engaged in more direct outreach with counties than any other presidency of the modern era. NACo officers say they're enjoying good relations thus far with the Biden White House, holding regular discussions with top brass, including biweekly calls with the administration's vaccine rollout team.
"Counties in many states have the total responsibility for public health," says Matt Chase, NACo's executive director. "Even those not directly putting shots in arms are providing logistical support."
The next big investment county officials are looking for Washington to make will be infrastructure. The federal gas tax hasn't been enough to keep the highway trust fund full for years. Billions more are needed for water, sewer and broadband.
Getting a big package through on top of the trillions already devoted to stimulus and the COVID-19 response is going to be a tough sell. "I don't have any idea of how they're going to solve that," concedes Denise Winfrey, a commissioner in Will County, Ill., and second vice president of NACo.
The continuing pain from the pandemic has been felt profoundly at the county level. In some places, there are backups at the morgue that can delay burials for weeks. Johnson notes that one of DeKalb County's first uses for the federal money will be extending an oversubscribed eviction prevention program.
"The issue of opioids has been on the back burner, but now that we're coming out of the pandemic, we're concerned about overdoses, along with other mental health issues," Moore says.
Counties as entities also face ongoing managerial challenges. Employees who must work in person are still sometimes sidelined by coronavirus infections and quarantines. But the federal money should prevent further erosion of personnel. More than 1 million state and local government jobs have been lost over the past year, but the stimulus dollars mean many if not most of them can be brought back.
"Counties that were facing layoffs are now not going to have to lay off police officers or firefighters or people who patch up potholes," Johnson says.
Counties may have been behind the curve pre-pandemic when it comes to investing in technology, but they've been forced by circumstances to play a game of catch-up, buying laptops and licenses for suddenly scattered employees.
Now, processes that were almost invariably done in person – permitting, zoning, meetings with far-flung vendors – will stay online in many places long after the pandemic is over. "It was a big investment for us," Winfrey says. "Going forward, it's going to be a big piece of how we continue to connect."
She underscores the point that the stimulus funding seems like a lot of money, until it gets divided up between the many areas of need – education, rental assistance, help for small businesses on the verge of going bust. In her own county, some of the funds will go to struggling nonprofits that have been unable to conduct in-person fundraising events even as they're carrying out the work of providing residents with shots and other medications and care.
Winfrey and the other NACo officials stress the need to balance speed – getting vaccines into as many arms as possible, as quickly as possible – with equity – making sure underserved communities have increased amounts of access. "We've opened up a call center so we can take more calls for appointments," Winfrey says. "We need to get information out to Black and brown communities, information from people they can trust."
Although demand for vaccines still badly outstrips supply, it won't be too long before county-level messaging efforts switch to trying to convince individuals reluctant to get shots of the importance of doing so – for their own health and the community's well-being.
With many governors lifting restrictions before the population is fully vaccinated, or as fully vaccinated as it's going to be, county leaders recognize they face a continuing tug of war between safety recommendations from health officials and public demands to reopen.
Moore, the Boone County judge-executive, says jurisdictions within his county are making decisions now about what can open safely this summer in terms of pools and festivals and the like. They won't be able to satisfy everyone.
"Our citizens are ready to go," Moore says. "There's a pent-up demand for getting back to normal." Alan Greenblatt , GOVERNING, www.governing.com , March 22, 2021.

9. WHAT YOU NEED TO KNOW ABOUT REQUIRED MINIMUM DISTRIBUTIONS FOR IRAS IN 2021:
Over the last few years there have been a lot of changes in required minimum distributions (RMDs) for IRAs and other retirement plans. It's important to know the current rules, so you don't pay more income taxes than you need to or incur the highest penalty in the tax code.
The penalty for not taking the full amount of your RMD is 50% of the amount that should have been distributed from the IRA but wasn't. That penalty is in addition to income taxes on the distribution.
RMDs were suspended in 2020 for all IRAs, 401(k)s, and similar retirement plans. The suspension was not carried forward to 2021. Congress won't suspend RMDs again unless there is a severe stock market decline during the year. In the rest of this article, I discuss RMDs for original owners of IRAs and other retirement accounts, not the requirements for beneficiaries who inherited retirement accounts.
RMDs are not required for original owners of Roth IRAs or Roth 401(k)s.
The beginning age for RMDs was changed in 2019, so know which required beginning date applies to you.
If you turned age 70½ before 2020, you had to take your first RMD by April 1 of the year after you turned 70½. But if you turn 70½ after 2019, your first RMD must be taken by April 1 of the year after you turn 72. Since RMDs were suspended for 2020, people who turned 72 in 2020 were able to skip their first RMDs in 2020.
For people who turned 72 in 2020, there's some confusion about whether their 2021 RMDs need to be taken by December 31, 2021 or April 1, 2022. It's the first RMD they'll take, because the 2020 distributions were suspended. But since they turned 72 in 2020, the April 1 deadline probably doesn't apply to the 2021 distribution. The 2021 RMD really is their second RMD. To be safe if you turned 72 in 2020, take your 2021 RMD by December 31.
Though the first RMD doesn't have to be taken until April 1 of the year after you turn 72, it really is the RMD for the calendar year in which you turn 72. It usually is best to take the RMD by December 31 of the year you turn 72, because you have to take an RMD by December 31 for each year after the year you turned 72.
Suppose you turn 72 in 2021. You could wait to take the first RMD until April 1, 2022. But you'll have to take your second RMD by December 31, 2022. That means you'd take two RMDs in 2022. That could push you into a higher income tax bracket and also could trigger higher taxes on Social Security benefits and a higher Medicare premium surtax. It often is better to spread the RMDs over two years by taking the first RMD by the end of the year you hit the required beginning age instead of by April 1 of the following year.
The RMD for 2021 is calculated by taking your IRA balance as of December 31, 2020. You divide that balance by the life expectancy for your age found in tables published by the IRS. The tables are at the end of IRS Publication 590-B, "Distributions from Individual Retirement Arrangements (IRAs)." The publication is available free on the IRS web site or by contacting the IRS at 800-829-3676.
Most people use Table III. Table II is used by IRA owners whose spouses are more than 10 years younger and are the sole beneficiaries of the IRAs.
The result of the calculation is the minimum amount you must have distributed from the IRA by December 31, 2021. Of course, you can take a larger distribution if you want to or need the money. But the excess above the RMD won't be used as a credit or other reduction when you compute next year's RMD. Next year, you'll use the IRA balance as of December 31, 2021, to compute the RMD for 2022.
Keep in mind that we're still using the life expectancy tables that have been in use for a while. In early 2020 the IRS published proposed regulations with new tables that have slightly longer life expectancies. In late 2020 those regulations were revised and made final. The new life expectancy tables first will be used for 2022 RMDs.
When you have more than one IRA, first you calculate the RMD separately for each IRA. Then, you have several options.
You can take the calculated RMD from each IRA.
Or you can add all the RMDs, known as aggregating them. Then, you can take the aggregated RMD from the IRAs in any proportion you want. The entire aggregated RMD can be taken from one IRA. It can be taken proportionally from each, or an equal amount can be taken from each IRAs. Or any other allocation you think of can be taken as long as the total at least equals the aggregate RMD for the year.
The aggregation method can be used only with traditional IRAs. With 401(k)s and other employment-related accounts, you compute the RMD separately for each account and have to take the RMD from that account.
RMDs don't have to be taken in a lump sum at the end of the year. You can take RMDs in fixed installments during the year or at irregular intervals. Some people have their IRA custodians send them monthly checks of equal amounts that total at least the RMD for the year.
Don't forget that instead of taking an RMD you can make a qualified charitable contribution (QCD). The amount of the QCD isn't included in your gross income but counts toward your RMD for the year. You can make QCDs up to $100,000 for the year. Bob Carlson, Forbes, www.forbes.com , February 24, 2021.

10. THE RIGHT TO CONFIDENTIALITY IS A FUNDAMENTAL RIGHT OF ALL TAXPAYERS:
Information a taxpayer gives the IRS won't be shared with outside parties, unless allowed by the taxpayer or by law. This is the right to confidentiality. It's one of ten rights known collectively as the Taxpayer Bill of Rights .

The right to confidentiality means:
The IRS won't give any information to a third party without permission from the taxpayer.
The agency can't contact third parties such as an employer or bank for information unless they give the taxpayer reasonable notice first.
The same confidentiality a taxpayer has with an attorney also applies to tax professionals working with the IRS on the taxpayer's behalf.
Taxpayers have the right to expect appropriate action will be taken against employees, return preparers and others who wrongfully use or disclose taxpayer return information.
Confidential communications include conversations, messages, documents, and info that:
Fall within the tax professional's authority to practice before the IRS, but it doesn't include tax return preparation.
Are considered private or restricted between the taxpayer and their attorney.
Relate to noncriminal tax matters with the IRS or noncriminal tax cases in federal court.
Tax professionals can't share or use tax information for any reason other than preparing a return.

More information:
IRS Tax Tip 2021-34, www.irs.gov , March 22, 2021

11. SPOTTING SCAMMY EMAILS:
Let's say you get an email about a charge to your credit card for something you aren't expecting or don't want. Your first instinct may be to immediately call the company or respond to the email and to stop the payment. Scammers know that, and are taking advantage of it in a new phishing scheme.
People tell us they're getting emails that look like they're from Norton, a company that sells antivirus and anti-malware software. (Tip: the emails are NOT from Norton.) The emails say you've been (or are about to be) charged for a Norton product -- maybe an auto renewal or new order. If this is a mistake, the email says, you should call immediately. (Tip: don't.)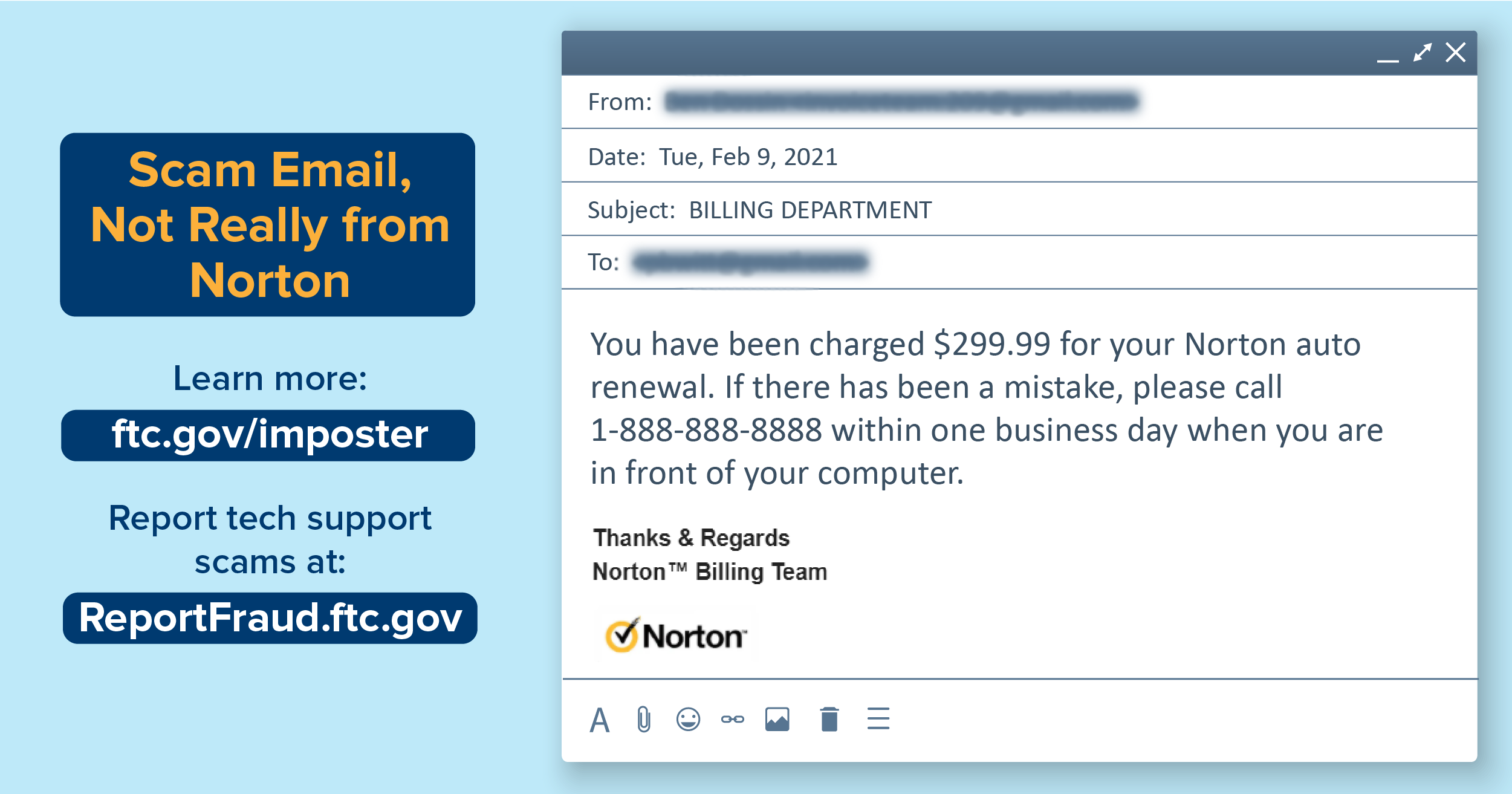 If you call, you'll be connected to a scammer. Some scammers might ask you to "verify" your credit card information, while others might say they need your password to remote into your computer so they can remove the Norton program. But if you let them, they could install malware , block you from getting to your own files, and sell you worthless services.
If you get an email or text you're not sure about:
Don't click on any links.
Don't use the number in the email or text. If you want to call the company that supposedly sent the message, look up their phone number online.
Remember:
Never give your password to a stranger on the phone, even if they claim to be from a company you recognize.
If you did give out your password, change it right away, update your computer's security software , run a scan, and delete anything it identifies as a problem.
Make your passwords long, strong, and complex .
Don't give your bank account, credit card, or personal information over the phone to someone who contacts you out of the blue.
And if you do get a fake email like this, help your community by reporting it to the FTC at ReportFraud.ftc.gov . Emily Wu, Attorney, Federal Trade Commission, www.ftc.gov , March 17, 2021

12. FOR THOSE WHO LOVE WORDS:
'Supposably' vs. 'Supposedly'. What's the difference? Find out here .

13. QUOTE OF THE WEEK:
There is only one corner of the universe you can be certain of improving, and that's your own self. -Aldous Huxley

14. TODAY IN HISTORY:
On this day in 1965, Martin Luther King Jr. leads 25,000 to state capitol in Montgomery, Alabama.

15. REMEMBER, YOU CAN NEVER OUTLIVE YOUR DEFINED RETIREMENT BENEFIT.
Items in this Newsletter may be excerpts or summaries of original or secondary source material, and may have been reorganized for clarity and brevity. This Newsletter is general in nature and is not intended to provide specific legal or other advice.