---
PLEASE GIVE US YOUR FEEDBACK!
CLICK HERE TO TAKE A BRIEF SURVEY TO HELP IMPROVE THE CONTENT OF THIS NEWSLETTER.
---
1. STUDY SUGGESTS THERE IS NO IMMINENT PUBLIC PENSION CRISIS:
Contrary to popular belief, a recent research paper from the Brookings Institution argues there is no imminent crisis for most public pension plans.
As the paper notes, much ado has been made in recent years about state and local pension plans' large unfunded liabilities, with one study estimating that public pension funds' obligations exceed their assets by nearly $4 trillion. The paper focuses on whether state and local pension plans are fiscally sustainable over the medium- and long-term under current policies and funding levels, and what changes are needed if they aren't.
The paper projected the annual cash flows of state and local pension benefits and found that pension benefit payments in the US as a share of the economy are currently near their peak and will remain there for the next two decades. However, it also said the reforms enacted by many plans will gradually cause benefit cash flows to decline significantly.
"This is a new and important finding in terms of the fiscal stability of these plans as it indicates that the cash flow pressures they currently face will eventually recede," said the paper.
The paper acknowledged that under low or moderate real asset return assumptions of 0% to 2.5%, and a discount rate of 0%, state and local pensions are not currently sustainable because pension debt as a share of the economy would rise indefinitely. However, it added that pension debt can be stabilized with "relatively moderate fiscal adjustments," regardless of whether governments move to stabilize pension debt over the long-term, medium-term, or immediately.
The findings also suggest there's no need to rush to stabilize the pensions as there is only a slight benefit to starting a stabilization process now instead of a decade down the road. "Neither the level at which debt stabilizes as a share of the economy nor the contribution change needed to achieve stabilization increase significantly when the start of the stabilization process is pushed 10 years out," according to the paper.
The Brookings researchers said an unexpected discovery was that the plans in need of the largest adjustments to remain sustainable aren't the least-funded plans, but the plans that have not enacted many reforms.
"One might suspect that the least well-funded plans got that way by failing to make sufficient contributions and by ignoring looming imbalances," the report said. "But we find that many of the most poorly funded plans have in recent years undertaken the largest reforms and increased contribution rates the most."
By doing this, says the paper, many of the poorly funded plans have already made significant progress toward stabilizing their pension debt.
"Overall, while achieving fiscal stability will require adjustments, our results suggest there is no imminent 'crisis' for most public pension plans," the authors concluded. Michael Katz, Chief Investment Officer, www.ai-cio.com, March 31, 2021.

2. LONGSTANDING SAVINGS GAPS BY RACE, ETHNICITY PERSIST:
The Employee Benefit Research Institute (EBRI) has published a fresh crop of data looking at the breakdown of retirement savings across the different racial and ethnic groups comprising the U.S. workforce.
EBRI says the data represents yet another clear piece of evidence that not every race/ethnic group is amassing similar levels of wealth within individual account retirement plans such as 401(k)s. It is derived from the Survey of Consumer Finances (SCF), which is the Federal Reserve's triennial survey of wealth.
According to EBRI's analysis of the SCF data, just over half of families had an individual account-style retirement plan in 2019 (50.9%). However, the likelihood of having a retirement plan is significantly lower for families with Black/African American family heads than for families with white, non-Hispanic heads. Specifically, 57.2% of the latter and 34.9% of the former report owning some type of individual account savings plan.
EBRI reports the discrepancy is even greater for families with Hispanic heads. The data shows fewer than half as many (25.5%) families with Hispanic heads reported having retirement plan assets compared with families with white, non-Hispanic heads. EBRI also reports that these disparities have changed only marginally since 2010, showing the persistence of the issue.
EBRI finds families with Black/African American or Hispanic heads who did have a retirement plan also reported significantly lower median account balances than families with white, non-Hispanic heads. As of the end of 2019, EBRI reports, the median account balance of families with white heads was $80,000, versus $35,000 and $31,000 for families with Black/African American heads and Hispanic heads, respectively.
EBRI's analysis concludes that families with minority heads are generally in a much worse position in their preparation for retirement in terms of individual retirement plan assets. As a result, EBRI says, these families are likely to have much less flexibility in financing retirement.
"Recognizing this, policymakers and employers appear to be placing a greater emphasis on addressing the inequities across races and ethnicities," the analysis suggests. "Financial well-being programs can help address these disparities, particularly as employers develop holistic programs that address the full financial picture of employees and tailor these programs to the employees using them."
EBRI's analysis follows on the heels of a report published by the Investment Company Institute (ICI) showing total retirement plan assets grew to $34.9 trillion as of December 31, which is up 7.5% from the end of the third quarter of the year and up 9.3% overall for last year. With such strong growth for the year, the ICI reports, retirement assets accounted for a third of all household financial assets in the United States at the end of December.
The ICI update shows that assets in individual retirement accounts (IRAs) totaled $12.2 trillion at the end of the fourth quarter of 2020, while defined contribution (DC) plan assets were $9.6 trillion, up 6.8% from September 30.
Such growth figures would have been impressive in a "normal" year for the markets and the U.S. and global economies. But in the context of the ongoing coronavirus pandemic, which has now killed in excess of 525,000 Americans and caused historic surges in unemployment, the figures are even more notable. As various sources have discussed with PLANSPONSOR, the past year has made doubly clear the fact that the markets and the economy are not one and the same thing.

As demonstrated in the EBRI data, the past year (and decade) has also clearly demonstrated just how severe income and overall wealth inequality are in the United States. To be sure, since the global financial crisis of 2007 and 2008, U.S. households in the aggregate have come a long way in strengthening their balance sheets. Yet the distribution of wealth is highly unequal--about as unequal as it has ever been--and such research shows not everyone is able to participate in the growth of retirement plan assets. John Manganaro, PLANSPONSOR, www.plansponsor.com, March 26, 2021.

3. WHO ARE OUR HEALTH CARE WORKERS?:
Many of the nation's health care workers are now on the front line of the battle with COVID-19. Who are these people putting their lives at risk daily to care for the millions who have contracted the coronavirus?
There were 22 million workers in the health care industry, one of the largest and fastest-growing sectors in the United States that accounts for 14% of all U.S. workers, according to the Census Bureau's 2019 American Community Survey (ACS).
There were 9.8 million workers employed as health care technicians and practitioners, including physicians, surgeons, and registered nurses.
The health care and social assistance industry sector includes establishments that provide medical care in hospitals, clinics and doctor's offices, nursing and residential care, and social assistance such as family and childcare services.
In 2019, around seven million people worked at general medical, surgical or specialty hospitals; some two million at outpatient care centers and about 1.8 million worked at nursing care facilities.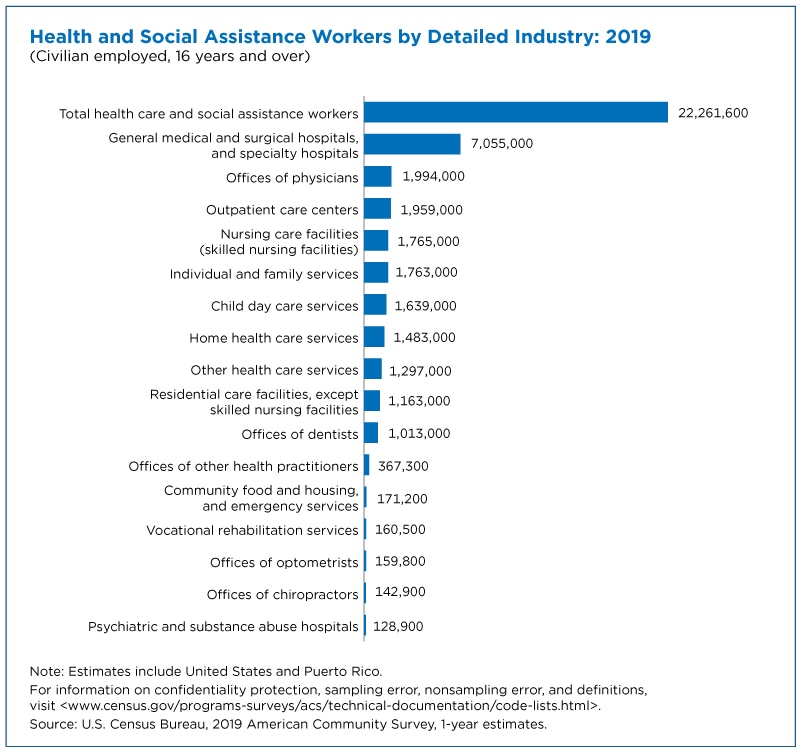 Health Care Occupations
There were 9.8 million workers employed as health care technicians and practitioners, including physicians, surgeons, and registered nurses. About two-thirds were non-Hispanic White.
Another 5.3 million worked as nursing assistants, home health and personal care aides and in other health care support occupations. One-quarter of health care support workers were Black.
Women accounted for three-quarters of full-time, year-round health care workers.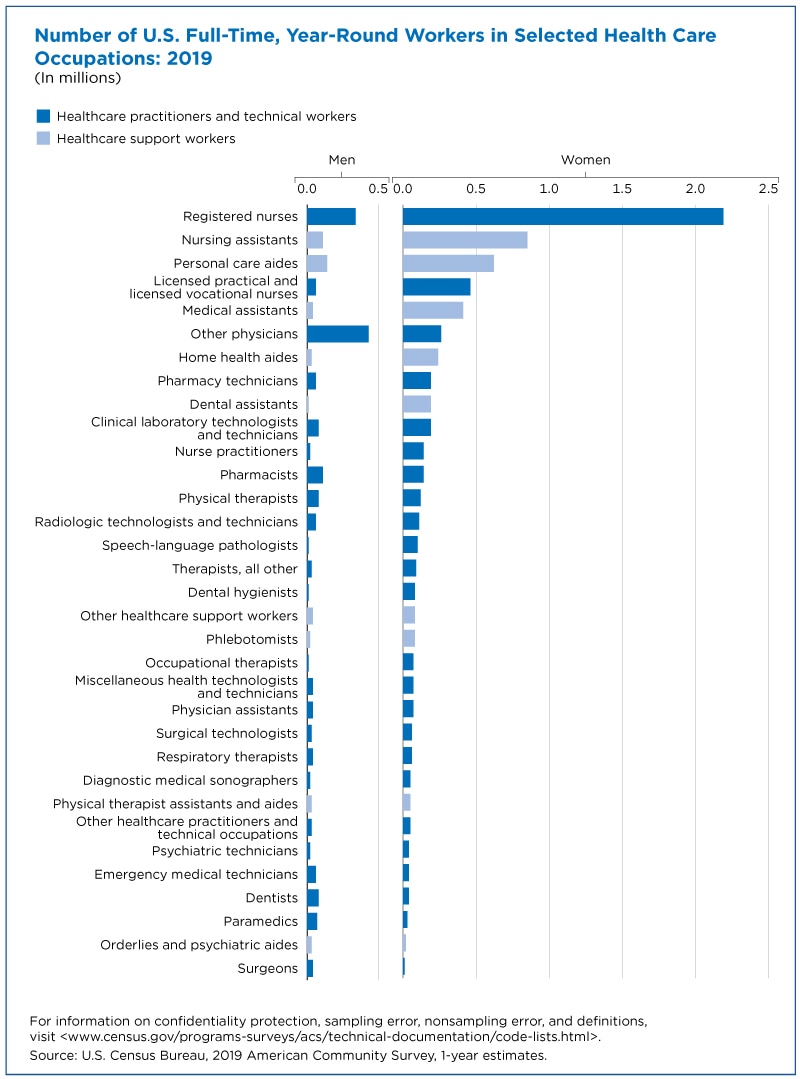 Women working as registered nurses, the most common health care occupation for women, had median annual earnings of $68,509.
In contrast, women working as nursing assistants, the most common health care support occupation, earned $28,686.
Among full-time, year-round health care workers, more than half of paramedics, surgeons, and other physicians were men. Median earnings for men in selected health care occupations ranged from under $30,000 for home health aides to over $250,000 for emergency medicine physicians.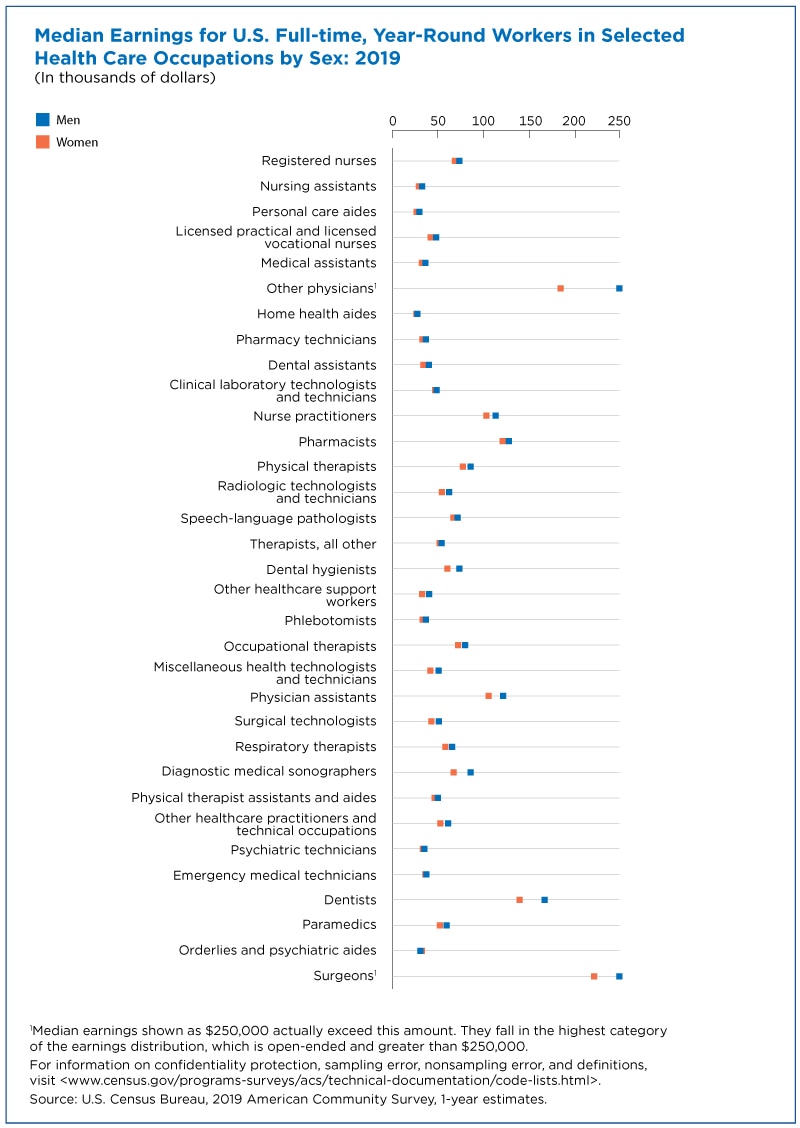 Health Care Workers by State
States with over 500,000 health care practitioners and technicians include California, Florida, New York, and Texas. However, the overall distribution of health care related workers varied by state.
For example, there were about six health care practitioners and technicians per 100 civilian-employed workers ages 16 and over in the United States.
While about 58,000 workers in West Virginia were health care practitioners and technicians, they accounted for nearly 8 out of 100 of the state's workers ages 16 and over. In the District of Columbia, 4 out 100 workers, or just over 17,000, worked as health care practitioners.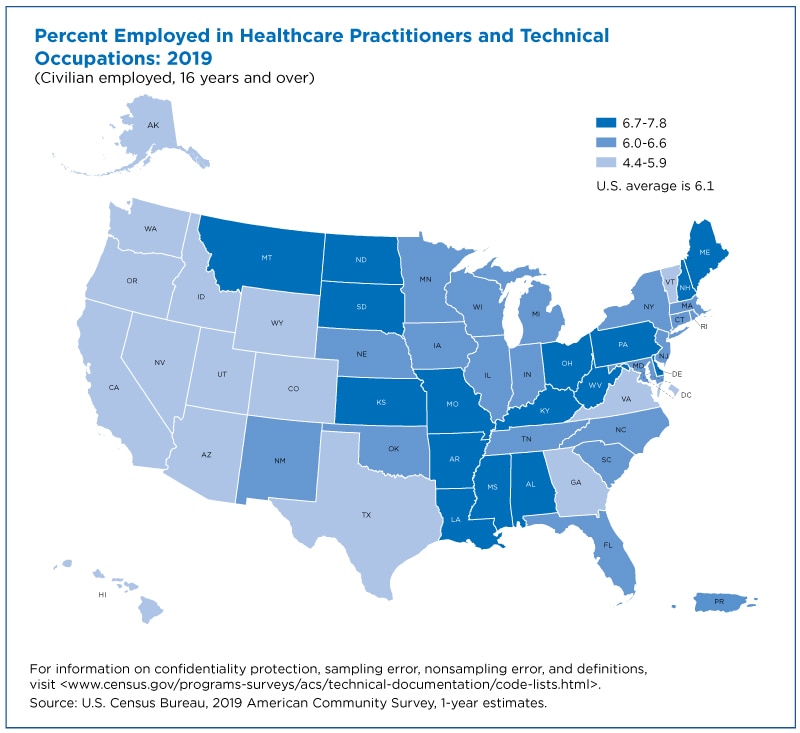 The number and distribution of health care support workers also varies across the United States.
California had 718,011 health care support workers -- the largest number of any state -- accounting for about 4 out of 100 workers in the state.
In contrast, nearly 5 out 100 workers (454,514) in New York had health care support jobs. Nearly 2 out 100 workers (just over 23,000) in Puerto Rico worked in a health care support occupation.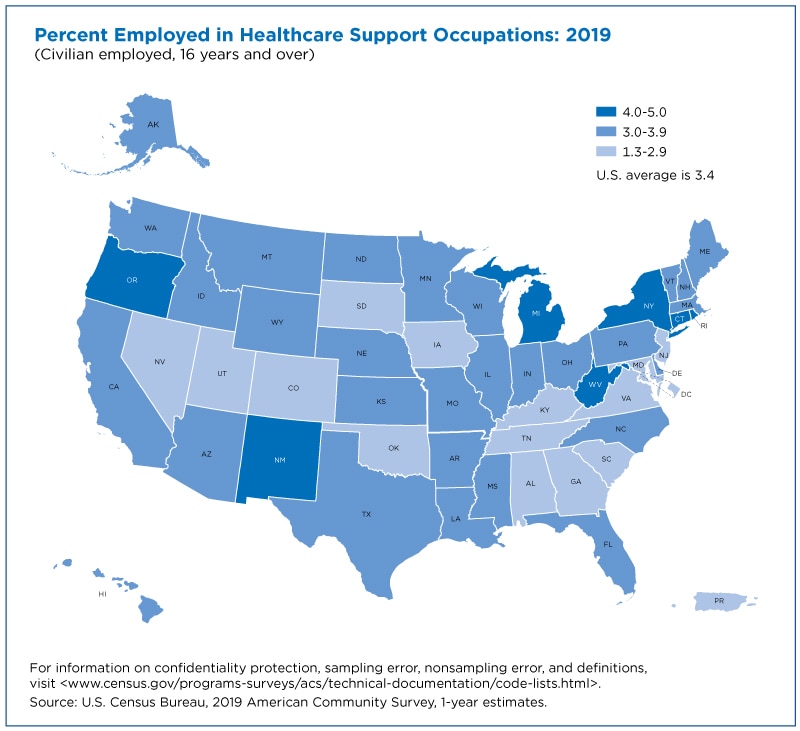 We used statistics from the 2019 American Community Survey to profile health care workers at the national and state level.
Data.census.gov provides selected labor force statistics. ACS estimates are based on data from a sample of housing units and people. Therefore, respondents may or may not live and work in the same geographic location as their employer.
Additional information on industry and occupational classifications is available from the Industry and Occupation Statistics Branch. Lynda Laughlin, Augustus Anderson, Anthony Martinez and Asiah Gayfield, United States Census Bureau, www.census.gov, April 5, 2021.

4. BILL PHASING OUT RETIREMENT PENSIONS FOR STATE AND LOCAL WORKERS PASSES FL SENATE:
The Florida Senate voted, 24-16, along party lines to stop offering the state's traditional pension plan to new hires beginning next year, waiving aside warnings that the shift would leave the pension system unsustainable over the long term.
Senate President Wilton Simpson was behind the legislation (SB 84), which would require all workers joining state government's workforce after July 1, 2022, to forgo the traditional "defined benefit" pension plan in favor of an investment vehicle like 401(k)s that don't guarantee retirement income.
There's no companion bill in the House but that doesn't mean the lower chamber couldn't take up the measure during horse-trading on the state budget as the annual legislative session winds down.
The change would affect workers in state, local, and regional government, schools, and public hospitals. It would not apply to police, firefighters, and corrections officers, who could continue to join the pension plan. Union officials are firmly against the change.
Democrats argued the bill would break the promise the state makes to employees -- accept less money now in return for a more secure retirement. As it is, the state's contribution to the fund is 0.6 percent, Democratic caucus leader Gary Farmer, of Broward County, said.
"We've got a sustainable plan. There is no unfunded liability problem," Farmer said. "This mousetrap isn't broken. We don't need a new one."
The bill's supporters cited the system's $36 billion in unfunded liabilities --$164.3 billion in assets against $200.3 billion owed -- or 82 percent the money needed to satisfy all obligations if every covered worker retired today.
Ash Williams, who manages the system on behalf of the governor and Cabinet, told his bosses last month that the plan is sustainable and that Florida has retained its AAA status among the financial ratings agencies.
Ray Wesley Rodrigues, the Lee County Republican carrying the bill, countered that the state will pay more than $2 billion this year in interest on its unfunded liability, and that compounding interest will increase the unfunded obligation to $42 billion in three years.
Furthermore, 75 percent of workers over the past 2 1/2 years have opted for a 401(k) plan over the pension, he said.
"The majority of the new employees are there. If we want to limit our liability and ensure that we put our plan on the most actuarially sound basis so that we can keep the promises that have been made, then this bill is the step that will do that," Rodrigues said.
Democrats countered that, with fewer financial participants in the plan, the pension system will prove unsustainable eventually. And they said the change could discourage skilled workers from joining the government labor force. Michael Moline, Florida Phoenix, www.floridaphoenix.com, April 8, 2021.

5. IRS FREE FILE CAN HELP PEOPLE WHO HAVE NO FILING REQUIREMENT FIND OVERLOOKED TAX CREDITS AND GET A REFUND:
IRS YouTube Video: Do Your Taxes for Free with Free File - English |Spanish
The Internal Revenue Service today urged low- and moderate-income individuals and families, especially those who don't normally file a tax return, to use IRS Free File to prepare their own federal tax return, e-file it and get a refund – all for free.

This year's federal tax filing deadline for individuals has been postponed to May 17 from April 15.

Free File offers free access to brand-name tax software to anyone who makes $72,000 or less. Already this year, more than 2.96 million individuals and couples have used this online service to file returns and get their share of these valuable benefits.

Available only at IRS.gov, Free File offers people experiencing homelessness, students who are now on their own, low-and moderate-income families and others a fast and easy way to access these benefits. All anyone needs to reach Free File is access to a computer or similar device. No computer? No problem. IRS Free File products support mobile phone access too.

Never has Free File been as important as it is right now. The IRS delivered two rounds of Economic Impact Payments to eligible people. The first payment was up to $1,200 per person and $500 per qualifying child. The second payment was up to $600 per eligible person and $600 per qualifying child.

People who did not receive the full amount of the first or second payments can claim the additional amount they are due as the Recovery Rebate Credit when they file their 2020 tax return.

And that's where Free File comes in. It's a free way to claim the full amount of tax benefits, including the Recovery Rebate Credit, and ensure that eligible people get their refund. See the special section on IRS.gov - Claiming the 2020 Recovery Rebate Credit if you aren't required to file a tax return – for more information. Look for a Free File product with "no minimum income" and file electronically and choose direct deposit.

Free File is also a great way to take advantage of two other tax benefits that help workers and families --the Earned Income Tax Credit (EITC) and the Additional Child Tax Credit (ACTC). Under a special COVID-related rule, people who were laid off during part or all of 2020 will often still qualify for these benefits. That's because if they worked during 2019, they can choose to use their 2019 earned income to figure these credits, as long as it was higher than it was in 2020.

Through Free File, leading tax software providers make their online products available for free as part of a 19-year partnership with the IRS. There are nine products in English and one in Spanish. Visit IRS.gov/FreeFile for details. In addition, MilTax, available free through the Department of Defense, offers a similar online tax-preparation service to members of the military.

Because Free File returns are filed electronically, the service offers everyone a great way to get their money quickly. This is especially true for anyone who chooses to have their refund deposited directly into a savings or checking account.
The IRS urges everyone to consider taking advantage of the speed and convenience of Free File. This includes:
People experiencing homelessness. As long as they are not someone's dependent, chances are they still qualify for the Recovery Rebate Credit even if they have little or no income. They can still use Free File even if their only access to the Internet is through a smartphone. Look for a Free File product with "no minimum income."
Individuals who were claimed as a dependent on someone else's tax return in 2018 or 2019, but who cannot be claimed as a dependent on someone else's return in 2020, may now be eligible to claim a 2020 Recovery Rebate Credit and must file a 2020 tax return.
One spouse with an ITIN: Under a new law enacted in December 2020, a married couple filing a joint return now may be eligible for a partial credit when only one spouse has a Social Security number valid for employment. If a couple did not receive one or both Economic Impact Payments because one of them did not have a Social Security number valid for employment, they may be eligible to claim a 2020 Recovery Rebate Credit and must file a 2020 tax return. There is an exception if one spouse is a member of the U.S. Armed Forces.
Qualifying child: Families who had a baby or adopted a child during 2020 did not receive a first or second Economic Impact Payment for that qualifying child. They may be eligible to claim a 2020 Recovery Rebate Credit and must file a 2020 tax return.
Low- and moderate-income workers and working families who don't normally file a return: Historically, many of these families miss out on the EITC and ACTC because they don't file. `
For a closer look at how Free File can help people get all available tax benefits, visit IRS.gov/closerlook.

For those who are not comfortable doing their own return, IRS-trained community volunteers offer tax help at more than 11,000 tax help sites, nationwide. To find the nearest site, visit IRS.gov/Volunteers, or call 800-906-9887. IRS Newswire IR-2021-85, www.irs.gov, April 13, 2021.

6. EMPLOYERS AND EMPLOYEES CAN BENEFIT FROM UNDERSTANDING MEDICARE:
Many people younger than 65 who are preparing for retirement think Medicare will cover their health care expenses once they retire. But that's not always the case.
Medicare--which is administered by the Centers for Medicare & Medicaid Services (CMS) and is part of the Department of Health and Human Services (HHS)--is a national health insurance program that began in 1966 as a solution to provide health insurance coverage for those 65 and older.
While the program covers several types of medical costs, it doesn't include everything. Additionally, experts note, retirees are responsible for paying premiums and deductibles. This could result in retirees paying hundreds of dollars a month just to have the benefit.
"The premiums aren't always zero dollars," says John Barkett, senior director of policy affairs for Willis Towers Watson in Washington, D.C. "For example, you have to pay a Medicare Part B premium, which varies depending on your income, but for most people is about $140 a month.
"And that's just when you become eligible for Medicare," he adds.
Employers can step in to educate their employee base--and especially those nearing retirement-on the elements of Medicare coverage and what they will likely pay. Sources say providing education on the basics of Medicare terminology--such as Part A, B, C and D-- and on additional savings benefits such as Medicare Advantage and Medicare Savings Programs (MSPs) can help participants map out their future health care costs.
"It really is important to start at the beginning," notes James Jiang, the co-founder and CEO of Spark Advisors, a brokerage firm that partners with independent advisers to serve those navigating retirement benefits and Medicare. "Make sure that people have basic awareness of Medicare and all the various programs available."
Experts recommend plan sponsors and their employees learn the ABCs of Medicare. According to eHealth Insurance, a private online marketplace for health insurance, Medicare Part A largely covers hospital expenses including inpatient hospital care, nursing facility care, hospice services and limited home health care. Medicare Part B, on the other hand, provides medical insurance and covers outpatient care, mental health services, lab tests, doctor visits, medical equipment and preventative services.
Aetna Medicare solutions provides a downloadable chart highlighting what Medicare Parts A and B (together, also known as Original Medicare) cover.
Medicare Advantage Plans, also known as Part C, are offered by private companies approved by Medicare. As Aetna's research explains, these plans are serviced by private insurance companies and often include dental, vision or hearing services, prescription drug coverage and/or fitness club memberships. A Medicare Advantage plan offers at least the same benefits as Parts A and B.
Similar to Medicare Advantage, Part D is also offered through a network of private insurance companies approved by Medicare and is primarily used to fund a retiree's prescription drug plan.
Medicare health care coverage is complex, and it's even more convoluted for the average pre-or-current-retiree. In fact, it's fairly common for an employee who is approaching age 65 to contact their employer and ask questions about Medicare, Barkett notes, adding that plan sponsors need to be prepared for that.
"Understand the rules and provide every source for employees to get more information on what they should be considering while they're still working and when they are approaching Medicare age," he says.
Jiang adds that plan sponsors should consider speaking with a financial adviser or providing a Medicare expert to host on-site or virtual meetings. Such experts can answer questions on when to claim Medicare benefits and whether enrolling into Medicare Advantage or a Supplemental Savings Plan is the right move for a particular employee.
"There is a huge advantage in bringing in a trusted adviser and someone who is really working for the employee," he says. "There is an advantage to working with an adviser who is building a long-term relationship with the employee and is committed to doing basic education and ensuring these issues are top of mind for people as they enter Medicare eligibility." Amanda Umpierrez, PLANSPONSOR, www.plansponsor.com, March 26, 2021.

7. FLORIDA TOPS NATION IN OBAMACARE ENROLLMENT:
Florida continues to lead the nation in the number of people taking advantage of a special enrollment period for coverage under the Affordable Care Act, with 146,250 people obtaining health insurance between Feb. 15 and March 31, 2021. Nationwide, more than 500,000 people obtained so-called Obamacare coverage during that period, according to data released by the U.S. Department of Health and Human Services. News Service of Florida, www.floridatrend.com, April 9, 2021.

8. NEW JOBLESS APPLICATIONS IN FLORIDA DECLINE FOR FOURTH-STRAIGHT WEEK:
New applications for unemployment assistance in Florida declined for the fourth-straight week -- a sign that vaccine roll-outs and reopenings in the state are leading to fewer layoffs.
For the week ending April 3, 2021, new claims fell from 15,716 to 11,891. The number of so-called continuing claims, or those who have filed for unemployment for at least two-straight weeks, increased from 116,512 to 123,253.
Nationally, new jobless claims increased from 728,000 to 744,000. It was the second-straight week of increases.
The Miami Herald has reported that while unemployment rolls, especially in Miami-Dade, remain well above pre-pandemic levels, there are now severe mismatches in the labor market between the skills of those out of work and demands among employers, especially service jobs, who increasingly find it difficult to fill open positions.
"It's not that we're not getting qualified people. We're not getting any calls at all," said Jacqueline Pirolo, co-owner of Miami Beach's Macchialina Italian restaurant, a South Beach stalwart. "We've never seen anything like it."

Weekly jobless claim data has been choppy throughout the pandemic, as bottle-necked and under-resourced unemployment systems, like Florida's, struggle to keep up with demand. In an email to clients, Andrew Stettner, senior fellow at The Century Foundation, said this week's national increase was heavily influenced by new claims in Michigan and New York. These states continue to struggle to balance reopenings with new case loads, he said.And while shorter-term unemployment is down 26% on the year, 14 million Americans remain on federal pandemic unemployment assistance extension programs, he noted."New weekly claims have been below the stratospheric 1 million mark for three straight weeks, signaling a new stage of the jobs recovery," Stettner said. "Nonetheless, the 741,000 new claims for state benefits have been up for the past two weeks in a row and remain 3.5 times as high as pre-pandemic levels." Rob Wile, Miami Herald, April 8, 2021.

9. APPEALS COURT REVIVES DTE BATTLE WITH RETIREE WHO CLAIMS UTILITY MISLED HER ABOUT PENSION:
The U.S. Court of Appeals in Cincinnati has revived a legal battle between DTE and a retiree who alleges in a federal lawsuit that the company misled her about her pension plan, resulting in a potential loss of more than $1,000 a month.
The court, addressing what is expected to be a class action lawsuit representing potentially hundreds of employees, ruled 3-0 late last month that Leslie Nolan's lawsuit has merit. The ruling overturns a 2019 dismissal of the case in U.S. District Court in Detroit and directed the lower court to proceed with the case that alleges DTE misled Nolan and breached its pension promises.
Nolan claims she was misled into transferring out of a "traditional" pension plan in 2002 into a volatile "new cash balance" plan. The utility allegedly failed to disclose the downsides of the plan, among other things, that if interest rates fell she might earn no new benefits for many years, if ever. It also claims the firm promised she would lose no benefits from the original plan.
But the company reneged on that promise, says the retiree, a financial analyst. When she retired in 2017, she began earning $1,581 a monthly annuity payment instead of potentially nearly $3,000 under the old plan.
Essentially, under the new plan, she earned no added pension benefits for 15 1/2 years she would have gotten under the old plan, said Nolan's attorney Eva Cantarella of the firm Hertz Schram in Bloomfield Township
"The case is important because it demonstrates the devastating impact on an employee's pension when the plan sponsor misleads employees about the pension and fails to keep its benefit promises," Cantarella added. "Clearly, it is fundamentally wrong and unfair to mislead employees about their pension benefits, money they need to retire with dignity."
DTE corporate spokesman Dan Miner responded Friday night, saying that while the company regrets that Nolan is unhappy, it took steps "to ensure employees fully understood the differences and benefits of each plan, DTE provided extensive resources, including a decision guide, a personalized statement, modeling tools and access to financial advisors."
"The recent Court of Appeals ruling sends a portion of the case back to the Federal District Court for further proceedings. We are confident the court will agree that the company fully equipped employees to make this pension decision nearly 20 years ago."
Cantarella responded to DTE's comments: "We're in it for the long haul. We're convinced that we will ulimately prevail in our claims regardless of what happens in the District Court." Allan Lengel, Deadline Detroit, www.deadlinedetroit.com, April 10, 2021.

10. SAN DIEGO READY TO REVERSE PROPOSITION B PENSION CUTS, POTENTIALLY ENDING 9-YEAR LEGAL BATTLE:
The nearly nine-year legal fight over San Diego's Proposition B pension cuts came to an apparent end Friday when supporters of the 2012 ballot measure declined to appeal a court ruling that ordered the city to overturn the cuts.
The end of the legal fight comes nearly three years after the state Supreme Court ruled Proposition B was illegally placed on the ballot because San Diego officials skipped key steps, such as negotiating the pension cuts with labor unions.
Proposition B eliminated pensions for all new hires after June 2012 except police officers. The legal resolution allows city officials to begin creating pensions for the roughly 4,500 workers affected.
The city's cost to create pensions for those workers was estimated at somewhere between $20 million and $100 million at various points during the legal battle, but the robust stock market in recent years has shrunk that amount.
That's because court rulings say the city gets financial credit for providing employees hired since Proposition B with 401(k)-style retirement plans instead of traditional pensions.
Those retirement plans have surged in value because stocks have done so well during the last nine years, increasing how much credit the city will get and shrinking what the city will owe to create pensions for the workers.
San Diego might end up owing nothing at all when the city's pension system calculates how much it will cost to create pensions for workers hired since Proposition B, said Mike Zucchet, head of the largest city employee labor union.
Historically renowned for its manufacturing excellence, El Paso also possesses an outstanding business climate, large pool of potential workers, strong heritage and vibrant culture. El Paso clearly sits on the right side of your company's future.
Court rulings say the amount the city must pay is the cost of creating pensions for the affected workers, minus half the value of the 401(k)-style plans those workers received in lieu of pensions.
Half the value would be subtracted instead of the full value because the city and the individual employee have made equal contributions to the 401(k)-style plans.
But the city's cost for creating the pensions will also essentially be half the overall cost. That's because the affected workers will have to follow normal city procedures that require workers to cover half the contributions to their pension.
During the early stages of the legal fight, there was speculation that if Proposition B was overturned the affected workers would be given a choice between entering the pension system or just sticking with the 401(k)-style plan.
But under federal tax law, all workers must be required to have pensions in order for a city's pension system to maintain its tax-exempt status.
The affected workers will likely be given a choice of receiving a pension that starts this summer or receiving a retroactive pension with the same start date that they were hired.
The retroactive pensions, which will be more valuable and allow the worker to retire sooner than a pension that starts this summer, will be costly for the employees because they will have to pay -- in a lump sum -- years of pension contributions that they missed.
A worker hired in 2019 or 2020 who chooses a retroactive pension will pay far less than a worker hired in 2012 or 2013, who could owe tens of thousands of dollars in retroactive pension contributions.
Also pension reforms approved by the San Diego City Council in 2009 will make pensions for the affected workers less generous than the pensions of employees hired before 2009.
Many affected workers are still expected to consider opting for retroactive pensions.
Details of how this will all work are expected to be negotiated this spring between city labor unions, attorneys for the city, the city's pension system and officials at City Hall.
Just after the court ruling in January ordering the city to overturn the pension cuts, Mayor Todd Gloria said he is ready "to chart a course forward that is in the best interest of San Diegans and the city employees that serve them."
City Attorney Mara Elliott declined to comment Friday because officially the litigation was still ongoing.
The 90-day window to appeal the Jan. 5 ruling closed midnight Friday, but the court could still receive appeal documents that were postmarked Friday.
Officials of the city's pension system, the San Diego City Employees Retirement System, announced last month that they've begun the steps required to bring the 4,500 affected workers into the system.
"The city is not waiting until time runs out and has begun addressing how to restore SDCERS benefits to the affected employees," Chief Executive Gregg Rademacher told the city's pension board March 13. "SDCERS expects all staff will be called upon to work on the re-opening of the city (pension) plan and we have established a task force internally to coordinate our efforts."
Zucchet, general manager of the Municipal Employees Association, said no formal negotiations between the city and its labor unions have taken place.
A key element that must be negotiated is a 7 percent penalty courts have ruled the city must pay for illegally implementing the pension cuts. One possible resolution is requiring one-time contributions by the city to the 401(k)-style plans of the affected workers.
The negotiating process will be overseen by the state's Public Employment Relations Board.
The end of the legal fight starts a procedural process at City Hall.
The council must twice approve an ordinance that removes the language of Proposition B from the city charter. Those votes, which should take place this spring or summer, will allow workers other than police officers to receive pensions.
When the state Supreme Court ruled Proposition B was illegally placed on the ballot, the court declined to take the additional step of invalidating the measure.
Instead the matter was kicked back to Superior Court, where Judge Richard Strauss listened to arguments from labor unions and Proposition B supporters before ruling in January that the measure must be invalidated. David Garrick, San Diego Union-Tribune, www.sandiegouniontribune.com, April 10, 2021.

11. THE BENEFITS OF HAVING A SCHEDULE IN RETIREMENT:
Retirees need daily schedules. It can seem counterintuitive. One of the things people say they look forward to most in retirement is having more free time and, quite frankly, the freedom to do nothing, at least for a while, if they so choose.
But giving structure to one's days might be one of the most important things a retired person can do, some retirement specialists say.
After decades of constant demands on our time from work and family, "Retirees can go crazy when they are unmoored from schedules and structures," says psychologist Ken Dychtwald, founder of Age Wave, a consulting firm specializing in aging-related issues. Adding a loose structure to each day, allotting certain types of activities to mornings or afternoons, "gives you focus and patterns to work from. It takes a lot of uncertainty out of one's mind."
Dr. Dychtwald suggests thinking of each day in retirement as a delicious meal that you prepare for yourself. "People need to think about which ingredients will mix in to make it a good day," he says.
What types of activities work best at what times is not always obvious. Nor is it the same for every person. A lot depends on personal needs, interests and body chemistry.


Whatever the schedule, it's also helpful to use some sort of weekly planner. "Writing it down helps you figure out when to do what instead of cluttering your head with things you probably won't get to," says Dorian Mintzer, a psychologist and retirement coach.
It can also be helpful to share some of those plans with your spouse, or a good friend, who can help to make you answerable for achieving your daily and weekly goals, says Kerry Hannon, a retirement consultant.
What follows are suggestions from five retirement experts about creating a schedule for productive and happy days in retirement.
USE MORNINGS TO...
• Exercise: It's critical to understand your high and low energy times when devising your daily schedule, says Robert Laura, founder of the Retirement Coaches Association. His "high energy" time is between 9:30 a.m. and noon, so that's when he tends to do any strenuous exercise. "If I get to 1:30 and haven't worked out, I'm not doing it."
Dr. Mintzer recommends exercising as soon as you wake up. "It gives you a sense of mastery and accomplishment and gets your mind and body connected to proceed with the day," she says.
• Be spiritual: Chip Conley, founder of Modern Elder Academy, a retreat for adults, practices spiritual wellness very first thing in the morning, combining meditation and stretching. Stretching is very important later in life, he says, because we tend to compress as we age, and stretching can open us up physically, mentally and spiritually.
To Mr. Laura, the time of day you attend to spiritual matters is less important than doing it every day. Some daily form of prayer and meditation can increase your life expectancy by 10 years, he says.
• Be curious and creative: Keep a list on your refrigerator of things that make you curious, and look at it each morning, Ms. Hannon advises. It might inspire an activity for the day. "Curiosity is the best thing to keep you motivated because it consistently gives you new things to look forward to," she says.
Embracing your creative talents, meanwhile, often works best in the morning, says Dr. Mintzer, when the creative juices often tend to flow more liberally.
• Work: Finding a way to bring in some extra income—even if just a few hours weekly—can be financially and emotionally critical, says Ms. Hannon. Working morning hours also can mimic that well-established working day they have been so used to. A few hours work in the morning, she adds, also provides a base of structure that retirees can lean into, and then give themselves permission for more leisure or family-oriented activities later in the day.
USE AFTERNOONS TO...
• Learn: A successful retirement requires learning something new every day, says Ms. Hannon. Lectures, books, educational videos, Zoom talks, classes—there are as many different media as you like. Lectures are better in the afternoon, she says, because energy levels tend to be higher than in the evening.
• Socialize: Don't think of afternoon socializing as networking. Schedule time only with the people who really matter to you, says Dr. Dychtwald. "Do the things that are meaningful to you and drop away from the superficial," he says.
• Give back: Set aside a portion of each day to give back, says Ms. Hannon. This can be volunteering at a food bank or mentoring a younger person. She strongly suggests afternoons for volunteer work, in part, because many volunteer organizations are brimming with senior volunteers in the morning but strapped for them in the afternoon. Volunteering in the afternoon can broaden your base of opportunities.
• Embrace nature: At least twice a week, Mr. Conley reserves an hour to be alone in nature. "I call it spying on the divine," he says. Mr. Conley often takes walks in parks near his house in Baja California, Mexico, and closely observes his surroundings there. "This is the single best way to get out of your own head," he says. "You never know what you'll see." Afternoon hikes are best, he says. They are inspiring and good exercise. They also discourage the afternoon napping that his body sometimes wants to do instead.
USE EVENINGS TO...
• Engage in media: Evenings can be the perfect time for media entertainment of all kinds, says Dr. Dychtwald. You can binge on movies, comedy shows and online classes that are available on everything from how to bake bread to how to speak a foreign language.
• Retain friendships: Evenings are when Mr. Conley likes to reach out to friends, or people with whom he'd like to be friends. He uses the phone and social media, and sometimes meets people for dinner. Dinners are typically more leisurely than lunches, he says. It also gives the opportunity to drink a little alcohol which, he says, is less likely at lunchtime. The combination of a good multicourse meal, a little alcohol and a less congested schedule at night can create deeper conversations, he says.
• Relax at home: Relaxing at the end of the day, perhaps after the media binge, can help with restful sleep. Ways to wind down can be as simple as hot showers or warm baths, says Dr. Mintzer. Journaling works, too, she says. Reflect on some positives or "blessings" from the day, rather than negatives, or write about something you're looking forward to. There are always opportunities earlier during the day to focus on the negatives, Dr. Mintzer says, while journaling in the evening can help you find something to look forward to the next day.
Correction
An earlier version of this article incorrectly referred to Dorian Mintzer, a psychologist and retirement coach, as "he" rather than "she." (Corrected on April 12, 2021) Bruce Horovitz, The Wall Street Journal, www.wsj.com, April 11, 2021.

12. DON'T OPEN YOUR DOOR TO GRANDPARENT SCAMS:
When it comes to scammers, nothing is sacred -- including the bond between grandparent and grandchild. Lately, grandparent scammers have gotten bolder: they might even come to your door to collect money, supposedly for your grandchild in distress.
These kinds of scams still start with a call from someone pretending to be your grandchild. They might speak softly or make an excuse for why they sound different. They'll say they're in trouble, need bail, or need money for some reason. The "grandkid" will also beg you to keep this a secret -- maybe they're "under a gag order," or they don't want their parents to know. Sometimes, they might put another scammer on the line who pretends to be a lawyer needing money to represent the grandchild in court.
But, instead of asking you to buy gift cards or wire money (both signs of a scam), the scammer tells you someone will come to your door to pick up cash. Once you hand it over, your money is gone. But you might get more calls to send money by wire transfer or through the mail.
To avoid these scams and protect your personal information:
Take a breath and resist the pressure to pay. Get off the phone and call or text the person who (supposedly) called. If you can't reach them, check with a family member to get the real story. Even though the scammer said not to.
Don't give your address, personal information, or cash to anyone who contacts you. And anyone who asks you to pay by gift card or money transfer is a scammer. Always.
Check your social media privacy settings and limit what you share publicly. Even if your settings are on private, be careful about what personal identifiers you put out on social media.
If you lost money to this kind of scam, it was a crime, so file a report with local law enforcement. And if you get any kind of scam call, report it at ReportFraud.ftc.gov.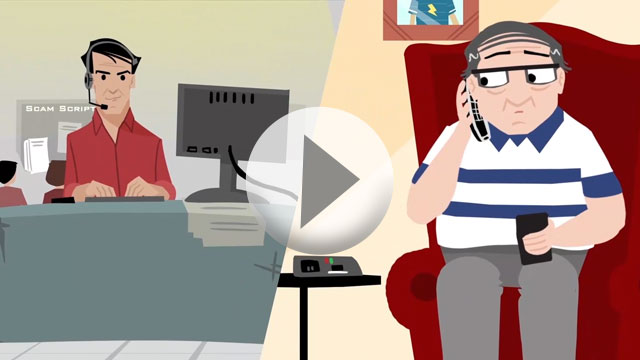 If you come across debt relief scams like these, we want to hear about it. Tell the FTC at ReportFraud.ftc.gov. Emily Wu, Attorney, Federal Trade Commission, www.ftc.gov, April 13, 2021.

13. FOR THOSE WHO LOVE WORDS:
'All over sudden' vs. "All of a sudden". Learn more about this eggcorn here.

14. QUOTE OF THE WEEK:
"We cannot solve problems with the kind of thinking we employed when we came up with them." -Albert Einstein

15. TODAY IN HISTORY:
On this day in 1947, Jackie Robinson becomes the first African-American to play in US major league baseball.

16. REMEMBER, YOU CAN NEVER OUTLIVE YOUR DEFINED RETIREMENT BENEFIT.
Items in this Newsletter may be excerpts or summaries of original or secondary source material, and may have been reorganized for clarity and brevity. This Newsletter is general in nature and is not intended to provide specific legal or other advice.