---
PLEASE GIVE US YOUR FEEDBACK!
CLICK HERE TO TAKE A BRIEF SURVEY TO HELP IMPROVE THE CONTENT OF THIS NEWSLETTER.
1. HEALTH CARE COSTS IN RETIREMENT REMAIN A TOP STRESSOR:
Dramatic headlines about the rising cost of health care are nothing new in the financial services industry, yet, every year, Fidelity Investments' updated retirement health care cost projections raise new and pressing questions for retirement industry practitioners.
This week, Fidelity published its 20th annual health care cost estimate, finding a couple retiring today will need approximately $300,000 to cover medical expenses. This is up 30% from 10 years ago and 88% since 2002, when the yearly tracking project began.
New in this year's analysis is consideration of the impact of the coronavirus pandemic on people's finances and health care planning. Fidelity's data suggest that affording health care is a top stressor when the typical worker thinks about retirement, yet 58% of employees say they've spent little or no time planning to meet these costs. Well over a year into the pandemic, one in five employees who report being within a decade of retirement say they are accelerating plans to leave the workforce.
Hope Manion, senior vice president, Fidelity Workplace Consulting, says the fresh data paint a complex and evolving picture of Americans' working lives, finances and health.
"Covering health care costs is one of the most significant, yet unpredictable, aspects of retirement planning," Manion says. "By providing this estimate for retirees, we want to increase awareness among people of all ages to help them proactively get more engaged in saving and investing, so they can be better prepared in years to come."
In terms of hard dollars, according to Fidelity, a 65-year-old, opposite-gender couple retiring this year can expect to spend $300,000 in health care and medical expenses throughout retirement. For single retirees, the 2021 estimate is $157,000 for women and $143,000 for men.
"While this past year has certainly made protecting our health today a priority, we need to do the same when planning for future health care needs," Manion says.
The data show that people often underestimate the potential cost of health care in retirement. Even among those who say they have researched and analyzed this issue, 50% believe they'll need just $50,000 or less to meet health care expenses. Notably, Fidelity's sizable estimate already assumes both members of the couple are enrolled in traditional Medicare, which, between Medicare parts A and B covers expenses such as hospital stays, doctor visits and services, physical therapy, lab tests and more, as well as in Medicare Part D, which covers prescription drugs.
One clearly positive point from the data is that Fidelity has seen a significant increase in new health savings account (HSA) openings (19%), with total assets surpassing $10 billion this past year.
"While higher savings rates and growing balances are good news, the goal of saving toward a significant amount such as $300,000 can be daunting," Manion says. "It's achievable with some planning. The ability to invest contributions for potential growth, tax-free, is one of the most valuable aspects of an HSA, but it is also one of the most underutilized."
At the start of the year, just 16.5% of Fidelity HSAs were invested. The firm says this represents a significant missed opportunity for those with cash balances intended to be used for future health expenses. John Manganaro, PLANSPONSOR, www.plansponsor.com, May 7, 2021.

2. DOL GUIDANCE WELCOMED BUT SOME WANT IT TO GO FURTHER:
The Department of Labor's Employee Benefits Security Administration, in issuing its first cybersecurity guidance, made clear a point that was only previously assumed: that under the Employee Retirement Income Security Act, making reasonable efforts to mitigate cyberthreats are part of a retirement plan fiduciary's responsibilities.
And while initial impressions of the guidance were positive, some stakeholders would like to see more, including a formal rule-making process with the opportunity to provide comments.
After months of back and forth with stakeholders and a report from the Government Accountability Office with tailored cybersecurity recommendations, the Labor Department on April 14 unveiled a three-piece guidance package detailing best practices for maintaining cybersecurity for plan sponsors, plan fiduciaries, record keepers and plan participants.
Plan sponsors welcome the guidance -- which offers tips as opposed to orders -- especially because the Labor Department has been asking plans under audit about their cybersecurity procedures, said Will Hansen, Arlington, Va.-based executive director of the Plan Sponsor Council of America and chief government affairs officer at the American Retirement Association. The guidance provides "more insight into what the Department of Labor thinks are best practices for plan sponsors to engage in analyzing their record keepers and service providers on what are the best cybersecurity practices," Mr. Hansen said.
The first piece of guidance included tips for plan sponsors and fiduciaries on how to select a service provider with strong cybersecurity practices and how to monitor their activities. The tips include asking whether the service provider has experienced past security breaches, what happened and how the service provider responded, and making sure any contract with a service provider requires ongoing compliance with cybersecurity and information security standards.
The second piece of guidance was a list of 12 cybersecurity program best practices for plan sponsors and record keepers, such as having a reliable annual third-party audit of security controls and ensuring that any assets or data stored in a cloud or managed by a third-party service provider are subject to appropriate security reviews and independent security assessments.
The final piece was a set of online security tips for participants and beneficiaries when accessing a retirement account.
'Much-needed' guidance
Without sufficient protections, retirement plan participants and assets may be at risk from both internal and external cybersecurity threats, the Labor Department said in a news release. "This much-needed guidance emphasizes the importance that plan sponsors and fiduciaries must place on combating cybercrime and gives important tips to participants and beneficiaries on remaining vigilant against emerging cyber threats," said Ali Khawar, acting assistant secretary for EBSA, in the news release.
Most record keepers should be comfortable with the Labor Department's guidance because it aligns closely with the SPARK Institute's standards, said Tim Rouse, Simsbury, Conn.-based executive director at SPARK, which represents retirement industry players such as record keepers, investment advisers, mutual fund companies and benefit consulting firms.
SPARK formed the Data Security Oversight Board, composed of industry stakeholders, that published a set of cybersecurity best practice standards in 2017.
Both the Labor Department guidance and the SPARK standards are built on two key principals to better assist the plan sponsor in fulfilling its cybersecurity fiduciary duty, Mr. Rouse said: the consumer should be provided standard cybersecurity information that can be used to compare service providers and basic cybersecurity information should be provided by trusted independent third-party auditors to ensure the integrity of all the data.
One thing Mr. Rouse would like the Labor Department to make clear to plan sponsors, though, is that the sharing of a penetration test -- done to find vulnerabilities in a defense system -- is unacceptable since it could contain a road map for bad actors. Instead, plan sponsors should be able to ask for and receive information on penetration tests, including how often they're performed and by whom, and what the remediation policy is for fixing identified issues.
Also, plan sponsors should be clear what they mean by "breach" when contracting with service providers, Mr. Rouse said. Because of bots and automatic web requests, every system in the world is constantly experiencing some level of breach, he added.
"Most never arise to a level of severity that becomes meaningful to a consumer," Mr. Rouse said. "Properly identifying the right level of severity acceptable to each plan sponsor is critical for this process to work effectively."
The best practices outlined in the Labor Department's guidance are commonplace among record keepers, said Doug Peterson, Greenwood Village, Colo.-based chief information security officer for Empower Retirement and chairman of SPARK's Data Security Oversight Board. "There are certain table stakes when you've got people's identities, you've got their retirement dollars, you absolutely have an obligation to protect that," he said.
Elizabeth S. Goldberg and Matthew H. Hawes, Pittsburgh-based partners with law firm Morgan, Lewis & Bockius LLP, were pleased the Labor Department issued guidance on this subject before initiating cybersecurity-targeted audits, but took issue with the retirement industry not getting an opportunity to comment before the guidance was released.
Although guidance can be helpful in gaining insight into how the Department of Labor views a particular issue, a formal rule-making process -- where comment periods are required -- are "afforded greater weight" from a legal perspective, Mr. Hawes said.
"I certainly would expect that depending on how this is received and what happens as a result of this guidance over the next couple of months, couple of years, that the Department of Labor may wade more formally into this area and memorialize some of this in formal regulations," Mr. Hawes added.
Mr. Peterson would like to see a formal regulation. "Hopefully that's in the future at some point," he said.
But with the guidance now on the books, "We are expecting as a next step by the DOL for there to be some investigations in this area," Ms. Goldberg said.
Mr. Hansen is happy the guidance came before investigations. "Plan sponsors have been audited for years by the Department of Labor on missing participants with zero guidance, so I think the fact that they are being proactive on cybersecurity is a great first step," he said. The Labor Department in January issued a list of best practices for locating missing participants following years of investigations.
Evolving threats
At the beginning of the COVID-19 pandemic, with tens of millions of Americans suddenly working from home, cybersecurity experts feared bad actors would have more opportunities to infiltrate individual retirement accounts.
But, Ben Taylor, Los Angeles-based senior vice president and head of tax-exempt DC research at Callan LLC, said that didn't end up happening. "I think a lot of the bad actors' attention have turned elsewhere with the same information because it's been a lot easier to get it from unemployment claims or pandemic stimulus than it has been to get it from a retirement plan," he said.
Still though, cyberthreats have evolved in recent years. "The attacks certainly are far more sophisticated than they were just five years ago," Mr. Peterson said. "We're seeing an increase in advanced persistent threats."
Mr. Rouse has noticed a similar evolution: "No longer is it just one individual who's just sitting there trying to get into your system; now what's been done is it's automated to the point where it's literally millions of bots attacking firewalls all over the world," he said. "It's a constant battle. You can never take a rest because the bad guys are never taking a rest."
Never taking a rest means ramping up cyberdefenses, which has become a common practice for record keepers. "The persistent actors have gotten consistently more sophisticated in their ability to go after just about any target, but at the same time the defense has grown more sophisticated at probably a more rapid rate," Mr. Taylor said. Brian Croce, Pension & Investments, www.pionline.com, May 3, 2021.

3. FLORIDA'S POLICE OFFICERS, FIRST RESPONDERS TO RECEIVE $1,000 BONUSES:
Gov. Ron DeSantis announced that funds will be set aside in the state's upcoming budget for $1,000 bonuses for police officers, firefighters, paramedics and EMTs across the state.
"Some people wanted to defund the police and we're here to fund the police and then some," the governor said during a press conference at the Satellite Beach Police Department.
DeSantis said he will be signing the budget in the near future and praised first responders for continuing to work out in the streets during the pandemic while some others were able to work from the safety of their homes.
"And they had to work more than they ever have, not just to deal with protecting us when the pandemic hit, but then obviously how police were treated last year in many parts of the country was a total disgrace, and they had to put the uniform on," the governor said.
The bonuses will total about $208.4 million dollars and will be administered by the Department of Economic Opportunity in partnership with other state agencies. DeSantis said he expected the bonuses to be distributed in the summer. Amanda Batchelor, https://www.local10.com, May 5, 2021.
4. RI SUPREME COURT UPHOLDS PENSION BENEFITS FOR 'INNOCENT' SPOUSE OF CONVICTED URI TELLER:
The state Supreme Court on Wednesday upheld a ruling awarding pension benefits to the innocent spouse of a former University of Rhode Island teller convicted of embezzling tuition money.
The court, however, overturned a requirement that a portion of the payments go toward paying her husband's restitution obligations.
The ruling, written by Justice Maureen McKenna Goldberg, overturned, in part, a 2016 decision by Superior Court Judge Jeffrey Lanphear awarding pension benefits to Diane Randall, the wife of longtime state employee Fred L. Randall, who admitted to embezzling $200,000 in tuition payments from URI from 2004 until 2011 to fuel his gambling addiction.
Lanphear agreed to allow Diane Randall to receive a $1,667 monthly pension as the "innocent" spouse, but ordered that the payments beginning Jan. 1 and spanning through Dec. 31, 2016, be put toward paying restitution to URI.
Fred Randall, 68, of 128 Asylum Rd., Warwick, admitted in 2014 to embezzling from the Feinstein College of Continuing Education, in Providence. He was sentenced to 20 years, with 18 months to serve in prison, plus a year on home confinement, and the remainder suspended with probation. He was ordered to pay full restitution of about $200,000.
According to Lanphear's ruling, Randall began working for the state in 1976 through his retirement in 2011 as senior teller at the bursar's office at URI.
From 2011 until March 2015, he received pension payments of $4,300 a month, totaling $185,750. In 2014, he became eligible for Social Security, which dropped his monthly payments to $2,564.
His pension was revoked by the Retirement Board of the Employees' Retirement System of the State of Rhode Island under the Public Employee Pension Revocation and Reduction Act after revelations about the theft.
In arguing that his wife should receive benefits, Randall testified that he embezzled the money to feed his gambling addiction at Foxwoods Resort Casino and Mohegan Sun Casino, but that he never disclosed to his wife that he was stealing money to gamble, according to the ruling. Instead, he said he continuously lied to cover up his activities.
The high court affirmed Lanphear's conclusion that the Retirement Board's full and permanent revocation of Randall's pension was the right call.
The Supreme Court remanded the case back to Lanphear for a recalculation of Diane Randall's benefits based on its ruling vacating a requirement that a portion of her payments be used to pay her husband's restitution obligations.
The court also directed Lanphear to consider whether Fred Randall's request seeking a return of his contributions should be applied to his outstanding restitution. Electronic court records show that at a balance of $190,740 remains unpaid. Katie Mulvaney, The Providence Journal, www.providencejournal.com, May 5, 2021.

5. THAT MONEY YOU DONATED TO A GOFUNDME? IT PROBABLY ISN'T TAX-DEDUCTIBLE:
There has been no shortage of need during the pandemic. And to help meet it, friends, neighbors and customers have set up hundreds of thousands of crowdfunding campaigns.
GoFundMe estimates that an American has started a Covid-related fundraiser on its site every two minutes since March 2020. But donors shouldn't assume their contributions are tax deductible.
And fundraising organizers should not assume the money they have raised won't be taxable.

How to know if a donation is deductible
Giving money to an online fundraiser to help those in need or to fund a creator's project on platforms like Kickstarter is not going to be tax deductible unless the money raised is going to an IRS-designated charitable organization known as a 501(c)(3).
The world may have changed in 2020, "but the rules about charitable contributions have not," said Jackie Perlman, tax principal & research analyst for The Tax Institute at H&R Block. "I have to be donating to a qualified 501(c)(3) charity. [Otherwise] no matter how poignant the cause may be, your donation still is not deductible."
GoFundMe, one of the best known crowdfunding platforms, notes on its site that donations to a personal GoFundMe fundraiser are "generally considered to be personal gifts and are not guaranteed to be tax deductible."
The one exception: If you contribute money to a cause at GoFundMe.org, the company's registered 501(c)(3) public charity.
If you have questions about the contributions you've made to any online fundraising campaigns, check with a tax professional.

If you organize a fundraiser, keep excellent records
Crowdfunding organizers need to be very clear in their online pitch for funds about where the donations will go, what need is being met and how donors will not receive anything in exchange for the money they contribute.
Otherwise, the organizer could be hit with an unexpected tax bill.
The Hartford Courant recently reported that a middle school teacher had raised $41,000 on Facebook to help buy groceries for families in need, only to receive a 1099 tax form reporting the $41,000 as income to him, which made him think he had a big tax bill coming.
But while organizers may receive a 1099, that doesn't necessarily mean they owe taxes on the money they raise.
Facebook's policy as well as Kickstarter's policy is to have their payment processor issue a 1099 to anyone who raises more than $20,000, according to the companies. GoFundMe told CNN Business it does not issue 1099 forms.
The good news: Providing the IRS with proper documentation to show that the money went to others in need is likely to exempt the organizer from owing taxes.
So keep meticulous records of how much your campaign raised and how the money was spent, especially if it was first deposited into your personal bank account before being given to the person or group for whom the donations were intended.
If you receive a 1099 for the money donated to your online campaign, "I'd report the amount raised on your 1040 and then back it out and attach a statement on your return explaining the circumstance," Perlman said. For example, that the funds were raised for a third party, not you or your business, and that you did not receive a fee for organizing the fundraiser.
The money could be taxable to you if you provide the donors with a good or service in exchange for the money, Perlman said.
For instance, she said, if a small business owner creates a fundraiser for her own business and offers to provide something in exchange for donations (e.g., a discounted good or service in the future), that income -- or a portion of it after she deducts business expenses -- is likely to be treated as taxable to the owner.
The same goes if the organizer is accepting a fee to set up the online fundraiser from the person or organization in need, she added.
Regardless, before organizing any online fundraiser, check the platform's policies and information on potential tax consequences both to you as the organizer and to those who donate to your campaign. If you have questions beyond the information provided by the platform, seek advice from a tax professional. Jeanne Sahadi, CNN Business, May 7, 2021.

6. DON'T LET A SECOND HOME RUIN YOUR RETIREMENT
There are many things that can ruin a retirement plan. Bad returns are usually not one of them, but having a second home can be.
Before you even consider purchasing a second home, make sure that you are on track for your retirement. If you already aren't on track for retirement, then buying a second home will make the situation far worse. If you are on track, you still may not want to get one.
The younger you are when you purchase a second home the more it costs. You should consider not only what the home costs, but what the home will cost in upkeep and what that money could have been worth had it been saved and invested in the markets. Make sure that you can afford a second home before shopping for one.
Dan Moisand, writing for Financial Advisor Magazine in "Vacation Homes: Heaven Or Retirement Hell? " describes the allure:
"No one 'needs' a vacation home, but there are many reasons for wanting a second home. The three I have encountered most often are locking in a place for a future retirement, the joy of sharing with family and friends, and easier vacations. …
"Ah. Those precious grandkids. This is probably the most common vision among retirees for a second home. 'I could see our grandkids playing on this porch,' says a client during a rental stay in a beautiful locale. Next thing they know they are shopping for a house."
A second home is not an investment. An investment is one that pays you money sufficient for the assets invested. If it doesn't pay you money or the money is insufficient for the assets invested, it is not an investment. It is simply part of your lifestyle spending.
Increasing your lifestyle decreases your chance of successfully retiring in two ways. First, increasing your standard of living increases the amount of money you will need in order to retire. At age 65, for every dollar you increase your standard of living you will need about 23 times that number in order to retire. Second, when you increase your standard of living you aren't putting that money toward your retirement. So all of the future compounding is lost. Assuming you purchased a second home and your investments had a 5.63% annual return over inflation, every dollar spent on the second home could have been 5.16 times that amount thirty years later.
What is more, there are more expenditures than simply the initial purchase price. In fact, the costs of purchasing a second home will be far more than you anticipate. Moisand explains:
"The easiest way to cut through the anecdotes is to get a hold of tax records. Have the seller complete a Form 4506-T, Request for Transcript of Tax Return. The client will fill one out if applying for a mortgage. They should get one from the prospective seller."
A seller's financials are often available for commercial property, such as vacation rentals. With a copy of the tax return or the financials, you can review all the expenses the seller experienced rather than just assuming that the home's income will cover them.
In addition to those listed expenses, also include in your own calculations the lost opportunity costs to your retirement accounts.

An Example: $500,000 Purchase of Second Home
For example, imagine purchasing a $500,000 second home with $100,000 down and a 30-year fixed mortgage for the remaining $400,000.
For the mortgage, we are assuming a 0% interest rate because we are factoring out inflation. In other words we are assuming that whatever interest rate you can currently get is equal to future inflation. This may be an understatement, but understating the costs of a second house won't look any rosier. With a 0% interest rate over 30-years, this is a monthly payment of $1,111.
Property taxes are assumed to be $1.20 per $1,000 or $600 per year. Home maintenance is assumed to be about 1% or $5,000 each year. These are total annual costs of $5,600.
For this example, we will use 5.625% for the return over inflation of the stock markets. By ignoring inflation, we put everything in today's dollars.
Similarly, we will also assume that your second home maintains the same value. In reality, your second home is going up by inflation, but we have factored inflation out of both sides of the equation.
It sounds attractive to purchase a home with free money. But you still have to put $100,000 down and you begin making payments that include a large portion of capital. That capital could be put to work in the markets.
Assuming a 5.625% real market return, the $100,000 down would have grown to $516,418 over 30 years. With the same return, if the $1,111 monthly payment were invested each month rather than spending it towards the mortgage, then it would have grown to $1,016,889 over 30 years. Similarly, the $600 per year of property taxes would have been $45,760 and the $5,000 of upkeep would have been $381,333.
In total, this is $1,960,400 of lost investment gain over the 30 years. When you net this with the $500,000 value of the home, that is $1,460,400 of opportunity cost.
Paying cash for the $500,000 makes it worse as the amount put as a down payment suffers having to overcome 5.16 times growth in the markets. Making gradual payments over 30 years puts some of those payments later reducing opportunity cost. Paying cash for a $500,000 house costs $3,009,185 over 30 years, which is $2,509,185 over the value of the home.

Renting versus Landlording
In order to solve the monetary problems with purchasing a second home, some people will try to rent the property for extra income. Moisand has this wisdom to share:
"Local realtors will likely tell the client it is easy, and will relay high occupancy rates and average weekly rental rates during peak season. Clients multiply that average rent by some number and see the vacation home as low cost, low risk or even a money maker.
"Time to call 'time out' and regroup. What was going to be a vacation home is morphing into a small business, and vacation rentals are not a great business for most homeowners. We do not rent our Montreat house. It has been rented in the past, but we found the business of renting to be more of a hassle than the rents were worth. We are not alone in that assessment.
"A report from HomeAway, a vacation rental site, estimated that vacation rental owners spend an average of nine hours per week marketing or managing their properties. Further, it indicated that rents don't even cover 75% of the mortgage payments for about half of vacation homeowners renting their properties.
"That's just the mortgage and doesn't include maintenance or management fees. The study shows the average homeowner is able to rent just one-third of the year. All the expenses of owning a home continue year round."
Renting your home constitutes a small business. Spending nine hours a week on managing your property is nine weeks you could have been vacationing. While planning a vacation takes some time, it takes a lot less time than managing a rental home.
Upgrading a rental home takes time and effort. When we first started going to the beach, rental homes were simple. Over the years we have noticed how much is now expected that wasn't expected when we first started. Roughly in order of year, we have seen upgrades to include: air conditioning, washing machine, sheets and towels, coffee maker, kitchen remodel, big screen television, game system, hair dryer, wifi, cable package, surround sound, welcome basket, streaming service, kid-friendly equipment, pet friendly environment, beach supplies, outdoor games, barbecue, backyard pool, premium bedding and pillows, hot tub, outdoor lighting, movie room, eco-friendly guest soaps and amenities, and COVID disinfectant and cleaning.
If thinking about that list of upgrades made you tired, running a rental house business probably isn't for you. But if you would like someone else to handle all of those amenities and just show up expecting them, then renting someone else's home is for you.
When you buy a vacation home you think you will travel there and enjoy it much more than you probably will. Yes, many couples talk about how nice it would be if all you had to do was to put a few things in the car and go. But with our busy lives, it is still difficult to drop everything and go. Furthermore, when you do get there, you will spend much of your time and effort repairing and upgrading the property.
Moisand talks about some of the effort which must be put into a property that you own rather than one which you are only renting.
"When you buy a vacation home, you get rid of some inconveniences but take on new ones like maintenance, upkeep, taxes, utilities and all the other elements of the joys of homeownership. …
"For many people, being the renter is far easier than being the owner. Renters only pay for what they use, and the rest of the year they spend no time, energy or money on the property."
The vacation home I rented ten or twenty years ago is very different than what I would rent today. There are different places I would go today than I went in the past. Families change and the ability to easily change with them is valuable.
When you consider the lost opportunity costs of buying a second home, you can afford to take some nice vacations over 30 years for $2 million.

Don't let a second home ruin your retirement.
You may still decide to purchase a second home, but now you will do so knowing exactly what impact it may have on your retirement lifestyle.
Some people can afford a second home. But the choice is between a second home or renting someone else's home and retiring either earlier or richer. The cost of a second home is large. Large enough that it can ruin your retirement plan. David John Marotta, Forbes, www.forbes.com, May 5, 2021.

7. IRS OFFICE OF CHIEF COUNSEL'S FIRST NATIONAL VIRTUAL SETTLEMENT MONTH SUCCESSFUL IN RESOLVING ALMOST 150 TAX COURT CASES:
Building on the success of Settlement Days and Virtual Settlement Days, the Internal Revenue Service Office of Chief Counsel hosted its first National Virtual Settlement Month in March 2021. The results are impressive.
Settlement Days events are coordinated efforts to resolve cases in the United States Tax Court by providing taxpayers who are not represented by counsel the opportunity to receive free tax advice from Low Income Taxpayer Clinics (LITCs), American Bar Association (ABA) volunteer attorneys and other pro bono organizations.
"The March Settlement Days campaign yielded great results with well over half of participating taxpayers settling their cases on a basis agreeable to them without having to represent themselves in Tax Court," said IRS Commissioner Chuck Rettig. "These strong results could not be achieved without the dedication and support of our partner groups--the LITCs, ABA and other pro bono organizations."
During the Office of Chief Counsel's National Virtual Settlement Month, Virtual Settlement Days events were held in all 50 states and the District of Columbia. Many were held in cities that had not recently hosted a Settlement Days event. Nearly 240 taxpayers met with Chief Counsel employees and pro bono organizations, leading to settlements in 148 Tax Court cases. Those taxpayers whose cases were not resolved had the opportunity to obtain free legal advice and better understand their cases and the process of litigating in the Tax Court. (IR-2021-61)
LITC representatives and ABA volunteer attorneys provided free legal advice, assisting taxpayers outside their regular service areas as needed. At many events, taxpayers were also able to discuss payment options with IRS Collection employees. Taxpayers were also able to consult Taxpayer Advocate Service employees about unrelated tax matters not before the Tax Court.
"Unrepresented taxpayers with cases in Tax Court should strongly consider seeking assistance at a settlement day event when given the chance. It provides taxpayers a fair way to resolve their cases on a basis they agree with rather than taking their chances in court," Rettig noted.
Virtual Settlement Days events were first announced in May 2020 to continue the benefits of Settlement Days during the pandemic. (IR-2020-87) Before March 2021, more than 260 taxpayers resolved their Tax Court cases during a Virtual Settlement Days event, avoiding the need for over 260 trials.
The Office of Chief Counsel plans to continue Virtual Settlement Days events together with face-to-face options when circumstances permit. In the meantime, taxpayers with cases before the Tax Court are encouraged to contact the assigned Chief Counsel attorney or paralegal to inquire about participating in a Virtual Settlement Days event. It is possible they can achieve same-day resolution of their case on a basis they agree with. IRS Newswire, IR-2021-93, www.irs.gov, April 26, 2021.

8. CELEBRATING OLDER AMERICANS MONTH: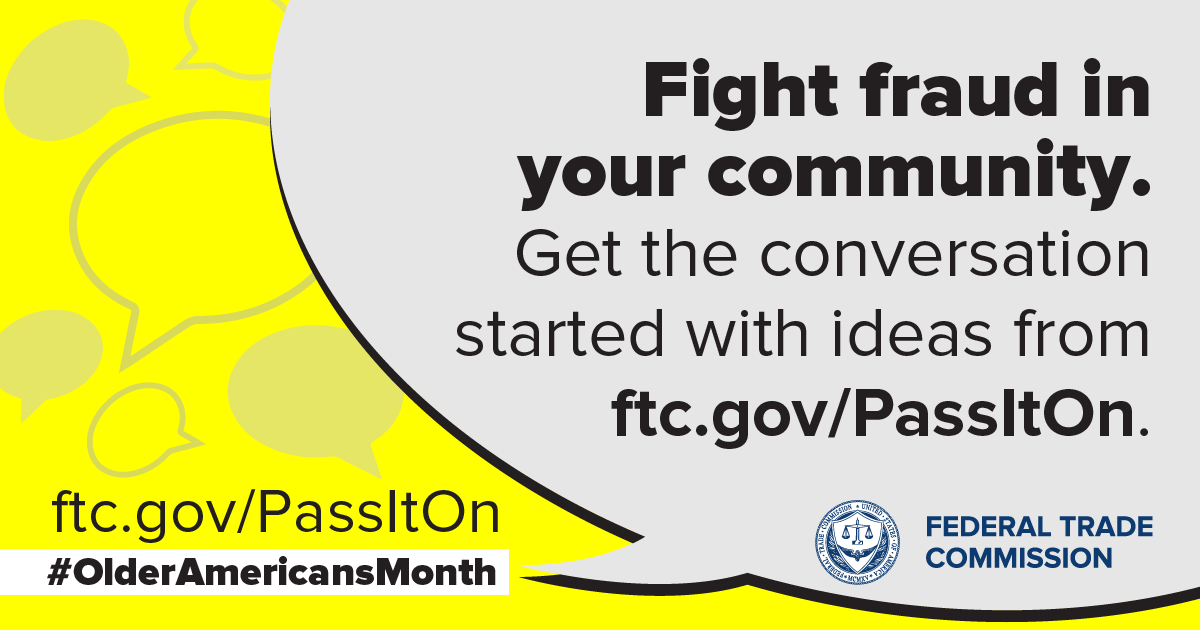 During May, the FTC and federal and state organizations nationwide will celebrate Older Americans Month, with "Communities of Strength" as its theme. The FTC works to protect older adults year round, through law enforcement actions and the Pass It On fraud prevention campaign. Pass It On encourages people to share what they know to protect someone from a fraud, and to be a resource that others can turn to. This week, we'll share some of what we know through a series of blogs about scams affecting older adults. We hope you'll share these blogs in your community. You can link, forward, print, or copy all FTC content freely. And if you're on social media, share this graphic through your network.
The FTC has taken several recent enforcement actions to protect older adults. For example, it's sued companies that tried to trick people into work-at-home and other moneymaking schemes, bogus credit card interest rate reduction offers, and health claims that aren't supported by the necessary science. Some of those claims were related to the COVID-19 pandemic.
While scammers are busy, Pass It On gives older adults and the people who work with them tools to fight those frauds. The campaign's fact sheets explain 13 fraud topics, including grandchild and romance scams, unwanted calls, and work-at-home scams. The campaign leverages the rich experience and accumulated knowledge of older adults, and gives them information they can pass on to family and friends, starting conversations and sharing their expertise.
Thank you for being part of our readers' community, and for sharing information -- whether it's a way to avoid a scam or your story about an unwanted phone call -- to protect the people around you. If you spot a scam, please tell the FTC at ReportFraud.ftc.gov. Bridget Small, Consumer Education Specialist, FTC, www.ftc.gov, May 10, 2021.

9. FOR THOSE WHO LOVE WORDS:
Meteor vs. Asteroid vs. Comet: The Astronomical Differences Between These And More Terms. Click here to learn more.

10. QUOTE OF THE WEEK:
The real opportunity for success lies within the person and not in the job. -- Zig Ziglar

11. TODAY IN HISTORY:
On this day in 1918, first US airmail stamps issued (24 cents).

12. REMEMBER, YOU CAN NEVER OUTLIVE YOUR DEFINED RETIREMENT BENEFIT.
Items in this Newsletter may be excerpts or summaries of original or secondary source material, and may have been reorganized for clarity and brevity. This Newsletter is general in nature and is not intended to provide specific legal or other advice.