---
PLEASE GIVE US YOUR FEEDBACK!
CLICK HERE TO TAKE A BRIEF SURVEY TO HELP IMPROVE THE CONTENT OF THIS NEWSLETTER.
1. TIPS FOR TROUBLESHOOTING COMMON AFTER-TAX-DAY ISSUES:
While the deadline to file and pay federal income taxes has passed for most people, some taxpayers may still be dealing with tax-related issues.
Here are some tips for taxpayers handling some of the most common after-tax-day issues.
Check refund status
Taxpayers can check on their refund using the Where's My Refund? tool. It is available on IRS.gov and the IRS2Go app. Taxpayers without access to a computer can call 800-829-1954. To use this tool, taxpayers need their Social Security number, tax filing status and the exact amount of the refund claimed on their tax return. The tool updates once daily, so there's no need to check more often.
Check withholding
All taxpayers are encouraged to check their withholding using the Tax Withholding Estimator on IRS.gov. This will help them make sure their employers are withholding the right amount of tax from their paychecks. Doing this now will help avoid an unexpected amount due and possibly a penalty when they prepare and file their taxes next year.
Taxpayers can use the results from the Estimator to help complete a new Form W-4 and adjust their income tax withholding with their employer. Taxpayers who receive pension income can use the results to complete a Form W-4P and submit to their payer.
Review payment options
Taxpayers who owe taxes can review all payment options online. These include:
Carefully consider if they need to amend a tax return
After filing their tax return, taxpayers may find they made an error or forgot to enter something on it. The IRS strongly recommends taxpayers use the Interactive Tax Assistant, Should I File an Amended Return? to help determine if they should correct an error or make other changes to the tax return they already filed.
Common errors taxpayers should fix are those made about filing status, income, deductions and credits. Taxpayers usually do not need to file an amended return to fix a math error or if they forgot to attach a form or schedule. Normally, the IRS will correct the math error and notify the taxpayer by mail. Similarly, the agency will send a letter requesting any missing forms or schedules.
Those expecting a refund from their original return should not file an amended return before the original return has been processed
Currently, it is taking the IRS longer to process mailed documents including paper tax returns and all tax return related correspondence. It is taking the agency more than 21 days to issue refunds for some 2020 tax returns that require review including incorrect recovery rebate credit amounts or returns that used 2019 income to figure the Earned Income Tax Credit and Additional Child Tax Credit. IRS COVID Tax Tip 2021-73, www.irs.gov, May 24, 2021.

2. REGISTRATION FOR THE 37TH ANNUAL CONFERENCE IS OPEN!:
When: June 27th - 30th, 2021

Location: Omni Orlando Resort at Championsgate
1500 MASTERS BLVD
CHAMPIONS GT, FL 33896-5312
The FPPTA Annual Conference draws approximately 2,000 people every year. The conference focuses on a macro-perspective of the industry and public pension landscape over two and one-half days of speakers. Attendees are encouraged to bring their families to the annual conference, to network with industry vendors and event sponsors, and to spend time learning from one another how to protect and grow municipal pension plans.

This year's conference theme places the emphasis on communications. Over a two and a half day program, the FPPTA will host lectures and discussions regarding communication with your various constituents, crafting a message, and highlighting the different tools available to most effectively convey your message to your audience.
FPPTA's annual membership and Board of Directors meetings are held at this event where new officers, board members, and committee members are voted (or named) and seated and where membership is updated on the status of the organization.
In addition to conference speakers, the FPPTA Annual Conference this year also features a welcome gathering, and a charity golf classic tournament.
Register before or on June 18th, 2021 you will receive the normal registration fee. Register on June 19th or later, you will receive the late registration fee. Click here to register. FPPTA, www.fppta.org.

3. HOUSE PASSES BILL ESTABLISHING RETIREMENT SYSTEM TO KEEP LAW ENFORCEMENT OFFICERS IN ALASKA:
The Alaska House of Representatives voted to pass legislation that would provide a new retirement incentive to help attract law enforcement officers and firefighters to have careers in Alaska.
Currently, Alaska is one of two states that does not offer public safety workers any form of defined benefit retirement options. As a result, fire and police departments here have become training grounds for other states as the lack of adequate retirement is a key factor in the flight of public safety professionals.
House Bill 55, which passed 25-15, would create a hybrid retirement system that incorporates a defined benefit pension while maintaining defined contribution health benefits. Both of these elements already exist in different tiers of the state's Public Employee Retirement System.
The proposal is conservatively designed to ensure that the new tier would remain solvent. A series of built-in "levers" provide the Alaska Retirement Management Board with the flexibility they need to adjust the plan accordingly if it ever becomes less than 90 percent funded.
Rep. Andy Josephson (D-Anchorage), "The exodus of public safety employees trained in Alaska hits every corner of our state. House Bill 55 will end the cycle of the state and municipalities spending millions on training public safety recruits, only for these valuable members of our communities to be drawn away to other states. I am thankful to my colleagues for setting aside party politics to do the right thing for our public safety workers."
HB 55 will now be transmitted to the Senate where it will receive committee referrals and continue through the legislative process next year. Joe Plesha, Alaska Native News, https://alaska-native-news.com, May 19, 2021.

4. DETROIT FIREFIGHTER; SPEED CITY'S PENSION PAYMENTS OVER 20 YEARS TO AVOID 2034 SHORTFALL:
The board of trustees of the Police and Fire Retirement System of the city of Detroit recently voted to adopt a funding policy calling for the system's unfunded liabilities to be paid down over a 20-year time frame versus 30 years.
Much like a home mortgage, the shorter payback time frame, the more money Detroit is required to pay into the system annually and vice versa, the longer payback period, the less money is required annually from the city.
As currently adopted, the funding policy increases the city's estimated obligation to contribute approximately $127 million a year to keep the plan solvent effective in 2024.
Several city representatives who serve as trustees on the board advocated that the 20-year policy could severely impact funding of essential city services by requiring a larger share of the budget be committed to retirement funding.
While we understand that perspective, the fiduciary role of the trustees is to require funding of the retirement system at levels to ensure benefits are available for the 8,300 retired first responders and their families who earned their retirements.
Further it is our job as trustees to ensure the system's funds are properly invested and managed to provide for future funding of these benefits.
The funding policy repayment term is an important board decision.
Trustees have heard from our expert actuarial and other financial advisers that have run numerous "what-if" scenarios based on multiple payback funding models including 30-year, 20-year and others.
The 30-year model, which may be better for city budgets in terms of reducing the required annual contribution, still forecasts substantial underfunding of the system in 2034.
For context, the Detroit bankruptcy in 2014 froze legacy pensions and allowed the city a 10-year reprieve on pension contributions to the legacy plan effective July 1, 2014.
That means Detroit was not required to make any payments to fund the pension system since 2014 and does not have to make further contributions to the PFRS until 2024.
Under the terms of the bankruptcy, the city has saved tens of millions of dollars by not having to make these otherwise required pension contributions.
What this means for the board and retirees is benefits are being paid from the current fund assets at a rate of about $30 million per month with the main source of revenue to offset these payments being returns on fund investments.
Regardless of how well we are investing, the lack of contributions from the city causes a diminishing fund value as more is paid out by the PFRS in benefits than is coming in as result of investment returns.
This results in the underfunding of the system, which the funding policy is designed to address.
Why is the pension system funding level so critical?
What may be lost on a lot of people is the fact that Detroit Police and Fire members do not receive Social Security benefits.
The bottom line is for many retired members of PFRS, the retirement benefits from the system are all the income they may have to live on during their retirements. The continued solvency of the system is critical to our retired first responders and their families.
The city has been setting money aside in a special Retiree Protection Fund specifically established for supplementing its required payments to the system when its payment obligation resumes on July 1, 2023.
To date, the city has $235 million in the fund -- a substantial amount but well below the $1.3 billion projected shortfall (as of June 2020) to fund the system until the last benefit earned is paid.
The city has allocated another $85 million to the fund for fiscal year 2022 and proposes another $60 million in 2023, giving the fund a projected $380 million plus additional investment income by 2024.
There has been generally a good spirit of cooperation between the PFRS and the Duggan administration and its Office of the Chief Financial Officer.
We may not always agree on the details, but the city is working to balance its budget and fund pensions. We hope the windfall funding from the recent federal stimulus package -- some $800 million -- will provide funds to pay for essential services also so important to the functioning and rebirth of our great city.
However, what is clear is that the more money contributed into the system sooner the better the long-term health of the system becomes.
Also, as a result of the bankruptcy, the city eliminated health care benefits for police and fire retirees.
Many retirees find themselves in a "health care gap" retiring after 20-plus years on the job but years before they qualify for Medicare at age 65.
This leaves many with a gap in health coverage and few can afford private health insurance on fixed incomes. The PFRS is seeking help to allow retirees to obtain Medicare coverage prior to age 65.
This issue must be addressed at the federal level and we are asking our congressional representatives to help first responder retirees get the health care they deserve.
PFRS has written to all federal representatives of the state to encourage them to approve legislation changing the Medicare age for police officers and firefighters to close the health care gap. Michael Berent, Crain's Detroit Business, www.crainsdetroit.com, May 23, 2021.

5. THE FUTURE OF PUBLIC DC PROGRAMS INCLUDES A FOCUS ON FINANCIAL WELLNESS:
There is a movement among private-sector employers to offer not just a retirement plan, but a program of benefits that addresses all aspects of employees' finances. But employees in the public sector--including those in public defined contribution (DC) plans--need holistic financial wellness help, too.
Less than half of public-sector employees (43%) feel very/extremely confident making financial decisions on their own, according to the results of a 2019 study by the Center for State and Local Government Excellence (SLGE). Fifty-four percent worry about finances while at work, and only 29% rate themselves as very/extremely knowledgeable about finances in general. SLGE found nearly two-thirds (65%) of public-sector employees believe it is important for their employer to offer a financial literacy program. However, only three in 10 reported being offered one. Seven in 10 said they would participate in one if it was offered.
The Public Retirement Research Lab (PRRL), an industry-sponsored collaborative effort of the National Association of Government Defined Contribution Administrators (NAGDCA) and the Employee Benefit Research Institute (EBRI), formed in 2019, studied the age distribution of workers in the public sector and found the share of those in their 40s is sharply declining. This means the workforce will become significantly younger in five to 10 years, as the large share of workers age 50 or older will be retiring, while the smaller share now in their 40s starts to move into the 50-or-older age group.
"With the younger-than-age-50 cohort making up a larger and larger share of the public-sector workforce going forward, retirement programs are likely going to need to include initiatives that look at the total finances of the workers," the PRRL says.
"We're ushering in a new generation in the workforce," says Carah Brody, vice president, business ops for Nationwide Retirement Solutions. "As employers think about the pressures and challenges employees face and how those differ for each household, benefits have evolved beyond traditional offerings. Employees seek access to benefits at the workplace. And employers care about employees, but there are also business reasons to demonstrate that they care. Showing that they care about employees' whole financial wellness and providing programs to address that results in more productive employees and helps with recruiting and retention."
Matt Petersen, executive director of NAGDCA, says he has seen the introduction of financial wellness programs be a bit dispersed among state and local governments. The National Association of State Treasurers (NAST) offers a map of states' efforts pertaining to financial education and wellness programs. "For a lot of public-sector plan sponsors, they are in the early phases of looking into these programs," he says.
Elements of Financial Wellness Programs
Brody notes that financial wellness includes budgeting, emergency savings, student loan debt help, retirement savings and income in retirement. But in the public sector, unlike the private sector, most employees are offered a defined benefit (DB) plan. She says this has resulted in some areas of financial wellness not being as well-defined.
Petersen says he has seen public plans offer programs that address various types of financial issues, including health care and personal debt reduction strategies. But there have not been many programs that addresses student loan debt, though he adds that there could be more if the SECURE 2.0 bill--the follow-up legislation to 2019's Setting Every Community Up for Retirement Enhancement (SECURE) Act--is passed.
Help with student loan debt is on employers' radar as a younger generation of workers makes up the majority of the workforce, Brody says. She points out that student loan debt is an issue across age groups, but more so for those younger than 30.
"It is one of the biggest inhibitors of saving for retirement," Brody says. "Either employees don't have the money to do both or they have stress about paying the debt back."
Brody says Nationwide is bringing to market a solution employers can use to provide education about refinancing and public-sector loan forgiveness programs or make matching contributions on behalf of employees paying off student loans.
Petersen says many public plan sponsors are looking to providers for solutions, but there are some programs led by governments.
"We have a couple of members that have creative, innovative programs," he says. "We recognized the city of Milwaukee a few years ago. We also recognized the state of Virginia, which has a well-built financial education program that includes education, budgeting help and help with student loan debt." NAGDCA has also recognized a program for Johnson County, Kansas, employees.
In the Milwaukee program, participants who attended a wellness session:
participate in the Milwaukee Deferred Compensation Plan at a higher rate (93% vs. 84%);
save at a higher rate (8.4% vs. 6.8%);
were most heavily participants in the third highest salary range (34% of attendees);
included Black attendees who realized the highest difference in contribution rate compared to those who do not (38%); and
consisted of 44% women, despite women only representing 27% of the participant base.
Brody agrees that most sponsors are turning to providers. "What we've seen from our plan sponsor partners is they are looking for options from providers--a full spectrum of solutions, from do-it-myself options, such as calculators; to some assistance, such as through managed accounts; to full, hands-on, detailed guidance, provided by CFPs [certified financial professionals]," she says. "Public-sector programs are definitely growing and evolving to help employees meet short-term needs that might prevent retirement savings all the way to how to turn their savings into income in retirement."
Brody says plan sponsors need to position their financial wellness offerings in the context of employees' bigger financial pictures and provide actionable tools and solutions.
Researching Participant Needs and Addressing Retirement Savings
Employers in the public sector need education about financial wellness solutions, Brody says. Plan sponsors should also do research about their employees' needs.
"We saw with health care that once the headlines and statistics showed that the cost of health care was an inhibitor to retirement savings, plan sponsors looked for solutions and introduced HSAs [health savings accounts]," she says. "Similarly, the pandemic has highlighted the need for emergency savings and student loan debt help. We are seeing more awareness from plan sponsors. And data from the PRRL will help create actionable insights."
A PRRL study found public-sector Generation X workers have taken more retirement plan loans than any other age group, which has highlighted the need for financial wellness help.
"There were more outstanding loans for participants up into their 40s, and the amount of loans as a percentage of assets was higher for employees approaching retirement," Petersen says. He explains that for 457 plans, the criteria for taking hardship withdrawals are stringent.
He says public plan sponsors should balance communications about participant loans; they can try to discourage them but should realize there are circumstance for which taking a loan can't be avoided. "So education and communication about building retirement plan assets and taking advantage of compounding interest instead of pulling money out of accounts would be helpful," he says.
Petersen also says plan sponsors and providers alike are having conversations about the implementation of emergency savings accounts--and how to help participants have more liquid assets available for emergencies. Providers are discussing solutions, and plan sponsors are discussing how to implement accounts.
Petersen says allowing for automatic enrollment in government DC plans can also help with participants' overall financial wellness. According to NAGDCA's website, laws in 25 states currently prevent auto-enrollment in DC plans. "We are working through the PRRL to build some information about the benefits of auto-enrollment. We're big proponents of it," he says. "Some public plan sponsors have said they won't implement it, but we think it should be available to those who want to."
The PRRL also did a study on public-sector plan participant asset allocation, which it said had takeaways that will inform public plan design going forward. The study examined how the structure of DB pension plans offered to public-sector employees and the demographics of a particular participant population have an impact on how participants are allocating their retirement savings dollars.

"We think it will be helpful for plan sponsors to think about maximizing their plan design for their own demographics," Petersen says. "If employees have a DB plan, one thought is they can afford to be more aggressive with investing in their DC plan. But another school of thought is that if participants have guaranteed money and are saving on their own, they want to put their money into safe investments to build the security of assets. There is still work to do to determine what would be optimal for participants." Rebecca Moore, PLANSPONSOR, www.plansponsor.com, May 25, 2021.

6. PRE-COVID TRENDS IN SOCIAL SECURITY CLAIMING:
The brief's key findings are:
This study provides a pre-COVID baseline on Social Security claiming.
The percentage of all initial claimants who are age 62 shows a steady decline over the past two decades, interrupted only briefly by the Great Recession.
However, a better metric to capture claiming behavior over time – when the population is aging – is the share of all workers turning age 62 who claim at 62.
This measure, based on unpublished Social Security data, shows a steeper drop, with just 1 in 4 claiming at 62 in 2019.
In addition, workers who delay are claiming in their mid-60s or later, which is good news for their retirement security.
Click here to download the full brief. Anqi Chen and Alicia H. Munnell, Center for Retirement Research at Boston College, IB#21-9, https://crr.bc.edu, May 2021.

7. HOW TO PREVENT RETIREMENT PLAN LEAKAGE:
In a new report, the Congressional Joint Committee on Taxation estimates that 22% of net contributions to 401(k)s and other workplace retirement savings plans made by those 50 or younger in any given year are withdrawn early in the form of hardship withdrawals, loans or cash-outs by people switching jobs.
Pre-retirement withdrawals from retirement accounts are often referred to as "leakage," according to the report, "Estimating Leakage From Retirement Savings Accounts."
The Joint Committee says the most common reason for leakage is leaving a job, but it can also be caused by five life events, the most common of which is becoming unemployed or suffering a negative income shock, followed by a home purchase, divorce or separation, a large medical expense or new tuition payments.
However, there are steps retirement plan advisers and sponsors can take to prevent leakage, including starting with educating participants, according to executives at the Retirement Clearinghouse (RCH), which offers automatic rollover services from 401(k)s into individual retirement accounts (IRAs) or new 401(k) plans. They also say a plan can hire a company such as RCH to guide new hires and outgoing employees on rollovers.
The first thing advisers and sponsors need to do to prevent retirement plan leakage is address loans and hardship withdrawals, says Neal Ringquist, executive vice president and chief of sales at RCH.
"With respect to in-service withdrawals, it's a delicate balance sponsors have to make," Ringquist says. "Restrict in-service withdrawals too much, and plan participation suffers" because participants don't want to relinquish access to their money, he says. "Make it too liberal, and leakage increases."
He says the happy medium advisers should recommend is for sponsors to permit only one loan at a time.
Another way to prevent leakage is to help employees create emergency savings accounts.
Those who had a savings account dedicated to emergencies were half as likely to tap into retirement funds during the pandemic, according to a report by Commonwealth and the Defined Contribution Institutional Investment Association (DCIIA)'s Retirement Research Center. The study found that low-to-moderate income respondents, with less than $2,000 in liquid savings, were twice as likely to have taken a 401(k) loan or hardship withdrawal in response to COVID-19.
"Emergency savings plays a critical role for those who have it," says Catherine Wright, a senior innovation manager at Commonwealth. "The pandemic has really demonstrated how critical these savings are. I imagine we'll be seeing more professionals offering emergency savings through the employer channel in the future."
As for cash-out leakage, communication on the importance and benefits of consolidation of retirement assets is always helpful, particularly in the active plan, Ringquist adds. "Along these lines, the adviser can make sure the plan accepts roll-in contributions from both retirement plans and IRAs--and offer services to help facilitate those rollovers into the plan."
Thomas Hawkins, senior vice president of marketing and research at RCH, says he is not at all surprised at the Joint Committee on Taxation's findings that the No. 1 reason for leakage is cash-outs when people switch jobs.
"It's important to first understand the problem," Hawkins says. "Cash-out leakage that occurs post-separation [from a job] is by far the biggest leakage problem, representing 89% of all leakage," he says, citing 2009 data from the General Accountability Office (GAO).
Boston Research Technologies also published a study that said two-thirds of cash-out leakage is avoidable and is not used for a true emergency, he continues.
RCH has discovered that "two-thirds of participants who cash out have balances less than $5,000," Hawkins adds. He also says the best way to circumvent leakage is through participant education--for both newly separated participants and for new hires. In fact, Hawkins maintains that education can reduce cash-out leakage by more than 50%.
However, an analysis of tax data by Investment Company Institute (ICI) economists Peter Brady and Steven Bass argued that some studies substantially overestimate leakage from retirement accounts. That could be because differing studies use varying definitions for "leakage." The ICI economists, for example, define "leakage" as early withdrawals from retirement accounts used for nonretirement purposes.
But no matter how much leakage a plan sees, Spencer Williams, president and CEO of Retirement Clearinghouse, says advisers should make sure participants are receiving education. "An adviser should ensure that the plan has engaged a service provider that specializes in providing counsel and education to new hires and terminating employees to help them make good decisions and prevent leakage," he says. Lee Barney, Planadviser, https://www.planadviser.com, May 24, 2021.

8. GOVERNMENT AID RECIPIENTS HAVE AROUND 97% LESS WEALTH THAN THOSE NOT RECEIVING ASSISTANCE BUT SAME LEVEL OF UNSECURED DEBT:
The median "wealth" or financial assets of U.S. households that participated in one or more means-tested government programs in 2017 was about 97% less than that of those who didn't.
Despite less wealth and lower asset ownership, households that received government assistance surprisingly had only slightly lower unsecured debt, such as credit cards and medical bills, than those who didn't and even lower secured debt like a mortgage.
Even when excluding home equity, program participants had less wealth ($1,835) than nonparticipants ($74,530).
The Survey of Income and Program Participation (SIPP) is the nation's premier source of information on the characteristics of those who receive government assistance. The 2017 SIPP data show the disparities in levels of wealth and debt – the value of assets owned minus the liabilities (debts).
The U.S. Census Bureau report and detailed tables on household wealth in 2017 show wide variations across demographic and socio-economic groups.
One of these groups includes recipients of government programs such as Supplemental Nutrition Assistance Program (SNAP, previously known as food stamps); Medicaid; Supplemental Security Income (SSI); Special Supplemental Nutrition Program for Women, Infants, and Children (WIC); Temporary Assistance for Needy Families (TANF); and General Assistance (GA).
Households can participate in multiple programs at a time. Eligibility criteria for these government programs vary but are generally tied to income and sometimes include asset limits.
Here's a deeper look at wealth and debt holdings of program participants, both overall and by program.
Net Worth of Program Participants
The overall financial picture of households that did not participate in any of the six government programs listed above is markedly different from those that did.
The median net worth, including home equity, of nonparticipants was $181,800 -- about 31 times more than the $5,797 of households that reported participating in one or more of these programs.
This wealth gap cannot be explained solely by the low rates of home ownership among program participants. The reason: Even when excluding home equity, program participants had less wealth ($1,835) than nonparticipants ($74,530).
Only 11% of nonparticipating households had a zero or negative net worth compared with 30% for participating households. In addition, only 39% of nonparticipating households had a net worth of less than $100,000 while 78% of participants were below that threshold.
WIC recipients were a particularly vulnerable group. WIC only benefits pregnant women, mothers of infants, infants, and children under five. Eligibility is benchmarked to income and a participant's nutritional risk.
The assets and wealth of WIC recipients were substantially lower: a median net worth of only $3,244, which is 32 times less than the national median. In contrast, households where the youngest child was under 5 years of age (regardless of any program participation) had a median net worth of $38,420.
About 54% of WIC recipient households had a net worth below $5,000 and 36% had a zero or negative net worth. Their median checking account balance was only $500.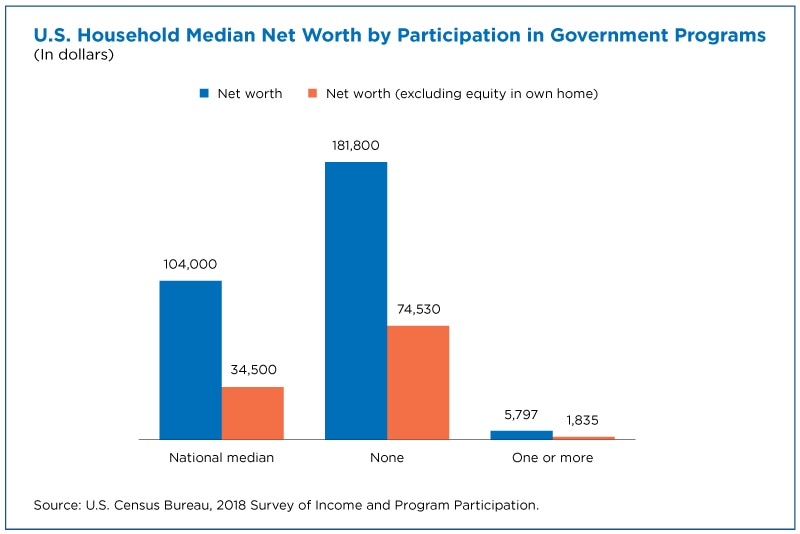 What Assets Do Households With Program Participants Have?
Households that participated in one or more government programs also had lower rates of asset ownership than those that did not receive assistance.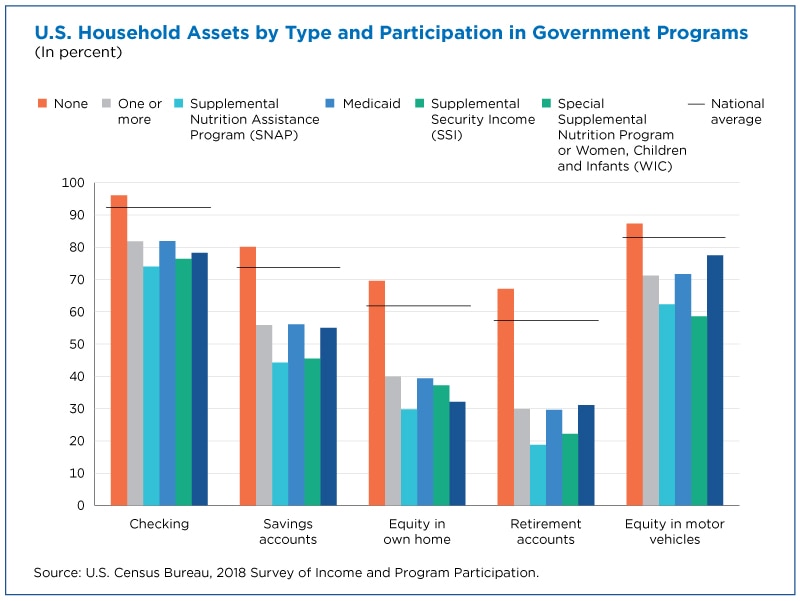 Here are ownership rates of the five most commonly held assets for program participants and nonparticipants:
Retirement account: 30% of program participants owned a retirement account compared with 67% of nonparticipants.
Home equity: 40% compared with 70%.
Savings account: 56% compared with 80%.
Motor vehicle equity: 71% compared with 87%.
Checking account: 82% compared with 96%.
Program participants not only had lower levels of asset ownership but the value of the assets was much lower.
How Much Debt Do Program Participants Have?
Despite lower measures of wealth and asset ownership among program participants, their levels of unsecured debt surprisingly were only slightly lower than of those who didn't receive government assistance.
Sixty percent of those who did not participate in government programs had unsecured debt with a median value of $9,000. Among those who participated in one or more of these government programs, the percentage was slightly higher at 62% while the median value was lower at $8,000.
Those receiving government assistance were more likely to have medical debt but had slightly lower rates of credit card debt. Rates of student loan debt were equal between those with and without government benefits (22%) and the median student debt value was lower among participants.
Secured debt levels -- "secured" by an asset such as a home or vehicle -- of program participants were lower.
That suggests that those who, despite their lower asset levels, were able to buy a home or a car might buy older or more modest options which results in lower debt and asset values.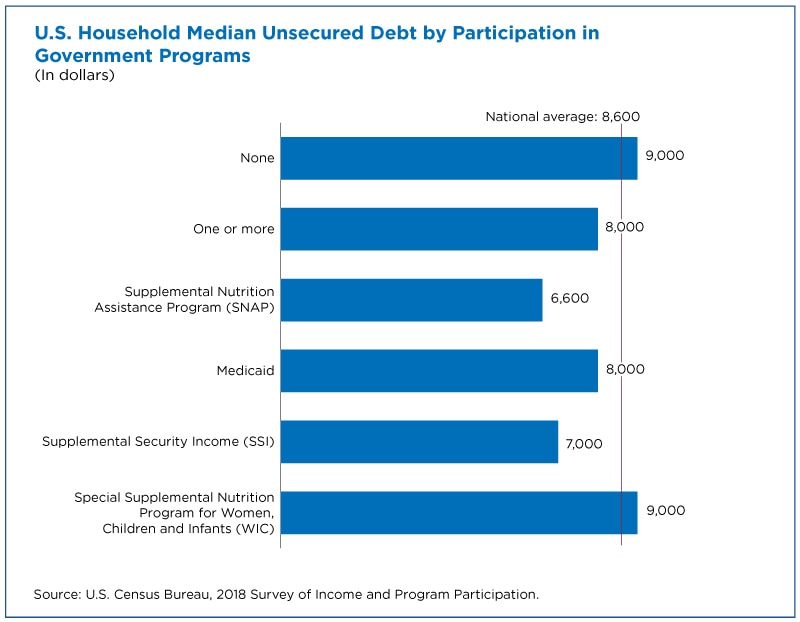 Donald Hays, United States Census Bureau, www.census.gov, May 25, 2021.

9. HANG UP ON AUTO WARRANTY ROBOCALLS:
Have you gotten a recorded phone message from "Susie" with the "Vehicle Service Department" calling about your vehicle warranty? That's, like, so retro. But fanny packs, scrunchies, and tie dye are back -- and so are vehicle warranty robocalls.
It starts when you pick up a call and hear a recorded message saying something about your vehicle's manufacturer's warranty. It might say that they've sent you several notices in the mail. They say you haven't extended your warranty past the factory cut off, and they're going to close your file soon if you don't respond. And, you should press a number if you're interested in renewing your warranty, or press a different number if you want to be removed from the list.
Slam on the brakes. This is an illegal robocall and likely a scam. The companies behind this type of robocall are not with your car dealer or manufacturer, and the "extended warranty" they're trying to sell you is actually a service contract that often sells for hundreds or thousands of dollars. If you buy it, you may find that the contract doesn't actually cover any problems you have with your car because of the restrictions in the fine print.
If you get one of these calls:
Hang up. Don't engage with a company that reaches you with an illegal call.
Consider using an app or device to block unwanted calls. Learn more about how to do that.
Report the robocall at DoNotCall.gov.
Emily Wu, Attorney, Division of Consumer and Business Education, FTC, www.ftc.gov, May 19, 2021.

10. FOR THOSE WHO LOVE WORDS- PARAPROSDOKIAN:
If I agreed with you, we'd both be wrong. - Winston Churchill

11. QUOTE OF THE WEEK:
"Quality means doing it right when no one is looking." -Henry Ford

12. TODAY IN HISTORY:
On this day in 1958, Ernest Green becomes the 1st African-American to graduate from Little Rock's Central High School. Click here to learn more about the Little Rock Crisis.

13. REMEMBER, YOU CAN NEVER OUTLIVE YOUR DEFINED RETIREMENT BENEFIT.
Items in this Newsletter may be excerpts or summaries of original or secondary source material, and may have been reorganized for clarity and brevity. This Newsletter is general in nature and is not intended to provide specific legal or other advice.