---
PLEASE GIVE US YOUR FEEDBACK!
CLICK HERE TO TAKE A BRIEF SURVEY TO HELP IMPROVE THE CONTENT OF THIS NEWSLETTER.
1. PUBLIC PENSIONS DON'T HAVE TO BE FULLY FUNDED TO BE SUSTAINABLE, PAPER FINDS:
It's a well-known fact: municipal pension funding is in crisis, leaving workers and retirees at risk of running out of money in old age, even as "legacy" commitments eat into city budgets, leaving little money for taxpayer services.
But what if it's not true?
The way state and local governments have always accounted for their pension costs is backwards, suggests a new working paper, and its proposal for reversing that represents a sea change for public finance.
"Fully unfunded, pay-as-you-go (PAYGO) pension systems can be fiscally sustainable," the paper argues.
Put in plainer English, there's no reason that municipalities need to have money in the bank to pay the entirety of their calculated current and future benefits now. Pensions can be seen as what the authors call "implicit debt," like Social Security benefits, rather than an explicit commitment that must be paid off in a certain period of time.
Governments "don't have to pay off their debt like a household does," said Louise Sheiner, policy director for the Hutchins Center on Fiscal and Monetary Policy at the Brookings Institution. "They can just keep rolling it over. They're never going to go out of business and have to pay all at once."
Sheiner is co-author, along with Jamie Lenney of the Bank of England, Byron Lutz of the Federal Reserve Board of Governors, and Brown University's Finn Schüle, of Sustainability of State and Local Government Pensions: A Public Finance Approach , which was presented at a Brookings conference in March.
State and local liabilities can also be likened to the federal government's deficit and debt, Sheiner said in an interview with MarketWatch. Most economists think that as long as those numbers stay constant as a share of the economy, it's not problematic.
"What's worrisome is if it's accelerating," Sheiner said. "But we said, we have had these debts for a long, long time. Why make one generation responsible for paying it all off? Find the spot where every generation pays the same amount. Keep it stable."
The goal, in other words, should be to keep a municipality's contribution at an amount that's sustainable for the current year's budget, as well as a hypothetical city budget in 30 years.
What the News Means for You and Your Money
Understand how today's business practices, market dynamics, tax policies and more impact you with real-time news and analysis from MarketWatch.
"Keep it stable" is a vastly different form of math than what city budgets use now. Every year, an actuary calculates how much a municipality must pay based on assumed returns from investments and contribution amounts from current employees, in order to fully fund the entire pension for all current employees and retirees.
"We view the basic point of the paper as very simple, yet something that people hadn't thought of," Sheiner said. Pensions should be thought of as a "budget problem" not a "debt problem," she suggested.
To be sure, just as there are people who think the federal debt and deficit are inherently problematic, no matter their size, many will also view the paper's proposal as a form of creative accounting designed to mask the pension time bomb. The debate over public pensions is often contentious.
"This is a very political issue," Sheiner told MarketWatch, "and it's nerdy and complex. People don't understand how to think about public debt either. People are used to thinking that the government's budget is like their household budget, and that state and local governments are not supposed to have debt."
It bears noting, as the authors do in the paper, that there are several municipal entities whose pensions are currently in deep trouble, including the states of New Jersey and Illinois.
And the current cost curve of pension funding in aggregate has been helped substantially by difficult reforms made over the past decade or so, Sheiner said, more of which may be helpful.
Among them: governments shifting new hires to defined-contribution plans, similar to private-sector 401(K) plans, rather than defined-benefit plans. Such plans aren't just more affordable, they may also help diffuse some of the resentment taxpayers feel when government workers get fat retirement checks.
Still, ongoing tweaks to make plans more sustainable is a far cry from the crisis response many state and local governments have been engaged in for the past several years. Some have cut ongoing city services to the bone even as they plow more money into pension funds, a step Chuck Reed, the former mayor of San Jose, Calif., famously dubbed "service-level insolvency."
Others have gone more deeply into debt to pay down their assumed liabilities.
Sheiner suggests taking a breath looking at the pension issue more holistically. For governments, the decision about how much to fund is simply deciding how best to use budget dollars, she said.
"The alternative for a city or state is to say, we can put money into things that made it better to live here," she said. "We can spend on getting lead out of water, putting money into the schools… it's another way of making the future better. You can think of them both as investments, and it's just a question of which has a better rate of return." Andrea Riquier, Market Watch, https://www.marketwatch.com , June 1, 2021.

2. 2021 DEFINED BENEFIT ADMINISTRATION SURVEY:
Like our Recordkeeping Survey for the defined contribution (DC) plan market, the DB Administration Survey showcases providers in the defined benefit (DB) plan market--who the major players are, who they serve, what services they provide. Also included is information on overall market sizing.

Even as traditional defined benefit (DB) plans are going the way of the dinosaur, cash balance plans remain the fastest growing sector of retirement planning, showing a broadening appeal across market sectors, according to the "2020 National Cash Balance Research Report" from Kravitz, now part of FuturePlan by Ascensus and the firm's cash balance center of excellence. The latter is a group of experts in cash balance plans led by FuturePlan National Practice Leader and President of Kravitz Inc., in Los Angeles, Daniel Kravitz.
The number of new cash balance plans, he says, increased 17% over 2017 and 2018, based on his firm's analysis of clients' Forms 5500 filings for those two years. That growth rate compares with 2% for new defined contribution (DC) plans, he says, noting that the 2018 plan year data from Form 5500 filings is the most current complete set available.
"The motivation for implementing cash balance plans continues to be allowing employees at professional service firms to accrue benefits beyond what's allowed in 401(k) plans," Kravitz says. "It used to be mainly law firms driving the trend in new cash balance plans, but now it's also medical groups, especially specialty medical groups."
The Cash Balance Research Report cites 21,774 cash balance plans in 2018. While health care agencies, medical groups and law firms make up more than 60% of the market, cash balance plans are becoming more widely known and increasingly popular across the business world. Sectors such as finance, construction and manufacturing have shown steady growth in setting up new plans.
While today's active traditional DB plans are more apt to be found at large corporations, cash balance plans are popular with small companies. The report reveals that 94% of the plans are at firms with fewer than 100 employees, and 59% have no more than 10 participants. "The needs of small-business owners to catch up on delayed retirement savings and attract top talent are key factors," the report says.
Those who need to catch up are often professionals who were paying off student loan debt, says Kravitz. "The design allows them to squeeze 20 years-worth of savings into 10 years."
During the pandemic, some cash balance sponsors froze plan accruals, or, as Kravitz says, "put their plans on pause." Many have since unfrozen their plan as their firm's economics have improved, while others are waiting to make sure any recovery they see is long-lasting.
The adoption of new plans stalled during the year-plus of COVID-19, Kravitz says. "It's difficult to assess exactly why. I'm not sure it was all due to the pandemic. I think COVID did cause some firms financial harm, so they didn't adopt a plan, but I also think it had something to do with the SECURE [Setting Every Community Up for Retirement Enhancement] Act provision that extended the time allowed for employers to adopt [and fund] a cash balance plan."
Previously, employers starting a cash balance plan had to fully fund it the year before it became operative. "This caused great concern because employers didn't know how their businesses would fare in the following year," Syed Nishat, a partner at Wall Street Alliance Group, in New York City, previously told PLANSPONSOR. With the Coronavirus Aid, Relief and Economic Security (CARES) Act, "Employers can decide to adopt a cash balance plan, and fund it by their tax filing deadline," Nishat says. "This is better, because they know their business' budget for the current year."
Corporate tax increases seem likely, based on President Joe Biden's stated plans, and "when taxes increase, we see a huge interest in cash balance plans," says Kravitz. "Owners' and professional service firms' motivation for having a plan isn't just to save for retirement but also to reduce their tax liability."
Over the past decade, the PLANSPONSOR Defined Benefit (DB) Administration Survey has watched cash balance plans grow from 16% to 21% of the DB plans serviced by a collection of leading plan administrators. Meanwhile, the number of traditional DB plans serviced by the same providers has hovered around 9,000 plans. The mix of those plans, however, has shifted notably. As of year-end 2020, active/open DB plans accounted for just 42% of DB plans tracked by the survey, down from 63% in 2010, while the number of frozen plans more than doubled to 43% of DB plans.
Still, there is nearly as much work to do when a DB plan is closed or frozen as when it is active, and ignoring the plan could come at great cost. A frozen DB plan still has a fixed set of promises based on when individuals will leave the company and start getting payments for life, so plan sponsors, using the help of providers, need to continue to manage the investments and make the required contributions. Click here to read the full report. PLANSPONSOR, www.plansponsor.com , May 6, 2021.

3. NEW YORK STATE COMMON RIDES REBOUND TO POST 33.55% RETURN FOR FISCAL YEAR:
New York State Common Retirement Fund , Albany, posted an estimated return of 33.55%, net of fees, for the fiscal year ended March 31, according to Thomas P. DiNapoli , the state comptroller and sole trustee of the fund.
"The state pension fund rode the market rebound from the depths of the pandemic and enjoyed the largest one-year investment return in its history," Mr. DiNapoli said in a news release issued Wednesday.
The big gain "comes with a caution," he added. "Markets remain volatile and as unpredictable as ever."
The pension fund's long-term expected rate of return is 6.8%. The latest return and asset results are subject to an audit, which is usually completed in September.
The pension fund's performance was aided in part because its fiscal year started after the January-March 2020 period for which the coronavirus pandemic inflicted the most economic and stock market damage.
That quarter played a prominent role in the pension fund's return of -2.7% for the fiscal year ended March 31, 2020, including a return of -11.6% for the fourth quarter in that fiscal year.
In the pandemic-influenced fiscal year ended March 31, 2020, the pension fund's assets were $194.3 billion. However, estimated assets for the just-completed fiscal year rebounded to $254.8 billion.
For the fiscal year ended March 31, three-year annualized returns were 11%; five-year returns were 11.2%; 10-year returns were 9.2%; and 20-year returns were 10.1%. All returns are net of fees.
Also for the just-completed fiscal year, asset categories with the biggest estimated returns were global equities at 64.6%; domestic equities, 61.4%; and non-U.S. equities, 54.6%.
Asset allocations for the fiscal year were 33.6% domestic equities, 20.8% fixed income, 13.6% non-U.S. equities, 10.6% private equity, 6.7% real estate, 5.6% global equities, 3.3% credit, 2.3% cash, 2% opportunistic/absolute-return strategies and 1.5% real assets. Robert Steyer, Pension & Investments, www.pionline.com , May 26, 2021.

4. CALIFORNIA'S PENSION CRISIS:
In states with healthy, growing economies, government and the private sector are partners, not adversaries. The business community not only pays taxes to fund the core services of government, but private companies often actually perform those services themselves. Smart governments, including many localities in California, have identified certain government services that are best outsourced, saving taxpayer dollars and allowing the government to focus on areas it has unique competency.
In my previous role as California state director for the National Federation of Independent Businesses, I talked to small business owners across the state every day. California has long been known as the worst state for business. Chief Executive Magazine consistently ranks California as the worst state for doing business for a reason. High taxes, excessive regulations, and pro-plaintiffs' courts all contribute to making California a state that many businesses are looking to escape.
A big part of the problem is California's unwillingness to deal with structural issues such as public sector pensions. The California Public Employees Retirement System barely has two-thirds of the money needed to pay benefits to state and local workers. It is a ballooning crisis that lawmakers have failed to solve and the end result is higher taxes that kill jobs and depress wages.
Legislators continue to go to the well of raising taxes on the business to pay for rising pension costs instead of identifying the long-term solutions the state desperately needs.
Absent long-term solutions in Sacramento, there are ways to incrementally solve the pension crisis at the local level. Many communities have long had public/private partnerships that reduce pension obligations at the local level. One of the best examples of such a public/private partnership is the contracts municipalities have with EMS service companies. These successful arrangements ensure fast, reliable ambulance services for communities and do not increase local pension liabilities.
Unfortunately, efforts are underway to undermine these arrangements. Cities like Oxnard and Chula Vista are re-examining public-private partnerships within their own fire departments, seeking to sever agreements with private ambulance companies to provide emergency health services and bring back government-run ambulances.
Private ambulance companies do the job cheaper, faster, and more reliably. Despite what many detractors may say, these companies often use union labor; oddly enough an in-sourcing of these capabilities would be an attack on organized labor. Not something you often see politicians championing in California.
If California is going to overcome its massive pension crisis, it must not make the problem worse. Eliminating successful public/private partnerships and placing even more burdens on the state's cash strapped pension system is only going to make the crisis worse than it already is.
The root cause of this in-sourcing trend, California's unsustainable pension obligations, needs to be met head-on. It is not a small challenge that can be met with budgeting gimmicks and bigger, less efficient local governments. While California and its counties and municipalities grapple with this issue, they shouldn't shoot themselves in the foot by making government services more expensive while harming access to health care.
Public-private partnerships such as the ones that exist for ambulance services provide a good foundation for the long-term solution we need to California's pension crisis. We are not going to solve the pension crisis by making it worse. Ending public/private partnerships will keep California on the road to higher taxes and fewer jobs and that is a road we can no longer afford to be traveling. Tom Scott, https://goldcountrymedia.com , May 27, 2021.

5. SPECIAL REPORT; WILL PENSION RISK TRANSFERS SOMEDAY CONTROL ALL DB PLANS?:
The proposition looks like a no-brainer. Rid yourself of a huge liability on your balance sheet and gain more financial flexibility, allowing you to undertake new business initiatives more easily.
That's the thinking of many private-sector pension programs in recent years: More and more corporate plan sponsors are offloading most or all of their defined benefit (DB) pension obligations to insurers, which then cover beneficiaries via annuities—and there's no end in sight to the trend.
"We wanted to remove it from the risk palette," said Robert Hunkeler, vice president of investments at International Paper, which underwent an aggressive pension transfer campaign in recent years.
Despite this momentum, the pension risk transfer (PRT), as the practice is known, has a long way to go before it could control the US defined benefit universe. Odds are that it will energetically expand its hold on the corporate DB sphere, but it likely won't ever command most of it.
An impressive-sounding $175 billion in pension assets have been shipped to insurers, to buy group annuities for the beneficiaries, according to the Secure Retirement Institute (SRI). Nevertheless, the aggregate amount of those DB assets now is $3.4 trillion in the US, the Investment Company Institute (ICI) calculated. In other words, a mere 5.1% of all DB assets has been trucked over to insurers to annuitize.
What's the PRT appetite among the remainder? Good, although not ravenous. Plans with $1.3 trillion in assets are interested in a transfer, a little more than 40%, an SRI survey found. Whether they'll all follow through remains to be seen. And that leaves a lot of sponsors who won't want to make the journey.
The PRT concept isn't embraced by a majority for several reasons. Some plans are too small to interest insurers. A number of big plans believe that offering a DB pension is good for morale and recruiting. Some think they can run their programs better than an insurer. And provided their funded status is high, they like having a solid chunk of assets on their balance sheets, which, in a PRT, they would have to shift to an insurer, so it could pay beneficiaries.
"Why give away perfectly good capital?" asked Charles Van Vleet, CIO at Textron, which is retaining its $8.5 billion plan, now funded at a robust 96%.
The PRT Express
Regardless of how things end up in the fullness of time, right now the transfers are advancing at a decent clip. Even though PRTs dwindled in the beginning of 2020, amid the paralyzing fear from the pandemic's onset, they roared back in the fourth quarter. They finished last year with $25 billion channeled to insurers, by the count of researchers at LIMRA . Expect more and more transfers, a study from Willis Towers Watson concluded, marking a "steady upward trend."
The PRT movement has accelerated over the past decade. In the aughts, PRTs totaled just $1 billion or $2 billion annually. But the financial crisis shrank DB portfolios and made meeting pension obligations more of a burden. Corporate plans set about de-risking their holdings, adopting liability-driven investing (LDI) principles, mostly minimizing equity exposure. Think of pension risk transfers as the ultimate LDI tactic.
An inflection point came in 2012, with a huge PRT blowout thanks to two monster deals, which captured sponsors' attentions and propelled the transfer trend. General Motors made a $25.1 billion transaction with Prudential Financial for 110,000 salaried employees. (Union workers have their own plan, which is part of labor negotiations and pretty much off-limits to management.)
That same year, Verizon did a $7.5 billion deal for 41,000 employees, also with Prudential. The 2012 PRT total was $36 billion, a level not exceeded since, although the trendline is moving toward it. The biggest US transfer since the GM-Verizon extravaganza: In 2018, MetLife secured a $6 billion pension deal for 41,000 pensioners and other beneficiaries with FedEx .
The number of PRT deals has mounted without cease, aside from the early-2020 hiatus. In 2012, with those two gigantic transactions, there were 231 PRTs, LIMRA stats show. But 2019 had the most individual transfers, 500, for a $27.9 billion total. Last year, 432 transfers took place, with $25 billion shunted to insurance carriers.


Last December, General Electric transferred roughly $1.7 billion in pension obligations to Athene, involving 70,000 retirees. In January, Lockheed Martin announced plans to shed roughly $1.9 billion in liabilities after MetLife assumed payments for some 20,000 retirees and current employees. The previous year, the aerospace and defense giant moved $2.6 billion in pension liabilities, covering 41,000 workers, to Prudential Insurance and Athene.
Over the past six years, 10 more insurers have gotten into PRTs, for a total of 18. With added competition, the insurance companies have undertaken increasingly sophisticated methods, such as introducing reinsurance.
Why Some Sponsors Do It
Plan sponsors that undertake a PRT often characterize the offloading as a wise removal of a liability that can be a drain on company resources--especially if another economic downturn blasts the pension programs' portfolios, in an unwelcome reprise of 2008. That unpleasantness forced many companies to pony up more contributions to their ailing plans to bring them back to health. That's money that could have gone into capital spending and other initiatives to build the business.
While the strong stock market of recent years has buoyed the funded status of corporate plans (reaching a comfortable 98.3% for the top 100 DB programs as of April, per a Milliman survey), continued low interest rates make the road ahead look rockier. Low rates tend to increase the liabilities that plans must meet.
Plus, the argument goes, shrinking the DB pension load removes a distraction. Lockheed's PRT will allow the company to "focus on its core mission and mitigate financial risk associated with market volatility," while ensuring a "seamless transition" for retirees, said Ken Possenriede, the company's executive vice president and chief financial officer (CFO), in a statement after its January deal.
The argument for giving a company more freedom to maneuver is a big selling point for pension transfers. Prudential , the league leader in PRTs, touts its $1.4 billion agreement with Bristol Myers Squibb in 2014 and a second in 2018 for $3.8 billion with helping the pharma company grow. Bristol went on to make canny acquisitions, such as Celgene in 2019 for $74 billion.
As Pru described it: "We believe that by transforming its pension plan in lockstep with transforming its business model, BMS was able to maintain a holistic focus on its growth potential, balance sheet, and value provided to shareholders." The drugmaker didn't respond to a request for comment.
At International Paper , the company followed the usual liability-stemming steps: closing the plan to new hires (2004), offering a lump-sum payout for vested former employees who weren't yet drawing benefits (2016), contributing $2 billion extra capital from corporate coffers to the fund (2016 and 2017), freezing benefit accrual for existing participants (2019).
Then it was on to PRTs. The first was a $1.3 billion transfer to Prudential for 45,000 retirees and beneficiaries holding small benefit accounts of $450 or less monthly (2017), and a second Pru deal for $1.6 billion that affected 23,000, who had less than $1,000 coming monthly (2018).
So now, the company has cut its number of participants by more than half, to 85,000. One big plus: The funded status as of year-end 2020 had reached 95%, up from 78% in 2015. "We had a potential strategic threat to the company" from the unfunded liability, said International Paper's Hunkeler. "Today, we have a manageable risk."
For sponsors, another impetus to transfer occurred in 2012: rapidly increasing premiums that employers must pay to the PBGC , which takes over pension benefits for participants if their employer tanks. That year, Congress hiked the premium to $42 per plan beneficiary, effective in 2013, after three years at $35. The hikes have kept coming at a fast tempo. This year, the rates escalated to $86, from $83 in 2020 and $80 in 2019.
Why Other Sponsors Don't Do It
For a number of well-funded plans, the thought of shipping DB pensions to an insurer is anathema. Take the Southern Company, the nation's second largest gas and electric utility, which covers six states, mainly in the South. Its $16 billion plan is funded and then some, at 110% of liabilities.
Dekia Scott, the corporation's CIO, said the DB plan was key to "remaining competitive for talent, for engineers, for linemen." Besides, she added, a PRT "is expensive."
At the well-funded Textron plan, CIO Van Vleet believes getting rid of assets to service a pension obligation is absurd, especially with earnings of 4% to 5% annually. "Some people underestimate the opportunity cost" of saying farewell to a batch of assets, he said.
He derides the notion that the savings from a transfer makes it all worthwhile. "To save $86, I'm supposed to give away good capital?" he said, referring to the per-person PBGC premium. For every $10,000 in capital, "all I need to do is make around 0.8%" in investment returns to take care of the PBGC tab, he observed.
Not everyone wants to pay the freight of a PRT. For underfunded plans, a transfer can be a costly proposition. A plan sponsor has to weigh the costs and risks of doing the deal today, versus what the plan will face in the future as the company struggles to meet promises to participants.
To do a PRT, the sponsor must dig into its pockets and contribute enough to make the plan 100% funded, plus pony up a "margin," the fee to the insurer on top of the assets it is transferring. This can range as high as 5% of the assets involved, but mostly is in the 2% to 3% range.
What's more, insurers generally aren't interested in small pension plans, with assets below $100 million, said Anthony Parish, CIO at Alphastar Capital Management, a PRT adviser. Reason: running small plans is an inefficient, low-return endeavor for an insurer. "Insurers won't bid on them," he said.
In the end, pension risk transfers may make sense for a large bunch of sponsors. Larry Light, Chief Investment Officer, https://www.ai-cio.com , May 25, 2021.

6. LOOKING AHEAD; HOW THE AMERICAN RESCUE PLAN AFFECTS 2021 TAXES -PART 1:
This is the first of two tax tips providing an overview of how the American Rescue Plan may affect some individual's 2021 taxes.
Child and dependent care credit increased for 2021 only
The new law increases the amount of the credit and the percentage of employment-related expenses for qualifying care considered in calculating the credit, modifies the phase-out of the credit for higher earners, and makes it refundable for eligible taxpayers.
For 2021, eligible taxpayers can claim qualifying employment-related expenses up to:
• $8,000 for one qualifying individual, up from $3,000 in prior years, or
• $16,000 for two or more qualifying individuals, up from $6,000.
The maximum credit in 2021 increased to 50% of the taxpayer's employment-related expenses, which equals $4,000 for one qualifying individual, or $8,000 for two or more qualifying individuals. When figuring the credit, a taxpayer must subtract employer-provided dependent care benefits, such as those provided through a flexible spending account, from total employment-related expenses.
A qualifying individual is a dependent under the age of 13, or a dependent of any age or spouse who is incapable of self-care and who lives with the taxpayer for more than half of the year.
As before, the more a taxpayer earns, the lower the percentage of employment-related expenses that are considered in determining the credit. However, under the new law, more individuals will qualify for the new maximum 50% of employment-related expenses credit percentage rate. That's because the adjusted gross income level at which the credit percentage starts to phase out is raised to $125,000. Above $125,000, the 50% credit percentage goes down as income rises. It is entirely unavailable for any taxpayer with adjusted gross income over $438,000.
The credit is fully refundable for the first time in 2021. This means an eligible taxpayer can receive it, even if they owe no federal income tax. To be eligible for the refundable portion of the credit, a taxpayer, or the taxpayer's spouse if filing a joint return, must reside in the United States for at least half of the year.
Workers can set aside more in a dependent care FSA
For 2021, the maximum amount of tax-free employer-provided dependent care benefits increased to $10,500. This means an employee can set aside $10,500 in a dependent care flexible spending account, instead of the normal $5,000.
Workers can only do this if their employer adopts this change. Employees should contact their employer for details.
Childless EITC expanded for 2021
For 2021 only, more workers without qualifying children can qualify for the earned income tax credit, a fully refundable tax benefit that helps many low- and moderate-income workers and working families. That's because the maximum credit is nearly tripled for these taxpayers and is, for the first time, available to younger workers and now has no age limit cap.
For 2021, EITC is generally available to filers without qualifying children who are at least 19 years old with earned income below $21,430; $27,380 for spouses filing a joint return. The maximum EITC for filers with no qualifying children is $1,502.
Another change for 2021, allows individuals to figure the EITC using their 2019 earned income if it was higher than their 2021 earned income. In some instances, this option will give them a larger credit. COVID Tax Tip 2021-78, IRS, www.irs.gov , June 2, 2021.
7. TAXES AND FINANCE; FORCED TO WITHDRAW FROM RETIREMENT ACCOUNTS?:
We're always being reminded to save for retirement in tax-advantaged accounts like 401(k)s or IRAs. But did you know the government does an about-face and forces us to take money out of those accounts once we reach retirement? It's called the required minimum distribution (RMD) rule. Here are some tips you should know about RMDs well before you reach retirement age.
The one year hiatus is gone. The required minimum distribution rules were suspended in 2020. They are now reactivated for 2021. This will catch many by surprise, so remind any loved ones over the age of 72 to make their distribution calculation!
Penalties are high. Rules require you to withdraw a certain amount of money every year from tax-deferred retirement plans like 401(k)s and traditional IRAs after you reach age 72, whether you want to or not. These withdrawals are then taxed as ordinary income. If you don't follow these rules, the IRS can assess a penalty equal to 50 percent of the amount that should have been withdrawn, on top of the regular tax due.
Start thinking about withdrawals early. One of the biggest mistakes is waiting until age 72 to start thinking about required distributions. Remember, you can start withdrawing funds from retirement accounts without penalty after you reach age 59½. If you start planning a tax-efficient withdrawal strategy before required distribution rules kick in, you can manage what tax rate will be applied to your retirement distributions.
Distribution amounts are based on complex tables. How much you're required to withdraw is based in part on the average life expectancy of someone your age. A calculation based on IRS life expectancy tables, plus your prior year retirement account balance, is used to determine your required withdrawals. The good news is that the financial institution handling your retirement account will usually do the calculation for you.
There are exceptions to distributions if you still work. If you reach age 72 and you're still working for an employer providing you with a 401(k), you usually don't have to take a distribution from that account as long as you don't own 5 percent or more of the company. However, you still must take funds from other plans where you have assets.
Not all accounts require distributions. Not all retirement accounts require you to take a required minimum distribution. Roth IRA accounts, for example, avoid the minimum distribution requirement while giving you some extra flexibility to manage your other taxable withdrawals during retirement.
RMD rules can be confusing, and are a good example of why tax planning is such an important component of a retirement strategy. Please call if you have questions about any tax obligations related to your retirement accounts. James Angell, The Willits News, www.willitsnews.com , May 31, 2021.

8. IDENTITY THEFT PROTECTION FOR TAXPAYERS IN SIX STEPS:
Thieves are actively working to steal the taxpayer information and identities. Everyone should do everything they can to prevent identity theft.
Tax-related identity theft occurs when someone uses a taxpayer's stolen personal information, such as a Social Security number, to file a tax return claiming a false refund.
The IRS and its partners are working hard to prevent these types of crimes, and taxpayers can help by doing their part in stopping identify theft.
Here are some tips to help taxpayers protect themselves against identity theft. Taxpayers should:
Always use security software. This software should have firewall and anti-virus protections.
Use strong, unique passwords. They should also consider using a password manager.
Learn to recognize and avoid phishing emails, threatening calls and texts from thieves. These scammers pose as legitimate organizations such as banks, credit card companies, and even the IRS.
Don't click on links in unsolicited emails or messages from unknown senders. People shouldn't click on links or download attachments from emails that seem suspicious, even if they appear to be from senders they know.
Protect personal information and that of any dependents. For example, people shouldn't routinely carry around their Social Security cards. They should also make sure tax records are secure.
Get an Identity Protection PIN. The Identity Protection PIN is a six-digit code known only to the taxpayer and to the IRS that helps prevent identity thieves from filing fraudulent tax returns using a taxpayer's personally identifiable information.
More information:
Publication 4524, Security Awareness for Taxpayers
Publication 5367, Identity Protection PIN Opt-In Program for Taxpayers
Identity Theft Central
Taxpayer Guide to Identity Theft

IRS Tax Tip 2021-77, www.irs.gov , June 1, 2021.
9. GETTING READY FOR HURRICANE SEASON 2021:
June 1st is the start of hurricane season. For people in hurricane-prone areas, that means the risk of heavy rainfall, high winds, storm surges, flooding, tornados, and rip currents, which can all happen with little warning. Are you ready to leave your house at a moment's notice? We've got tools to help you prepare.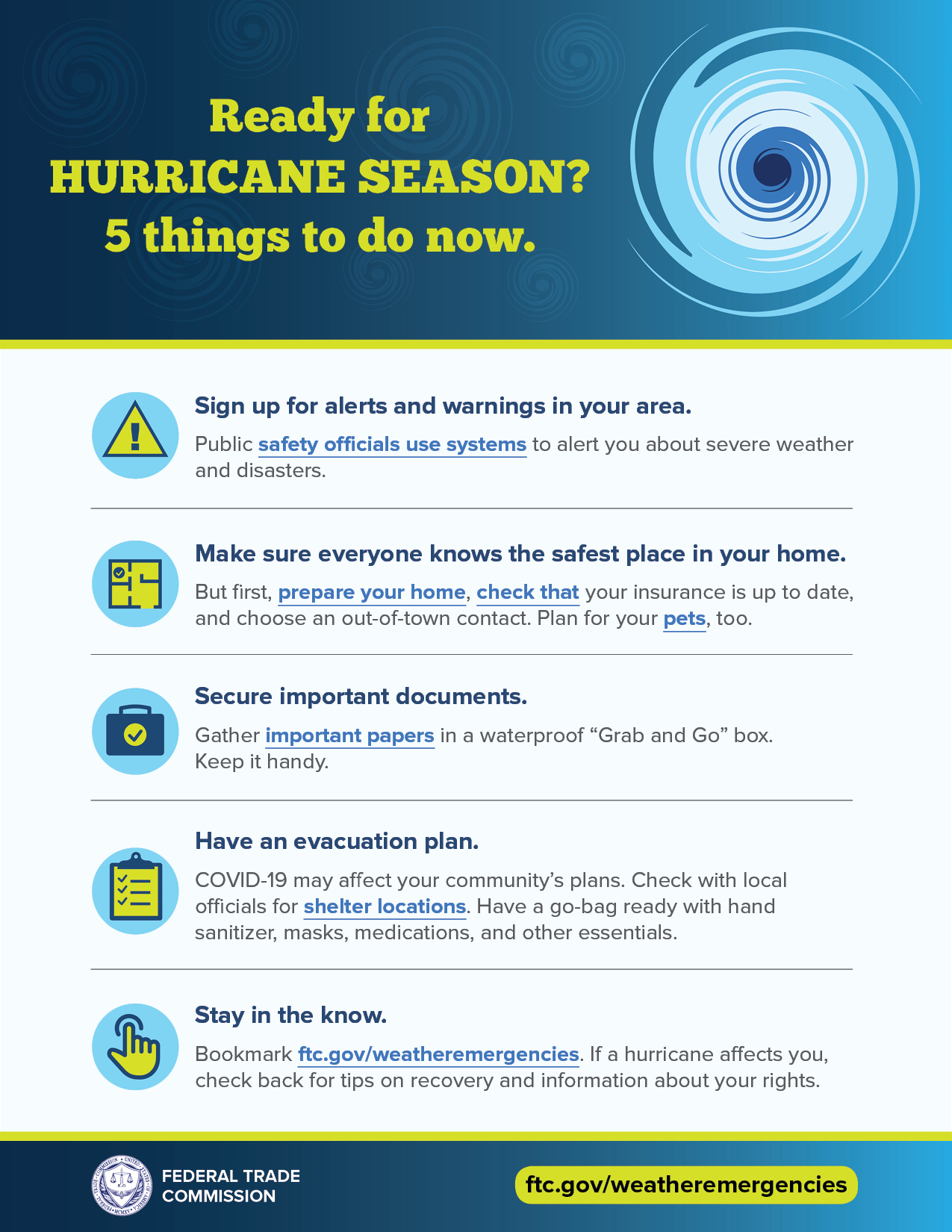 The FTC's site, Dealing with Weather Emergencies , has practical tips to help you get ready for, deal with, and recover from a weather emergency -- including hurricanes and other natural disasters. Like all our materials, the site is mobile-friendly, so you'll have ready access to information when and where you need it.
The page has four sections:
Even people not in a hurricane's path can be affected, though. Are you one of many who generously contributes to disaster relief efforts after a hurricane? Before you give, make sure your charitable donations really count. Recovery efforts are a perfect opportunity for scammers to exploit people's generosity, so stay on the lookout for charity scams .
Want to do your part in keeping your community well-informed and safe? Share this customizable one-page handout, Picking Up the Pieces after a Disaster , which compiles key tips from the FTC's site in both English and Spanish. Just add your local consumer protection and emergency service contacts, print however many copies you need, and distribute them throughout your community.
And here's one more thing. Despite the rise in COVID-19 vaccinations, remember these best practices for keeping you and your family "pandemic-safe" during an extreme weather event.
Spot a scam? Report it to the FTC at Reportfraud.ftc.gov to help us stop fraud in its tracks. Ryan Ebrahimy, Intern, Division of Consumer and Business Education, FTC, www.ftc.gov , June 1, 2021.

10. FOR THOSE WHO LOVE WORDS- PARAPROSDOKIAN:
To steal ideas from one person is plagiarism. To steal from many is research.- Winston Churchill

11. QUOTE OF THE WEEK:
"People often say that motivation doesn't last. Well, neither does bathing; that's why we recommend it daily." - Zig Ziglar

12. TODAY IN HISTORY:
On this day in 1539, Hernando de Soto claims Florida for Spain. Click here to learn more.

13. REMEMBER, YOU CAN NEVER OUTLIVE YOUR DEFINED RETIREMENT BENEFIT.
Items in this Newsletter may be excerpts or summaries of original or secondary source material, and may have been reorganized for clarity and brevity. This Newsletter is general in nature and is not intended to provide specific legal or other advice.