---
PLEASE GIVE US YOUR FEEDBACK!
CLICK HERE TO TAKE A BRIEF SURVEY TO HELP IMPROVE THE CONTENT OF THIS NEWSLETTER.
1. U.S. PUBLIC PENSION PLAN FUNDING RISES TO 74.7% IN FISCAL YEAR 2021:
The estimated aggregate funding ratio of U.S. public pension plans has increased to 74.7% in fiscal year 2021, a report from the Center of Retirement Research at Boston College said.
It is an increase of nearly 2 percentage points from the estimate of 72.8% for fiscal year 2020.
The report utilizes data from the pension plans' most recently released actuarial reports to make plan-by-plan projections.
Despite the estimated improvement, the report notes the aggregate ratio has yet to improve enough to exceed pre-financial crisis numbers. For example, the new estimate still falls below the 75.8% ratio measured for fiscal year 2010.
Most public plan fiscal years end June 30.
The report also asked whether the recent decline in public employment affected public pension plans. As a result of the economic impact of the COVID-19 pandemic , state and local governments eliminated nearly 1.5 million workers between March and August 2020, reducing the overall employment number by 0.5%.
First, the report noted that public pension finances may be negatively affected slightly since pension contributions must be calculated two or three years in advance based on expected payrolls.
"The amortization payment — which currently makes up two-thirds of the average pension contribution for governments — is a fixed-dollar amount required to reduce unfunded liabilities," the report said. "But, for budgeting purposes, the required amortization amount is expressed as a percentage of total expected payrolls because a salary rate is more convenient for billing across various government departments. When the time comes for these departments to pay their annual pension contributions, the amortization rate — which was calculated based on total expected payroll — is applied to employees' actual salaries in the contribution year."The report also notes that the decline in payroll employees resulted in contribution rates that were 2.2 percentage points higher than they would have been if the number of payroll employees had grown as expected. The report is available on the center's website . Rob Kozlowski, Pension & Investments, www.pionline.com , June 11, 2021.

2. PUERTO RICO HAS TOUGHER WORKPLACE VACCINE REQUIREMENTS THAN U.S. STATES:
Puerto Rico leads U.S. states in small businesses requiring proof that their employees are vaccinated against COVID-19 before returning to work, according to the U.S. Census Bureau's newest Phase 5 results of the Small Business Pulse Survey (SBPS).
The survey shows that 19.0% of employers in the U.S. territory required the vaccine compared with a national average of 4.4% based on responses collected May 31 – June 6 and released last week.
The states with the most small-business employers requiring COVID-19 vaccines: California and New York (both 7.7%); New Jersey (6.6%); Maryland (5.7%); and Oregon (5.6%).
The national average has slowly ticked up during the spring of 2021, going from 2.5% at the end of April to the current 4.4%. During the same period, the average in Puerto Rico trended up from 14.8% to the current 19.0%.
Note that there was a gap between the end of Phase 4 and the beginning of Phase 5. The last Phase 4 results were 4/12-4/18/21; the first Phase 5 results were 5/17-5/23/21.
The states with the most small-business employers requiring COVID-19 vaccines: California and New York (both 7.7%); New Jersey (6.6%); Maryland (5.7%); and Oregon (5.6%).
States with the fewest employers requiring the vaccine: Georgia (2.5%); Ohio (2.8%); Florida (2.9%); Texas (3.1%); and Michigan (3.7%).
Requirements varied across business sectors, too. Health Care had the highest percentage (6.6%) of employer-mandated COVID vaccines, followed by the Accommodation and Food Services (6.4%) and Education (also 6.4%) sectors.
Sectors with lowest rates of required vaccines: Administrative, Support, Waste Management, and Remediation Services (2.1%); Real Estate, Rental, and Leasing (2.6%); Transportation and Warehousing (2.7%); Manufacturing (2.9%); and Construction (3.1%).
The newest phase of the Small Business Pulse Survey, known as 5.0, began May 17 and initial results were released May 27. We plan to continue to release data every Thursday through July 22.
The SBPS measures the effect of the coronavirus pandemic on our nation's small businesses, complementing existing Census Bureau data collections by providing high-frequency, detailed information on the challenges small businesses are facing.
The survey includes information about small business operations and finances, requests and receipt of assistance, COVID-19 vaccinations and testing and measures of overall well-being and expectations for recovery.
Weekly data downloads and visualizations are available at the national, sector, state and metropolitan statistical area (MSA) level for the largest 50 MSAs and Puerto Rico. Subsector and state-by-sector data are also available for download . Jane Callen, Census Bureau, www.census.gov , June 15, 2021.
3. RETIREMENT PLAN CLIENTS SHOULD ANTICIPATE DOL CYBERSECURITY INQUIRIES:
Attorneys have confirmed that the Department of Labor (DOL) has begun an audit initiative focused on retirement plan cybersecurity practices.
In a blog post , the attorneys say the DOL has issued information and document requests to plan sponsors, "and the requests are probing and indicate serious inquiry by the DOL."
The agency issued cybersecurity guidance for the first time in April. The guidance included three parts:
tips for hiring a service provider with strong cybersecurity practices;
cybersecurity program best practices; and
online security tips for participants.
Although there's not much new information in the DOL guidance from what had already been suggested by experts, according to Andrew Elbon, a partner with law firm Bradley, plan fiduciaries should ensure they are putting the DOL's guidance in practice .
The Morgan Lewis attorneys say the DOL audit requests are coming at a fast pace and request a broad amount of information and documentation. The requests that the attorneys have reviewed ask for all cybersecurity and information security program policies, procedures and guidelines that relate to the plan, whether applied by the plan sponsor or by a provider, as well as detailed documentation of specific actions taken by the plan's fiduciaries and providers, including many that the DOL addressed in its guidance.
"Plan fiduciaries that fail to act promptly on this guidance risk being surprised by the comprehensive nature of the cybersecurity audit requests being issued by the DOL," the attorneys warn. Rebecca Moore, planadviser, www.planadviser.com , June 15, 2021.

4. RUSH OF LITIGATION AGAINST RETIREMENT PLANS EXPECTED TO CONTINUE:
There have been approximately 200 "cookie-cutter" Employee Retirement Income Security Act (ERISA) class action lawsuits filed against retirement plans since 2015, including more than 90 cases filed in 2020 alone, says Jon Chambers, managing director at SageView Advisory Group, in a recent white paper , citing numbers from an industry insurer.
This includes an increase in lawsuits against smaller plans--i.e., those with less than $100 million in assets and fewer than 1,000 participants.
With more "cookie-cutter" cases being filed, especially when the qualified default investment alternative (QDIA) is a "big ticket" target-date fund (TDF), Chambers writes, there is no sign of these suits slowing down.
All this has largely been due to what Chambers calls "the Schlichter Blitzkrieg," referring to the barrage of lawsuits the Schlichter Bogard & Denton law firm filed against 401(k) plans and university 403(b) plans beginning in 2006. Several years later, in mid-2015, numerous other plaintiffs' law firms began filing "copycat" style lawsuits against 401(k) plan fiduciaries and recordkeepers, generally following Schlichter's "proof of concept" excessive fee claims, he writes.
"Over the past 15 years, ERISA fiduciary litigation in defined contribution [DC] plans has grown from a rare event … to a seemingly everyday occurrence," Chambers writes.
'Insurability Risk'
Amid the rush of litigation, fiduciary liability insurance underwriter Euclid Specialty says claims are so commonplace that fiduciary liability insurance could disappear.
"We have reached an inflection point in the war against [DC] plans because the risk has become virtually uninsurable," Chambers says in his white paper, quoting a Euclid report. Thus, insurers to plan sponsors and plan fiduciaries are now beginning to talk about "insurability risk," according to Euclid.
"Insurance companies have paid well over $1 billion in settlements, but this economic model cannot continue," Euclid says.
For now, insurers are starting to hedge their exposure by considering reducing coverage and increasing retention, according to Euclid.
To protect themselves against ERISA litigation, which is "clearly significant for fiduciaries"--particularly when it comes to excessive fee cases--Chambers says, "thankfully, there are many strategies that plan sponsors can employ to mitigate ERISA litigation risk."
Strong Governance Procedures
The wall of defense should start with "risk-mitigation strategies based on governance procedures ," Chambers says.
"Appoint a committee to oversee the plan's fiduciary responsibilities," he continues. "Define the duties of the committee in writing (via a committee charter ) and have the committee review the duties and charter periodically. Have the committee develop, adopt and periodically review an investment policy statement (IPS), possibly with the assistance of an independent investment adviser. Hold periodic meetings (e.g., quarterly), distribute agendas and materials in advance, and prepare minutes that memorialize actions and decisions taken at meetings."
Chambers goes on to say that it is also important to "consider involving qualified legal counsel in committee meetings/plan review process[es]" and to "ensure fiduciaries are properly appointed and appropriately trained ."
It is also smart for retirement plan committees to review fiduciary liability insurance coverage , ensure limits and deductibles are appropriate, and review communications from plan vendors to participants, he says.
Law firm Hanson Bridgett says plan sponsors can often avoid participant complaints through regular, clear communication. It adds that plan sponsors must be sure to "follow up on any participant complaints ."
Of course, sponsors must also have set procedures for monitoring service providers. Best practices, it says, include reviewing performance, including adherence to contractual performance standards; reviewing fees for reasonableness; and negotiating fees where appropriate.
All of this must be accompanied by a formal annual review process, and thorough plan document and operational compliance, the firm notes.
Plan sponsors should also be on the lookout for claims and appeals issues, as well as service provider issues, Hanson Bridgett says. Data security and fraud prevention are becoming more and more critical, for example.
Along the lines of data security, plan sponsors also need to have strict governance rules for committee meetings that are held remotely and should look for updates from the DOL on general fiduciary issues, the firm advises.
Legislative and Regulatory Priorities
Hanson Bridgett goes on to say that plan sponsors should also stay abreast of any legislative and regulatory changes. Priorities for this year include the possible passage of the so-called "SECURE Act 2.0 ," and a potential new fiduciary rule from the Department of Labor (DOL), it notes. Both actions would have a big effect on the retirement plan industry and could also affect plan sponsors.
Environmental, social and governance (ESG) investing has also been a topic of hot discussion and changing guidance. Retirement plan experts say sponsors should continue to look for the latest guidance from the DOL if they are interested in using such investments.
Finally, the DOL is likely to issue continuing guidance on including private equity in employer-sponsored DC plans, the law firm says. Lee Barney, PLANSPONSOR, www.plansponsor.com , June 11, 2021.

5. BUILDING--AND USING--EMERGENCY SAVINGS HELPS TO CREATE LIFETIME FINANCIAL SECURITY:
Emergency savings provide a way for households to meet unexpected expenses without having to take money from retirement accounts, thus helping to preserve those assets for the future. Two recent studies show that having--and using--these emergency accounts also make households financially stronger, and thus able to save more for retirement. This may be why a new survey by the Aspen Institute found that both the private sector and policy professionals believe that retirement plans should also include an emergency savings feature.
Intuitively, emergency and retirement savings are connected. People in serious financial distress are much more likely to either stop saving for retirement or never start in the first place, particularly if they do not have emergency savings to weather challenges. In the United States, the problem is compounded by the fact that participants typically can withdraw savings from a retirement account at any age. Tax penalties and often tax withholding usually reduce the amount the saver receives, but these seldom discourage withdrawals. Thus, a US household's financial emergency not only affects the ability to save, it often reduces existing retirement savings.
In a recent AARP paper , academics Jorge Sabat of the Universidad Diego Portales and Emily Gallagher of the University of Colorado, Boulder, used the US Census Bureau's Survey of Income and Program Participation to follow over 21,000 low- to-moderate income households over four years ending in 2016. An earlier paper by the same authors found that liquid savings of at least $2,452, roughly one month's income, can meaningfully buffer low- to moderate-income households against short-term financial hardship. This is a much more modest savings target than the rule of thumb of three to six months of income. The paper found that savings also help to reduce the chance that households with higher incomes suffer financial hardship, but less dramatically since they are more likely to have access to credit or other resources.
In this study, Sabat and Gallagher found that low- and moderate-income households that had liquid savings of roughly $2,500 at any point during the study period between 2013 and 2016 were significantly less likely to experience financial hardship up to three years later. Controlling for other financial and demographic factors, achieving this savings buffer is associated with a 9.5 percentage point decrease in the likelihood that a household will experience hardship up to three years later. Further, low- and moderate-income high-hardship households that achieved the savings goal at any point in time during the study period had nearly twice the likelihood of improving their financial well-being status to low hardship compared with households that did not achieve the savings goal.
Savings are meant to be used, not just sit in an account. While many researchers and others focus on the total amount saved, "savings totals alone are not a useful indicator of measuring savings success," according to the Aspen Institute's Financial Security Program . Instead, the continuing process of building and then using savings is far more important. In short, the value of having a savings balance available goes beyond the ability to cover an emergency expense. The ongoing process of building, using, and then replenishing savings helps protect families from immediate problems while staying on track for their long-term goals.
The implications of this research for the financial industry are as important as they are for individual savers. Retirement plan providers that sponsor payroll deduction emergency savings accounts, either directly or through a partner, make it much more likely that their savers will feel financially secure enough to save more for retirement and to continue to save during periods of hardship. Employers also benefit, because workers who have emergency savings are more productive when they aren't distracted by financial worries .
However, how the accounts are structured matters. A separate emergency account is more likely to be preserved for that purpose than just adding more to an existing savings account. Money in an emergency account is less likely to be spent on a vacation or something similar. It is possible to add an emergency account onto a retirement platform, but creating a separate and distinct emergency account may be easier and more useful for the saver.
In addition, regulatory obstacles need to be cleared before emergency accounts can reach their full potential. Just as automatic enrollment has been essential to increasing participation in retirement accounts, it is also essential for emergency savings. A 2018 national survey by AARP showed that about 70 percent of US employees said they would likely participate in an emergency savings program. But experiences with emergency savings programs today show that only a small percentage of eligible workers actually sign up. Regulators are expected to allow a trial of automatic enrollment emergency savings programs later this year.
Emergency savings accounts are more than just a good idea. They can help protect households against financial hardship today and enable greater retirement security in the future. David C. John, Pension Research Council, https://pensionresearchcouncil.wharton.upenn.edu , June 7, 2021.

6. NORTH DAKOTA RETIREMENT EXECUTIVE DIRECTOR RESIGNS:
David J. Hunter, executive director and chief investment officer of the North Dakota Retirement & Investment Office, Bismarck, has resigned effective June 22.
His future plans were not disclosed in a news release Tuesday. Jan Murtha, deputy executive director, will serve as interim executive director upon Mr. Hunter's departure and Darren Schulz, deputy CIO, will serve as interim CIO until a replacement is found.
The North Dakota State Investment Board plans to issue an RFP for an executive search firm to assist the board in the search for a replacement, Ms. Murtha said in an email. She said the board hopes to issue it before July 1 and post it on the state's procurement website .
The office oversees the investment management of the assets of the state's $8.2 billion Legacy Trust Fund, $6.4 billion Pension Assets Pool and $3.1 billion insurance trust. Mr. Hunter could not be immediately reached for further information. Rob Kozlowski, Pension & Investments, www.pionline.com , June 16, 2021.

7. HELLO, SUMMER. GOODBYE, SCAMMERS:
Summer is right around the corner. With things reopening, kids getting out of school, and days lasting longer, this summer promises, we hope, some much-needed relaxation, adventure, and a chance to reconnect with family and friends.
Today, we're kicking off our summer safety series to share some thoughts on ways to make your summer season as enjoyable and safe as possible. Unfortunately, scammers love summer, too, and they're not taking any time off. So we want you to pack your sunscreen, but leave the SPFs (scams, phonies, and frauds) behind.
Throughout the week, we'll share ideas for taking scam-free vacations by learning to avoid the latest travel and rental car scams, timeshare and customer review scams, and family emergency scams. And if you've spotted a scam this summer, we hope you'll share it with your family and friends so they can protect themselves, too. We know that people who know about scams are more likely to be able to avoid them.
As you think about what your summer holds, here are some things to keep in mind.
Never pay for "prize" vacations. No legitimate company will ask you to pay for a prize.
Use a credit card, if possible, for your travel spending. This gives you more protection than paying by cash or debit card — and it may be easier to dispute unauthorized charges .
Subscribe to Consumer Alerts to keep up to date on the latest scams. Then pass them on.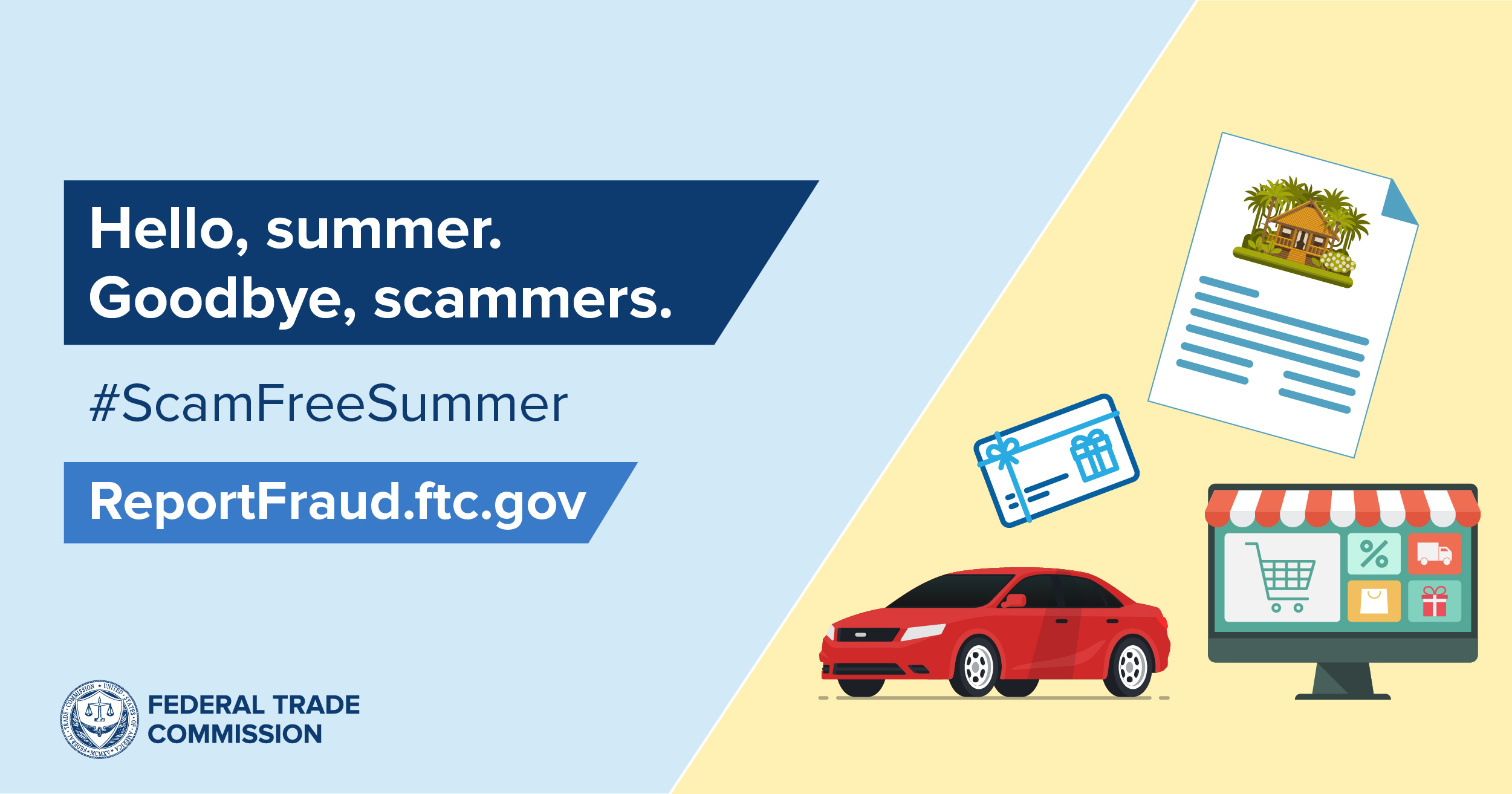 Sharing what you know will help protect someone you care about from a scam -- so they can have a scam-free summer, too! Report any scams you've seen at ReportFraud.ftc.gov . Jim Kreidler, Consumer Education Specialist, FTC, www.ftc.gov , June 14, 2021.

8. FOR THOSE WHO LOVE WORDS - COMMONLY CONFUSED:
'Systematic' or 'Systemic'? Methodically explaining a pervasive question. Click here to learn.
9. QUOTE OF THE WEEK:
"Your talent determines what you can do. Your motivation determines how much you're willing to do. Your attitude determines how well you do it." -Lou Holtz

10. TODAY IN HISTORY:
On this day in1885, the Statue of Liberty arrives in NYC aboard French ship `Isere'. Click here to learn more.

11. REMEMBER, YOU CAN NEVER OUTLIVE YOUR DEFINED RETIREMENT BENEFIT.
Items in this Newsletter may be excerpts or summaries of original or secondary source material, and may have been reorganized for clarity and brevity. This Newsletter is general in nature and is not intended to provide specific legal or other advice.