---
PLEASE GIVE US YOUR FEEDBACK!
CLICK HERE TO TAKE A BRIEF SURVEY TO HELP IMPROVE THE CONTENT OF THIS NEWSLETTER.
1. PENSION FUNDS SHOULD REPORT PERFORMANCE ON A MONTHLY BASIS, MARKOV SAYS:
All public pension plans in the US should start reporting their returns on a monthly basis to improve transparency at their funds, say researchers at Markov Processes International (MPI).
Moving to monthly data reporting happens to be something the New Jersey-based investment researcher could help with. The company has built its business using returns-based techniques to evaluate whether financial disclosures at funds match up with their asset allocations.
"It's a perfect due diligence--quick and precise due diligence--tool," said Michael Markov, co-founder and chairman of MPI. "It doesn't require a connection to a custodian."
The analysis helps the firm measure what assets portfolios are exposed to, what risks a fund has taken, and whether the level of risk is appropriate for the fund. It could also help disclose some hidden fees and expenses, Markov said, that can help people "understand all the decisions" that go into investments.
"With the proper analysis, it gives a lot of transparency and then transparency can be understood in different ways," Markov said.
MPI, which was founded in 1992, is known for its returns-based analysis, which is based on the investment research methodology designed by American economist and Nobel Memorial Prize winner Bill Sharpe.
MPI used that same analysis on Norges, the $1.3 trillion Norwegian sovereign wealth fund, to review how well its asset allocation linked up with its monthly public disclosures. After breaking down the fund's allocation by asset class, then region, then factors, MPI discovered that the composition of the fund lined up with the fund's financial disclosures.
Norges moved more toward equities, and away from bonds, over the course of more than two decades, MPI found. Within equities, the sovereign wealth fund also tilted more to European and developed markets over time. Those findings also line up with disclosures the fund has made to its stakeholders, helping it build a reputation for transparency, MPI said.
The same monthly returns analysis can help provide insight into public pension funds in the US that are less transparent, the researchers said. It's a concern for a number of pension funds that have recently been swept up in transparency scandals in states such as Pennsylvania and California.
But skeptics disagree with the investment researchers. Some allocators argue that reporting returns on a monthly basis--as opposed to a quarterly or annual timeline--could encourage a short-term outlook on investments, when institutional investors operate over a longer time horizon. Many assets managed at public pension funds may underperform in the near term, but outperform as time wears on, they say.
For public pension funds that do need to improve transparency, critics say it's far more important that allocators learn how to communicate their investment processes to their board trustees.
Understanding trustees' risk tolerance, walking board members through the ins and outs of opaque investments, and setting expectations for performance are all more fundamentally needed to encourage transparency at pension funds than is more frequent reporting, allocators say. Sarah Min, Chief Investment Officer, www.ai-cio.com, July 12, 2021.

2. PARTICIPANTS NEED GUIDANCE ON ADDRESSING RETIREMENT RISKS:
Americans are more worried than ever about a variety of retirement risks, including concerns about health care costs (71% in 2021 vs. 65% in 2020), the rising cost of living (67% vs. 59% in 2020), the impact of a market downturn on retirement savings (66% vs. 54% in 2020) and running out of money before they die (59% vs. 56% in 2020), according to the "2021 Retirement Risk Readiness Study" from Allianz Life Insurance Co. of North America.
And a report from Bank of America Merrill's chief investment office, "Tackling Retirement Risks," notes that these are the key risks that retirees face. The paper suggests ways to address these potential issues and offers lessons about steps plan sponsors and advisers can take to help retirement plan participants plan for them.
The Bank of America Merrill report says the choice of when to claim Social Security is among the most important financial decisions individuals will make. Its chief investment office research shows that waiting to claim Social Security can potentially boost the expected lifetime benefits for an individual by as much as $55,000 to $70,000. However, the report notes that claiming strategies depend on each individual or couple's circumstances. For example, those who have very short life expectancies (due to poor health or other reasons) should consider claiming benefits at 62, the earliest possible age.
Studies have shown most Americans have a great misunderstanding of Social Security rules and benefits, so plan sponsors and advisers can help by educating participants.
The Allianz survey found respondents have a preference for protection products. When asked whether they would rather have financial products that have the potential for big gains, but also the potential for big losses, or products that protect from big losses, but come with smaller gains, nearly seven in 10 (68%) respondents said they would prefer the protection product.
Meanwhile, the Bank of America Merrill report suggests allocating assets to a lifetime income annuity is another way to address key retirement risks.
"A key question to consider in preparing for retirement is whether your guaranteed lifetime income from Social Security, pension and any additional annuities will cover your essential living expenses. If not, you may want to consider buying a lifetime income annuity to help close the gap. Suppose, for example, you will be receiving annual pension and Social Security income of $40,000 but will need $50,000 to cover essential expenses. You can purchase an annuity that will pay, in monthly installments, $10,000 per year for the rest of your life," the Merrill report says. The firm adds that "annuities are the only financial instruments available today that, like Social Security and pensions, can offer a lifetime income regardless of how long a person lives."
Provisions of the Setting Every Community Up for Retirement Enhancement (SECURE) Act relieved some of the concerns plan sponsors had about offering annuities in their retirement plans. And as more plan sponsors show interest in offering annuities to participants, advisers can help them with implementation decisions.
If guaranteed sources of income cover essential expenses, participants then might consider following a systematic withdrawal program (SWP) to generate additional income, Bank of America Merrill suggests. A SWP regularly draws down a percentage of a portfolio's assets to provide income and then rebalances the remaining assets to a target allocation.
The report notes that the same withdrawal rate will not be best for all ages and circumstances. For example, for a 65-year-old retiree, the sustainable spending rate is 4.38%. But a 75-year-old can safely spend at a 5.73% rate, and a 55-year-old--who might have many more years to live--should spend at a more modest 3.72% rate. In addition, men, because they have shorter life expectancies, can safely spend a bit more than women of the same age. Couples who are trying to plan over the lifetimes of both spouses should spend a bit less than singles. Retirement plan participants need help planning for this.
And, the portfolio participants will withdraw their income from in retirement needs to include some equity exposure, the report adds.
Finally, Bank of America Merrill says individuals need to plan ahead for long-term care needs. Its report says approximately 70% of individuals older than 65 will need some form of long-term care in their lifetimes, whether at home, at an assisted living facility or in a nursing home.
Plan sponsors might consider offering long-term care insurance as part of their voluntary benefits offerings. The retirement risks report says options for funding long-term care include self-funding and traditional long-term care insurance. In addition, recent innovations include hybrid life insurance with long-term care benefit riders and permanent life insurance with long-term care benefit riders.
Throughout its report, Bank of America Merrill Lynch suggests that advisers can help individuals with decisions to mitigate retirement risks. For their part, plan sponsors can offer participants access to financial advisers.
However, Allianz's "2021 Retirement Risk Readiness Study" found that, among respondents who currently work with a financial professional, approximately two-thirds indicated they are not currently discussing their retirement risk concerns but would welcome that conversation. Plan sponsors can encourage participants to bring their concerns up with financial advisers, and financial advisers can include questions about participant worries in their planning meetings.
"It's no secret that Americans are uncomfortable discussing financial topics, but it's troubling that this reluctance extends to conversations with their own financial professionals," says Kelly LaVigne, vice president of consumer insights, Allianz Life. "If they don't feel comfortable addressing these concerns with the very people who are there to help plan for the future, it's unlikely they'll take any action to address the various risks that could jeopardize their retirement, and that needs to change." Rebecca Moore, PLANSPONSOR, www.plansponsor.com, July 8, 2021.

3. PUBLIC SECTOR PENSIONS ARE PRIME BENEFICIARY OF FEDERAL COVID RELIEF GRANTS:
The coronavirus left unprecedented damage in its wake. Massive unemployment, education interrupted for hundreds of thousands of students, and a safety net pushed beyond its limit -- not to mention more than 8,000 lives lost -- sparked countless appeals for government assistance to rebuild a struggling state.
Yet an analysis by the CT Mirror shows that more than six out of every 10 federal relief dollars built into the new state budget that began July 1 effectively will wind up in public-sector pension accounts.
And while Gov. Ned Lamont and others insist the new state budget -- and the billions Congress sent to Connecticut via the American Rescue Plan Act -- will be used to heal the state's wounds, others question whether the administration's priorities are askew. Pension debt deserves to be addressed after being ignored for decades, they say, but that shouldn't come at the expense of the state's response to a once-in-a-century health and economic crisis.
"What goes into that budget reflects your true intention," said Sen. John Fonfara, D-Hartford, who fought unsuccessfully for the legislature to impose major income tax hikes on the wealthy to fund a more aggressive response to COVID. "It's not about the policy of what we've done, it's about the policy of what we haven't done."
Analysts project the newly adopted $46.4 billion, two-year state budget will close in July 2023 with $2.3 billion left over -- an amount that exceeds the $1.8 billion in federal coronavirus relief built into the budget. Because the state's rainy day fund already is filled to the legal maximum, those dollars must go into either the pension fund for state employees or the retirement system for teachers.
And that's in addition to the nearly $6 billion in required pension deposits Connecticut already plans to make as part of the two-year budget. That's a supplemental payment of more than 35%.
"For more than a generation as a state we have been tolerating the intolerable -- an economy working only for the privileged few, plagued by systemic racism, hobbled by inequality," a coalition of state employee unions said in a statement last week. "The ARP funds are an opportunity to turn our state around and build a better future for all working families, black, brown and white. They should not be used for any other purpose."
Fonfara said the new state budget failed to do enough for poor urban communities where minority families suffer from decades of unequal access to education, health care, affordable housing and economic opportunity -- problems all compounded by the pandemic.
Lamont, who blocked Fonfara's proposed tax hikes, objected strongly to the senator's reference to the 2020 murder of George Floyd by Minneapolis police, and insisted the new state spending plan will meet many needs.The Hartford lawmaker called the budget "a knee on the neck of the Black community" when the plan was debated June 9 on the Senate floor.
"I think this is an incredibly important, transformative budget," he said at the time. "I think it makes a big difference in people's lives, especially the lives of people hardest hit by the pandemic, especially in the lives of Black and brown people, the likes of which hasn't been done for 30 years."
Melissa McCaw, Lamont's budget director, said Connecticut must be careful not to over-extend itself. State finances were on a fiscal rollercoaster for much of the 1990s and 2000s as lawmakers dramatically increased spending when tax receipts from Wall Street were robust, only to slash programs and raise taxes when the markets plunged.
Despite these concerns about priorities, the new state spending plan and other federal pandemic relief spent outside that plan will support major new investments in several areas.
Communities will get about $240 million extra in general government grants and another $140 million in Education Cost Sharing payments to local school districts.
Nursing homes averted a major caregivers' strike this spring thanks to the new budget. Facilities get a temporary, 10% increase in Medicaid rates starting in July and running through March. That's in addition to the ongoing 4.5% and 6.2% increases also scheduled for this fiscal year and next, respectively.
About $280 million extra over two years will go to the private, nonprofit agencies that deliver the bulk of state-sponsored social services in Connecticut.
The state will deposit $150 million into the unemployment trust, which will have amassed close to $1 billion in debt -- almost entirely due to the pandemic -- by the calendar year's end. Businesses are assessed to cover that debt, so the state's payment effectively amounts to tax relief.
There will be new subsidies for child care services. Tourism promotion is enhanced.
All totaled the new budget increases spending $1.5 billion over the biennium. But these aren't the only resources that will available to help Connecticut recover from the coronavirus pandemic.
The American Rescue Plan Act ordered about $6 billion in aid for governmental entities here, including:
$3.2 billion went directly to state government;
$1.6 billion directly sent to cities and towns;
$1 billion for local school districts;
And several smaller pots of money for capital projects and regional entities.
Lamont and the legislature built almost $1.8 billion of ARPA funds directly into the new state budget, and have begun plans to spend the rest on other needs created by the pandemic.
And when it comes to the huge $2.3 billion surplus projected for the new two-year budget, it would not have been easy, legally or politically, to use those dollars for anything other than pension debt.
Most of that potential fiscal cushion involves state income tax receipts tied largely to capital gains and other investment earnings. Since 2017, the state has tied its own hands, restricting its ability to spend these wildly fluctuating revenues, unless 60% of the House and Senate agree.
This "volatility cap" system is the main reason Connecticut has amassed more than a $3.1 billion rainy day fund -- hitting the legal maximum of 15% of annual General Fund expenditures. It's also why about $1.2 billion left over from the 2020-21 fiscal year, which ended last week, also will head into the pensions.

Connecticut has some of the worst-funded retirement benefit programs in the nation, having failed to save properly for these benefits for more than 70 years. And Fonfara spearheaded the effort to create this savings mechanism.
Still, he and others say before the state makes billions of dollars in supplemental pension payments, it needs to be certain its response to all communities battered by the pandemic is sufficient.
Rep. Anne Hughes, D-Easton, said Connecticut families are reeling from a "catastrophic work stoppage," referring to the 292,000 jobs the Department of Labor says Connecticut lost in March and April of 2020. The state still hasn't regained about 107,000 of those jobs.
"It's absolutely unconscionable the whole way we worked through this budget process," added Hughes, who co-chairs the House Progressive Democratic Caucus. "We're putting the pension funds before the workforce crisis and that is not OK."
Liberal Democrats, labor and other groups argued this past spring for much more spending in health and child care, social services, job training and municipal aid -- particularly in Connecticut's poor urban centers where the coronavirus hit hardest.
Republicans also pushed hard for more relief for struggling businesses and the unemployed. And while Congress technically prohibited rescue grants from being used for tax cuts, there were other options to provide more economic relief that Connecticut didn't pursue.
Still, both the Democratic majorities in the House and Senate, as well as Republicans in both chambers, supported the new budget in large numbers.
And while leaders from both parties acknowledged investing in pensions isn't the best way to revive Connecticut's economy or assist families in pain, it wasn't a bad investment.
The Rev. Rodney Wade, pastor of the Long Hill Bible Church in Waterbury, urges greater state investments in poor cities during an early June rally outside of the Capitol
"We are at a point where we have options" to substantially improve the pension funds, said Sen. Cathy Osten, D-Sprague, co-chairwoman of the Appropriations Committee. "We have not had options in a long time."
Connecticut entered the fiscal year with nearly $41 billion in long-term pension debt, a crippling problem amassed over more than 80 years and projected to remain a thorn in the state's budget into the late 2040s or early 2050s.
Putting an extra $1.2 billion into the pensions now and potentially another $2.3 billion in two years from now won't whittle the overall debt down that much. But the annual payments on the pension, which already consume an abnormally large share of the budget, could drop by as much as $200 million by the mid-2020s, Osten said, freeing up resources for other priorities.
Still, the Sprague lawmaker also conceded Democrats wish they could have done more with the new state budget.
Matthew Barrett, president and CEO of the state's largest nursing home coalition, said "a tremendous public good was accomplished" with the investments in nursing homes.
But Barrett, who heads the Connecticut Association of Health Care Facilities, added that budget was "a bridge to the other side of the pandemic," and not a solution to the longstanding occupancy and Medicaid funding issues that are costing the industry here $135 million per year.
That crisis still must be addressed in the coming years to ensure proper elderly care continues in Connecticut, he said.
Gian-Carl Casa, president of the CT Community Nonprofit Alliance, said his group similarly is grateful for the increased aid the budget provides. But it falls far short of the additional $460 million needed annually from the state to reverse nearly two decades of stagnant government funding to social services.
Many progressive Democratic legislators and their allies in labor and faith communities pushed hard this year for state tax hikes on wealthy households and large corporations as a way to ensure that more aggressive new investments could be made, first with federal money and then with enhanced state tax collections once the American Rescue Plan dollars expire.
But Republicans and fiscally moderate and conservative Democrats, led by Lamont, fought hard to block these and other major tax hikes in the new state budget. The governor said this was key to helping Connecticut's economy get off the ground.
House Minority Leader Vincent J. Candelora, R-North Branford, said Connecticut missed a chance to do more.
Candelora, who voted for the budget, said the state could have deposited far more than $150 million into the unemployment trust -- thereby sparing businesses enormous increased assessments in the coming years.
Connecticut lost a staggering 292,000 jobs during March and April 2020, and has regained 185,000 since, said Department of Labor economist Patrick Flaherty, who projects it will take until mid-2022 or slightly longer to get them all back.
But even if that happens -- which other economists doubt -- Connecticut still would be 20,000 to 30,000 jobs shy of employment levels from mid-2007, just before The Great Recession.
The Connecticut Business and Industry Association argued frequently that sparing businesses from the Herculean task of rebuilding the unemployment insurance trust is the best way to spur new job growth.
Republicans also were disappointed, Candelora said, that the new budget canceled more than $250 million in previously approved tax cuts that otherwise would have taken effect in the next year. One involved canceling a surcharge on the corporation tax. Another involved restoring the ability of low- and middle-income houses without children to claim a $200 property tax credit within the state income tax.
But Republicans had their hands full, Candelora said, battling to kill the state tax increases proposed in the new budget. And paying down Connecticut's massive pension debt is better than launching new programs the state may be unable to afford when federal dollars expire two years from now.A third opportunity to provide business relief, this time for restaurants, also was scaled back dramatically. The legislature's Finance Committee had recommended letting restaurants keep $50 million in state tax receipts it collected over the next year -- a one-time bailout for one of the industries most heavily battered by the pandemic. The final plan built into the budget limited the relief to $7 million. "Which poison are we going to choose?" Candelora asked.
McCaw, the state's budget chief, agrees.
"The volatility cap was established based on the premise that those revenues are unpredictable and can easily disrupt budget forecasts," she said. "If we are serious about continuing Connecticut's recent successes and making ourselves more attractive to new residents and businesses, we need to maintain our commitments to address the problems that have haunted us for decades and impeded our growth."
But Fred V. Carstensen, director of the University of Connecticut's economic think-tank, said putting the COVID relief dollars in the pension fund is a mistake. Carstensen, who heads the Connecticut Center for Economic Analysis, warned in May the state might need a decade to regain all lost jobs and fully recover from the pandemic if it put any of the federal relief dollars "under the mattress."
The UConn economist urged legislators to compromise, investing both in tax incentives as well as key services like education , job training and health care -- even if it meant raising state taxes two years down the road. Carstensen boiled his recommendation down to a simple analogy:With a full commitment to recovery, the state could regain all of its jobs by the mid-2020s, the center projected.
"Do I borrow money to pay for my daughter's education, and permit her to become an engineer and make $160,000 a year?" he said. "Or do I say you're brilliant but you're going to work at McDonald's because I ain't borrowing the money?" Keith M. Phaneuf, Connecticut Mirror, ctmirror.org, July 7, 2021.

4. WITH A LUMP SUM, NJ MAKES RECORD PENSION PAYMENT:
Buoyed by a recent windfall of tax revenue, Gov. Phil Murphy's administration announced last week that it has already contributed $5.8 billion to New Jersey's public-worker pension fund for the new fiscal year that began on July 1.
The hefty pension payment was made in a lump sum last week, instead of in separate installments at the close of each quarter of the fiscal year, which the state has generally done since 2017.
The lump-sum payment set a record as New Jersey's largest-ever annual pension contribution, and it is expected to add millions of dollars to the state's bottom line if professionally managed pension investments match their assumed returns over the next 12 months.
It also marks the first time since the 2007 fiscal year that such a pension payment was made at the start of a fiscal year instead of later, according to the Department of the Treasury.
Further $1B contribution expected
Another estimated $1.1 billion in revenue from the New Jersey Lottery is also expected to flow into the $90 billion pension fund throughout the remainder of the 2022 fiscal year, thanks to another law that went into effect in 2017.
Taken together, the total pension contributions made during the 2022 fiscal year are projected to hit nearly $7 billion, easily surpassing what would be considered by the state's actuaries to be a "full" annual pension payment, according to Treasury department records.
Those contributions will also make Murphy, a first-term Democrat up for reelection in November, the first governor to make a full payment since Christie Whitman in 1996.
"After years of kicking the pension can down the road, a practice which has cost the state billions and billions of dollars, today we are officially turning the corner," Treasurer Elizabeth Maher Muoio said in a statement issued last week.
New Jersey's many years of skipped pension payments or only partial contributions helped make the state pension system one of the nation's worst-funded state retirement plans by the time Murphy took office in early 2018.
Since then, Murphy followed a pension-funding ramp-up plan established by his predecessor, Chris Christie, a Republican who made numerous efforts to shore up the pension system during his two terms in Trenton.
Ahead of schedule
Earlier this year, Murphy put forward a state budget plan that called for making a "full" $6.4 billion pension payment, counting Lottery contributions, during the 2022 fiscal year, one year ahead of schedule under the existing ramp-up plan.
But in a $46.4 billion spending bill lawmakers sent to Murphy in late June, another $505 million was added to the total pension contribution. That addition, according to lawmakers, was intended to help the state prepare for a lowering of the pension fund's annual assumed rate of return for its long-term investments that is due to take effect about a year from now.
The current rate is 7.3%, but it will drop to 7%, a rate that is considered more realistic for the long-term investments, starting next July 1.
However, by assuming less revenue will be generated by pension-fund investments over the long term, a bigger share of the pension-funding burden will shift to taxpayers via the state budget because employee contribution rates are already fixed in law.
Senate President Steve Sweeney (D-Gloucester) backed the $505 million increase and he said lawmakers also recommended making the lump-sum payment at the start of the fiscal year.
Recent projections by the Senate Majority Office suggest the upfront payment -- bolstered by the extra $505 million tacked on by lawmakers -- will generate nearly $300 million in additional net revenue over the next year under the current assumed rate of return compared to what the quarterly payments would have earned.
"Every New Jersey resident stands to benefit from this action for decades to come, and I am proud beyond words of this accomplishment," Sweeney said.
Projected savings
Moreover, the Murphy administration projects savings of over $2.2 billion will be generated over the next 30 years due to all the recent changes made to the state's pension-funding policies.
"This budget is the first in a generation -- 25 years -- to make our full payment into the pension funds of our public workforce," Murphy said in his statement.
Assembly Speaker Craig Coughlin (D-Middlesex) also weighed in, calling the lump-sum payment "another significant step in the right direction."
"Fueling the promise of retirement security, this payment builds upon our pledge towards restoring the health of our public pension systems and ensuring full benefits to pensioners for years to come," Coughlin said.


Prior to establishing the quarterly pension-payment schedule, the state often waited until the very end of the fiscal year to deposit money into the pension fund. That practice made it easy for governors and lawmakers to raid the funding set aside for the pension payment whenever tax collections fell short of projections and drained the state's budget reserves.
But this year, instead of facing a shortfall, Treasury projected a more than $5 billion revenue windfall would develop through the end of the 2022 fiscal year.
Those unexpected revenues were added to the nearly $4 billion that the Murphy administration borrowed without voter approval last year after it projected the coronavirus pandemic would trigger huge revenue losses that ultimately never materialized, helping the state generate a massive $10 billion surplus heading into the 2022 fiscal year. John Reitmeyer, https://www.njspotlight.com, July 8, 2021.

5. MAINE LOCAL GOVERNMENTS DON'T HAVE SET PLANS FOR RELIEF FUNDS:
Maine's local governments are set to receive more than half a billion dollars of pandemic-related federal relief funds, but most have yet to develop any major plans for investing the unprecedented windfall.
County and municipal governments in the state are entitled to almost $502 million from the American Rescue Plan Act, a coronavirus relief bill passed by Democrats and signed by President Biden in March.

Funding is intended to support urgent responses to the pandemic, replace lost government revenue, provide local economic relief and be invested in water, sewer and broadband infrastructure. The funding was broken into two tranches, with the first delivered two months after the legislation was passed, and the second to be distributed a year later. Governments have until 2026 to spend the funding on eligible expenses.

But the vast majority of Maine towns and cities have yet to receive funding, and others are considering where to make investments and whether to partner with one another and other entities to stretch the money further.

"I think a lot of communities are still trying to get a handle around the issue and how best to invest that revenue," said Kate Dufour, director of state and federal relations for the Maine Municipal Association.

Typically, federal money flows into communities through competitive grants or as pass-throughs from the state, Dufour added. Direct payments of this magnitude are unheard of and could be used to make long-term investments instead of subsidizing regular municipal budgets, she said.

"Here is an opportunity to think a little broader about investing in broadband or affordable housing," Dufour said. "We have this revenue available, and it is not taking away from other local priorities."

Maine's 16 counties and six "entitlement" cities that manage federal grants were allocated the first tranche of funding this month. But almost 500 towns and cities set to receive $119 million as a pass-through from state government may have to wait until August to receive the money.

The state was supposed to distribute funds 30 days after receiving them from the federal government, but it applied for a one-month extension to wait for final U.S. Treasury program rules and create an online application portal.

Funding ranges from more than $2 million each for Sanford, Scarborough, Brunswick and Saco, to just over $300 for Glenwood Plantation, an Aroostook County hamlet that had just three residents in the 2010 census.

"We are attempting to keep the process for disbursement and accounting as streamlined and as simple as possible for municipalities, which is why we are creating and launching a portal for this purpose," said Kelsey Goldsmith, communications director for the Department of Administrative and Financial Services. "It is our goal to distribute these funds quickly and expect Maine communities to have them in hand in short order."

Even cities and counties that received funding directly are not rushing to spend it. Local governments have some flexibility to spend the money, but it cannot be used for any purpose they wish.

The money is eligible to pay for public health measures, vaccinations, personal protective equipment and things such as hazard bonuses for public and private front-line workers, grants to businesses, affordable housing, child care and other priorities.

But local governments can't use the money to pay down debt, cover pension obligations or finance rainy day funds. It also cannot be used to reduce taxes or as matching funds for federal grants. And generally, local governments can't use the funds to subsidize their budgets or pay for new roads, vehicles or equipment, unless they are covering a budget shortfall.

However, if cities use the money to replace lost revenue, it can be used to cover standard municipal expenses. South Portland has already committed about $2.4 million of its initial $5.3 million tranche, according to a city budget memo.

South Portland allocated nearly $1.4 million to cover lost revenue, covering capital improvement projects, part of a new fire engine and an asphalt roller. Another $738,700 was spent on public health and economic impacts, including mental health services, a new social services position and a health study. Premium pay for essential city workers was funded with $525,000, and another $350,000 went to broadband internet infrastructure.

That leaves the city with about $8 million over the life of the program.

"We are going to come up with a process over the next several weeks or so to ensure we get good input from the public and direction from the city council so that the funds are used in the most meaningful way possible," said City Manager Scott Morelli.

Portland, set to receive about $46 million, the biggest amount for any municipality, envisions a public engagement process to collect ideas from the city council, administration and citizens, City Manager Jon Jennings said at a finance committee meeting last week.

"I think it is really important to have not only a council workshop, but a mechanism for us to hear from the public in terms of what priorities may be for the community that we might not be thinking about or recognizing," Jennings said.

That could include collaboration between Portland and nearby communities, agencies and governments, including Cumberland County, about how to use funds collectively to the greatest extent, said Portland City Councilor Tae Chong.

"This is a generational investment — this should not be about backfilling programs we are doing now," Chong said. "It should be about what kind of construction or programs we can build that gives us benefits beyond just year three and four, when the money runs out."

Maine counties received some of the largest rescue act disbursements, from about $3.2 million for Piscataquis County to more than $57 million for Cumberland County.

But unlike other parts of the country, especially the South and West, Maine counties have minor administrative functions outside of sheriff's offices, jails and courts.

"It is a unique situation in Maine and a lot of New England," said Travis Kennedy, Cumberland County's director of public affairs.

Moving forward, the county wants to assemble coalitions with towns, other parties and the state to put the money to the greatest regional use, Kennedy added.

"Our hope is that we may be able to find some ways to leverage each other's resources to have bigger bang for our buck and prevent duplication of efforts," he said. "The last thing we want to do is compete to solve the same problems when we could address them regionally." Peter McGuire, Portland Press Herald, GOVERNING, www.governing.com, July 7, 2021.

6. DIVERSITY IMPACT ON THE RETIREMENT INCOME GAP:
The impact of the Covid-19 pandemic, both in terms of loss of lives and economic hardship, has been disproportionality devastating for people of color. The racial wealth and retirement savings gap, which had been steadily widening well before the pandemic, has only been worsened. According to the Bureau of Labor Statistics, 66% of the ethnic minority population is on track to be poorer than their parents. This will have a profound impact both politically and economically. It will take the collective efforts of the private sector and a policy response from the government to help narrow the gap.
Pay inequality and lack of diversity in the workforce, lower participation rates in retirement programs among underrepresented minorities, lack of savings or emergency funds, lower rate of home ownership, access to credit and over-burdened student loans are some of the key factors contributing to the widening of the wealth and retirement savings gap. How employers design their rewards and benefits programs to address these factors can play a significant role in addressing racial wealth inequality and should be a central part of an organization's broader diversity, equity and inclusion (DEI) strategy.
According to National Institute of Retirement Security, the average retirement savings balance among households of color is one-fourth that of white households. While most employers offer retirement programs to their employees, the participation rate among underrepresented minorities remains very low. One way to increase participation is to rethink and redesign employer match contributions.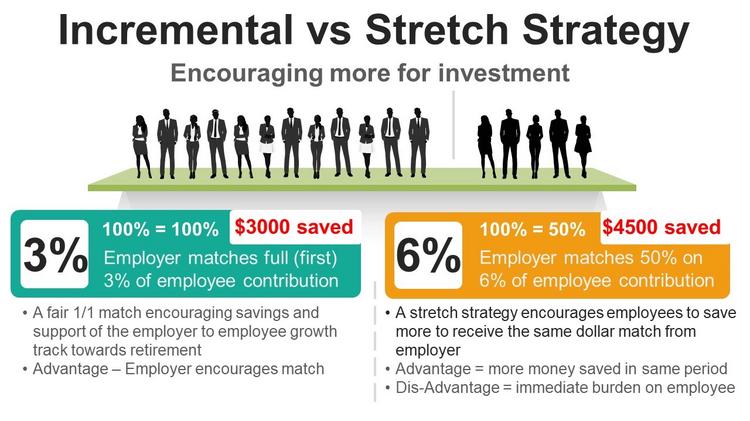 Consider stretching the employer match in your employer sponsored 401(k) or similar retirement plan to increase and encourage savings behavior. Take an employee earning $50,000 with an employer match of 100% for the first 3% of their contribution. The employees' contribution would be $1,500 and the employer match would be $1,500 for a total contribution of $3,000. However, if you stretch the match to 50% on the first 6% of employee contributions, the employer match contribution is unchanged at $1,500 but the employee is now encouraged to contribute $3,000 to receive the full employer match for a total contribution of $4,500. Stretch match may have unintended consequences for lower income employees who may struggle to increase their contribution – a thoughtful strategy, consideration and planning is highly recommended before making any changes.
Employer sponsored retirement plans, while an important part of retirement savings for many Americans, are not the only way households save and build wealth and they are certainly not the only area where racial disparity exists. A recent research project Mercer performed in collaboration with students from the University of Washington Masters in Business Analytics program revealed disparities in home ownership among underrepresented minorities.
Based on data from the Federal Reserve's Survey of Consumer Finances, covering years 1989-2019, 89% of white survey respondents between the ages of 56 and 76 owned a home. This dropped to 60% for Black respondents in the same age-range and 65% for Hispanic respondents. There was also a racial wealth gap in the home equity reported by survey respondents. White homeowners had a median home equity of $319k, while Black and Hispanic respondents had a median home equity of $82k and $157k, respectively. Other types of savings/asset holdings, including individual securities and mutual funds, showed a similar pattern.
An employer looking to design a holistic rewards and benefits program should think beyond their employer sponsored retirement plan in order to meet the diverse financial needs of their workforce. Here are some of the possible actions an employer should consider.
Education and access to external vehicles for building wealth: This could be coaching on effective debt management or partnering with a regional bank to provide access to cheap credit and basic banking services. According to a study by McKinsey & Company, 47% of Black households were found to be underbanked or unbanked versus 20% of white households in 2017.
Short term and long term savings needs of your employees: Employee Benefit Research Institute's 2021 Retirement Confidence Survey found that at all income levels, white Americans had a higher level of savings and investments than Black or Hispanic Americans. Among employees earning less than $35,000 annually, 58% of Black Americans had less than $1,000 in savings, compared to 38% of white Americans and 47% of Hispanic Americans. Employees who do not have emergency savings available may need to stop contributions to their 401(k) or withdraw from longer-term savings accounts in order to cover immediate cash needs. This has a detrimental impact on building wealth and retirement readiness.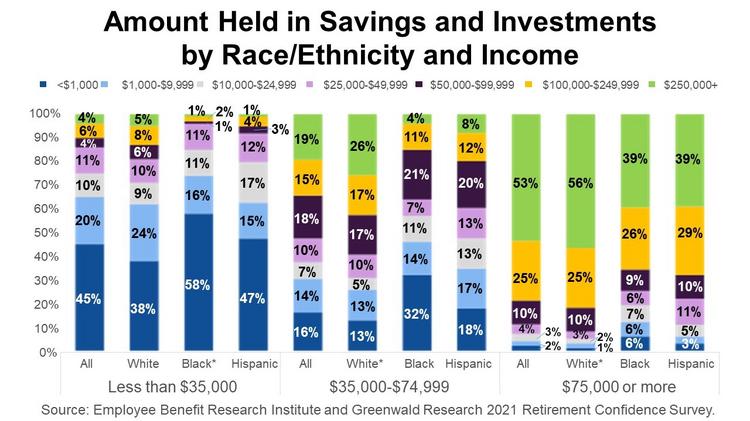 Student loan assistance programs: The burden of paying student loans weighs heavily on many employees, affecting their productivity, morale and overall well-being. Our colleague Victoria Archer, a talent strategy and DEI consultant on our Los Angeles Career team has found that this burden disproportionately affects underrepresented minorities, particularly Black employees. Many employers are increasingly looking to implement student loan assistance programs. Employer sponsored student loan assistance programs signal internally and externally that employers want to ensure equity for their workforce. This in turn helps attract and retain a more diverse workforce from underrepresented backgrounds.
These actions, in addition to closing the pay gap, increasing diversity in the workforce, and being thoughtful and deliberate about your retirement plan features, will collectively help narrow the wealth and retirement savings gap experienced by your employees of color and support your overall organization's DEI strategy. Mustafa Faizani, Meenu Natarajan and Nicole Bond, Mercer, July 7, 2021.

7. LIVING TO AGE 130; NEW STUDY PROJECTS IT COULD HAPPEN:
How long can a human live? New research predicts there's a chance that someone in the world will celebrate a 130th birthday in this century.
There's been a steady rise in the number of people living beyond 100 years in recent decades, with up to nearly half a million worldwide, researchers noted.
The world's oldest known person was Jeanne Calment of France, who was 122 when she died in 1997. Currently, the world's oldest person is 118-year-old Kane Tanaka of Japan.
Some experts believe that disease and basic cell deterioration limit human life span, but others believe there is no ceiling.
University of Washington researchers used statistical modeling to determine potential maximum life spans this century.
"People are fascinated by the extremes of humanity, whether it's going to the moon, how fast someone can run in the Olympics, or even how long someone can live," said study author Michael Pearce, a doctoral student in statistics.
"With this work, we quantify how likely we believe it is that some individual will reach various extreme ages this century," he said in a university news release.
Pearce and his colleagues concluded that by 2100, it's nearly 100% likely that the current known record of 122 years will be broken. There's a 99% probability that someone will live to 124, a 68% chance of someone making it to 127, and a 13% likelihood that a person will reach 130.
It's extremely unlikely that a person will live to 135 this century, according to the study published June 30 in the journal Demographic Research.
While there are increasing numbers of long-lived people, the authors noted that the death rate flattens after a certain age, which means that a 110-year-old and a 114-year-old have about the same chances of living another year.
"It doesn't matter how old they are, once they reach 110, they still die at the same rate," said study co-author Adrian Raftery, a professor of sociology and of statistics.
"They've gotten past all the various things life throws at you, such as disease. They die for reasons that are somewhat independent of what affects younger people," he explained in the release. "This is a very select group of very robust people." Robert Preidt, University of Washington, News Release - July 1, 2021, www.usnews.com, July 6, 2021.

8. SHOPPING ONLINE? KNOW YOUR RETAILER AND YOUR RIGHTS:
COVID opened the door for scammers to double down on their worst practices, while preying on consumers during an unprecedented global pandemic. That includes some bad actors who have been taking advantage of online shoppers in search of hard-to-find items like face masks and other personal protective equipment (PPE).
Today, the Federal Trade Commission filed a complaint against one of those bad actors. The Commission alleged that Frank Romero (doing business as Trend Deploy) failed to deliver advertised PPE on time -- if at all. What's more, Romero didn't tell customers about shipping delays, offer order cancellations, or give refunds. And even worse, although consumers thought Romero was selling them N95 masks, in reality Romero sent them cloth masks that did not have the protective qualities he promised. This case is part of the FTC's continuing effort to address "online shopping" fraud that seeks to exploit high demand for PPE and other COVID-related products.
When you shop online, sellers are supposed to ship your order within the time stated in their ads, or within 30 days if the ads don't give a time. If a seller can't ship within the promised time, it has to give you a revised shipping date, with the chance to either cancel your order for a full refund or accept the new shipping date.
So before you shop online, especially from an unfamiliar retailer, remember these three things:
1. Check out the company or product. Search online for the name plus terms like "review," "complaint," or "scam." See what other people say about it. Read the seller's description of the product carefully. If the seller has name-brand goods at steeply discounted prices, they might be fakes.
2. Look at the terms of the sale. Make note of the total price, including taxes, shipping, and handling; the expected delivery date; and policies for refunds, including who pays for return shipping and if there is a restocking fee.
3. Pay by credit card. You'll get protections under federal law, so you don't have to pay for things you ordered but didn098e9a549f37e&id=9ea04362eb&e=aeed8d1085" target="_blank">www.ftc.gov, June 30, 2021.

9. FOR THOSE WHO LOVE WORDS- MIXED UP MEANINGS:
"Doughnut" vs. "Donut": Should You Glaze Over The Difference? Click here to learn more.

10. QUOTE OF THE WEEK:
"Never give up on a dream just because of the time it will take to accomplish it. The time will pass anyway." -Earl Nightingale

11. TODAY IN HISTORY:
On this day in 1959, the US steel strike of 1959 begins, leading to significant importation of foreign steel for the first time in United States history.

12. REMEMBER, YOU CAN NEVER OUTLIVE YOUR DEFINED RETIREMENT BENEFIT.
Items in this Newsletter may be excerpts or summaries of original or secondary source material, and may have been reorganized for clarity and brevity. This Newsletter is general in nature and is not intended to provide specific legal or other advice.