Stephen H. Cypen, Esq., Editor
1. FREE WEBINAR - PROCRASTINATION, RETIREMENT SAVINGS AND ANNUITIES:
You are invited to attend the inaugural IPRA webinar on October 21, 2020, hosted by the International Pension Research Association (IPRA). Following are the details, as well as how to register for free.
When: Wednesday, 21 October 2020
Time: 12:00 - 13:00 UTC (8:00-9:00 AM ET)
Topic: Procrastination, Retirement Savings, and Annuities
Speaker: Professor Jeffrey Brown (Dean of the Gies College of Business, Josef and Margot Lakonishok Professor of Business, Professor of Finance, University of Illinois at Urbana-Champaign).
Jeffrey Brown has served as the Dean of Gies College of Business since 2015. A professor in the department of Finance at the University of Illinois at Urbana-Champaign, Jeffrey Brown holds a PhD in economics from MIT, a master's of public policy from Harvard, and a bachelor's in economics and political science from Miami (OH) University. He joined the Illinois faculty in 2002 after three years as an assistant professor of public policy at Harvard. From 2001-2002, he served as senior economist at the White House Council of Economic Advisers. His research focuses on the interaction of public and private insurance markets.

Click here to register online. International Pension Research Association, https://iprassn.org, October 9, 2020.

2. MOST NYC FIREFIGHTERS RETIRED WITH $100,000-PLUS ANNUAL PENSIONS LAST YEAR:
More than three-quarters of FDNY employees who retired last year qualified for annual pensions exceeding $100,000 -- with many awarded extra because of disabilities related to 9/11, a new study and data reveal.

Forty of the 491 retirees landed gold-plated pensions of more than $200,000 a year, according to the study by the Empire Center for Public Policy. The largest pension went to retired Assistant Chief James C. Hodgens, who once headed the Fire Academy and was eligible to collect $282,476 a year. He qualified for a disability pension, which enables uniformed officers to retire with pension payouts of at least 75 percent of their final salary instead of usual 50 percent.

Such disability pensions made up 60 percent of all of the department's retirement costs last year, according to a Post review of the FDNY's annual pension report. An FDNY spokesman said many responders are still retiring with disability pensions because of medical ailments linked to the Sept. 11, 2001, attacks two decades ago.

The department's disability pensions amounted to $880 million of its $1.4 billion in retirement costs last year, including line-of-duty death benefits to survivors.
Of the nearly 500 people who retired from the FDNY in 2019, there were 381 with at least 20 years of service. More than 325 of them were eligible for pensions greater than $100,000 a year.

Ken Girardin, the Empire Center's director of strategic initiatives, said his group undertook the study because "city taxpayers should know they're on the hook for these pensions.'' The Post has previously reported on critics warning that the FDNY pension system is underfunded -- as firefighters who retired on medical disability pensions were caught participating in events such as triathlons.

Last year's rate of $100,000-plus pensions is comparable to fiscal year 2018, when 471 FDNY officers and firefighters retired -- with 74 percent qualifying for at least $100,000 annual pensions. Of those, 37 eligible qualified for pensions of more than $200,000. FDNY spokesman Frank Dwyer said the high rate of disability pensions is still largely impacted by retirees who responded to the 9/11 attacks.

"Though 19 years have passed, that day continues to impact the health and careers of FDNY members,'' he said. The data became available after Empire Center won a 2015 court decision affirming the public's right to view recipient names and amounts of FDNY pensions. A similar case seeking New York City police pension data is ongoing in state court. Carl Campanile, New York Post, https://nypost.com/, October 11, 2020.

3. CALPERS GETS TOUGHER ON COMPANIES OVER COMPENSATION:
When it comes to executive compensation issues at the corporations in CalPERS' portfolio, pension fund officials have made corporate board member actions personal.
In 2020, the $410 billion California Public Employees' Retirement System, Sacramento, for the first time voted against compensation committee members when voting against executive compensation plans, said Simiso Nzima, investment director and head of corporate governance, in an interview.
In the 2020 proxy season, CalPERS voted against 2,716 board members on the annual meeting ballot due to their roles as compensation committee members in failing to properly align executive pay and performance.
If CalPERS officials are unhappy with a company's compensation plan, they are now holding corporate directors accountable for failing to institute a plan in which executive pay and performance are aligned, Mr. Nzima said.
Out of 2,256 say-on-pay votes cast as of June 30, CalPERS voted against the executive compensation plan 52% of the time, down slightly from 53% during the 2019 proxy season. CalPERS voted against compensation committee members at every company it voted against executive pay. It did not vote against members who had been on the compensation committee for a year or less, he added.
"I don't think others of our size are voting against members of compensation committees," he said.
Since say-on-pay votes are advisory, voting against compensation committee members is a way to hold company executives accountable for their actions.
"We don't want to say that we don't like what you are doing, but will vote for you anyway," he said.
Typically, say-on-pay shareholder proposals are supported by an overwhelming majority of shareholders. Executive compensation proposals received 90% average support in the 2020 proxy season, about the same as last year, according to analysis from Willis Towers Watson PLC released in September. The majority of shareholders voted against 3% of say-on-pay proposals in 2020, also flat with the year-earlier proxy season.
The Willis Towers Watson analysis was based on information from 2,003 Russell 3000 companies from Jan. 1 to July 17.
Proxy advisory firm Institutional Shareholder Services Inc., Rockville, Md., recommended negative votes on say-on-pay proposals 11% of the time in 2020, down from 13%. ISS recommended shareholders vote against compensation committee members at only 14% of the companies at which the most shareholders voted against say-on-pay proposals, Willis Towers Watson analysis revealed.
This is the second year CalPERS has used a new five-year quantitative pay-for-performance model as part of the framework it uses to review executive compensation proposals, Mr. Nzima said. CalPERS officials compare the pay of the company's CEO with the pay of his or her peers. For example, if a CEO's compensation is in the 50th percentile but the company's performance is in the 25th percentile, then the CEO is being overpaid relative to peers, he explained.
CalPERS officials also consider the CEO's compensation compared to rank-and-file workers, Mr. Nzima said. The problem is that how companies pay contract workers is not standardized. Every company uses a different business model for employee pay relative to its peers, he said.
Also new this year, CalPERS not only voted against committee members when it voted against say-on-pay plans, pension plan officials followed up with requests to discuss their votes with company executives.
The response rate was low, 30% as of the end of August, most likely due to the pandemic, Mr. Nzima said. He added that the rate is likely to rise as some companies wait to respond to meeting requests in September, October and November.
Executive compensation issues are not the only ones leading to a CalPERS vote against board or committee members. On the issue of making corporate board's more diverse, CalPERS voted against 164 directors at companies where meetings or other contact with executives about the lack of diversity on its board failed to produce constructive outcomes. By comparison, CalPERS voted against 314 directors in 2019 and 468 directors in 2018.
The decline is a sign of progress, Mr. Nzima said. Some 67% of the 733 companies CalPERS officials met, spoke or otherwise engaged with since July 2017 have added a diverse director to their boards.
In the past, CalPERS tended to vote against board directors on an ad hoc basis such as when company executives exhibited poor oversight resulting in a controversy, he said.
Now CalPERS is voting against board members on thematic issues such as climate change.
"This is relatively new for us," Mr. Nzima said.
CalPERS is leading engagements at 22 companies, including six Japanese firms on the issue of climate change. However, CalPERS votes against corporate directors on climate change issues only on an ad hoc basis, Mr. Nzima said.
"We may vote against directors on other thematic issues as well," he added. In March, the team will report to the board on its new ideas for 2021.
CalPERS officials have been holding 15 to 20 meetings with company executives on corporate governance issues each week since the middle of June.
CalPERS' willingness to vote against board members has gotten the attention of company executives. Almost half of those engagement meetings that CalPERS held through mid-September on executive compensation included at least one board member in attendance, Mr. Nzima said. This is a huge difference. In general, a board member will attend a proxy meeting, regardless of the issue, only 5% of the time, he said.
"This is true for most investors," that board members attend shareholder engagement meetings only on rare occasions, Mr. Nzima said. Institutional investors generally end up meeting mostly with corporate counsel or investor relations executives, he said "When you talk to a board member ... you have a conversation where you are actually solving the problem," Mr. Nzima said. "At the end of the day, for us, this is about investment returns."
As large as it is, CalPERS on its own does not own that much of a single company, he explained. CalPERS' largest public holdings are Microsoft Corp. and Apple Inc, which each accounted for 1% of the pension fund's total assets as of June 30.
"If more investors really hold people accountable, we will see change," Mr. Nzima said. "We need directors, we need boards working for us. We are using our capital the right way so we can have the investment returns." Arleen Jacobius, Pensions & Investments, www.pionline.com, October 12, 2020.
4. NEW JERSEY'S PENSION PLAN COSTS TOO MUCH:
This legislative session, our state senators will have the opportunity to vote on Senate Bill 861, which provides a solution to the pension fiasco that many never thought would be resolved.
New Jersey's public retirement fund is facing a crisis of unprecedented proportions, and it's plunging our state into dire financial straits. To put into perspective just how bad the situation has become, according to Truth in Accounting's "Financial State of the States 2020" report, we came in dead last.
Grim as things are, it's not too late to reverse course. But doing so will require us to act soon to reform our public pension system. Last year, the pension system added almost $10 billion to the state's ever-increasing debt load. Yet, even with additional funds, the amount of unfunded liabilities continues to grow.
As of July 2019, the fund contained just $102 billion, enough to cover only 58.6% of its $174 billion in liabilities. With 80,000 active and retired public workers expecting benefits, our state will have to come up with another $72 billion to meet its obligations.
Meanwhile, as the debt load increases, the program earns less on investment returns, threatening future sustainability. Between July 2019 and March 2020, returns fell 13%.
New Jersey's public retirement system is in such bad shape, it joins Kentucky and Illinois in having the worst-funded systems in the country.
Under the recently passed budget, the legislature allocated over $4 billion as a pension payment, more than 10% of New Jersey's general budget. While this is the largest single contribution the state has ever made toward pensions, it is still only 80% of what the state's actual payment should be to properly fund the failing pension system.
Some residents may not realize that we are still paying back the billions of dollars our state borrowed in the 1990s to keep our program alive. A quarter-century later, this bit of buy now, pay later is still costing New Jersey taxpayers almost $500 million a year.
Something must be done to get us out of this mess. State Senate President Stephen Sweeney along with Senators Steven Oroho, and Declan O'Scanlon have offered up a solution.
S861 would protect the benefits of longtime government employees and current retirees, while making our system run more efficiently in the future by creating a hybrid defined benefit/defined contribution plan.
By bringing elements of defined contribution plans – where employees pay a fixed amount into a retirement account, much like 401(k) plans that are so common in the private sector – to new or newer employees, we can protect the retirements of employees who have vested so much into the system, ensure a more solvent retirement for future employees, and take one major step toward fixing our debt crisis.
Those public workers who contributed to the funds before reforms are implemented would still receive their pensions as promised. The changes made would apply only to newer employees with less than five years in the pension system and all new hires.
The bill would also avoid raising taxes on hardworking families while allowing us to make the reforms necessary to address the pension issue and balance the budget.
It could also end the cycle of borrowing of billions of dollars to feed the system as a short-term solution. We must protect future taxpayers from the same kind of burdens legislators in the 1990s imposed on today's taxpayers.
Getting our fiscal house in order will help us tackle this crisis and pave the way to begin dealing with our other fiscal issues as well. The pension fund is, after all, not the only financial problem New Jersey is facing.
After years of wishful thinking, a workable legislative solution is now under consideration. Lawmakers should work together to quickly enact it. Star Ledger, www.nj.com, October 11, 2020.

5. STATES THAT DON'T TAX PENSIONS AND SOCIAL SECURITY:
Is your state among the 14 states that don't tax pensions and social security? Read on to find out, or you can simply skip to the top 5 states that don't tax pensions and social security.
There was a time when most companies offered retirement plans to employees, allowing them to live a high quality life even after retirement. That is no longer the case in corporate America, as companies lose their soul in order to make every last possible buck they can. Most jobs no longer offer pension, so if you are receiving a pension after retirement, you should automatically count yourself among the lucky few.
In fact, only 17% of the workforce in the private industry was offered retirement plans. There are still some major companies that offer retirement plans as an incentive to their workers, but they are few and far between, including Coca Cola (NYSE:KO), General Mills (NYSE:GIS) and NextEra Energy (NYSE:NEE) to name a few. By the way, if you are invested in one of these companies you should send an email to your company's IR contacts and ask them why they are still practicing excessive salary practices.
So let's say you're lucky enough to work in the government or the private sector and you've had a long, fulfilling career and now you've retired to sit down, relax and enjoy your pension and social security to get you through retirement. Since pensions are generally nowhere near the ordinary wages one earns while working, you would think these would be exempt for tax. Unfortunately, both pensions and social security payments are taxed in most states, as they are deemed ordinary income. Even if some states don't tax these payments, that generally depends on your age as well as the income, so the likelihood is quite small that you will be able to avoid such payments.
However, here's the good news. There are a total of 14 states which do not tax any pension or social security no matter what your age and how much you earn. For a person who's about to retire, moving to one of these states seems to be a good idea. Though it is also important to note that just because your pension and social security isn't being taxed doesn't mean that no retirement income will be taxed. For example, it could be your 401k bearing the brunt of the taxman. Therefore, it is always important to note the overall tax policy of a state. On the other hand, if you want to move abroad, you should consider taking a look at the 11 best places to retire overseas for affordable and efficient healthcare.
So without further ado, let's take a look at the states where your retirement income is free from Uncle Sam's grips, starting with number 14:
14. Florida: There's a reason Florida is famous for retirees and it's not just the weather and the beaches. Since the state doesn't have an income tax, your pension will remain in your pocket and not the state's, in addition to social security benefits as well.
13. Illinois: Any private pension from an approved plan is exempt in Illinois, while there is no tax on social security benefits at all.
12. Alabama: Alabama also exempts private pension earned from defined benefit retirement plans, while social security is completely exempt.
11. Hawaii: Living on the beaches of Honolulu after retirement might sound like a dream, but it's a very probable dream considering that Hawaii does not tax retirement plans, both private and public, provided you have not contributed to the plan. If you have contributed to the plan, then you will be liable for tax only for the amount contributed by you.
10. New Hampshire: If you want to live in New England, New Hampshire is the way to go, as it's the only state there not to tax pensions. In fact, it doesn't tax general income at all.
9. Nevada: There's a reason Nevada is the gambling home of America. The state of Nevada has no income tax at all, which is why pensions, social security and even 401ks are all safe and exempt from tax.
8. Pennsylvania: If you're receiving your pension from an employer sponsored retirement plan which is approved, you don't need to pay any taxes on your pension at all. Social security of course, is also exempt.
7. Washington: Another state without income tax, you are exempt from tax in Washington against any pension you may be eligible to receive, without any caveats.
6. Alaska: If you love the cold, then Alaska is an excellent place to move to after retirement. And if you don't like the cold, you can simply use your tax savings to buy excellent heating equipment since Alaska doesn't have income tax.
Click to continue reading and see the top 5 states that don't tax pensions and social security. Disclosure: 14 States that don't Tax Pensions AND Social Security is originally published at Insider Monkey. Ty Haqqi, Yahoo! Sports, https://sports.yahoo.com, October 7, 2020.

6. IS OSHA'S VIRUS REPORTING PLAN FAILING WORKERS?:
Whether the Occupational Safety and Health Administration's latest coronavirus guidance amounts to shrewd management of limited resources or a slap in the face to at-risk workers is up for debate. But it's clear that most employers will rarely, if ever, be required to tell OSHA if workers are hospitalized after catching COVID-19 on the job.

OSHA said that company leaders would only need to pick up the phone and call the workplace safety watchdog about a worker's COVID-19 hospitalization if the worker caught the virus at work within the past 24 hours.

As the Centers for Disease Control and Prevention says the amount of time between exposure to the virus and when symptoms appear is between two days and two weeks, attorneys for businesses and employees alike agree the daylong clock will curtail hospitalization reporting.

"There will be fewer reported cases of COVID-19 to OSHA because from what we know, exposures typically occur days or weeks before symptoms appear and then certainly before a hospitalization would appear," said Brad Hammock, co-leader of Littler Mendelson PC's workplace safety and health practice group. "So I think as a practical matter, defining incidents in the way that OSHA did will result in few reported in-patient hospitalizations."

Existing OSHA regulations tether illness and injury reporting requirements to "work-related incidents"; once such an incident occurs, it starts the regulatory clock on when the situation needs to be relayed to the agency. Reports can often trigger an on-site inspection, through which the agency aims to mitigate any immediate risks and prevent harm to other workers.

The agency had previously released guidance in late July on reporting work-related COVID-19 hospitalizations that stipulated the "incident" in such cases would be a confirmed diagnosis, not the workplace exposure. According to that advice, if an employee was admitted after catching the virus at work, the case was reportable if they had tested positive for COVID-19 within 24 hours of hospitalization.

However, OSHA quickly took that guidance down following complaints from industry advocates who said the interpretation didn't line up with its existing illness and injury reporting regulations.

The agency gave no formal reasoning for backtracking, but a U.S. Department of Labor official said during a webinar a few days later that regulators wanted to give the guidance more "polish."

OSHA's latest interpretation mirrors a suggestion floated by management-side law firm Ogletree Deakins Nash Smoak & Stewart PC when the initial guidance was pulled in July, attaching a new time frame that now hinges on when the worker was exposed on-site. That metric has drawn criticism from worker advocates.

"Employers will no longer have to notify the agency of severe cases of COVID," said National Employment Law Project worker health and safety program director Debbie Berkowitz. "It's just one more way the agency is completely failing to protect workers in this pandemic."

Berkowitz, who served as an OSHA official during the Obama administration, said the updated guidance will precipitate "a complete drop" in the number of work-related COVID-19 hospitalizations that businesses call in, because "OSHA just told employers that they don't have to report it anymore."

She characterized the move as a betrayal of the workers the agency is supposed to protect. "They've decided they don't even want to know when there are serious outbreaks in workplaces, and that they'll wait until they get reports of workers dead before they want to know any information," Berkowitz said.

When asked about the apparent discrepancy between the updated advice and what the CDC says about the coronavirus infection timeline, an OSHA spokesperson only commented that the agency's existing illness and injury reporting regulations say the requirements are triggered by a "work-related incident," not the appearance of symptoms.

Jason Schwartz, co-head of Gibson Dunn & Crutcher LLP's labor and employment practice, also said the new guidance would reduce the volume of calls coming into OSHA, but he said that could benefit the agency.

Clearer phone lines mean the watchdog can focus its resources on the most dire circumstances, he said. And he theorized that OSHA's new stance lets employers largely forgo calling because once more than 24 hours have elapsed since the workplace exposure, there's little for the agency to inspect if it visits the site.

"They've got a gazillion things to look at right now, and so they have to figure out a way of prioritizing where they can make the most impact for worker safety," Schwartz said. "It's not going to be trying to unearth a case that is some number of days or weeks old, because at that point, whatever they see is going to be a changed set of circumstances."

A deluge of hospitalization reports might be more than OSHA can handle, Hammock said.

"Given the number of hospitalizations that occur, it really could overwhelm the agency if all of these had to be reported," he said. Anne Cullen, Law 360, www.law360.com, October 9, 2020.

7. FACTCHECK; WILL HALF OF AMERICANS OVER 55 RETIRE POOR?:
A lesson for journalists: Verification should come before dissemination. The headline, from a recent article published in Marketwatch, was too good to check: "Half of Americans over 55 may retire poor." Citing economists at the New School for Social Research's Retirement Equity Lab, reporter Howard Gold concludes that "this would make it a crisis for millions of Americans. …As more people turn 65 and face poverty-stricken retirements, the fiscal and political implications could be enormous."
But, as the Columbia Journalism Review stresses in its "Eight Simple Rules for Doing Accurate Journalism," reporters need to check their sources' claims. If something seems too good to be true, it probably is.
Had Marketwatch's reporter examined these claims regarding retiree poverty in more detail, he'd not only have found them to be an outlandish exaggeration. He'd have seen how far people have to go to create the perception of a "retirement crisis." That in itself is a story worth reporting.
Let's start with the U.S. Census Bureau's official poverty thresholds. For 2019, the poverty threshold for a single individual aged 65 and over was $12,261; for an elderly couple, poverty was defined as an income below $17,196. In 2019, 8.9% of Americans aged 65 and over were officially deemed to be living in poverty. However, Census Bureau research found that the household survey used to calculate the official poverty rate significantly underestimates retirees' actual incomes. When analyzed using Internal Revenue Service tax records, the true poverty rate among seniors in 2012 wasn't the officially reported 9.1% but actually just 6.9%.
So it seems that the New School researchers are suggesting that the Covid recession will boost the elderly poverty rate by six- to seven-fold. If so, that truly would be a crisis.
In fact, that's not at all what's happening. Instead, the New School researchers redefine elderly poverty so that, even before the Covid downturn, most older Americans were already assumed to retire into poverty. Covid is just the icing on the cake.
In a research paper, the New School researchers argue that, even prior to the Covid recession, between 56 and 68% of Americans aged 46 to 56 would retire into poverty, depending upon the age at which they retired. Factoring in the Covid recession, the New School group claims that the retirement poverty rate will rise to between 61 and 72%. Yikes!
Now, for the reality check.
The Social Security Administration runs the most sophisticated retirement income simulation model in the U.S. government. The SSA model projects that only around 5% of retirees will be in poverty come 2030, not the 56%-plus figure the New School researchers claim. The Urban Institute's DYNASIM model likewise estimates low and falling poverty in old age.
So how do the New School people do it? They define poverty up.
While both the Marketwatch headline and the New School's study refers to the number of older Americans who will retire into poverty, their numbers actually refer to both poverty and "near-poverty." So the New School researchers are broadening the definition of "poverty" from the get-go.
What's near-poverty? Here, the New Schoolers again take liberties. The Census Bureau defines near-poverty as having an income between 100% and 125% of the poverty threshold. But the New School economists define "near-poverty" as rising up to 200% of the official poverty threshold. So the New School study's measure of poverty isn't even near-poverty as defined by the Census Bureau; it's an income threshold 60% higher than near-poverty.
But even this isn't enough. The Urban Institute's DYNASIM model helpfully provides estimates of the share of future retirees with incomes below 200% of the official threshold. The Urban Institute model projects that in 2035, only 23% of seniors will have incomes below 200% of the poverty threshold, less than half the New School economists' claims.
So not only does the New School group define poverty to be double the income level in the Census Bureau's official definition, even at that doubled level the New School claims that over twice as many retirees will be in poverty as does the Urban Institute's model.
The claim that over half of older Americans will retire into poverty assumes that implausibly high numbers of retirees will have incomes below an artificially inflated poverty threshold. That's a headline that's too good to be true. But it shouldn't be too good for journalists to check. Andrew Biggs, Forbes, www.forbes.com, October 8, 2020.

8. WHY WORKING DURING RETIREMENT COULD HURT YOU FROM A SOCIAL SECURITY STANDPOINT:
Many seniors pledge never to work again after retirement, but others opt to work. For some, it's a matter of needing the money. For others, it comes down to not wanting to be bored.
There are definitely perks to working during retirement, but if you choose to go that route, you should know that it could end up impacting your Social Security benefits -- and not for the better.

If you hold down a job and collect Social Security before reaching full retirement age, your income from that job will be subject to the earnings test, and if it's too high, you may have some of your Social Security benefits withheld. Once you reach full retirement age, however, that risk disappears. At that point, you can work and earn as much as you'd like without impacting your benefits.
So what's the problem with working during retirement? It's simple: Doing so could raise your provisional income, and the higher that income, the more likely you are to have your Social Security benefits taxed.
Provisional income is what's used to determine whether your Social Security benefits will be subject to federal taxes. It's calculated by taking all of your non-Social Security income and then adding in 50% of your annual benefits. If that total falls between $25,000 and $34,000 and you're a single tax filer, you could be taxed at the federal level on up to 50% of your Social Security benefits. If it exceeds $34,000, up to 85% of your benefits could be taxed.
If you're a married couple filing jointly, you may be taxed on up to 50% of your benefits with a provisional income between $32,000 and $44,000. Beyond that point, up to 85% of your benefits could be taxed.
That's why working during retirement could end up hurting you from a Social Security perspective. The average senior on Social Security today collects $18,168 a year in benefits. If you're single and that's your only income, your benefits won't be taxed. But if you take a job and boost your income above $25,000, taxes could come into play.
Now, this isn't to say that you shouldn't work to supplement your Social Security benefits. Most seniors can't live on Social Security alone, and if you attempt to do so, you may wind up miserable. What you should do is make sure that working during retirement actually makes financial sense for you.
Say you're single and entitled to $18,000 a year in Social Security, and you're also able to withdraw another $6,500 from your retirement plan each year for a total annual income of $24,500 -- just below the $25,000 threshold where taxation kicks in. A part-time job that pays you $2,000 a year may not be worth it because what you gain in that paycheck, you may lose in the form of taxes on your benefits.
The bottom line is that you must understand how Social Security benefits are taxed in retirement and what counts as provisional income. It may very well make sense for you to have a job as a senior in terms of your financial and mental health, but be aware of the impact that could have from a tax perspective. Maurie Backman, Lincoln Journal Star, https://journalstar.com/, October 8, 2020.

9. IF YOU PLANNED TO RETIRE IN THE NEXT 5 YEARS, SHOULD YOU JUST DO IT NOW?:
The question of retirement is typically one that plays out over the long term. Most people have the chance to plan for years, gradually building resources and exploring possibilities before they set a target date for retirement. However, no matter how much you plan, life can throw you a curveball -- like the sudden outbreak of a pandemic that results in an unprecedented economic shutdown.
For some, this has raised another question: If you're already close to retirement, should you just accelerate your timeline? It's a relevant consideration, given that there's no concrete answer as to when and how the U.S. economy will open back up fully. Unfortunately, there isn't a blanket answer. The factors that play into a decision like this means the answer is different for everyone. Before you move up your retirement in the wake of this crisis, there are certain questions you should ask yourself. Joel Anderson, MSN Money, www.msn.com, October 7, 2020.

10. ONE-IN-FOUR AMERICANS SAY THEY HAVE TO DELAY RETIREMENT BECAUSE OF COVID-19:
The COVID-19 pandemic and its widespread economic impact has been devastating for many Americans, with about 55 million people relying on unemployment benefits since mid-March. And many more Americans have lost wages, income, and the ability to save in other ways, with reduced working hours or losing important benefits like a 401(k) match.
All of this is damaging Americans' future plans. According to new survey data from LendingTree and investing app Stash, one in four Americans expect to delay their retirement plans because of the economic impacts of COVID-19.
The survey, conducted in August 2020, asked 4,955 people about their financial preparedness before the pandemic, and how the pandemic will shape their future finances.
The data shows that the pandemic hasn't affected everyone's finances equally, especially when it comes to retirement savings.

Low-income individuals are about twice as likely to delay retirement as their high-income counterparts
About one in three people making $35,000 per year or less reported expecting to delay their retirement, according to the LendingTree and Stash data. Only about 17% of people earning $100,000 per year expected to delay their retirement.
A survey by the Federal Reserve Board of St. Louis from August found that low-income individuals and families have been more significantly impacted by the coronavirus pandemic as a whole. The data found that 64% of individuals in low- to moderate-income communities said that COVID-19 caused a significant disruption in their communities, with 38% citing job loss as a top impact.
For low-income individuals and families, the pandemic has added an extra strain, and put retirement savings even farther out of reach.

Gen X is most likely to delay retirement
Gen Xers -- aged 44 to 55 in this survey -- are the most likely to change retirement plans. About 29% of people surveyed in this generation expected to delay their retirement and work longer due to the COVID-19 pandemic.
As the stock market has taken deep plunges this year, so have values of investment accounts, retirement accounts, and 401(k) plans. Record low interest rates threaten retirees' earnings, and interest rates are expected to stay low for several more years.
That will likely have big effects on their eventual retirement income. Wharton professor and retirement expert Olivia S. Mitchell explained to Wharton Business News that low interest rates mean smaller returns from annuities, bonds, and savings accounts and CDs, all which are essential sources of income for retirees.
However, millennials and Gen Z also expect changes to their retirement plans. About 21% of millennials and 24% of Gen Zers say they expect to keep working longer than they'd anticipated because of the pandemic's economic effects.

More Black and Latino workers expect to delay retirement than white workers
According to LendingTree and Stash's data, about 30% of Latino workers expected to delay their retirement plans, and 28% of Black workers said the same. Meanwhile, 23% of white Americans reported expecting to change their retirement plans.
Black and Latino workers have been disproportionately impacted by the coronavirus pandemic. As Carmen Reinicke reported for Business Insider, workers of color have faced higher unemployment rates during the pandemic. While 14.2% of white Americans reported being unemployed in April, 16.7% of Black workers and 18.9% of Latino workers said the same.
These higher unemployment rates, coupled with glaring racial wealth gaps, are already starting to affect workers' plans for years into the future. Liz Knueven, Business Insider, www.businessinsider.com, October 7, 2020.

11. MANAGING RETIREMENT FUNDS MEANS PRIORITIZING THEIR GROWTH, NOT SOCIAL ACTIVISM:
The U.S. currently allows managers of ERISA retirement plans to participate in shareholder votes without considering the interests of the employees and retirees they represent. That is the issue that the Department of Labor is trying to address now. A new regulation proposed by the agency will protect workers' interests, and it is crucial that this proposal succeed in an era in which a culture of social and environmental activism has overtaken boardrooms and investment decisions.
This proposed rule would impact about $2.1 trillion worth of retirement funds in 29,000 defined contribution plans and 5,500 defined benefit plans. Currently, the managers of these plans are able to vote in shareholder elections without consideration for the financial well-being of the plans they manage and the workers whose money they manage. ERISA plan managers can robo-vote, or vote blindly in alignment with the recommendations of third-party proxy advisers. In other words, they are permitted to take the easy way out, but when they robo-vote, they are assigning their power and neglecting their duty. America's workers and retirees deserve better.
This regulation is particularly important in today's age of heightened political and social pressure to believe and act one way or another. Political and even moral concerns do not protect the retirements of America's workers. There is a movement in investing that values amorphous environmental and social goals -- often at the exclusion of the goal of financial gain. It's fine for an ERISA plan manager to prioritize environmental or social goals with his or her own investment, but it's not fine if the manager does that with others' retirement money.
Take, for example, the trend for environmental activism in business and investment decisions. European energy giants such as Shell and BP are shifting strategy to focus on renewables and move away from the legacy money-maker, oil. To do this, they argue that the change is best for the company's profitability. But is it? Exxon, Chevron and oil companies the world over disagree. When it comes to the opportunity for shareholders to participate in corporate strategy and governance through shareholder votes, it would be irresponsible for ERISA plan managers to simply robo-vote in line with a move away from oil. It would be irresponsible to choose alternative energies over oil because that is the trendy decision, or the manager believes it is the moral decision.
In this new investing environment, safeguards must be put in place to ensure that those managing the retirement funds of Americans are prioritizing the protection and growth of those funds.
Too many recommendations by proxy advisers are not in the best interest of the ERISA plan beneficiaries, the workers and retirees. That is why the managers should not be allowed to blindly rubber stamp the proxy adviser recommendation with a robo-vote. The regulation under consideration by the Labor Department would ensure that managers investigate votes, determine what they believe is in the best financial interest of the beneficiaries and maintain records showing their determination process. This protects beneficiaries' interests from managers who might otherwise prioritize something other than the pecuniary health of the funds.
Moreover, the proposed regulation would finally clarify that a manager may decide to abstain from voting if, for example, the plan owns only a small percentage of shares in a firm or if investigating the vote is more costly than the financial benefit of a decision. For several years, ERISA plan managers have believed they might be required to participate in every shareholder vote. Because it takes time and expense to investigate each vote, some managers have simply robo-voted in accordance with the recommendations of proxy advisors. This can lead to voting against the financial interests of the plan beneficiaries. For example, robo-voting could lead to votes in favor of environmental or social or other priorities that the manager would not deem independently beneficial to financial outcome.
If your retirement money is at stake, you probably want to be sure those managing it are doing everything they can to protect it and help it grow. That includes how managers handle shareholder proxy votes. You want to make sure they are voting for the right board members who will pursue the best vision for the investment, and the right strategies that will maximize the investment. At least, you want to be assured that those managing your money are reasonably making decisions on those matters based on financial considerations. You do not want them robo-voting. You do not want them basing decisions on non-pecuniary considerations such as their personal morals, which may differ from yours.
If you worked hard for that retirement money, you want it to be protected. That is what this proposed regulation would do. Ellen R. Wald, The Hill, www.thehill.com, October 8, 2020.

12. STAY COMMITTED TO SAVING AND INVESTING FOR RETIREMENT:
The increase in life expectancy presents a significant financial challenge for most retirees. In simple terms, the longer we expect to live, the more money it will cost to fund our retirement. The evidence suggests that most Americans are not prepared to meet this challenge.
Governments and businesses that have had decades to prepare for this shift in demographic aging have also been slow to adapt. Statistics show that 10,000 baby-boomers reach retirement age every day and will be living longer in retirement than any prior generation. Important national programs, such as Social Security and Medicare, which form a critical safety net even for affluent households, are financially unsustainable without substantive reforms. Those changes, regardless of whether they take the form of tax increases, delayed eligibility or some other modification, will result in a net reduction in benefits. Households will have no choice but to make up the difference.
Longer retirements also mean greater pension and retiree health-care liabilities for public (i.e., state and local government) employers and for the dwindling number of private employers who continue to sponsor such plans. Many of these pension plans are already significantly underfunded and will be unable to meet their commitments to retirees without enormous infusions of cash. Sensible employees would be encouraged to save more while working, and retirees to save some of their pension check once they leave the job, in the event that these cash infusions do not materialize.
You can probably guess where this is going. Increasingly, the responsibility for ensuring our retirement security and financial independence will fall squarely upon each of us.

It has become clear to policymakers and retirement practitioners that decisions regarding when to retire and when to collect Social Security benefits are two of the most important in determining the well-being of retirees. Evidence collected from the SOA, however, suggests that these two decisions are neither well-investigated nor wisely implemented by most households, resulting in negative outcomes that could have been avoided.
Working longer improves the odds of enjoying a successful retirement. The additional years of wage income allows individuals to build larger 401(k) balances, maintain employer health insurance coverage, accumulate additional Social Security earnings, and shorten the time they will draw down their retirement assets.
Social Security remains the primary source of retirement income for most households, including the affluent. Most retirement plans would be derailed without these benefits. Surprisingly, little consideration is given to delaying benefits or employing other coordinated claiming strategies despite the fact that these can add tens of thousands of dollars to retirement income. Instead, most people opt to collect benefits at the earliest possible age.
Retirement continues to be the most important priority and the biggest financial liability that we face. Planning for it is a multidecade process that involves saving and investing throughout our working careers and then spending with confidence during retirement. Ultimately, it is up to each of us to ensure that the blessing of a long and healthy life is accompanied by prosperity. John Spoto, Sentinel & Enterprise, www.sentinelandenterprise.com, October 11, 2020.

13. THE FTC CHAIRMAN IS NOT WRITING TO YOU:
If you saw an email from FTC Chairman Joseph Simons, it wasn't. From him, that is. Scammers pretending to be him are emailing, though. They're trying to trick you into turning over personal information, like your birth date and home address, which could help them scam you. So: if you get an email from the Chairman of the Federal Trade Commission about getting money because of an inheritance or relief funds related to the impact of the COVID-19 pandemic -- or anything else -- do not respond. Do not give out your personal information. But do hit "delete."
Scammers like to make themselves look official by pretending to be from the government. They use official-sounding language and images that impersonate federal agencies like the FTC to trick or scare people into responding.
Rest assured, these emails are not from Chairman Simons or anyone else at the FTC. They're a scam. The FTC will never send you an email asking you for information like your bank account, credit card, or Social Security number. We don't ask for your date of birth, or cell phone number. And we'll never, ever call, text, email, or send a letter asking you to pay anything.
People at FTC, including Chairman Simons, are working hard to combat scams like these. We're using every tool we have. And you can help. We know that people who've heard about a scam are less likely to respond to it. So help us spread the word: tell people about this scam. And if you spot it, please tell us at ftc.gov/complaint. Your reports help us find and stop scammers just like these. Reporting and talking about this and other scams helps protect people in your community. So thank you for helping to spread the word.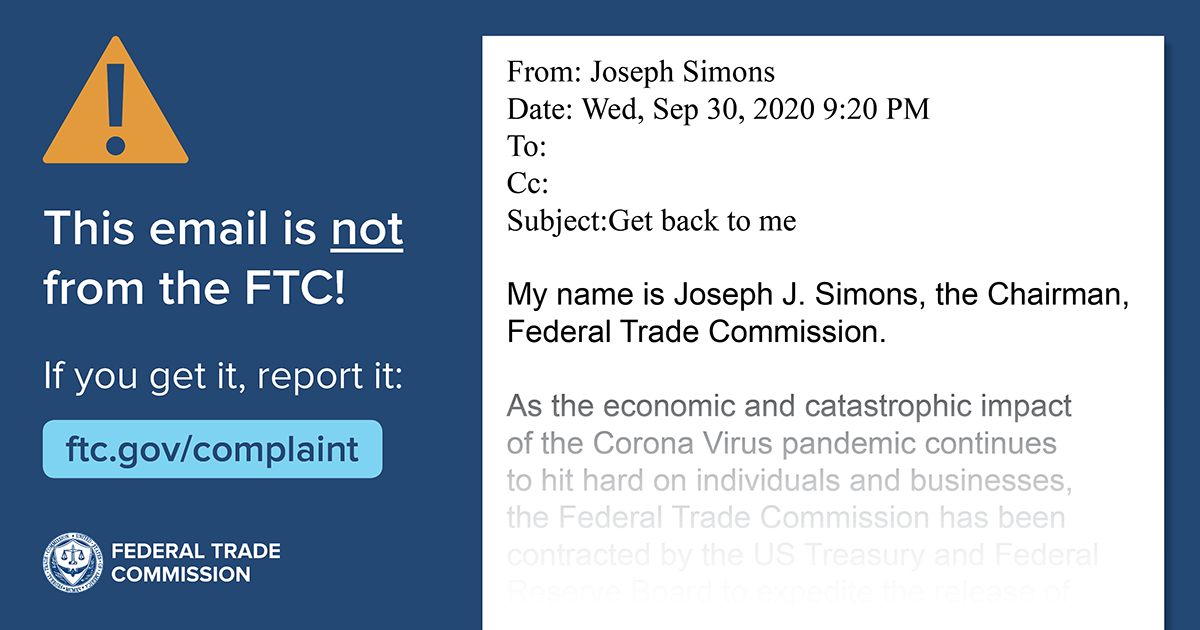 Karen Hobbs, Assistant Director, Division of Consumer and Business Education, FTC, www.ftc.gov, October 1, 2020.

14. CHECK TAX WITHHOLDINGS NOW AS THE LAST QUARTER OF 2020 BEGINS:
The Internal Revenue Service today reminded taxpayers that now is the perfect time to review their tax withholding and payments to avoid a surprise when filing next year.
An adjustment or two made now may boost take home pay or allow taxpayers to pay more in the last quarter of 2020 to avoid a surprise tax bill.

Some things to consider that will affect taxes owed in 2020 include:
Pay as you go
Taxes are generally paid throughout the year whether from salary withholding, quarterly estimated tax payments or a combination of both. About 70% of taxpayers, however, over withhold their taxes every year which typically results in a refund. The average refund in 2020 was well over $2,400.
Taxpayers can pay electronically, throughout the year, online, by phone or with a mobile device and the IRS2Go app. They can choose an electronic payment option to schedule estimated tax payments and receive email notifications about their payments.
Taxpayers can also visit IRS.gov/account to view their taxes owed, payment history and key tax return information from their most recent tax return as originally filed and, if they have one, they'll see details about their payment plan.

Regarding refunds
IRS reminds people that there are many factors that affect the timing of a refund. The fastest way to get a tax refund is by filing electronically and choosing Direct Deposit. IRS issues most refunds in less than 21 days, but it's possible it can take longer.

Tax Withholding Estimator
The IRS launched an improved Tax Withholding Estimator tool last summer to make it easier for everyone to have the right amount of tax withheld during the year. This is especially important for anyone who faced an unexpected tax bill or a penalty when they filed this year. It's also an important step for those who made withholding adjustments in 2020, had a major life change or were adversely affected by the pandemic.
The tool offers workers, as well as retirees, self-employed individuals and other taxpayers, a more user-friendly step-by-step tool for effectively tailoring the amount of income tax they have withheld from wages and pension payments.
The tax withholding estimator has several key features for ease of use:
Plain language throughout the tool to improve comprehension.
The ability to more effectively target at the time of filing either a tax due amount close to zero or a refund amount.
A progress tracker to help users see how much more information they need to input.
The ability to move back and forth through the steps, correct previous entries and skip questions that don't apply.
Enhanced tips and links to help the user quickly determine if they qualify for various tax credits and deductions.
Self-employment tax for a user who has self-employment income in addition to wages or pensions.
Automatic calculation of the taxable portion of any Social Security benefits.
A mobile-friendly design.
In addition, the new Tax Withholding Estimator makes it easier to enter wages and withholding for each job held by the taxpayer and their spouse, as well as separately entering pensions and other sources of income. At the end of the process, the tool makes specific withholding recommendations for each job and each spouse and clearly explains what the taxpayer should do next.
For more information about taxes, estimated taxes and tax withholding, see IRS Publication 505, Tax Withholding and Estimated Tax at IRS.gov. IRS News Release, IR-2020-232, www.irs.gov, October 9, 2020.

15. SOCIAL SECURITY BENEFITS INCREASE IN 2021:
Approximately 70 million Americans will see a 1.3 percent increase in their Social Security benefits and Supplemental Security Income (SSI) payments in 2021. Federal benefit rates increase when the cost-of-living rises, as measured by the Department of Labor's Consumer Price Index (CPI-W).
The CPI-W rises when inflation increases, leading to a higher cost-of-living. This change means prices for goods and services, on average, are a little more expensive, so the cost-of-living adjustment (COLA) helps to offset these costs.
We will mail COLA notices throughout the month of December to retirement, survivors, and disability beneficiaries, SSI recipients, and representative payees. But, if you want to know your new benefit amount sooner, you can securely obtain the Social Security COLA notice online using the Message Center in your my Social Security account. You can access this information in early December prior to the mailed notice.
If you prefer to access your COLA notice online instead of receiving the mailed notice, you can log in to your personal my Social Security account to opt out of a mailed COLA notice and any other notices that are available online by updating your Preferences in the Message Center. You can also choose to receive a text or email alert when there is a new notice. That way, you always know when we have something important for you – like your COLA notice. If you don't have an account yet, you must create one by November 18, 2020 to receive the 2021 COLA notice online.
January 2021 marks other changes that will happen based on the increase in the national average wage index. For example, the maximum amount of earnings subject to Social Security payroll tax in 2021 will be higher. The retirement earnings test exempt amount will also change in 2021.
Be the first to know! Sign up for or log in to your personal my Social Security account today. Choose email or text under "Message Center Preferences" to receive courtesy notifications.
You can find more information about the 2021 COLA here. Darlynda Bogle, Assistant Deputy Commissioner, SSA, www.ssa.gov, October 13, 2020.

16. FOR THOSE WHO LOVE WORDS:
Atheism is a non-prophet organization.
17. INSPIRATIONAL QUOTE:
"Do what you can with all you have, wherever you are." - Theodore Roosevelt

18. TODAY IN HISTORY:
On this day in 1883, the United States Supreme Court declares Civil Rights Act of 1875 unconstitutional.
19. REMEMBER, YOU CAN NEVER OUTLIVE YOUR DEFINED RETIREMENT BENEFIT.
Items in this Newsletter may be excerpts or summaries of original or secondary source material, and may have been reorganized for clarity and brevity. This Newsletter is general in nature and is not intended to provide specific legal or other advice.