Stephen H. Cypen, Esq., Editor
1. FREE WEBINAR - BIG CHALLENGES WITH SMALL IRAS:
In 2005, the Department of Labor (DOL) issued regulations with respect to automatic force-outs of employment-based retirement plans with values of $1,000 up to $5,000 to IRAs. DOL states a fiduciary is deemed to have satisfied his or her fiduciary duties under section 404(a) of ERISA so long as the designated IRA provider of the automatic IRA, among other things, limits the initial investment choice of the IRA to products designed to preserve principal and provide a reasonable rate of return.

The result: a significant percentage of small IRAs are found to be invested 100 percent in money in Rollover IRAs, even though many had 100 percent allocations to balanced or target-date funds in their 401(k) plan. Diversified asset allocation funds are, of course, the safe harbor default for automatic enrollment arrangements in defined contribution plans.

Join EBRI for this webinar, where we will quantify how many of these accounts exist in the rollover market, describe the asset allocation in them over time, and the length of time these accounts are held. In addition, we will address potential improvements for these types of accounts.

Date: Tuesday, November 17, 2020 (1pm - 2pm US/Eastern)

Speakers:
Spencer Williams, President/CEO, Retirement Clearinghouse
Courtney Eccles, Director, Secure Choice Savings Program, Illinois State Treasurer's Office
Craig Copeland, Senior Research Associate, Employee Benefit Research Institute
Moderator: Nate Miles, CFA, Head of Retirement, Wells Fargo Asset Management
Please click the link below to join the webinar:
https://us02web.zoom.us/j/81504071973

Or iPhone one-tap :
US: +13017158592,,81504071973# or +13126266799,,81504071973#
Or Telephone:
Dial(for higher quality, dial a number based on your current location):
US: +1 301 715 8592 or +1 312 626 6799 or +1 929 205 6099 or +1 253 215 8782 or +1 346 248 7799 or +1 669 900 6833
Webinar ID: 815 0407 1973
International numbers available: https://us02web.zoom.us/u/kwpgAgyHp

Please notify info@ebri.org if you have any questions or comments concerning this webinar. EBRI, www.ebri.org.

2. RETIREMENT MILLIONAIRE - SAVE $300 A MONTH AND FOLLOW THESE 2 RULES:
Do you want to retire with $1 million? It's a good goal to aim for. Though there's no guarantee that a $1 million nest egg will completely eliminate your financial stress later in life, it's certainly a comfortable – and comforting – savings balance to go into retirement with. And while that $1 million target may seem lofty, here's some good news: You can actually get there by saving just $300 a month.
Seem too good to be true? It's not. But there are some caveats. To retire a millionaire by contributing just $300 to your retirement savings plan, you'll need to follow these two rules.

Start early
Many people get their first job in their early 20s, only they don't start funding a retirement plan until many years after. That's a mistake, as losing out on those early years of contributions and investment growth could spell the difference between retiring a millionaire and falling short.

Imagine you sock away $300 a month in an IRA or 401(k) starting at age 22, all the way until age 67, which is full retirement age for Social Security purposes for anyone born in 1960 or later. If you give yourself that 45-year savings window, you could wind up with just over $1 million to your name if your IRA or 401(k) investments generate an average annual 7% return (which we'll discuss in just a minute).

But if you wait even five years to start saving that $300 a month, you'll end up with roughly $719,000, instead. To be clear, that's still a respectable amount of savings to kick off retirement with. But let's face it – it's not $1 million.

Invest aggressively
The money in your IRA or 401(k) shouldn't just sit there in cash. Rather, you'll need to invest it so it grows into a much larger sum. While bonds are a lot less volatile than stocks, they also tend to offer substantially lower returns, which is why it pays to get aggressive with your retirement plan investments. The stock market has historically delivered an average annual 9% return. If we assume that most but not all of your IRA or 401(k) investments get to sit in stocks during your savings window, then it's fair to apply a 7% average annual return like we did above.

But watch what happens when you play it too safe in your retirement plan. If you sock away $300 a month for 45 years but only invest half of your wealth in stocks, leaving the other half in bonds, you might average more like a 5% yearly return, instead. And in that case, you'd be looking at retiring with $575,000, not $1 million.
Again, $575,000 is nothing to scoff at. But it's also a far cry from $1 million, especially considering that you'll be contributing the same amount of money throughout your career, only to end up with $425,000 less.

Closing out your career with $1 million to your name doesn't have to mean parting with a third of your paycheck and living an uncomfortably frugal lifestyle throughout. All it takes to retire a millionaire is saving consistently from a young age and investing your money wisely.
By following the two above rules, you may be pleasantly surprised at how much wealth you wind up with by the time your senior years kick off. Maurie Backman, The Motley Fool, USA Today, www.usatoday.com, October 25, 2020.

3. HERE'S THE AVERAGE SOCIAL SECURITY BENEFIT IN 2021:
For tens of millions of Americans, there isn't a program that bears more importance to their financial well-being than Social Security.
According to the Social Security Administration (SSA), 62% of current retirees lean on the program to account for at least half their monthly income. Additionally, more than 15 million retired workers are pulled out of poverty every month as a result of their guaranteed payout, based on an analysis from the Center on Budget and Policy Priorities.
Social Security beneficiaries are getting a "raise"
Given the program's importance, it shouldn't be a surprise that the most anticipated announcement each year is the Social Security Administration's October release of the upcoming year's cost-of-living adjustment (COLA). Think of the COLA as the "raise" that beneficiaries receive to true-up their payouts to account for inflation.
Since 1975, the Consumer Price Index for Urban Wage Earners and Clerical Workers (CPI-W) has been Social Security's inflationary tether. The CPI-W has eight major spending categories and dozens upon dozens of subcategories, each with their own respective weightings. The price changes for goods and services covered by the CPI-W can be boiled down to a single figure, which is used to determine if inflation (rising prices) or deflation (falling prices) is occurring.
For Social Security, only the CPI-W readings from the third quarter (July through September) factor into the COLA calculation. While the other nine months of data can be useful in identifying trends, they don't have any bearing on whether or not beneficiaries will pocket a bigger monthly payout in the upcoming year. If the average CPI-W reading from the third quarter of the current year is higher than the average CPI-W reading from Q3 of the previous year, beneficiaries will receive a payout increase that's commensurate with the year-on-year percentage change, rounded to the nearest tenth of a percent.
As reported on Oct. 13, Social Security beneficiaries can expect to receive a 1.3% COLA when the calendar changes over to 2021.

This will be the average monthly Social Security payout in 2021
The question is, what does a 1.3% COLA really mean for beneficiaries? Let's take a closer look.

As of September, 64.75 million people were netting a monthly Social Security payout, of which nearly 46.1 million were retired workers. The average retired worker benefit last month was $1,519.07. Based on recently released estimates from the SSA, monthly retired worker payouts are expected to hit $1,523 by December 2020. And factoring in a 1.3% COLA jump, that will increase by $20 to $1,543 in January 2021. In other words, the average retired worker is going to net an extra $240 for the entirety of 2021.

For disabled workers, the increase is going to be a little less robust, in nominal terms. All beneficiaries are set to receive a 1.3% COLA, but the program's 8.25 million disabled workers were only bringing home $1,259.12 a month as of September. By December, the SSA estimates this monthly payout will grow slightly to $1,261. Thus, a 1.3% COLA should result in an estimated monthly increase of $16 by January 2021, pushing the average disabled worker benefit to $1,277.
The SSA provides a number of other estimated average-payout scenarios following the 1.3% COLA that may be relevant to you:
An aged couple, where both people are receiving benefits, should see an increase of $33 a month to $2,596 in 2021.
Aged widows or widowers can expect a $21 increase to their monthly payout to $1,453.
A disabled worker with a spouse and one or more children can anticipate their payout to rise $29 a month to $2,224 in January.
A widowed mother with two children is estimated to see her payout increase $39 a month to $3,001.
It's a good news/bad news scenario for beneficiaries
Considering that the coronavirus pandemic sent the prices of various goods and services screaming lower between March and May, it's actually fantastic news that the nearly 65 million Social Security beneficiaries are receiving a COLA at all. A rebound in food inflation and healthy upticks in year-over-year prices for shelter and medical care services have ensured that benefits will move higher in 2021. That's good news.
But a 1.3% COLA ties for the second-smallest positive increase since the CPI-W was tethered to the program in 1975. That's problematic because inflation for shelter and healthcare costs -- two of the most important expenditures for seniors -- has been handily outpacing 1.3% on an annualized trailing-12-month basis. In other words, a 1.3% COLA simply isn't going to cut it for retired workers, and their Social Security income is very likely to lose purchasing power once again.
Earlier this year, the nonpartisan senior advocacy group The Senior Citizens League released an analysis showing that the purchasing power of Social Security income had declined by a whopping 30% since 2000. That means what $100 in Social Security income used to be able to buy in 2000 can now only purchase $70 worth of identical goods and services. Inherent flaws with the CPI-W ensure that seniors are losing purchasing power on their Social Security income more years than not.
Benefits are going up across the board in 2021, but there's simply not a lot to be excited about for Social Security recipients. Sean Williams, Independent Tribune, https://independenttribune.com, October 25, 2020.

4. COUNTDOWN TO RETIREMENT: STRATEGIES FOR SAVING IN YOUR 50S:
Many retirees today are redefining the "golden years." Forget about endless days of leisure. Retirees seek adventure, travel, and new business pursuits. While these changes may redefine retirement, will retirees be able to finance their plans? Today, many people age 50 and older have not begun to save for retirement or have yet to accumulate sufficient funds.
If you're in this age group and find yourself facing an underfunded retirement, it's not too late to take charge. There are actions you can take today to help get on the right track. Here are some ideas:

What's it going to take?
First, estimate how much money you will need in retirement. Once you have an idea of the amount, you can work toward meeting that goal. A good rule of thumb is that you may need 60%–80% of your current annual income in retirement. Your financial professional can help you assess the best amount for your situation.

Maximize your contributions
If your employer offers a retirement plan, contribute as much as the law will allow. In 2020, those age 50 and over can contribute up to $26,000 to an employer-sponsored 401(k) plan ($19,500 + $6,500 "catch-up" contribution). Many employers also offer a company match, so be sure you contribute enough to claim this "free" money, which can add up over time.

Create a spending plan
In other words, make a budget. Many people think a budget is restrictive, but look at it this way: You can spend now, or you can have the money to afford your dream adventures later. To start, it is important that you pay down debt and avoid accruing new debt. Next, examine your spending habits and replace some of your discretionary spend-ing with saving. Saving even $20 more per week is a step in the right direction.

Take initiative
Besides contributing to your employer's plan, you can save more by opening your own Roth IRA. Contributions are made after taxes, but earnings and distributions are income-tax free, provided the account is at least five years old and you have reached age 59½. Those age 50 and over can contribute up to $7,000 a year in 2020. Eligibility in 2020 for these plans begins to phase out with adjusted gross incomes of $124,000–$139,000 for single filers and $196,000–$206,000 for married joint filers.

Hang out your shingle
Many Boomers hope to start their own businesses in retirement. Why wait? If you begin your entrepreneurial efforts now, your business has the potential to be in full swing by the time you retire, and any profits between now and then can be added to your savings.

Consider downsizing
Your home may have significantly increased in value since you first bought it, and you may have already paid off the mortgage. With children at or near adulthood, do you really need all that space? Selling now and moving to a smaller, more affordable location may allow you to transfer some of the equity in your home into a savings vehicle.

Reconsider your retirement age
If you want to cushion your retirement savings, consider staying on the job longer. Some people actually leave retirement to reenter the workforce because they feel more fulfilled while working. Others seek part-time work, consulting, or entrepreneurial endeavors. Such options may enable you to earn more money to save, which may help to postpone spending down your savings.
Regardless of which options you choose, you can benefit from time and compounding interest. Every year that your savings remain untouched allows more time for potential growth. It is never too late to start preparing for your future. So, take action now to help get on track to saving for your retirement. LPL Financial, https://public.websteronline.com, July 28, 2020.
5. HOW SMART ARE YOU ABOUT THE ANNUAL AND LIFETIME GIFT TAX EXCLUSIONS?:
Some say it's better to give than to receive. But if your clients are the ones doing the giving, they need to follow the rules to avoid some unpleasant tax consequences. All advisors face questions about these rules. Here is your chance to test yourself on your understanding of the constantly changing annual and lifetime gift tax exemptions, their current limits, interpretations and operations. Your clients are counting on you to get these details right. There are 15 questions. See if you can answer 10 or more correctly. Click here. John Kador, Wealth Management, www.wealthmanagement.com, October 14, 2020.

6. THE MISUNDERSTOOD MATH OF DEFUNDING THE POLICE:
Across America this summer, protestors have marched to decry police brutality and racial injustice. One of the most prominent slogans has been "defund the police." Advocates of defunding have argued that the money would be better spent on community services and socioeconomic justice. This mantra immediately drew backlash from politicians on the right, asserting that law and order would suffer, and the slogan likely agitated some of the militia maniacs. However understandable the pent-up frustrations, America needs to find better solutions.
Would defunding actually work? For perspective, state and local governments spend about 4 percent of their budgets on police and local law enforcement. Nationwide, that works out to about $30 per month per capita. That is less than one-fifth of what is spent directly at the state and local level on "public welfare" expenditures, mostly direct payments to families and health-care providers. And it amounts to only a tenth of the spending on what I'll call redistributional social services, categorized more broadly to include functions that would bootstrap minority communities such as public education and health services used by lower-income households. Importantly, police budgets are local-government budgets, not part of state budgets where social services funding is largely provided. Even if a police department's spending were slashed in half -- extreme by any measure -- the additional incremental local funding thus made available for social services and income redistribution would increase current levels almost imperceptibly. Defunding simply wouldn't move the needle.

The point here, for those who naively believe that there is a lavish municipal money pot for cops that can simply be spread among local citizens to level the economic playing field, is that the budget math doesn't work. Despite experiments underway or planned in some cities to provide income support for limited numbers of residents, the reality is that income redistribution is far beyond the fiscal capacity of local governments.

What about the states? In the middle of a pandemic with shrunken income- and sales-tax revenues, they are especially hard-pressed to come up with more funding to address income inequality and socioeconomic injustice. That would have to be the job of the next Congress, so next week's election will likely decide whether a decisive majority of voters are inclined to address those issues in 2021. But unless it's a landslide blue-wave election, I wouldn't hold my breath for major new federal income redistribution programs on top of center stage, big ticket health-care reforms that would be more widely popular.

That brings us back to what can be done locally, given that defunding flunks the fiscal practicality test. A better strategy for local activists would be to clamor instead for "re-budgeting" the police functions. Most citizens are likely to be supportive of current levels of spending for law enforcement; they just want to see the money spent more effectively. I don't pretend to be an expert on what works and doesn't work in the specialized world of police training and staffing, or the best policies for community outreach and residence requirements, but surely the prioritization of how money for public safety is spent can make a genuine difference in how law enforcement is conducted on the streets.

Most mayors and police chiefs, notwithstanding a few hardcore holdouts, are keen to implement constructive reforms. Budget staff within police departments and municipal finance offices should be educating themselves on how they too can make a difference with strategic budgeting. Nothing would please me more than to see mayors' groups, municipal leagues, and the city/county managers and finance officers' associations devote some time and resources to build training curricula and best practices to support local efforts to prioritize expenditures in ways that produce concrete progress toward de-escalating urban tensions. The Government Finance Officers Association has already provided a useful starting point for these efforts with an insightful article, titled "The Defunding Debate," in its latest issue of Government Finance Review.

That's the budgetary landscape. Another measure that could have a profound impact on the behavior of bad cops is to de-unionize the rotten apples. This idea is much more controversial and requires a paradigm shift by both conservatives and liberals, the labor movement, and law-and-order advocates. A focused discussion of police de-unionization turns traditional partisan postures on organized labor upside down.
I present the issue here, as sand in the oyster to stimulate a pearl, in order to spark a serious dialogue: In urban America, more than just a few police unions unduly control their cops' culture and disturbingly resist the legitimate local processes of discipline. Too many mayors and prosecutors have hit a brick wall when dealing with their police unions, some of which stand on the wrong side of racial justice in their communities. Whether it is the proper role of a municipality or the state, public officials must find a way to neuter those rotten-apple unions' defense of police brutality.

At the local level, the best elected officials can hope to accomplish is to renegotiate contracts that provide union protection to bad actors. Without disputing the unions' right to collectively bargain on pay and other bread-and-butter issues, the labor agreements need to be rewritten so that disciplinary actions and independent investigations can proceed without union obstruction. Contracts with collective pay cuts for repeated incidents would send a strong message internally, to leverage peer pressure from the good cops. But to be equitable, penalty provisions should be accompanied by state or federal grants to provide extra compensation or good-cop incentives for front-line urban police, who are underpaid for the hazards, confrontations and hassles that many endure daily.

At the state level, Democrats who traditionally favor public-employee unions in general must rethink union rights in the law enforcement world. Besides targeted budgetary measures, legislatures need to find a way to de-unionize, de-certify, de-fang or at least neutralize the union in a locality where police power has clearly been abused on its citizens. By state law, bad cops disqualified through due process should lose taxpayer-funded pension payouts.

Policymakers and advisers with more legislative expertise and political savvy than mine can better craft the best way to deter police unions that shield bad cops. Clearly this is easier said than done, and the topic is a scorching hot potato going into next week's elections, but thereafter, it will be time for elected officials in problematic states and localities to stop ducking the issue. Girard Miller, Governing, www.governing.com, October 27, 2020.

7. HOW MUCH PENSION DEBT DOES YOUR STATE HAVE?:
Unfunded liabilities refer to a pension fund's debts--the payments owed to members of the pension fund that exceed its assets of current capital and their projected investment returns. This difference between assets and liabilities is monitored as an indicator of pension fund performance, management, and ability to pay retiree benefits.
In the years between 2003-2018, combined state pension funds' unfunded liabilities have grown from $233 billion to $1.237 trillion. According to the United States Census Bureau, there were 296 state-administered pension funds in fiscal year 2018. In that same year, state government pension funds held $2.98 trillion in assets and carried $4.22 trillion in liabilities, resulting in a funding gap--the funds' combined unfunded liabilities, or pension debt--of $1.237 trillion.
The trend between 2003 and 2018 showed a steady decline in the funded ratio for state pension funds as the growth in fund liabilities outran the growth in assets. The funding ratio of states' pension funds dropped from nearly 90 percent in 2003 to below 80 percent in the six years between 2003 and the Great Recession year of 2009. The aggregate state pension fund ratio dropped to a low point of 65.9 percent in 2016, before rebounding to the 70 percent level in 2018. Click here to learn more. James McAllister, Ballotpedia News, https://news.ballotpedia.org/, October 25, 2020.

8. PENNSYLVANIA FUND HALTING BUSINESS WITH APOLLO:
Pennsylvania Public School Employees' Retirement System, Harrisburg, will not consider new investments with Apollo Global Management due to investigations over Chairman and CEO Leon Black's professional relationship with financier and registered sex offender Jeffrey Epstein.

PennPSERS spokesman Steve Esack said in an email that the $59 billion pension system made the decision after speaking with the private equity firm "about the ongoing legal investigations involving the late Jeffrey Epstein and his past personal financial relationship with Apollo founder Leon Black."

The "investment team informed Apollo that it will not consider any new investments at this time," Mr. Esack wrote, adding that PennPSERS "is closely following the ongoing legal issues and the newly launched internal Apollo investigation."

PennPSERS currently has $918 million committed to Apollo funds. Another Apollo investor, the $416.9 billion California Public Employees' Retirement System, Sacramento, is pressing Apollo on the matter.

"Last week, CalPERS initiated a call with Apollo to discuss newly published information" regarding Mr. Black and Mr. Epstein," said spokeswoman Megan White in an email. CalPERS first contacted Apollo last year when Mr. Black's relationship with Mr. Epstein first came to light.

"We expect the general partners we do business with to follow the same core values of integrity and accountability that guide our own investment decision-making," Ms. White said. "We are monitoring this situation closely.

CalPERS had $20.2 million invested in Apollo Global Management stock and close to $1 billion in private equity investments managed by Apollo as of June 30, 2019, according to CalPERS' most recent investment report.

Consultant Cambridge Associates could stop recommending Apollo, according to a report by Bloomberg. Cambridge told clients its deliberations were prompted by lingering questions over the ties between the two men. A representative for the firm declined to comment.

On Wednesday, a filing with the Securities and Exchange Commission said Apollo hired law firm Dechert to conduct a "thorough, independent review" of Mr. Black's relationship Mr. Epstein.

Apollo's board of directors on Tuesday asked its conflicts committee, made up of independent directors, to retain outside counsel to independently confirm information Mr. Black has given about his professional relationship with Mr. Epstein.

Mr. Epstein was found dead in his cell at the Metropolitan Correctional Center in New York on Aug. 10, 2019, awaiting trial on federal charges of operating a sex trafficking ring.

During Apollo's July 31, 2019, earnings call Mr. Black said Apollo did not have a business connection with Mr. Epstein. Mr. Black said Mr. Epstein was on the board of the Black Family Foundation when it was created in 1997. Mr. Epstein resigned from the board in 2007, Mr. Black said, even though foundation federal tax filings continued to list him as a director for years afterward. That discrepancy was a mistake, Mr. Black said during the call.

Mr. Epstein also provided professional services to Mr. Black's family partnership and other family entities, Mr. Black said. In addition, Mr. Black said that he donated to charitable organizations affiliated with Mr. Epstein, and Mr. Epstein donated to charities affiliated with Mr. Black.

Apollo had about $414 billion in assets under management on June 30. James Comtois and Arleen Jacobius, Pensions & Investments, www.pionline.com, October 21, 2020.

9. PRESENT VALUE OF PBGC MAXIMUM GUARANTEE:
IRC section 436(d)(3) and ERISA section 206(g)(3)(C) provide that if the "adjusted funding target attainment percentage" is at least 60% but less than 80%, a plan generally may not pay a prohibited payment to the extent the payment exceeds the lesser of:Present Value of the Maximum PBGC Guaranteed Benefit under IRC Section 436(d)(3)(A)(ii) and ERISA Section 206(g)(3)(C)(i)(II)
(1) 50% of the amount of the payment that would be paid if the restriction did not apply, or
(2) the present value, determined under guidance provided by PBGC, of the maximum guarantee with respect to the participant under ERISA section 4022.
The amounts under (2) are determined each year by PBGC in accordance with methodology provided in Technical Update 07-4.
For additional information on benefit restrictions, including the definition of "prohibited payment" and effective dates, see Treasury's benefit restrictions regulations.
2021 |2020 |2019 | 2018 | 2017 | 2016 | 2015 | 2014 | 2013 | 2012 | 2011 | 2010 | 2009 | 2008
The values below apply to benefits with annuity starting dates in 2021. View a two-column spreadsheet version of the 2021 table.
The 2021 table was developed using the 417(e) segment rates for August 2020 (0.52%, 2.22% and 3.03%, respectively) for plan years beginning in 2021 and the 417(e) applicable mortality table for 2021.



Pension Benefit Guaranty Corporation, www.pbgc.gov, October 2020.

10. ALL THE STATES THAT ARE ALLOWING LAW GRADUATES TO BEGIN PRACTICING DURING THE PANDEMIC:
The COVID-19 pandemic has impacted everyone. For recent law grads, delays and uncertainty in the bar exam have wrought havoc on the beginning of their professional careers. When it became clear that the July 2020 bar exam would need to be indefinitely postponed in many states, law school graduates, attorneys, and even legislators began to call for diploma privilege – the practice of admitting law students to the bar on the basis of their J.D. alone. Some advocates point to the racist history of the bar exam, and lack of evidence that the bar exam upholds the interests of the public, as additional reasons to make exceptions for 2020 grads. Following the administration of an online bar exam which involved major technical difficulties in early October, the Lawyer's Committee for Civil Rights Under the Law renewed the call for temporary diploma privilege through the duration of the coronavirus crisis, as a matter of racial and disability justice.
While only a small handful of states have granted diploma privilege at this point (Wisconsin already allowed graduates of in-state law schools to practice without taking the exam), many states have adopted a patchwork approach, permitting some grads to begin practicing under supervision of licensed attorneys or expanding student practice orders. A roundup of those approaches is below:
States allowing recent law graduates to apply for admission to practice without taking the bar exam:
Above the Law readers are offered a free CLE course each quarter, thanks to Lawline.
States allowing recent law graduates to practice under the supervision of a licensed attorney:
Jurisdictions that have made no modifications to the admissions process:
Iowa, Maine, Michigan, Mississippi, Nevada, New Hampshire, New Mexico, North Carolina, Oklahoma, Puerto Rico, Rhode Island, South Carolina, West Virginia.
Across jurisdictions, the nuances and restrictions of these categories are distinct, so check the links for the relevant rules for your state.
If you're a recent graduate needing CLE credits to qualify for admission, review the solutions that will help you become the attorney you set out to be. Lawline supports diploma privilege for law graduates during the pandemic, and we hope to support you throughout your career, as well. Sarah Mills, https://abovethelaw.com, October 23, 2020.
11. OVERPAID YOUR UTILITY BILL? THAT'S PROBABLY A SCAM:
You get a robocall saying you paid too much on a utility bill. To make up for this mistake, they say, you'll get a cash refund and a discount on your future bills. All you have to do is press a number to get your money and discount. You say to yourself: "What luck!" You might think this strange surprise will help you save some much-needed money.
Sorry but…not so fast. This is probably just another utility scam -- or, at best, a marketing trick -- to get your money. In the unlikely event you really did pay more than you owed on your bill, utility companies don't usually give cash refunds. Instead, they credit the extra money to your account. As for the future discount on your bill, not likely. At best, this could be a third-party service provider claiming you'll save money if you switch to their service. But sometimes these services come with catches that could actually have you paying more on your bill -- or even two bills at once: your utility company's and the service provider's.
So if you get one of these calls, here's what to do:
Hang up. Don't press any numbers or respond to any instructions. If you press or respond, you'll probably wind up getting more unwanted calls like this.
Never give the caller your Social Security number, account details, or...well, just don't tell them anything. Scammers can use almost any information you give them to make a buck at your expense.
Call your utility company, using the number on your bill. Tell them about the call and -- if you still wonder -- ask if the call was for real.
If you want to consider using a third-party utility company, check with the utility regulatory agency in your state to understand your rights and how these companies are supposed to work.
Tell the FTC at ftc.gov/complaint if you spot this or any other scams.
Lisa Lake, Consumer Education Specialist, FTC, www.ftc.gov, October 23, 2020.

12. COVID-19 CLINICAL TRIAL - REAL OR FAKE? LEARN HOW TO TELL THE DIFFERENCE:
There are thousands of trials underway as companies race to find effective vaccines and treatments for COVID-19. Many of these research studies are legitimate, but some are not. So, if you're thinking about volunteering for a COVID-19 trial, it's important to know how to spot the real trials advancing medicine for everyone, versus the fake ones trying to steal your money and personal information.
Preying on our natural desire to help others, scammers have created fake websites and promotional materials, posing as legitimate researchers. Their goal? To take your personal information and your money. They might promise you a doctor's care and more than $1000 in payment...but as soon as they try to charge you for access, or ask for your Social Security, bank account, or credit card number, your Spidey sense should start tingling, because, unfortunately, some of these so-called "research studies" are fake.
If you're interested in participating in a COVID-19 or other research study, here are some things to keep in mind:
Never pay to be part of a clinical trial, or to find out about one. Real clinical trials will never ask you to pay them.
Do an online search before you join, with the name of the clinical trial and the words "scam," "review," or "complaint."
Legitimate clinical trials do gather information to identify ideal candidates. To screen for participants for COVID-19 trials, they might ask for your name, contact information, age, gender, race, ethnicity, or various pre-existing conditions associated with higher risk of a COVID-19-related mortality. But they should never ask you to give your Social Security number during recruitment or screening.
Never share financial information (like your bank account or routing number). Most legitimate trials will offer to pay people to participate in the trial, but you can ask to be paid by check rather than direct deposit. The amount you get will vary based on the trial, but it can range from $1,000-$2,500, particularly in Phase III of vaccine trials.
The National Institutes of Health (NIH) and the National Library of Medicine (NLM) maintain ClinicalTrials.Gov, a free searchable database of clinical studies on a wide range of diseases. You can also use the database to get more information about studies, including whether they're recruiting participants, and their contact information.
If you're interested in volunteering for a COVID-19 trial, you can sign up at the COVID-19 Prevention Network, a site run by the National Institute of Allergy and Infectious Diseases at the National Institutes of Health.
If you spot a trial that's charging people to participate, or demanding your SSN or financial information during screening, be sure to tell the Federal Trade Commission.
You can also file complaints with your attorney general regarding consumer issues, frauds, and scams. To find your state attorney general, visit consumerresources.org.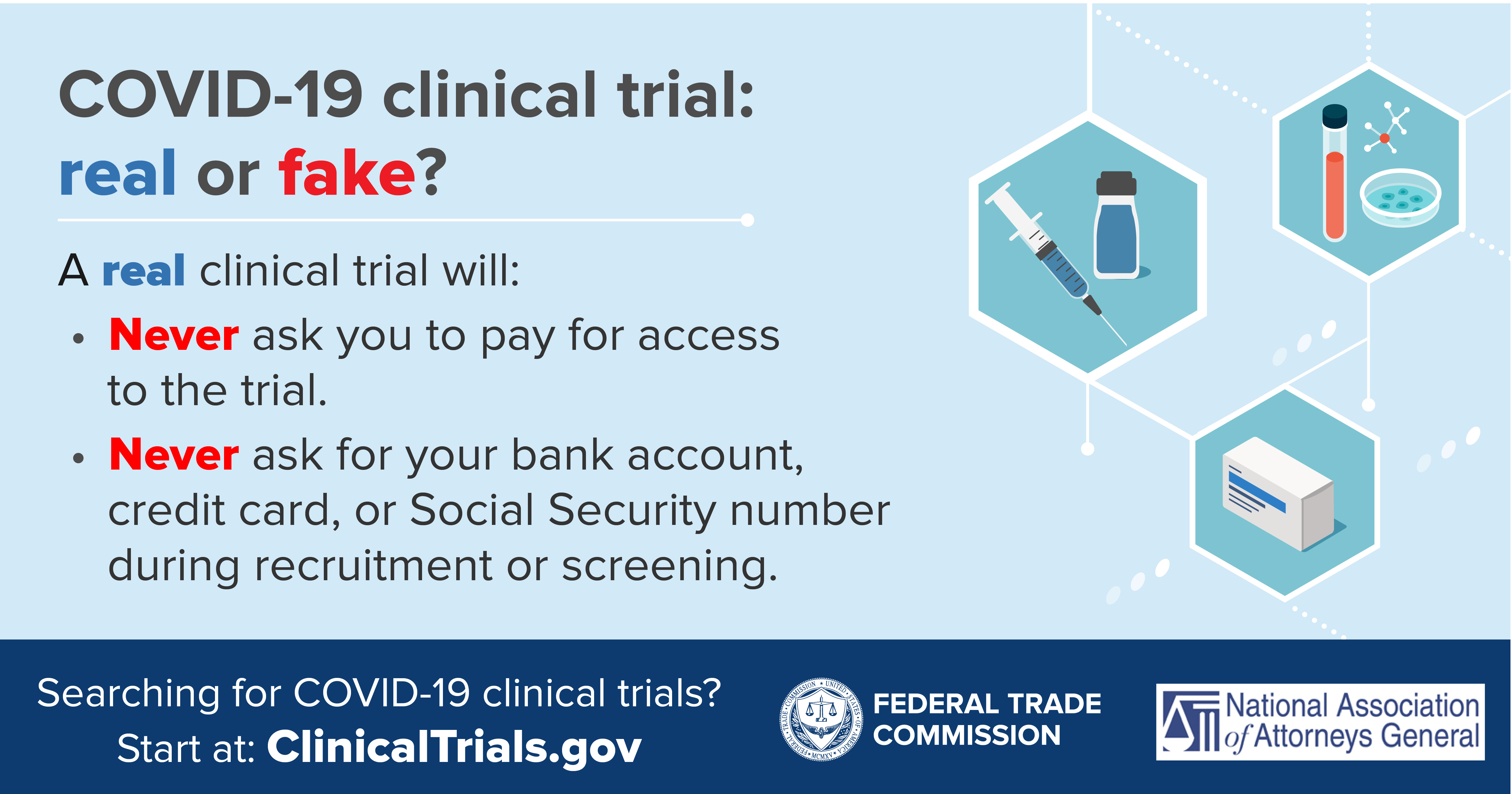 Jim Kreidler, Consumer Education Specialist, FTC, www.ftc.gov, October 23, 2020.

13. NATIONAL NUT DAY - KEY STATS:
From the U.S. Department of Agriculture, Economic Research Service, Fruit and Tree Nuts Outlook: September 2020:
"The 2020/21 marketing year is already underway for many noncitrus fruit crops. The USDA National Agricultural Statistics Service (NASS) forecast apple, peach, and cherry (sweet and tart) production down while table grape, cranberry, and pear production are expected to increase. The U.S. tree nut industry is forecast to have record-high almond, walnut, and hazelnut crops for 2020/21. Declining production is forecast for all citrus fruit in the 2020/21 season. Growers face uncertainty with the impact of the COVID-19 pandemic on 2020 prices. For January to July 2020, the Consumer Price Index (CPI) for fresh fruit was down from the same period last year, perhaps the result of more supplies directed to retail from the food service industry; some declining exports during the shut-down; tariffs in top export markets; and changing consumer behavior. August CPI for fresh fruit increased, up 1.5 percent from the previous August."


Note: The table above is cropped at the bottom. Click on the image to see the full page.

US Department of Agriculture, Economic Research Service, Release No. CB20-SFS.135, October 22, 2020.

14. U.S. DEPARTMENT OF LABOR RESTORES OVER $3.1 BILLION TO EMPLOYEE BENEFIT PLANS, PARTICIPANTS AND BENEFICIARIES, THE MOST EVER:
Today, the U.S. Department of Labor's Employee Benefits Security Administration (EBSA) issued its fiscal year (FY) 2020 enforcement fact sheet highlighting the Agency's recovery of over $3.1 billion in direct payments to plans, participants and beneficiaries in FY 2020.
In FY 2020, EBSA conducted 1,122 civil investigations. Moreover, EBSA's Benefits Advisors closed more than 171,000 inquiries, many of which came through EBSA's toll-free number, 1-866-444-EBSA (3272), and the website at askebsa.dol.gov. Through those and other efforts, EBSA recovered more money for plans, participants, and beneficiaries than ever before. Over the past four years, EBSA has recovered over $8 billion, increasing its recoveries by 175 percent from FY 2017 to 2020, and 310 percent from FY 2016 to FY 2020.


Through its enforcement of the Employee Retirement Income Security Act (ERISA), EBSA is responsible for ensuring the integrity of the private employee benefit plan system in the United States. EBSA's oversight authority extends to nearly 722,000 retirement plans, approximately 2.5 million health plans, and a similar number of other welfare benefit plans, such as those providing life or disability insurance. These plans cover about 154 million workers and their dependents and include over $10.7 trillion in assets. The fact sheet is available.
EBSA's mission is to assure the security of the retirement, health and other workplace related benefits of America's workers and their families. EBSA accomplishes this mission by developing effective regulations; assisting and educating workers, plan sponsors, fiduciaries and service providers; and vigorously enforcing the law.
The mission of the Department of Labor is to foster, promote and develop the welfare of the wage earners, job seekers and retirees of the United States; improve working conditions; advance opportunities for profitable employment; and assure work-related benefits and rights.
Megan Sweeney, US Department of Labor, Employee Benefits Security Administration, Press Release Number 20-2017-NAT, October 27, 2020.

15. IRS PROVIDES TAX INFLATION ADJUSTMENTS FOR TAX YEAR 2021:
The Internal Revenue Service today announced the tax year 2021 annual inflation adjustments for more than 60 tax provisions, including the tax rate schedules and other tax changes. Revenue Procedure 2020-45 provides details about these annual adjustments.

Highlights of changes in Revenue Procedure 2020-45: The Consolidated Appropriation Act for 2020 increased the amount of the minimum addition tax for failure to file a tax return within 60 days of the due date. Beginning with returns due after Dec. 31, 2019, the new additional tax is $435 or 100 percent of the amount of tax due, whichever is less, an increase from $330. The $435 additional tax will be adjusted for inflation.

The tax year 2021 adjustments described below generally apply to tax returns filed in 2022.

The tax items for tax year 2021 of greatest interest to most taxpayers include the following dollar amounts:
The standard deduction for married couples filing jointly for tax year 2021 rises to $25,100, up $300 from the prior year. For single taxpayers and married individuals filing separately, the standard deduction rises to $12,550 for 2021, up $150, and for heads of households, the standard deduction will be $18,800 for tax year 2021, up $150.
The personal exemption for tax year 2021 remains at 0, as it was for 2020; this elimination of the personal exemption was a provision in the Tax Cuts and Jobs Act.
Marginal Rates: For tax year 2021, the top tax rate remains 37% for individual single
taxpayers with incomes greater than $523,600 ($628,300 for married couples filing jointly).
The other rates are: 35%, for incomes over $209,425 ($418,850 for married couples
filing jointly); 32% for incomes over $164,925 ($329,850 for married couples filing jointly);
24% for incomes over $86,375 ($172,750 for married couples filing jointly); 22% for incomes
over $40,525 ($81,050 for married couples filing jointly); 12% for incomes over $9,950
($19,900 for married couples filing jointly). The lowest rate is 10% for incomes of single
individuals with incomes of $9,950 or less ($19,900 for married couples filing jointly).
For 2021, as in 2020, 2019 and 2018, there is no limitation on itemized deductions, as that limitation was eliminated by the Tax Cuts and Jobs Act.
The Alternative Minimum Tax exemption amount for tax year 2021 is $73,600 and begins to phase out at $523,600 ($114,600 for married couples filing jointly for whom the exemption begins to phase out at $1,047,200). The 2020 exemption amount was $72,900 and began to phase out at $518,400 ($113,400 for married couples filing jointly for whom the exemption began to phase out at $1,036,800).
The tax year 2021 maximum Earned Income Credit amount is $6,728 for qualifying taxpayers who have three or more qualifying children, up from a total of $6,660 for tax year 2020. The revenue procedure contains a table providing maximum Earned Income Credit amount for other categories, income thresholds and phase-outs.
For tax year 2021, the monthly limitation for the qualified transportation fringe benefit remains $270, as is the monthly limitation for qualified parking.
For the taxable years beginning in 2021, the dollar limitation for employee salary reductions for contributions to health flexible spending arrangements remains $2,750. For cafeteria plans that permit the carryover of unused amounts, the maximum carryover amount is $550, an increase of $50 from taxable years beginning in 2020.
For tax year 2021, participants who have self-only coverage in a Medical Savings Account, the plan must have an annual deductible that is not less than $2,400, up $50 from tax year 2020; but not more than $3,600, an increase of $50 from tax year 2020. For self-only coverage, the maximum out-of-pocket expense amount is $4,800, up $50 from 2020. For tax year 2021, participants with family coverage, the floor for the annual deductible is $4,800, up from $4,750 in 2020; however, the deductible cannot be more than $7,150, up $50 from the limit for tax year 2020. For family coverage, the out-of-pocket expense limit is $8,750 for tax year 2021, an increase of $100 from tax year 2020.
For tax year 2021, the adjusted gross income amount used by joint filers to determine the reduction in the Lifetime Learning Credit is $119,000, up from $118,000 for tax year 2020.
For tax year 2021, the foreign earned income exclusion is $108,700 up from $107,600 for tax year 2020.
Estates of decedents who die during 2021 have a basic exclusion amount of $11,700,000, up from a total of $11,580,000 for estates of decedents who died in 2020.
The annual exclusion for gifts is $15,000 for calendar year 2021, as it was for calendar year 2020.
The maximum credit allowed for adoptions for tax year 2021 is the amount of qualified adoption expenses up to $14,440, up from $14,300 for 2020.
IRS Newswire IR-2020-245, www.irs.gov, October 26, 2020.

16. INCOME RANGES FOR DETERMINING IRA ELIGIBILITY CHANGE FOR 2021:
The Internal Revenue Service announced cost‑of‑living adjustments affecting dollar limitations for pension plans and other retirement-related items for tax year 2021 in Notice 2020-79, posted today on IRS.gov.

Highlights of changes for 2021
The income ranges for determining eligibility to make deductible contributions to traditional Individual Retirement Arrangements (IRAs), to contribute to Roth IRAs and to claim the Saver's Credit all increased for 2021.

Taxpayers can deduct contributions to a traditional IRA if they meet certain conditions. If during the year either the taxpayer or his or her spouse was covered by a retirement plan at work, the deduction may be reduced, or phased out, until it is eliminated, depending on filing status and income. (If neither the taxpayer nor his or her spouse is covered by a retirement plan at work, the phase-outs of the deduction do not apply.) Here are the phase-out ranges for 2021:
For single taxpayers covered by a workplace retirement plan, the phase-out range is $66,000 to $76,000, up from $65,000 to $75,000.
For married couples filing jointly, where the spouse making the IRA contribution is covered by a workplace retirement plan, the phase-out range is $105,000 to $125,000, up from $104,000 to $124,000.
For an IRA contributor who is not covered by a workplace retirement plan and is married to someone who is covered, the deduction is phased out if the couple's income is between $198,000 and $208,000, up from $196,000 and $206,000.
For a married individual filing a separate return who is covered by a workplace retirement plan, the phase-out range is not subject to an annual cost-of-living adjustment and remains $0 to $10,000.The income limit for the Saver's Credit (also known as the Retirement Savings Contributions Credit) for low- and moderate-income workers is $66,000 for married couples filing jointly, up from $65,000; $49,500 for heads of household, up from $48,750; and $33,000 for singles and married individuals filing separately, up from $32,500.
The income phase-out range for taxpayers making contributions to a Roth IRA is $125,000 to $140,000 for singles and heads of household, up from $124,000 to $139,000. For married couples filing jointly, the income phase-out range is $198,000 to $208,000, up from $196,000 to $206,000. The phase-out range for a married individual filing a separate return who makes contributions to a Roth IRA is not subject to an annual cost-of-living adjustment and remains $0 to $10,000.
Key employee contribution limits remain unchanged
The limit on contributions by employees who participate in 401(k), 403(b), most 457 plans, and the federal government's Thrift Savings Plan remains unchanged at $19,500.

The catch-up contribution limit for employees aged 50 and over who participate in these plans remains unchanged at $6,500.

The limitation regarding SIMPLE retirement accounts remains unchanged at $13,500.

The limit on annual contributions to an IRA remains unchanged at $6,000. The additional catch-up contribution limit for individuals aged 50 and over is not subject to an annual cost-of-living adjustment and remains $1,000.

Details on these and other retirement-related cost-of-living adjustments for 2021 are in Notice 2020-79, available on IRS.gov. IRS Newswire IR-2020-244, www.irs.gov, October 26, 2020.

17. FOR THOSE WHO LOVE WORDS:
What's the difference between "Majority" vs. "Plurality"? Find out the answer here and what their differences mean for this election.

18. A THOUGHT FOR TODAY:
Manners are a sensitive awareness of the feelings of others. If you have that awareness, you have good manners, no matter what fork you use. -Emily Post, author and columnist (27 Oct 1872-1960)

19. TODAY IN HISTORY:
On this day in 1969, the US Supreme Court orders an end to all school segregation "at once".

20. REMEMBER, YOU CAN NEVER OUTLIVE YOUR DEFINED RETIREMENT BENEFIT.
Items in this Newsletter may be excerpts or summaries of original or secondary source material, and may have been reorganized for clarity and brevity. This Newsletter is general in nature and is not intended to provide specific legal or other advice.