Stephen H. Cypen, Esq., Editor
1. RETHINKING "RETIREMENT"; WHAT'S IN A WORD?
One of the most powerful words in the English language is "retirement." To satisfy my curiosity about the emotional responses evoked by this term, I have been on a mission to find out more about the words "retire" and "retirement."
I started my search at home -- with Webster's Ninth New Collegiate Dictionary. Webster's defines "retire" as: to withdraw from action or danger: retreat; to withdraw especially for privacy; to fall back: recede; and to withdraw from one's position or occupation.
I couldn't help but wonder why a word that conveys withdrawal is used to describe leaving work after years of service.
While reading history, I learned that before the industrialization of 19th century Europe, the concepts retirement, pensions, sick days and vacations didn't even exist; most people worked until the day they died. Somewhere along the line, retirement became synonymous with old age, and with this association came overtones -- both positive and negative.
Penn State professor of speech communications Jon Nussbaum and others who study perceptions of aging note that much flexibility exists in the path to retirement. Some people, typically those with financial resources, choose "early retirement," and this marker in their life course typically has positive meaning. However, for many -- particularly those who are "forced" to retire -- the event can be a stressful time of role loss and uselessness.
One elderly colleague is certain the word "retire" is based on a reference to the "re-tiring" (changing the tires) of a car or bicycle. Just as we must replace an aged and worn tire, she says, we believe we must replace aged workers.
When I floated the "re-tiring" interpretation to a group of Penn State Cooperative
Extension agents, someone jumped up and said, "No, you have it wrong. 'Retire' is positive; it refers to the act of going to bed!" After a few nods and moments of silence, it hit me and a few others that this interpretation was even more disconcerting. Doesn't bedtime mark the END of the day?
Although our discussion was lighthearted, we realized the serious implications that exist in any discussion about retirement. And we were not the only ones. Recently, American Association of Retired Persons (AARP) leaders, concerned about negative connotations of the term -- particularly among Baby Boomers -- entered court to change the organization's name. They are still known as AARP, but the letters no longer stand for anything.
Some people have tried to change the word itself. Jim Gambone, a Minnesota-based intergenerational specialist, suggests replacing retirement with "refirement." In his book, "ReFirement: A Boomer's Guide to Life After 50," he provides an optimistic vision for how to live meaningfully during the "third age."
Considering the aging trend of the world's population, such efforts are timely. Between 1950 and 2000, the decline in fertility and mortality rates added 20 years to the average lifespan. Although some pundits predict that increases in the number of older adults will lead to social instability and financial disaster, Gambone and others maintain that the increase in longevity is one of the 20th Century's great achievements. Marc Freedman notes in his book, "Prime Time: How Baby Boomers Will Revolutionize Retirement and Transform America," that positive visions abound, such as "productive aging," "lifelong learning" and "civic involvement." These concepts challenge characterizations of older adults as dependent, passive and selfish.
I ask again: What is retirement? In a sense, this question requires a personal answer. Each of us must define our own retirement. At 41, I have much living to do before I can even attempt to formulate a response. However, I find solace and direction in some of the ideas I've encountered. Case in point: T. R. Higgins in the book "Ages Ahead" on the views of the Maori of New Zealand:
"As one ages, cultural responsibilities increase and the experience and wisdom of the older people are acknowledged and treasured. They are often in so much demand there is no thought of retirement."
Many intriguing, inspiring notions about aging also exist closer to home. We all probably know at least one person who is aging successfully -- pursuing their dreams, as well as contributing to others' lives. We also can take note of high-profile role models, like former president Jimmy Carter and former astronaut and U. S. Senator, John Glenn. Mathew Kaplan, PennState, https://aese.psu.edu/.

2. NEVER RETIRE - WHY PEOPLE ARE STILL WORKING IN THEIR 70S AND 80S:
It's not uncommon for baby boomers to continue to work well into their 60s, 70s or even 80s. Some people decide to continue working because they need the money, while others love what they do and can't imagine not doing it anymore or just need to stay busy. With continued improvements in health care and life expectancy, people can spend as long in retirement as they spent working.

Find Fulfillment in an Organization's Work
There are certainly baby boomers who can't wait to retire, especially those with physically or emotionally stressful professions. However, some older Americans are choosing to stay in their jobs or find new challenges that will keep them engaged.

After more than 40 years in the TV industry, Gary Wordlaw decided to retire when his job as general manager of a TV station in Tallahassee, Florida, ended with new management. "I figured this was the appropriate time to stop doing anything," Wordlaw says.

He and his wife moved back to Louisiana. "Every morning, I would get up and go to the community coffee shop, have my coffee and I would watch people who had real jobs come and go," Wordlaw says. "I said, 'Look at these people. They don't know how great it is to sit here and have coffee.'"

That feeling didn't last. "Minutes turned into hours, and hours turned into days," Wordlaw says. "I had all this pent-up energy of wanting to contribute to the industry I had been in all those years. I said, 'Man, this isn't what it was supposed to be. I'm not satisfied.'" His first thought was to write a book, but then he started watching the news. "People weren't doing it the way I thought it should be done. At this stage in my life, I wanted to be a teacher in the industry."

Wordlaw's attempted retirement didn't even last a year. "It probably lasted about six or seven months," says Wordlaw, whose career as a TV reporter, news director and station manager took him to cities across the country before his short retirement. "It didn't take me that long to realize I'd made a big mistake."

Wordlaw reached out to friends and ended up with his current job as a news director at WVLA-TV and content editor for Nexstar Media Group in Baton Rouge, Louisiana, and he has no plans to retire again. "I got the best of all worlds," Wordlaw says. "I get to hire young people, work with seasoned people and put a stamp on things. Going to work, for me, is like being on an extended vacation."

Improve Your Retirement Finances
Clint Camua, vice president of EP Wealth Advisors in West Los Angeles, says one of his clients worked into her early 80s at two different jobs, even though she didn't need the money. "She worked as an assistant to a judge from 7 a.m. to 3 or 4 p.m. Then, she would go to the race track and be a security guard, carrying a weapon."

The financial benefit of continuing to work is huge. "Her money was growing and not being depleted because she was not even tapping her savings," Camua says. She stopped working when she got sick and moved to an assisted living facility, but remained active socially into her 90s.

Continue to Support Worthy Causes
Retirement allows you to spend your time serving causes you care about and put your experience to work in new ways.

Howard Wooley retired in 2013 after 33 years in the communications industry at the National Association of Broadcasters and Verizon. He and his wife, Gail, traveled and settled down at North Carolina's Outer Banks. Gail, who suffered from sickle cell anemia, was writing a book about her life and her battle with the disease. Wooley was spending his days at Starbucks and taking long walks. "Gail said in the first six months after I was home, she felt like I was pacing around the house," Wooley says.

"Toward the end of 2014, Gail could see that I was getting restless," Wooley says. So, she did not object when an offer from Microsoft brought him out of retirement to do public policy consulting. But she laid down the ground rules. "She said, 'Howard, this cannot be a repeat of your corporate work where you are on your smartphone 24/7,'" Wooley says. Being a consultant gave him the family time he needed.

Gail died in March 2015, at 58, from the disease she had battled her entire life. Wooley took her book to an agent and eventually a publisher. "Soar: A Memoir," was published in 2017. Wooley also continues her mission and passion: sickle cell research and advocacy. He has taken on other clients and serves on several boards of directors.

Stay Engaged and Mentally Sharp
Sandra McPeak, managing director of investments at Wells Fargo Advisors, says many people follow a nontraditional path to retirement or even unretire. "A lot of times, people, when they retire, think they will have all this time. They think they can catch up," McPeak says. "But after a while, they are drumming their fingers. They feel out of it. They don't feel engaged. They feel like they aren't contributing." But there's no need to give up on a profession you love just because you reach a certain age.

George Fraser, a noted public speaker, author and networking expert, has never tried to retire and has no intention of doing so. "I enjoy my work more than vacation. I'm not a sit at the beach and chill kind of guy," Fraser says. "I'll either die sitting at a podium or at my desk dotting an 'i' or crossing a 't.'"

Fraser says he can't imagine himself in retirement, and has no close friends who are retired. "If your health allows you, don't ever retire," Fraser says. "If your work enthralls you and excites you, you should keep doing it until your last breath. It will keep you interested and engaged with life. It'll keep you curious." Rodney Brooks, U.S. News & World Report, https://money.usnews.com, June 15, 2020.

3. EMPHASIZING RETIREMENT SAVINGS FOR YOUNG PART-TIME WORKERS:
The Setting Every Community Up for Retirement Enhancement (SECURE) Act includes a mandatory requirement for 401(k) plan sponsors to allow long-term part-time employees to participate in their company's retirement plans. In the past, most employees had to work 1,000 hours a year to qualify.
Now, those who have worked at least 500 hours each year for three consecutive years and who meet the minimum age requirement of 21 must be offered an opportunity to participate. Plan sponsors must start counting hours in 2021, and the first part-timers to meet eligibility requirements will enter plans in 2024. But education can start now.
Dan Keady, a chief financial planning strategist at TIAA, says he believes the SECURE Act's eligibility requirement will spur younger part-time employees to enroll in the future. "We do expect to see more part-time employees participating in company retirement plans going forward, and that is a big positive for individuals," he says. "It is incredibly important to start saving early and, in doing so, even just a small amount can make a big difference towards an individual's long-term retirement goal."
To get started, employers should communicate to younger workers who aren't participating in the plan through targeted communication and ongoing outreach, Keady says. He says plan sponsors should tell their employees that it's important to start saving for retirement at an early age, and he encourages employers to think critically about the default option they're offering for younger workers. Plan sponsors can also provide education on the importance of lifetime income. "Employers play an instrumental role in helping younger workers get started on their financial journey," he says.
Robert Conzo, CFP, CEO and managing director of The Wealth Alliance, shares a similar thought. He says emphasizing the effects of saving early can motivate workers in their 20s--especially part-time employees--to begin contributing. For example, those who begin saving for retirement during their early 20s and achieve an average rate of return can double their money by age 65, he says.
Enrolling in a company's 401(k) plan means these participants will likely be exposed to other employer-sponsored benefits, including financial advice. Since younger workers often do not have enough assets under management for advisers to make an appropriate profit, some advisers are offering subscription services with monthly fees to provide services, Keady says. But younger workers can also check in with their employer's benefits staff about free services linked to the plan. "Before entering into these services, be sure to check out free advice associated with your workplace plan, as this may meet your needs," he says.

Personalizing financial advice is also effective at encouraging people to save, and particularly so for part-time workers, who may not be financially prepared to start on their retirement savings. "Employers should understand how to connect with younger people and drive the main thing that they understand," Conzo says. Use the concept of saving $100 a month, or another amount specific to what the employee could afford to help them understand how savings can add up. Another strategy he recommends for younger employees is saving 50 cents for every $1 spent. Amanda Umpierrez, Plansponsor, www.plansponsor.com, November 2, 2020.

4. EMPLOYERS NEED TO REINVENT RETIREMENT-SAVINGS MATCH:
One of the building blocks of the U.S. retirement savings system is the employer match. If workers contribute to their retirement savings, 54% of employers will contribute as well, according to a recent report by the Plan Sponsor Council of America (PSCA). By helping people prepare for retirement, the match boosts the financial security of workers while giving employers additional workforce flexibility.

The recession threatens to undermine the employer match as we know it. According to a survey by the PSCA, about 25% of employers are considering suspending or reducing their matching. Such cutbacks would significantly reduce retirement savings, given that the most common match involves the employer contributing 50 cents for every dollar saved by the employee, up to 6% of pay.

These are tough times, but the current crisis presents an opportunity not to abandon the match but to reinvent it.

For companies struggling to pay their match, there are ways to reduce costs while motivating workers to save. And for companies not planning suspensions or cuts, the strategies can improve the impact of the match on savings behavior.

In this article, we will discuss two solutions that can improve the effectiveness and efficiency of matching dollars. The first is to implement a fixed-dollar match, such as $1,200 per employee. The second is to stretch out the match. For example, instead of matching fifty cents on the dollar up to 6% of pay, companies could give 30 cents on the dollar up to 10% of pay. To appreciate the efficacy of these approaches, it's useful to understand the behavioral science that informs them, so we'll begin our discussion there.

The Science of the Match
Evidence suggests that matches boost enrollment, typically by three to 10 percentage points. In one study, Yale finance professor James Choi and colleagues looked at a company that introduced a match. They found that the match increased employee participation by roughly five percentage points. Voya Financial, a leading retirement-plan provider (where one of us, Charlie, is CEO of Retirement and Employee Benefits), finds that participation is seven percentage points higher in plans that offer a match.

Another way in which matches encourage savings involves the match cap, which influences workers for at least two reasons: They don't want to miss out on the employer contribution, and they might treat the cap amount as an implicit recommendation about how much to save. In another study, Choi and colleagues studied a company that introduced an employer match with a cap of 4% of pay. Within six months, almost a third of new participants chose 4% as their savings rate — a nearly six-fold increase. Among Voya plans, those offering a 5% cap have an average savings rate of 6.9%, while for those offering a 6% cap, the figure is 7.8%. Higher match caps generally lead to higher savings rates.

Although employees respond to the match and the match cap, they're generally indifferent to the match rate, which is the number of cents contributed by the employer for every dollar saved by the employee. (If a company contributes 50 cents per dollar saved, it has a 50% match rate.) Why is that? There are no benchmarks to guide employees' decisions, nor do employees have strong feelings about what a typical match should be. Research suggests that when there's no benchmark against which to judge numbers, or when interpreting numbers requires effort, we tend to ignore them.

With these research findings in mind, let's evaluate the current match formula. At the vast majority of companies, the match is set as a percentage; as mentioned, the most common formula is 50 cents on the dollar up to 6% of pay. This combination will nudge workers to save 6% -- which usually isn't enough for a secure retirement.

We suspect that a percentage match also fails to motivate some workers to participate. Many people struggle with numbers (and percentages in particular), which makes it hard for them to fully grasp the value of the match. As a result, some leave matching dollars on the table.

A Better Match
Let's look now at the two approaches we've identified for improving the match formula for employers and employees alike.

The first is designed to get more people to save while also helping struggling companies reduce costs. It calls for companies to match a fixed-dollar amount rather than a percentage of pay. For example, a company could give all its workers $1,200 annually if they save at a sufficient level. That's the equivalent of matching 50 cents on the dollar up to 6% of pay for someone making $40,000 a year, and it's less than the typical cost of a current match.

A fixed-dollar match has this advantage: It's clear and definite. Research by University of Oregon professor Ellen Peters and colleagues suggests that percentages often feel abstract and thus are easy to ignore. A fixed-dollar amount, by contrast, prompts us to think about what we could buy with that extra cash -- a thought process that may make it harder to leave the money on the table. Psychologically, it's easier to forgo a "6% match" than to pass up "$1,200." And the fixed-dollar approach could be particularly helpful for lower-income workers, for whom the set amount would represent a larger share of salary.

The second approach is appropriate for employers that want to cut expenses in the present while encouraging workers to save in the future. It's known as a stretch match, and while it's not a new idea, it can help companies defer some matching costs while we're in a recession.

For example, instead of offering 50 cents on the dollar up to 6% of pay, employers could offer 25 cents up to 10% or 15% of pay. In the short term, this could save them money -- possibly half of their matching costs. And if workers adjust their savings rate to the match cap, they will be putting aside more for retirement. This would happen gradually and, ideally, as the economy recovers, which would be to the long-term benefit of workers, companies, and society.

One potential issue with the stretch match is that a high cap could demotivate workers for whom putting aside 10% or 15% of their salary seems impossible, especially now. So companies should encourage participation by using a gradual savings escalator, which automatically increases the savings rate by 1% or 2% each year until workers reach a recommended level. Such escalators have helped more than 15 million Americans significantly increase their savings rate.

By adopting one of these approaches, companies can demonstrate their commitment to the sufficiently funded retirement of their workers while keeping costs in check. Of course, these are not the only strategies that could help workers and employers, and they might not be suitable for all companies. We encourage those employers thinking about cutting or eliminating the match to consult with their plan advisers on ways to retain it in a more effective form. Shlomo Benartzi and Charlie Nelson, Harvard Business Review, https://hbr.org, October 19, 2020.

5. CENSUS BUREAU RELEASES NEW COMMUTING DATA FOR OLDER WORKERS:
Today, the U.S. Census Bureau released the report "Commuting Patterns of Older Workers in the United States: 2013-2017" that describes commuting patterns of older workers in the United States based on data from the five-year 2013-2017 American Community Survey (ACS).

Older workers are a diverse group whose commuting patterns vary by age, commuting mode, geography, disability status, earnings, and race and Hispanic origin. Planners and policymakers can accommodate the needs of this growing share of the working population by understanding their commuting behavior and the differences from that of younger workers.

Detailed tabulations, related information and historical data are available on the Commuting (Journey to Work) page. For more information on the older population, visit the Older Population and Age webpage. United States Census Bureau, Tip Sheet: CB20-TPS.82, www.census.gov, November 10, 2020.

6. REQUEST FOR COMMENTS REGARDING PROTECTION OF ANNUITY AND SPOUSAL RIGHTS UNDER SECTION 205 OF ERISA:
This notice requests comments on the application of the annuity and spousal rights provisions of section 205 of the Employee Retirement Income Security Act of 1974, P.L. 93-406, 88 Stat. 829, as amended (ERISA), in connection with a distribution of an individual custodial account (ICA) in kind from a terminating § 403(b) plan. Although no § 403(b) plans are subject to the annuity and spousal rights provisions of §§ 401(a)(11) and 417 of the Internal Revenue Code (Code), some § 403(b) plans that are subject to ERISA (such as a plan of a non-church tax-exempt employer that provides for matching contributions) are subject to the parallel annuity and spousal rights provisions of section 205 of ERISA.1 Revenue Ruling 2020-23, 2020-47 I.R.B., issued contemporaneously with this notice, provides guidance regarding termination of a § 403(b) plan that is funded through the use of § 403(b)(7) custodial accounts and distribution of an ICA in kind to a participant or beneficiary of the plan. The revenue ruling does not, however, address the application of the annuity and spousal rights provisions under section 205 of ERISA in connection with a distribution of an ICA in kind as part of a plan termination.

BACKGROUND
Treas. Reg. § 1.403(b)-10(a) provides that a § 403(b) plan may be terminated and establishes requirements for the plan termination. One of the requirements for a plan termination is that "all accumulated benefits under the plan must be distributed to all participants and beneficiaries as soon as administratively practicable after termination of the plan."

Rev. Rul. 2011-7, 2011-10 I.R.B. 534, provides, in relevant part, that a plan may be terminated in accordance with the rules of § 1.403(b)-10(a) by delivery to participants and beneficiaries of a fully paid individual annuity contract or an individual certificate evidencing fully paid benefits under a group annuity contract, as further described in the ruling.

Section 110 of Division O of the Further Consolidated Appropriations Act, 2020, P.L. 116-94 , 133 Stat. 2534 (2019), known as the Setting Every Community Up for Retirement Enhancement Act of 2019 (SECURE Act), directs that guidance be issued providing that, if an employer terminates a plan under which amounts are contributed to a custodial account under § 403(b)(7), the plan administrator or custodian may distribute an ICA in kind to a participant or beneficiary of the plan. It also provides that the distributed ICA shall be maintained by the custodian on a tax-deferred basis as a § 403(b)(7) custodial account, similar to the treatment of fully paid individual annuity contracts under Rev. Rul. 2011-7, until amounts are actually paid to the participant or beneficiary.

Rev. Rul. 2020-23 provides that a plan is terminated in accordance with the rules of § 1.403(b)-10(a) in situations that involve the distribution of an ICA in kind. The revenue ruling further provides that a distribution of an ICA in kind to a participant or beneficiary is not includible in gross income until amounts are actually paid to the participant or beneficiary from the ICA, so long as the ICA maintains its status as a § 403(b)(7) custodial account. The revenue ruling explicitly does not, however, address a situation in which annuity and spousal rights under section 205 of ERISA apply.

Section 205(a) of ERISA generally provides that a distribution must be provided either as a qualified joint and survivor annuity (QJSA) in the case of a participant who does not die before the annuity starting date,2 or as a qualified pre-retirement survivor annuity (QPSA) in the case of a participant who dies before the annuity starting date. However, section 205(b)(1)(C) of ERISA provides that section 205 of ERISA does not apply to a participant under a plan that is not a defined benefit plan or money purchase pension plan if (i) a full death benefit is provided to the surviving spouse, (ii) no participant election of a distribution in the form of a life annuity is made (and a life annuity is not the normal form of benefit), and (iii) no part of the distribution is the result of a transfer from a defined benefit plan or a money purchase pension plan (this is sometimes called the "profit-sharing exception" or the "profit-sharing safe harbor"). Section 205(c) of ERISA provides that a participant may elect to waive the QJSA or QPSA form of benefit, but spousal consent is needed for a waiver by a married participant.

REQUEST FOR COMMENTS
For a § 403(b) plan that does not have a participant to whom the annuity and spousal rights provisions of section 205 of ERISA apply, Rev. Rul. 2020-23 provides guidance allowing the distribution of an ICA in kind as part of the termination of the plan. However, issues remain regarding the application of section 205 of ERISA in connection with a distribution of an ICA in kind under section 110 of the SECURE Act for a § 403(b) plan with at least one participant to whom section 205 of ERISA applies, including if a participant cannot be reached, a participant does not elect to waive the QJSA and QPSA form of benefit, or a married participant elects to waive the QJSA and QPSA form of benefit but the participant's spouse does not consent to the waiver.

The Department of the Treasury (Treasury Department) and the IRS request comments on the application of ERISA section 205 annuity and spousal rights provisions in connection with a distribution in kind of an ICA under section 110 of the SECURE Act, including any administrative or other burdens that may arise and potential methods or rules that could minimize or eliminate those burdens.

The Treasury Department and the IRS are particularly interested in:
Information on current practices and arrangements (including sample language from custodial account agreements and § 403(b) plan documents, if relevant) that may affect the termination of § 403(b) plans that are funded through § 403(b)(7) custodial accounts and that are subject to section 205 of ERISA;
Views regarding the administrability of alternative dates (which continue to be evaluated by the Treasury Department and the IRS for consistency with applicable law) for when rights under section 205 of ERISA might be required to be protected, for example, at the time of the termination of a § 403(b) plan (by obtaining the participant's waiver and the spouse's consent, pursuant to section 205(c) of ERISA, to a distribution in kind of an ICA), or at the time payments are made from the ICA (analogous to § 1.401(a)-20, Q&A-2, which provides that the requirements of §§ 401(a)(11) and 417 of the Code are applied to payments under distributed annuity contracts);
Views on whether the Pension Benefit Guaranty Corporation's missing participants program for defined contribution plans (29 CFR Part 4050 Subpart B)3 might be a destination for transferring, without participant and spousal consent, the cash value of custodial accounts that are subject to section 205 of ERISA; and
Views on the type(s) of transition relief, if any, that would assist with the termination of an existing § 403(b) plan that is funded through the use of § 403(b)(7) custodial accounts in a way that protects rights under section 205 of ERISA.
Comments should be submitted in writing on or before February 3, 2021, and should include a reference to Notice 2020-80. Comments may be submitted in one of two ways:
(1) Electronically via the Federal eRulemaking Portal at www.regulations.gov (type "IRS IRS-2020-0032" in the search field on the regulations.govhomepage to find this notice and submit comments).
(2) Alternatively, by mail to: Internal Revenue Service, Attn: CC:PA:LPD:PR (Notice 2020-80), Room 5203, P.O. Box 7604, Ben Franklin Station, Washington, D.C. 20044.
Click here to view the Notice 2020-80 irs.gov. Patrick T. Gutierrez of the Office of Associate Chief Counsel, Employee Benefits, Exempt Organizations, and Employment Taxes, IRS, www.irs.gov, November 5, 2020.

7. SUPPORTING EMPLOYEES AND CITIZENS DURING COVID-19:
Executive summary: COVID-19 has had an unprecedented impact on state and local government agencies, including over one million jobs lost and a nearly one trillion dollar anticipated budget shortfall over the next three years. Based on a recent survey of state and local government employees, this white paper highlights how state and local government organizations can advance their missions to serve citizens while supporting and retaining employees in an era of shrinking budgets and an uncertain future. Agencies that communicate transparently, collect and act on employee and citizen feedback, and make smart investments in training and technology will be well-positioned to help their employees navigate the impacts of the COVID-19 pandemic and beyond.

Key insights:
In an era of furloughs, budget shortfalls, and heightened uncertainty, Medallia research has identified three key ways that agency leaders can help advance their missions by supporting their most critical resource: their people. Click here to view the report. Medallia Institute Research, www.medallia.com.

8. ADVISORS SEE TAX AND REGULATORY IMPLICATIONS OF BIDEN PRESIDENCY:
The SEC's Reg BI and the DOL's new fiduciary rule could both be revisited by a Democratic administration.

With the country in an uproar after Joe Biden was--finally--declared the winner in the most controversial presidential election in decades, advisors said they were concerned about the potential regulatory and tax implications from the new Democratic administration, even as they were less worried about the impact on financial markets.

On the regulatory front, many said the SEC's Regulation Best Interest Rule and the Department of Labor's fiduciary exemption are the two main items in the crosshairs.

"If I had to guess, [Democrats] will take aim at [Reg BI], and it will be scrapped," said Andrea McGrew, chief compliance, legal officer with USA Financial. "In the party platform, they said Reg BI didn't go far enough, and it allows self-serving interests to rule the day. It's a good indication they don't love it."
However, while she thinks Reg BI is the ultimate target, the DOL fiduciary rule represents lower hanging fruit.

"I do see it being on different footing (than Reg BI), and they see it as well," McGrew said. "It seems way more rushed, it was truncated significantly compared to other rules. This one is easier and would be the first step, and it's focused on retirement assets. It would be easy to unwind and make it more extensive, and aggressive for those who feel it didn't go far enough."

Lawrence Stadulis, co-chair, Fiduciary Governance with Stradley Ronon, disagreed.

"I would be surprised if [a new SEC Chair under Biden] said let's scrap Reg BI. I think having lived through the issue, I'd guess a new chair would be reluctant," he said. "That would drain so many staff, energy, resources to do that on Day One. Would the chairman take a look around the edges? Quite possibly. But I'm guessing against a wholesale reconsideration."

Robin Traxler, senior vice president, policy and deputy general counsel at Financial Services Institute, feels similarly about the fiduciary exemption.

"[The fiduciary exemption] has been proposed, comments have been received, and they'll likely make changes on some feedback they've received," Traxler said. "After all of that work's done, I think it would be difficult for a Biden administration to prioritize going right after that rule."

To be sure, without a overwhelming Democratic majority in Congress, it's unclear how much of regulatory change advisors will see.

James Lundy, a partner at Faegre Drinker, is more on the fence.

"I think on the priority ... there are going to be other things than a uniform fiduciary standard," Lundy said. "Objectively, Reg BI does fill a gap and attempts to address that gap with how broker/dealers interact with clients. That said, it could be something over the course of a four-year term that Democrats would likely consider" changing if there was an opening to do so.

As for the markets, even with a divided Congress, advisors expect to prepare their clients for more stimulus spending and higher taxes.

"I wouldn't be surprised if the market rallies," said Pamela Chen, chief investment officer and managing partner at Santa Monica-based Pamela Chen. "Maybe not immediately, but we'll continue to sustain a rally going forward, because with the Democrats coming into office, they are looking to institute a very heavy or large stimulus plan. That will stimulate the economy and will generate more growth in spending by putting more cash in people's pockets and generating additional revenues."

"We're expecting is an immediate stimulus and a bailout of municipalities, which would help municipal bonds," said Loreen Gilbert, CEO of WealthWise Financial Services in Irvine, Ca. "If we see Biden win, then it's a clean energy play, so away from traditional energy and a positive for solar, for electric cars, for anything in that space."

"With Biden, I know he wants to raise corporate taxes and capital gains taxes, and I think that can have an impact. Financial advisors need to think about their overall portfolio strategy, and if there was a portfolio strategy that was dependent on managing taxes by dividends or tax harvesting, we need to think about maybe we shouldn't be doing that," said Khloe U. Karova, founder of Modern Capital Concepts. "If we see Biden elected, he's saying he's raising taxes. I'm going to tilt my portfolios more towards growth companies."

As far as bonds, Biden is better for the bond market than Trump, she said.

"But it has nothing to do with government spending," she said. "Biden is better because Trump keeps trying to interfere with the Federal Reserve, trying to bully it. Biden supports a fully independent Federal Reserve. That's a key thing, and when I think we have a Federal Reserve that's listened to, it cannot be negative, and I don't think Biden would be worse for bond holders."

"For trade, a bigger long-run threat to our investment portfolios is not coronavirus, it's these trade wars and tariffs," Karova said. "It's not really fully appreciating the long-term impact of some of these trade agreements. We need to recognize China is quickly emerging as a global economic power. The way trade tariffs work it's tit for tat, and we've been suffering from that."

The tax implications of a Democratic administration also weigh on advisors.

"If there is a Biden win, we're all going to be really busy between now and the end of the year: it's a matter of looking at people's tax positions and potentially taking gains," Gilbert said. "In that scenario too, you could have a sell off from purely profit taking. You're going to have a lot of estate planning meetings at the end of this year. If you have a more balanced Senate, you would still want to worry about income tax issues."

For many advisors, a return to some stability, at least in terms of political rhetoric, would be refreshing for both markets and participants.

"Americans deserve to wake up every morning and not be looking for some sensational tweet or some headline that's going to create confusion or animosity towards their fellow man," said Doug Boneparth of Bone Fide Wealth in New York. WealthManagement.com, November 9, 2020.

9. PRE-RETIREES AND RETIREES CAN TAKE STEPS TO ADDRESS INFLATION IN RETIREMENT:
Fifty-seven percent of Americans are worried that inflation will make basic retirement expenses unaffordable, Allianz found in a survey that formed the basis of its "2020 Retirement Risk Readiness Study." Furthermore, 48% of retirees and 62% of non-retirees have no idea how much they currently spend or will spend on health care in retirement.

Despite these concerns, only 24% of Americans are discussing the impact of inflation with a financial professional, and a mere 21% say they will look for a financial product that can increase their income to help address inflation.

Kelly LaVigne, vice president of consumer insights at Allianz Life, tells PLANSPONSOR that inflation should be a concern for every retiree. "Even if it averages 3% over the course of retirement, within 24 years, a retiree's cost of living is going to double. Everyone knows that inflation makes things more expensive over time, but few seem to appreciate that rising costs can also bring more complexity, which is particularly concerning as we age and our cognitive ability declines," LaVigne says. "It is already challenging to establish and maintain reliable sources of retirement income. The additional pressure of managing increased expenses can pose a risk to financial security if people don't have a strategy for increasing income built into their retirement plan."

LaVigne says there are steps people can take to mitigate inflation risk. "The first is working with a financial adviser, who can have a better handle on their needs," he says. Allianz learned in its survey that people are afraid to talk about their concerns, so it is critical that if someone goes to the trouble of hiring an adviser that they are straight with them, LaVigne says.

The next thing people should do is wait as long as they can to take their Social Security benefit, LaVigne says. "If you think about it, Social Security is one of the few guaranteed sources of income that is supposed to last your lifetime," he says. "It also has a cost-of-living adjustment [COLA] built in."

Social Security benefits can increase in value by 25% to 30% with a delayed start date, he notes.

The third thing people can do is to invest in products that keep up with inflation, such as an immediate annuity with a COLA rider, or guaranteed income that promises to keep up with inflation, LaVigne says.

Steve Vernon, president of Rest-of-Life Communications, says he wholeheartedly agrees that delaying taking one's Social Security benefit is key. People can live off of what they have saved for retirement in the interim, Vernon says.

For those who are wary of purchasing an annuity, there are platforms that can bid an inquiry out to multiple insurers to find the most attractive contract and price, Vernon says. Two examples of this are immediateannuities.com and spia.direct, he says. Lee Barney, Plansponsor, www.plansponsor.com, October 28, 2020.

10. SPRINGFIELD FIRST RESPONDERS FUND UPS ALLOCATION TO ALTERNATIVES:
Springfield (Mo.) Police Officers' & Firefighters' Retirement System voted to increase its target allocation to alternatives and reduce its exposure to fixed income following an asset allocation study.

The $469 million pension fund's board approved increasing its target allocation to alternatives to 31.5% from 22.5% and reducing its total fixed income target to 20% from 27.5% at its Oct. 8 meeting, said Janell Manley, administrative director.

The total equity target will also drop slightly to 48.5% from 50%.

How the target allocation changes will be employed has yet to be determined.

As of June 30, the actual allocation was: 26.9% domestic fixed income, 23.8% international equities; 23.1% domestic equities; 20.2% alternatives; 5.3% international fixed income; and 0.7% other. Investment consultant Segal Marco Advisors assisted. Rob Kozlowski, Pension & Investments, www.pionline.com, November 6, 2020.

11. DECATUR CITY COUNCIL FACES 'UNSUSTAINABLE' TREND IN POLICE AND FIRE PENSION COSTS:
Decatur City council members came face to face with an arresting reality: police and firefighter pensions are burning a bigger and bigger hole in the municipal budget.
The issue was highlighted as councilors met and looked at setting an annual property tax levy. The council voted unanimously to instruct its professional staff to draw up plans for setting the levy in a way that will capture growth from new development, but leave the rate largely unaltered for property owners whose equalized assessed valuations had not changed.
The levy is a county-wide tax and the city's portion is only 16% of the total bill property owners get. The council is scheduled to formally set its levy rate in December.

A briefing document explained the city's tax income from the levy had added up to roughly $14.2 million last year and is used to partly fund police and fire pensions, the Decatur Public Library, general fund debt payments and even the Decatur Municipal Band.
The problem, as outlined in a memo from City Manager Scot Wrighton, is that the police and pension payments add up to more than 60% of the money: in 2019 police pension payments cost $4 million, and fire pensions $5.1 million.

Wrighton told councilors the 2021 police pension bill would jump to $5.5 million from the 2020 total of $4.7 million, while the fire pension bill for 2021 would come in at $6.2 million compared to this year's bill of $5.8 million. The city manager said the city has chosen previously to offset some of the pension costs by pulling money from other funds to pay for it.

"If the entire cost of police and fire pension contributions were charged to the annual property tax levy in 2021… then 83% of the city's property tax levy would be dedicated exclusively to police and fire pensions," Wrighton said.

He noted the 2020 pension costs amounted to 64% of the city's portion of the property tax levy after the cost was offset by draining money from those other funds. But Wrighton warned the trend of public safety pension costs is moving in a direction the city can't afford forever: "The growth of pension payments underscores the unsustainable nature of police and fire pension costs…" he added.

Others are also watching how the council spends other people's money. Decatur Regional Chamber of Commerce President Mirinda Rothrock addressed Monday's meeting, first decrying the devastating effects of COVID-19-inspired closures forced on bars and restaurants. She said the city should bear in mind the suffering of the business community and its owners and employees when it looks at possibly raising tax levies.

"Our businesses have been devastated; they cannot take another tax increase, another fee increase," she said. "So I just ask you as you make your considerations to please keep our businesses and our economy in top of mind."

Speaking before, Deputy City Manager Jon Kindseth said the city has made efforts to cut costs. It's been hiring civilian workers to do some police administrative work and those workers are covered by pensions that don't cost as much as those paid to sworn officers. And another option out there is to defer pension payments to avoid straining the city's overall budget at a time when it is already being hammered by the effects of COVID-19.

"But that is always a tough decision to make," said Kindseth. "Because if you kick the can down the road… all you do is defer that cost to a future budget. And you also lose any rate of return that money would have generated over the next 12 months as well."

Decatur's problems are a symptom of a much more massive, state-wide public pension disaster covering everyone from teachers to many other groups of public sector workers. Currently, the combined bill for state and local government retirement debt is estimated at $203 billion by the Illinois Policy Institute, a conservative think tank.

In other actions that touched on different aspects of police expenditure, councilors approved spending $34,177 to buy more police body cameras. Previously, cameras had been issued to all patrol officers. But Wrighton said manpower shortages provoked by COVID-19 and dealing with civil unrest had seen detectives put into uniform to support the patrol division.

"We expect this to be the trend for 2021 and into the future, thus we believe it is in the best interests of the city, the police department, the officers and citizens to provide a body camera to each detective as well," Wrighton had said in a briefing note.

Councilors also agreed to accept more than $29,000 in U.S. Department of Justice taxpayer funds that will be used to pay for the overtime costs of officers called in to investigate gun crime and other violent offenses.

In other business, the city approved spending $213,200 in a three year agreement to secure and update its access to software called the Geographic Information System.

This powers sections on the council's website that enables visitors to, for example, look up details on any specific property in the city. Kindseth, speaking before, said the new enhanced version would allow public input and help the city better plan things like bus routes to follow changing needs and demands. Kindseth said it is expected that two-thirds of that $213,200 bill will be met by federal funds. Tony Reid, Herald&Review, https://herald-review.com, November 2, 2020.

12. SETTLEMENT REQUIRES ZOOM TO BETTER SECURE YOUR PERSONAL INFORMATION:
Daily life has changed a lot since the pandemic started. Because face-to-face interactions aren't possible for so many of us, we've turned to videoconferencing for work meetings, school, catching up with our friends, even seeing the doctor.
When we rely on technology in these new ways, we share a lot of sensitive personal information. We may not think about it, but companies know they have an obligation to protect that information.
The FTC just announced a case against videoconferencing service Zoom about the security of consumers' information and videoconferences, also known as "Meetings." The FTC claimed that Zoom failed to protect users' information in a variety of ways:
Zoom said it provided end-to-end encryption -- a way to protect communications so only the sender and the recipient can see it -- for Zoom Meetings. It didn't.
Zoom said it secured Meetings with a higher level of encryption than it actually provided.
Zoom told users who recorded a Meeting that it would save a secure, encrypted recording of the meeting when it ended. In reality, Zoom kept unencrypted recordings on its servers for up to 60 days before moving them to its secure cloud storage.
Zoom installed software, called ZoomOpener, on Mac users' computers. This software bypassed a Safari browser security setting and put users at risk -- for example, it could have allowed strangers to spy on users through their computer's web cameras. Or hackers could have exploited the vulnerability to download malware onto -- and take control of -- users' computers. If users deleted the Zoom app, the ZoomOpener remained, as did these security vulnerabilities. Zoom could re-install the app without the user's permission and without letting them know. (Apple removed the ZoomOpener web server from users' computers in 2019.)
Zoom didn't give users the straight scoop about the ZoomOpener software. Zoom said the software was a bug fix, but didn't tell users that it would be installing a web server that would circumvent a privacy and security safeguard, or that the software would remain on their computers even after they had deleted Zoom.
Zoom agreed to settle the charges brought by the FTC. Though Zoom has now discontinued many of the practices challenged in the complaint, the settlement puts your security top of mind for Zoom. It requires Zoom to live up to its privacy and security promises and to put in place a comprehensive security program designed to protect your information for many years to come -- or pay big fines.

Check out our consumer tips to see how you can stay safe while video conferencing. And if you use video conferencing as part of your business operations, see Video conferencing: 10 privacy tips for your business. Alvaro Puig, Consumer Education Specialist, FTC, www.ftc.gov, November 9, 2020.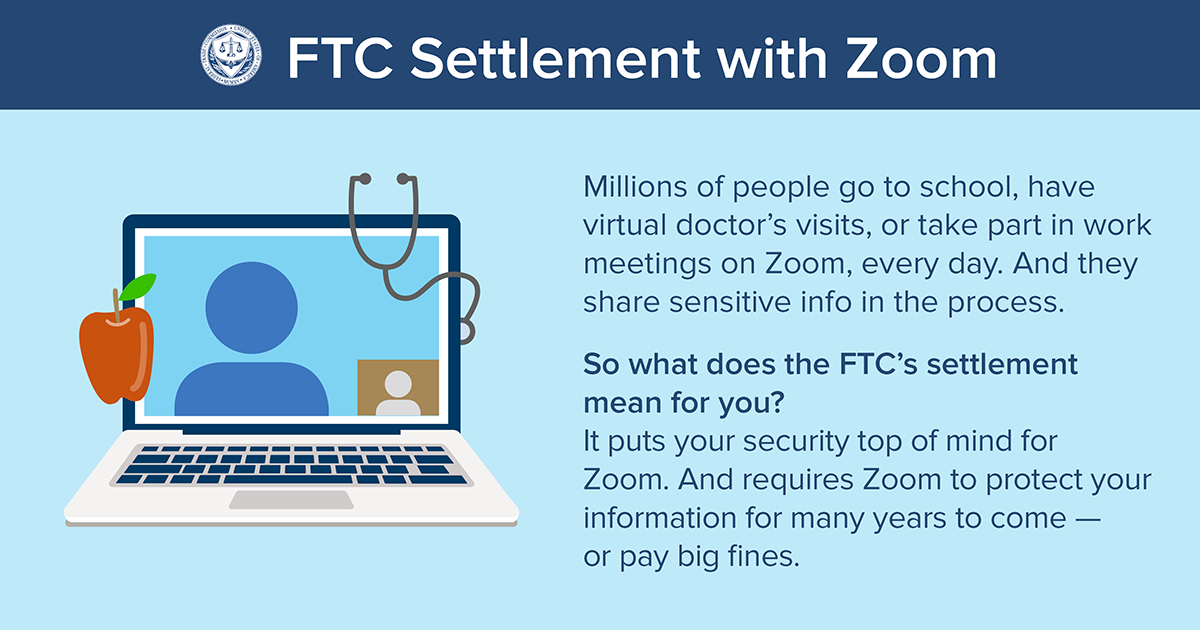 13. REMINDER TO ALL TAXPAYERS; GIFT CARDS ARE NOT USED TO MAKE TAX PAYMENTS:
Gift cards are a popular and convenient gift for all occasions. They're also a tool that scammers use to steal money from people.

Scammers often target taxpayers by asking them to pay a fake tax bill with gift cards. They may also use a compromised email account to send emails requesting gift card purchases for friends, family or co-workers. The IRS reminds taxpayers gift cards are for gifts, not for making tax payments.

Here's how this scam usually happens:
The most common way scammers request gift cards is over the phone through a government impersonation scam. However, they will also request gift cards by sending a text message, email or through social media.
A scammer posing as an IRS agent will call the taxpayer or leave a voicemail with a callback number informing the taxpayer that they are linked to some criminal activity. For example, the scammer will tell the taxpayer their identify has been stolen and used to open fake bank accounts.
The scammer will threaten or harass the taxpayer by telling them that they must pay a fictitious tax penalty.
The scammer instructs the taxpayer to buy gift cards from various stores.
Once the taxpayer buys the gift cards, the scammer will ask the taxpayer to provide the gift card number and PIN.
Here's how taxpayers can tell if it's really the IRS calling. The IRS will never:
Call to demand immediate payment using a specific payment method such as a gift card, prepaid debit card or wire transfer. Generally, the IRS will first mail a bill to any taxpayer who owes taxes.
Demand that taxpayers pay taxes without the opportunity to question or appeal the amount they owe. All taxpayers should be aware of their rights.
Threaten to bring in local police, immigration officers or other law enforcement to have the taxpayer arrested for not paying.
Threaten to revoke the taxpayer's driver's license, business licenses or immigration status.
Any taxpayer who thinks they've been targeted by a scammer should:
Contact the Treasury Inspector General for Tax Administration to report a phone scam. Use their IRS Impersonation Scam Reporting webpage or call 800-366-4484.
Report phone scams to the Federal Trade Commission. Use the FTC Complaint Assistant on FTC.gov. They should add "IRS phone scam" in the notes.
Report threatening or harassing telephone calls claiming to be from the IRS to phishing@irs.gov. Taxpayers should include "IRS phone scam" in the subject line.
More information:
Share this tip on social media -- #IRSTaxTip: Reminder to all taxpayers: Gift cards are not used to make tax payments. https://go.usa.gov/x79bh. IRS Tax Tip 2020-151, www.irs.gov, November 9, 2020.

14. FOR THOSE WHO LOVE WORDS:
What Is The Difference Between "Equality" And "Equity"? Learn the answer here.

15. A THOUGHT FOR TODAY:
"A day wasted on others is not wasted on one's self." -Charles Dickens

16. TODAY IN HISTORY:
On this day in 1968, US Supreme Court: Epperson v. Arkansas, court declares unconstitutional Arkansas law banning teaching evolution in public schools. Learn more about this landmark case here.

17. REMEMBER, YOU CAN NEVER OUTLIVE YOUR DEFINED RETIREMENT BENEFIT.
Items in this Newsletter may be excerpts or summaries of original or secondary source material, and may have been reorganized for clarity and brevity. This Newsletter is general in nature and is not intended to provide specific legal or other advice.