Stephen H. Cypen, Esq., Editor
1. THREE REASONS WHY PUBLIC PENSIONS ARE CHEAPER THAN OTHER RETIREMENT PLANS LIKE 401(K)S:
Too often it is claimed that closing public pension plans and moving all newly hired public employees into defined-contribution plans like a 401(k) or cash balance hybrid plans is needed for state and local governments to address budget shortfalls. However, implementing this move can increase costs. Below, we outline three reasons why.
Closing a defined-benefit plan can increase unfunded liabilities.
Unfortunately, there are several examples of states closing their defined-benefit plans with disastrous consequences for both public employers and employees. In Michigan, for example , state lawmakers closed the State Employees Retirement System (SERS) to all newly hired public employees in 1997. When the state closed the plan, SERS was one of the best-funded systems in the country, with a funded status of more than 100 percent. By the end of 2019, however, the plan's unfunded liabilities had skyrocketed to 65.4 percent.




Michigan's state government was not the only one to close its plan. In 2013, the Kentucky General Assembly passed legislation that moved all newly hired public employees in the Kentucky Retirement Systems (KRS) into a cash balance plan. All five defined-benefit plans in the system witnessed an increase in their unfunded liabilities following this bill's passage. The Kentucky Employees Retirement System (KERS) Non-Hazardous Plan's funded status dropped as low as 13 percent by the fiscal year 2018.
Public pensions are cheaper to administer than defined-contribution plans.
According to the National Teachers Retirement Association (NRTA), providing retirement benefits through a defined-benefit plan costs 46 percent less than a defined-contribution plan. This is due to several factors. Defined-contribution plans like 401(k)s, for example, usually have higher fees than defined-benefit plans.
Also, in a defined-contribution plan, there is longevity risk, meaning employees can outlive their savings (unlike a defined-benefit plan). Defined-benefit plans pool this risk collectively, meaning that the plan is funded partly based on the overall average age of the members in the plan. Pooling risk collectively ensures the plan will have enough assets to pay out benefits indefinitely for all of its members.
Closing a defined-benefit plan can create higher public employee turnover, leading to increased training costs.
The example of Palm Beach, Florida closing its public pension plan to newly hired public employees illuminates how this action can increase costs. According to the National Institute on Retirement Security (NIRS), Palm Beach decided in 2012 to close its public pension plan to all newly hired public employees and move all of its current public employees into a hybrid plan combining elements of both defined-contribution and defined-benefit plans.
This move drastically impaired the town's public workforce. Twenty percent of public employees retired after the change was made, and more than 100 police officers and firefighters left their jobs before retirement. Many of them took positions in nearby localities that offered a defined-benefit pension plan. The town of Palm Beach ended up paying a considerable financial cost for losing these essential public employees, with training costs for new hires ballooning up to $20 million.
Thankfully, four years later, the town shifted course and opted to restore the defined-benefit plan for its public safety officers. This experiment should serve as a warning sign to other lawmakers thinking of making the same change.
The above examples prove that protecting public pensions is a critical fiscal move for state and local governments. As many face difficult budget questions due to the coronavirus-induced economic crisis, it's critical that they remember that shifting public employees away from defined-benefit plans is not the answer they are looking for. Tristan Fitzpatrick, National Public Pension Coalition, https://protectpensions.org , November 18, 2020.

2. INTERNAL VS. EXTERNAL MANAGEMENT FOR STATE AND LOCAL PENSION PLANS:
The brief's key findings are:
As state and local pension plans have increased their investments in alternative assets, they have taken on more external asset managers.
However, due to concerns about fees, some large plans have started to reevaluate the size of their external team.
This study explores how the number of managers affects fees and after-fee returns, controlling for plan size, asset allocation, and extent of external management.
The results suggest that a significant reduction in the number of managers could reduce fees somewhat, but, in terms of after-fee returns, it matters who gets cut.
This full brief is available here for viewing or download. Jean-Pierre Aubry and Kevin Wandrei, Center for Retirement Research at Boston College, https://crr.bc.edu , November 24, 2020.

3. COUNTY EMPLOYMENT AND WAGES SUMMARY:
From June 2019 to June 2020, employment decreased in all of the 357 largest U.S. counties, the U.S. Bureau of Labor Statistics reported today. In June 2020, national employment (as measured by the QCEW program) decreased to 135.1 million, a 9.4-percent decrease over the year. Atlantic, NJ, had the largest over-the-year decrease in employment with a loss of 34.2 percent. Employment data in this release are presented for June 2020, and average weekly wage data are presented for second quarter 2020. Employment in most of the country was impacted by the COVID-19 pandemic and efforts to contain it.
Among the 357 largest counties, 352 had over-the-year increases in average weekly wages. In the second quarter of 2020, average weekly wages for the nation increased to $1,188, an 8.6-percent increase over the year. Atlantic, NJ, had the largest second quarter over-the-year wage gain at 22.5 percent. (See table 1.) The increases in average weekly wages largely reflect substantial employment loss among lower-paid industries.



Large County Employment in June 2020
Atlantic, NJ, had the largest over-the-year percentage decrease in employment (-34.2 percent). Within Atlantic, the largest employment decrease occurred in leisure and hospitality, which lost 33,336 jobs over the year (-75.2 percent).

Cleveland, OK, and Utah, UT, both experienced the smallest over-the-year percentage decrease in employment, each with a loss of 0.2 percent. Within Cleveland, leisure and hospitality had the largest employment decrease with a loss of 1,838 jobs (-13.7 percent). Within Utah, leisure and hospitality had the largest employment decrease with a loss of 2,297 jobs (-9.9 percent).

Large County Average Weekly Wage in Second Quarter 2020
Atlantic, NJ, had the largest over-the-year percentage increase in average weekly wages (+22.5 percent). Within Atlantic, an average weekly wage gain of $143 (+24.2 percent) in leisure and hospitality made the largest contribution to the county's increase in average weekly wages.

Ector, TX, had the largest over-the-year percentage decrease in average weekly wages with a loss of 6.6 percent. Within Ector, natural resources and mining had the largest impact, with an average weekly wage decrease of $84 (-4.7 percent) over the year.

Ten Largest Counties
All of the 10 largest counties had over-the-year percentage decreases in employment. In June 2020, New York, NY, had the largest over-the-year employment percentage loss (-18.8 percent). Within New York, leisure and hospitality had the largest employment decrease with a loss of 208,495 jobs (-66.1 percent). (See table 2.)

All of the 10 largest counties had over-the-year percentage increases in average weekly wages. In second quarter 2020, New York, NY, experienced the largest over-the-year percentage gain in average weekly wages (+14.9 percent). Within New York, leisure and hospitality had the largest impact, with an average weekly wage increase of $149 (+15.5 percent) over the year. US Bureau of Labor Statistics, www.bls.gov/CEW , November 18, 2020.

4. THERE'S A WAY TO FIX THE $4.6 TRILLION U.S. PUBLIC PENSIONS MESS - CANADA SHOWS US HOW:
In Ernest Hemingway's "The Sun Also Rises," Mike is asked how he went bankrupt. His reply: "Two ways. Gradually, then suddenly." He might as well be describing the prognosis for many of the nation's 5,300 public pension funds, which hold $4.4 trillion in assets against what the Federal Reserve estimates to be $9 trillion in liabilities.
Most U.S. public pensions plans were in surplus in 2000 . Today, based on their own accounting – which differs from that of the Fed – they hold less than 75 cents on every dollar they owe to their 33 million plan members. Funding gaps are now affecting municipal bond ratings , and COVID-19 has introduced new stresses to public finance.
Pension reform is needed, yet no one seems to know what to do. And few want to rock the boat.
We argue in a recently published study that there is a way out, even for public pension systems as deeply underwater as those in Illinois, Kentucky and New Jersey. The answer? Just look north to Canada to see what can be done.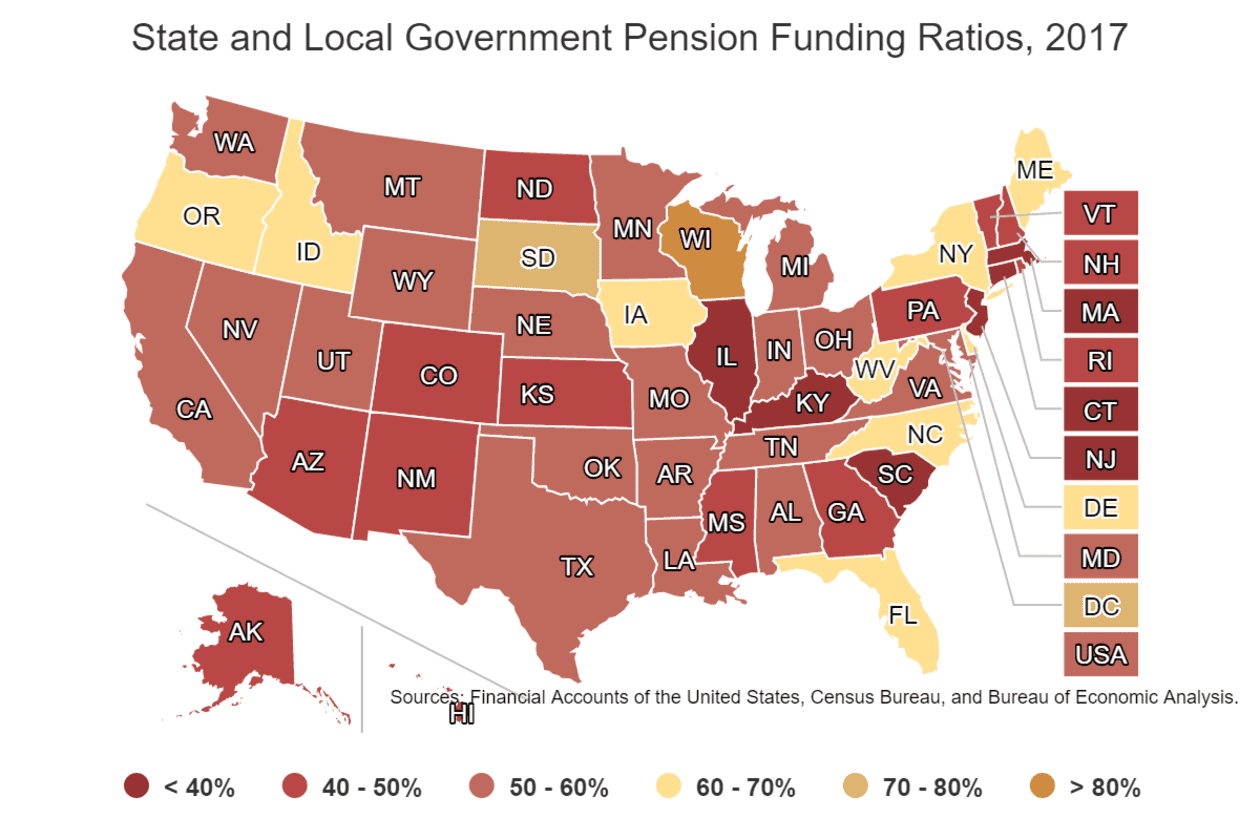 Canada today has a public pension system that is well-funded and sustainable. This was not always the case. Until the late 1980s, its public pensions were in poor shape. During the inflationary 1970s, benefits were enhanced with retroactive indexation not matched with increased funding. Contributions were commingled with other public funds and lent to Provincial governments, not invested in markets. In some cases, Canadian provinces didn't even have a good grip on the true actuarial value of their pension liabilities.
It eventually became clear to provincial finance ministers that failing to undertake comprehensive pension reform would imperil the retirement security of public sector workers. Current retirees might still receive their pensions, but younger workers would not. But protecting pensions would lead to higher taxes, pitting workers against taxpayers.
Elected officials implemented comprehensive reforms. Now – some 30 years later – that history should be required reading for elected officials of state and local governments across the U.S.
Reform does not mean simply finding new ways to invest money in search of higher returns. It is impossible to solve a pension fund's problems solely through the investment portfolio. For one thing, almost every pension plan has negative cash flows, paying out more in benefits than it receives in contributions. Generating cash yield or holding cash balances are essential to funding benefits every year, but that drags down overall investment returns.
Moreover, many pensions unrealistically target annual returns of 7% or more . Most market strategists do not believe diversified pools of tens or hundreds of billions of dollars in assets can achieve that level of return decades into the future, particularly given today's low interest rates. The target return is doubly important because it's also the rate by which the stream of future pension benefit payments is discounted to the present. An excessive discount rate makes a pension fund seem more financially robust than it really is.
Instead, secure pensions require much more than spiced-up investing models. The basics: Acknowledge true deficits. Address past errors through catch-up funding. Align stakeholder interests through appropriate legal structures and governance. Ensure future sustainability through conservative plan design. Enhance investing offices. And mitigate long-term risk by matching fund assets to liabilities.

Five steps
Canada did all that. Here's how.
First, actuaries were engaged to correctly value funding gaps which were made whole. In some provinces, taxpayers fully absorbed the cost of these gaps. In others, workers agreed to participate equally in bearing the cost.
Second, plans were reformulated under joint sponsorship of employer and employee interests. This gave employees a strong voice in determining the level of their benefits. It moderated that voice with the recognition of a shared burden for ensuring long-term plan sustainability: a seat at the table in return for skin in the game.
Third, the new legal structure led to more conservative funding models. Canadian pensions are designed conservatively. Contributions from members and employers cover about 80% of benefits in Canada compared with 55% in the U.S. While employer contributions are similar in the two countries, Canadian employees pay more into their pension systems relative to future benefits than do their peers in the U.S.
It is impossible to solve a pension fund's problems solely through the investment portfolio.
Fourth, Canadian governments established sophisticated arms-length investment offices to manage pension assets. In the case of smaller plans, portfolios were pooled for more efficient management.
Fifth, pensions were oriented to investing with the objective of asset-liability matching. Today, they on average target 5.6% returns, compared with 7.2% in U.S. Despite this, Canadian pensions outperform those in the U.S.
Canadians prefer longer-duration assets such as directly-held real estate, toll roads and port facilities to generate the cash flows needed to pay promised benefits. They allocate a quarter of their portfolios to such "real assets," compared to 10% in the U.S.
American public employee pensions tend to favor equity-risk strategies, since they need to "shoot for the stars" to achieve their challenging investment targets. Public and private equity and hedge funds comprise 60% of U.S. pension portfolios but only 41% of Canadian portfolios.
When done well, this strategy bears fruit. When not – or when markets do not oblige – the downside becomes substantial.
Pension reform in the U.S. will not come about without strong opposition. While the general consensus is that public pensions have strong protections in law, the calculus for unions – concerned about the welfare of both current and future retirees – would be to accept higher contributions today to protect benefits in the future. Otherwise it is increasingly likely that future workers would be shifted onto 401(k)-style defined-contribution systems or "shared risk" systems such as that in Wisconsin.
Finally, unions would want to prevent preemptive legislation that protects municipal bondholders and taxpayers in the case of potential pension bankruptcy, as happened in Central Falls, R.I .
Illinois has the worst-funded public pensions in America. Neighboring Wisconsin has designed its system around shared risk . Rather than pit taxpayers and workers against each other, this system formulaically adjusts benefits or contribution levels based on the value of assets relative to liabilities (benefits cannot fall below a minimum level). One is teetering on the brink of failure, while the other seems rock-solid and sustainable.
Is there a role for Washington in state and local pension reform? The Comptroller General of the U.S. has argued that "Congress should closely monitor actions taken by State and local governments to improve their plan funding to determine whether congressional action may be necessary." That was in a report back in 1979 . Inaction and tepid responses in the ensuing years to make needed public pension reforms mean that today, retaining and maintaining full funding levels could cost between 4% and 5% percent of state and local government tax revenues annually.
Continued foot-dragging will create additional burdens on future taxpayers and trigger unwelcome surprises for public-sector workers in their retirement years.
As the new administration begins to work with the states on their many public finance challenges, it should place public pension reform high on the agenda – and consider the imaginative actions that our northern neighbor undertook some 30 years ago. Ingo Walter and Clive Lipshitz, MarketWatch, www.marketwatch.com , November 22, 2020.

5. IS YOUR 401(K) PLAN TOO COMPLICATED?:
Here are some key questions to consider.

DOES YOUR 401(K) PLAN OFFER TOO MANY INVESTMENT OPTIONS?
Recent cases against university-sponsored retirement plans include allegations that these plans are complicating the investment decisions of participants because the plans offer too many investment choices.
As alleged in one complaint, the plans provide so many options that participants are left with a "virtually impossible burden" of deciding where to invest their retirement funds.
HOW DOES YOUR 401(K) PLAN STACK UP?
The university plans involved in litigation that may go to the U.S. Supreme Court offered hundreds of investment options (240 in one plan and 180 in another). While other issues are involved, including allegations of poor performance and excessive fees, the lower courts have been reluctant to resolve the issue of how many options might too many.
However, there are cases (Hecker and Renfro in the Seventh Circuit) which hold that plans with 26 and 73 investment options do not violate applicable ERISA requirements.
SO, WHAT IS THE SWEET SPOT?
Notably, Northwestern University, a defendant in litigation that may be accepted for review by the U.S. Supreme Court, reduced its retirement plan investment options to "about 40" after plaintiffs filed suit. The stated purposes of this reduction included enabling "simpler decision-making by participants."
So, it probably makes sense to keep the number of plan investment options well below one hundred even though record keepers may offer the availability of several hundred investment funds.
IS THERE A BETTER NUMBER FOR YOUR PLAN?
Plan administrators might want to put themselves in the shoes of their typical 401(k) participant and conclude that fewer investment options would be better. You may determine that your sweet spot is somewhere between ten and forty mutual funds (plans with a "brokerage window" option are a different animal and necessarily offer direct investment in thousands of stocks and bonds).
TAKEAWAYS
Regardless of how many investment options are provided in your 401(k) plan, make sure that its investment array includes low-cost index funds. As one court observed, "the average investor will do better investing in low-cost index funds than attempting to select individual stocks or actively-managed mutual funds." Such an investment option also provides a defense to any claim that your plan is providing high-risk mutual funds that charge excessive administrative fees (see here for details).
And bear in mind that courts have determined that low-cost index funds are prudent retirement plan investments--as a matter of law. Andrew S. Williams, GCT Blog, Benefits Bulletin, https://gct.law, November 18, 2020.

6. MANAGING USE OF HEALTH CARE SERVICES AFTER PEOPLE SATISFY THEIR DEDUCTIBLE: WHAT DO COPAYMENTS AND COINSURANCE DO?:
Summary: One of the strongest trends in employment-based health benefits has been the adoption by employers of high-deductible health plans (HDHPs). As a result, the percentage of individuals with private insurance who were enrolled in an HDHP increased from 17.4 percent to 46 percent between 2007 and 2018. Further, deductible levels have been increasing more generally regardless of whether someone is enrolled in an HDHP.
Recent research found that many high-cost claimants not only reach their deductible but often reach their maximum out-of-pocket limit. In essence, for these individuals, use of health care services early in the year affects what they pay for health care services at the end of the year. Because deductibles are often satisfied early in the year by high users of health care services, it can be argued that it is the end-of-year price that matters most when individuals are deciding whether to use a health care service even before the end of the year is reached. This phenomenon raises questions about the effectiveness of deductibles in controlling spending. But it also raises questions about the relative effectiveness of different types of cost sharing later in the year -- such as copayments and coinsurance -- once an individual reaches his or her deductible.
The purpose of this paper is to examine the differential effect of copayments and coinsurance on use of health care services. Our findings have implications for the effectiveness of deductibles, particularly once they are satisfied. Why would we expect to find differences in behavior by whether an individual faces copayments or coinsurance after they reach their deductible? Prior studies often found that individuals are not forward-looking when it comes to prices for health care. The same may be true when it comes to type of cost sharing. Before an individual reaches their deductible, they will know what the price of health care is if they face copayments after reaching their deductible. Copayments are well-defined and known before health care services are used. Coinsurance is less well-defined when it comes to knowing the price of a health care service in advance of using the service. The uncertainty of coinsurance relative to the certainty of copayments may mean that coinsurance has a differential impact on use of health care services compared with copayments.
Key Findings:
Coinsurance reduces use of inpatient care and specialist physician office visits more than copayments do.
However, while most employers already use coinsurance for inpatient care, only 44 percent use coinsurance for office visits.
This suggests that employers seeking to manage use of health care services and spending -- especially among high users of health care services -- may look to moving from copayments to coinsurance for office visits as a way to do so.
Click here to view the full report. Paul Fronstin and M. Christopher Roebuck, EBRI, www.ebri.org , November 19, 2020.
7. RETIREMENT ADVISOR COUNCIL PUBLISHES GUIDE ON WOMEN'S FINANCIAL NEEDS:
The Retirement Advisor Council has published a guide that explains the unique financial challenges women face and identifies strategies employers can implement to create more attractive and inclusive programs.
The council notes in its Viewpoint, " Creating More Impactful Programs for Women ," that the trajectory of men's and women's careers is different, with many women leaving the workforce to raise children or care for elderly parents. Compounding the problem is the fact that women tend to live longer than men. Women also carry a greater share of the college debt burden.
To alleviate these challenges, the council says financial wellness programs should be customized for women—with an emphasis on the importance of having an emergency savings account, strategies for saving and investing while paying down debt, financial planning worksheets, and alternative approaches to save for retirement.
"A financial wellness program can have a positive impact on your business," says Abigail Benham, a vice president with John Hancock Retirement and chair of the editorial board that wrote the guide. "The 2020 John Hancock Retirement financial stress survey found that 86% of retirement plan participants feel it is important for employers to offer financial wellness programs."
The guide notes that women are far more financially stressed than men. Twenty-two percent of women say debt is a major issue, whereas only 14% of men say so. If they were out of work for an extended period of time, 38% of men say they would be able to meet their basic expenses, but this is true for only 24% of women. Sixty-five percent of women say their personal finances are their top cause of stress, but only 52% of men say the same.
Furthermore, 55% of women believe they are behind in saving for retirement , while just 45% of men agree. Nearly a third (32%) of women have student loan debt, but just 15% of men do, and 51% of women have less than $1,000 in emergency savings, but this drops to 38% for men.
The guide also notes that women earn 82% of the median earnings of men, and this drops to 62% for Black women and 64% for Hispanic women.
The guide also notes that financial wellness programs resonate more with women than with men, with 75% of women saying such a program would reduce their financial stress , but only 64% of men agreeing. Sixty-eight percent of women say that if their company offered a financial wellness program, they would be more inclined to stay at their current job, but this dips to 59% among men. Fifty-nine percent of women say such a program would boost their job productivity, but this declines to 53% among men.
This Viewpoint is the second of seven that the council intends to publish to help employers offer their employees strong financial wellness programs. Future Viewpoints will look at the return on investment (ROI) to employers from financial wellness programs and how to tailor a program to meet the unique needs of executives. Lee Barney, Plansponsor, www.plansponsor.com , November 24, 2020.

8. WEBINAR - PRIVATE MARKETS; A SILVER LINING IN A STORMY YEAR:
As bad as the COVID-19 pandemic has been, many private markets are faring better than expected, and better than they did during the global financial crisis. But it takes deep understanding to take advantage of emerging opportunities, whether in real estate, venture capital, infrastructure or other areas. Join us for this highly informative and timely webinar on private markets.

Date: Wednesday, December 2, 2020 at 2:00 PM EST. Click here to register.

The panel of experts will discuss:
Current state of private markets including real estate, infrastructure, venture capital, private equity
How to identify high-quality opportunities
Taking advantage of macro trends emerging from the pandemic
What risks to keep an eye on
How to manage a private markets allocation
In addition, the panel will answer questions from the audience.
Speakers:
Prashant Tewari, Partner at The Townsend Group, An Aon Company
Mark Wilsmann, Head of Real Estate Equity Strategies, MetLife Investment Management
Lee Gardella, Head of Investment Risk and Monitoring, Schroder Adveq
Moderator:
Greg Crawford, Director, Content Solutions, Pensions & Investments
Pension & Investments, www.pionline.com , November 2020.

9. DELAYING RETIREMENT IS ABSOLUTELY WORTH IT FOR THESE 6 BENEFITS:
Retiring as soon as possible may seem like an attractive prospect if you're eager to spend your days on the golf course, spoiling your grandkids, or traveling the world. But while there are some benefits to quitting work when you're as young as possible, there are also some big advantages to waiting longer to begin your leisurely life as a retiree.
In fact, there are actually six big advantages of putting off retirement that are worth considering.
You can boost your Social Security benefits.
One of the single best reasons to delay retirement is to get a larger Social Security benefit.
See, for most people, retiring isn't possible without claiming Social Security. The problem is, any time you claim benefits prior to the age of 70, you're shrinking your checks compared to your maximum possible benefit.
Every retiree has a full retirement age (FRA) when they'll be entitled to their standard benefit. For those who claim ahead of FRA, their standard benefit will be reduced by early filing penalties. But even waiting until you hit this milestone isn't enough to get the largest possible monthly check. To do that, you'll need to wait until 70 to max out your delayed retirement credits .
If you haven't yet reached 70, delaying Social Security until you do could help protect you from financial hardship later in life by ensuring you have more money coming in. And since the last surviving spouse gets survivor's benefits equaling the larger of the two benefits each partner was receiving, waiting until 70 also helps protect your widow(er) if you were the higher earner. Getting more monthly money from Social Security for yourself and your spouse may well be worth staying in the workforce a little longer.
Retirees generally stop investing for their future and begin withdrawing from retirement savings accounts after quitting work. So, if you opt to stay on the job a little bit longer, you can continue to increase your savings account balance rather than decreasing it. In fact, once you've hit the age of 50, you really get a chance to supercharge your savings, since you become eligible for catch-up contributions that allow you to make larger tax-deductible contributions to 401(k)s, IRAs, and HSAs.
You won't have to rely on your savings for as long.
Putting off retiring also means less time relying on your savings, since you'll be able to live on your paycheck for a little longer instead of starting to draw down your accounts. The longer you need your savings to support you, the greater the chance that you'll run short of funds before your retirement ends.
You can continue relying on your employer's insurance.
Healthcare expenses are one of the major costs retirees face -- and it can be especially burdensome to pay for your medical bills when you retire prior to becoming eligible for Medicare. That's because you may need to pay high costs for COBRA coverage if you stay on your employer's policy, or you may get stuck buying individual coverage -- which often comes with higher premiums and deductibles.
If you delay retirement, you should be able to remain on your employer's policy for longer and take advantage of any premium subsidies your company provides. With estimates for the cost of healthcare in retirement coming in as high as $325,000 out-of-pocket for a senior couple in 2020, anything you can do to reduce this huge expense is likely well worth it.
You may become eligible for more pension money if your employer provides it.
If you get a traditional pension from your employer, chances are good that the number of years you work is going to be a major determining factor in the size of your pension checks. Pension benefits are an extremely valuable source of retirement income when they're guaranteed for life, so taking steps to get the largest checks from your employer only makes good sense.
You can stay active and engaged for longer.
Working provides you with structure to your day and social connections. Many retirees struggle to find that same purpose after leaving the workforce. That can cause depression and other health problems. If you delay retirement, you can avoid that by getting the physical and mental benefits work provides for a longer period of time.
Of course, none of this means it makes sense for everyone to stay on the job longer than planned. If you have ample money saved and are ready to quit working, the benefits of retiring ASAP may outweigh the downsides. Or if your job is jeopardizing your health, you may be willing to take a financial hit to get out of it. The key is not to be so focused on early retirement that you lose sight of the benefits of delaying. By considering these advantages, you can make an informed choice and do what's best for your situation. Christy Bieber, Mooresville Tribune, https://mooresvilletribune.com/ , November 22, 2020.

10. HOLIDAY SHOPPING SEASON 2020:
The holiday season is upon us and retailers are already preparing for what they hope will be a successful shopping season. Because of COVID-19, it's likely that we'll be going online to look for those perfect gifts. With so many deals around and what seem like eternal "Black Friday" sales, it's important to keep some online shopping tips in mind.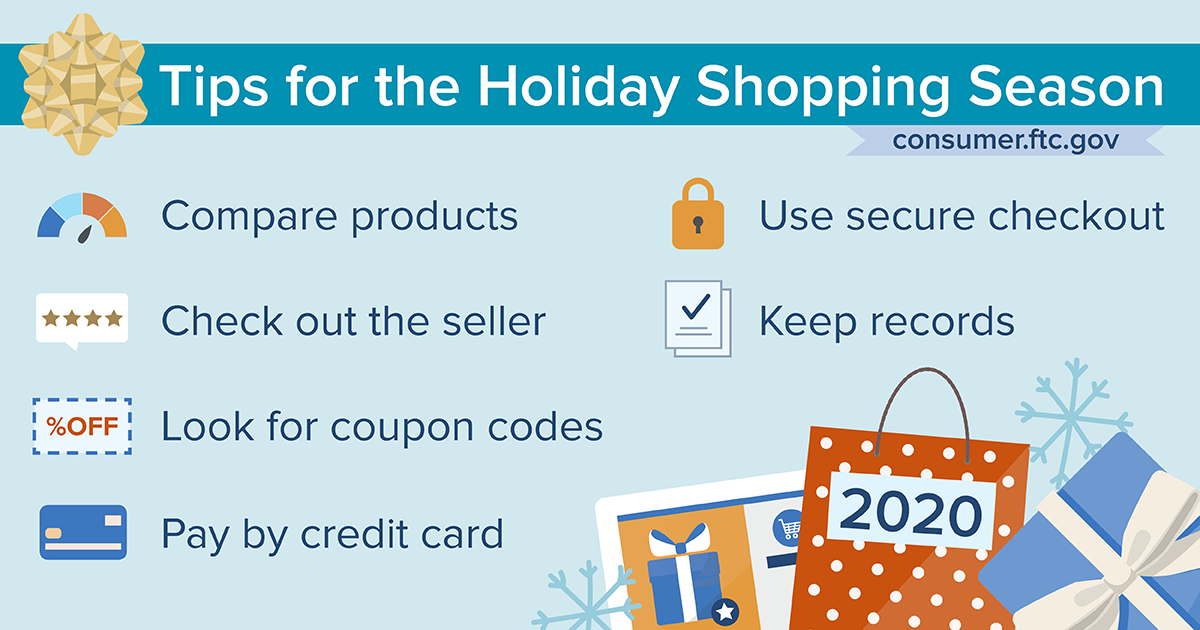 So, if you plan to shop from the comfort of your home this year instead of heading out in person for those doorbuster deals, first, make sure your home computer has the latest antivirus software updated. This will help protect you from hackers and identity thieves. Read more computer safety tips here .
Once you're ready to shop, make sure you:
Take time to compare products. To get the best deal, compare products . Do research online, check product comparison sites, and read online reviews .
Check out the seller. Confirm that the seller is legit. Look for reviews about their reputation and customer service, and be sure you can contact the seller if you have a dispute.
Look for coupon codes. Search the store's name with terms like "coupons," "discounts," or "free shipping."
Pay by credit card. Paying by credit card gives you added protections . Never mail cash or wire money to online sellers. If the seller asks you to pay this way, it could be a scam.
Use secure checkout. Before you enter your credit card information online, check that the website address starts with "https." The "s" stands for secure. If you don't see the "s," don't enter your information.
Keep records of online transactions until you get the goods, confirm you got what you ordered, and that you're satisfied you won't have to return the item.
Check out more ways to ensure hassle-free online shopping here . And if you spot a fraud while shopping online this holiday season, report it to the FTC at ReportFraud.ftc.gov . Shameka Walker, Attorney, Division of Consumer & Business Education, FTC, www.ftc.gov , November 23, 2020.

11. HERE'S WHAT TAXPAYERS CAN DO NOW TO GET READY TO FILE TAXES IN 2021:
There are steps people can take now to make sure their tax filing experience goes smoothly in 2021. First, they can visit the Get Ready page on IRS.gov .

Here are a few other things people can do now:

Check their withholding and make any adjustments soon
Since most taxpayers typically only have a few pay dates left this year, checking their withholding soon is especially important. It's even more important for those who:
Received a smaller refund than expected after filing their 2019 taxes this year.
Owed an unexpected tax bill last year.
Experienced personal or financial changes that might change their tax liability.
Some people may owe an unexpected tax bill when they file their 2020 tax return next year, if they didn't have enough withheld throughout the year. To avoid this kind of surprise, taxpayers should use the Tax Withholding Estimator to perform a quick paycheck or pension income checkup. Doing so helps them decide if they need to adjust their withholding or make estimated or additional tax payments now.

Gather tax documents and keep them for at least three years
Everyone should come up with a recordkeeping system. Whether it's electronic or paper, they should use a system to keep all important information in one place. Having all needed documents on hand before they prepare their return helps them file a complete and accurate tax return. This includes:
Their 2019 tax return.
Form W-2 from employers.
Form 1099 from banks and other payers.
Forms 1095-A from the marketplace for those claiming the premium tax credit.
Form 1099-NEC , Nonemployee Compensation
Notice 1444 , Your Economic Impact Payment.
Most income is taxable, including unemployment compensation , refund interest and income from the gig economy and virtual currencies . Therefore, taxpayers should also gather any documents from these types of earnings. People should keep copies of tax returns and all supporting documents for at least three years.

Confirm mailing and email addresses
To make sure forms make it to the taxpayer on time, people should confirm now that each employer, bank and other payer has the taxpayer's current mailing address or email address. Typically, forms start arriving by mail or are available online in January.

Remember these new things when preparing for the 2021 tax filing season
Taxpayers may be able to claim the recovery rebate credit if they met the eligibility requirements in 2020 and one of the following applies to them:
They didn't receive an Economic Impact Payment in 2020.
They are single and their payment was less than $1,200.
They are married, filed jointly for 2018 or 2019 and their payment was less than $2,400.
They didn't receive $500 for each qualifying child.
Taxpayers who received a federal tax refund in 2020 may have been paid interest. The IRS sent interest payments to individual taxpayers who timely filed their 2019 federal income tax returns and received refunds. Most interest payments were received separately from tax refunds. Interest payments are taxable and must be reported on 2020 federal income tax returns. In January 2021, the IRS will send a Form 1099-INT, Interest Income to anyone who received interest totaling at least $10.
Share this tip on social media -- #IRSTaxTip: Here's what taxpayers can do now to Get Ready to file taxes in 2021. https://go.usa.gov/x7puA . IRS Tax Tips, COVID Tax Tip 2020-159, www.irs.gov , November 23, 2020.

12. SECURITY SUMMIT PARTNERS ANNOUNCE NATIONAL TAX SECURITY AWARENESS WEEK DATES; URGE INCREASED SECURITY MEASURES AS FRAUDSTERS EXPLOIT COVID-19 CONCERNS:
The Internal Revenue Service, state tax agencies and the nation's tax industry today announced that the 5th Annual National Tax Security Awareness Week will take place between Nov. 30 and Dec. 4.

This year, there's a heightened need for security as fraudsters seek to use the COVID-19 to scam taxpayers and tax preparers. New protections being offered by Security Summit partners in January can help protect people against tax-related identity theft.

"As the holiday season and tax season approach, everyone should remember to take basic steps to protect themselves," said IRS Commissioner Chuck Rettig. "With more taxpayers and tax preparers working remotely, identity thieves are trying to use COVID-19 to scare and scam people out of their identities or money. All of us must be on guard and use the strongest security measures we can. The goal of National Tax Security Awareness Week is to remind people about important steps they can take to protect themselves and their tax information."

The IRS warned taxpayers to remain vigilant due to constantly evolving threats and scams from fraudsters. There are thousands of variations of COVID-related scams, including many related to the economic stimulus payment by the IRS.

National Tax Security Awareness Week will feature a week-long series of educational materials to help protect individuals, businesses and tax pros from identity theft. The effort will include special informational graphics and a social media effort on Twitter and Instagram with @IRSnews and #TaxSecurity.

As part of the effort, the IRS and Security Summit partners are sharing YouTube videos on security steps for taxpayers. The videos can be viewed or downloaded at Easy Steps to Protect Your Computer and Phone and Avoid Phishing Emails .

Employers also can share Publication 4524 , Security Awareness for Taxpayers, with their employees and customers while tax professionals can share with clients.

The National Tax Security Awareness Week features basic security guidance for those most at-risk: individual taxpayers, business taxpayers and tax professionals. Highlights include:

Day 1: Cyber Monday: Protect personal and financial information online
The IRS and the Security Summit partners remind people to take these basic steps:
Use security software for computers and mobile phones – and keep it updated.
Avoid phishing scams, especially related to COVID-19 or Economic Impact Payments.
Use strong and unique passwords for all accounts.
Use multi-factor authentication whenever possible.
Shop only secure websites; Look for the "https" in web addresses and the padlock icon; avoid shopping on unsecured and public Wi-Fi in places like shopping malls.
Day 2: Use multi-factor authentication
Remember to use multi-factor authentication options being offered by tax software providers:
All tax software providers are offering multi-factor authentication options on products for both taxpayers and tax professionals.
Multi-factor authentication protects online accounts by requiring a second verification code in addition to your credentials (username and password.) This second feature may be a code sent to your mobile phone, for example.
Multi-factor authentication provides a critical layer of protection for your online accounts.
Day 3 – Get an Identity Protection PIN
Starting in January, taxpayers who can verify their identities may now opt into the IRS IP PIN program. Here's what you need to know:
The Identity Protection PIN or IP PIN is a six-digit code known only to you and the IRS. It provides another layer of protection for taxpayers' Social Security numbers on tax returns.
Use the Get An Identity Protection PIN (IP PIN) tool at IRS.gov/IPPIN to see if the IP PIN is right for you and to immediately get an IP PIN.
Never share your IP PIN with anyone but your trusted tax provider.
Day 4 – Businesses at risk for identity theft
Most cyberattacks are aimed at small businesses with fewer than 100 employees. Here's are some details:
Learn about best security practices for small businesses.
IRS protective masking of sensitive information on business transcripts starts December 13.
A Business Identity Theft Affidavit – Form 14039-B – is now available for all businesses to report theft to the IRS.
Beware of various scams, especially the W-2 scam that attempts to steal employee income information.
Check out the "Business" section on IRS' Identity Theft Central at IRS.gov/identify theft .
Day 5 – Tax professionals should review their safeguards
The IRS and the Summit partners urge tax pros to review the "Taxes-Security-Together" Checklist, including:
Deploy basic security measures.
Use multi-factor authentication to protect tax software accounts.
Create a Virtual Private Network if working remotely.
Create a written data security plan as required by law.
Know about phishing and phone scams, especially related to fake clients, COVID-19 and the Economic Impact Payments.
Create data security and data theft recovery plans.
IRS Newswire, IR-2020-259, www.irs.gov , November 19, 2020.

13. FOR THOSE WHO LOVE WORDS:
What Is The Difference Between "Epidemic", "Pandemic" and "Endemic". Learn the answer here .

14. A THOUGHT FOR TODAY:
"Be thankful for what you have; you'll end up having more. If you concentrate on what you don't have, you will never, ever have enough" -Oprah Winfrey

15. TODAY IN HISTORY:
On this day in 1789, the first national Thanksgiving was held in America.
16. REMEMBER, YOU CAN NEVER OUTLIVE YOUR DEFINED RETIREMENT BENEFIT.
Items in this Newsletter may be excerpts or summaries of original or secondary source material, and may have been reorganized for clarity and brevity. This Newsletter is general in nature and is not intended to provide specific legal or other advice.