1. TOP 100 PUBLIC PLANS' LIABILITIES OUTPACE ASSET GROWTH:
The 100 largest U.S. public pension funds' aggregate liabilities climbed and asset growth struggled to keep up the pace in the 12 months ended June 30, according to an annual study from Milliman.
The study estimates that the aggregate funding ratio of the plans as of June 30 of this year was 70.7%, down from 73.4% as of June 30, 2019. Estimated aggregate liabilities as of June 30 was $5.43 trillion, up from the reported $5.27 trillion the prior year, while estimated aggregate assets as of June 30 totaled $3.84 trillion, up from $3.82 trillion the year before.
Since many plans lowered their interest rate assumptions following the fiscal year-ends in their reports, Milliman said, the estimated aggregate liabilities and underfunding as of June 30 are likely understated. The estimates are calculated using the most recent measurement data provided by the plans. About three-quarters of the data provided by plans is as of June 30, 2019.
Among the plans' reports, 18 reported funding ratios of higher than 90%, while 57 reported funding ratios of between 60% and 90%, and 25 plans reported funding ratios lower than 60%.
"Beyond market volatility, which has affected plan assets, we expect that furloughs and shutdowns as a result of the COVID-19 pandemic will impact pay levels and employee contribution amounts, while pressure on government budgets will make it hard to free up dollars to contribute to the plans to shore up their funding," said Rebecca Sielman, principal and consulting actuary at Milliman and author of the study, in a news release. "But public plans have, by and large, shown great resiliency. They are designed and financed to function over a very long time horizon, and can take short-term setbacks in stride." The study is posted on Milliman's website. Rob Kozlowski, Pension & Investments, www.pionline.com, December 4, 2020.

2. IMPACT OF CARES ACT DISTRIBUTION PROVISIONS ON PUBLIC SECTOR DEFINED CONTRIBUTION PLANS:
In March 2020, the Coronavirus Aid, Relief, and Economic Security (CARES) Act was passed, with specific implications for defined contribution participants.

The key provisions of the CARES Act are:
Coronavirus-related distributions (CRDs) are allowed through December 2020, with a repayment period of three years.
Loan maximums were allowed to be raised to as much as $100,000 through September 22, 2020.
Loan repayments can be delayed for one year.
The Public Retirement Research Lab surveyed recordkeepers about public sector implementation and use of CARES Act loan and distribution provisions, as well as participant saving and investment behavior during the pandemic.

Recordkeeper survey respondents represented approximately 75,000 public sector defined contribution plans and more than 10,000,000 participants as of July 2020.



Click here to view or download a PDF of this report. PRRL, www.prrl.org, October 19, 2020.
3. MAYORS; HOW COVID CHANGED THE FUTURE OF THEIR CITIES:
The 2020 Menino Survey of Mayors examined the social, public health and economic impacts of COVID on American cities, and the ways it has changed the future of work, transit and racial inequities. Two out of three U.S. mayors say that in the long run, cities will be able provide "better opportunities to more people," but this optimism is blunted by severe budget cuts and a belief that life is not likely to improve for those who have suffered the worst effects of the pandemic. The findings are part of the annual Menino Survey of 130 mayors in 38 states who responded to a series of questions about the impact of COVID-19 on the future of their cities.
"This year, while we still hear glimmers of optimism, their pessimism in the face of a once-in-a-century pandemic is palpable," said Graham Wilson, director of Boston University's Initiative on Cities, in releasing the findings.
Participants in the survey were from cities whose demographics, average population size and geographic region mirror the characteristics and variety of American cities as a whole. In view of this, the similarity of responses from city to city was notable, says David Glick, the report's lead author and an associate professor in the Political Science department at Boston University.
"There's quite a bit of consensus among mayors from a wide variety of cities," he says. "Some got hit with COVID earlier, some were hit with it later, some are bigger, some are smaller – but there are plenty of instances where they are in this together and seeing things in the same ways."

Financial Pressure
Budget cuts are a major worry, limiting cities' ability to maintain essential services, much less invest in recovery. When asked which areas might require "drastic" cuts, schools, parks and recreation, and mass transit and roads were named by a third or more of respondents.
Given that schools represent about 40 percent of local government expenditures, they are a prime target for cuts, but COVID and its uncertain trajectory have added significant new costs, from technology for remote learning to supplies for cleaning and disinfecting and facility modification. It's possible more teachers will be needed in some cases to safely resume in-person instruction.
Schools will have to work overtime if they hope to catch up students who have fallen behind, and researchers continue to document the negative impacts of time away from school. A failure to adequately support schools could have a long-term impact on the economic growth of communities.

Dramatic Budget Cuts


"In which of the following areas, if any, do you expect to make or see dramatic financial cuts in your community?" (Graph: BU Initiative on Cities)

Prospects for Businesses and Citizens
Mayors expect that segments of their communities that have been hit hardest by the pandemic will continue to face significant economic harm over the coming year, including Black and Latino residents, renters and non-white small business owners.
In addition, 81 percent expressed the belief that "racial disparities will persist." It's difficult to imagine how this can square with calls for change from the largest movement in U.S. history. The sense of urgency created by Black Lives Matter has been diffused by post-election chaos, but when the dust settles, Black voters who helped Biden to victory will expect to receive help.

Economic Harm, by Resident Group


"In a year from now, how much will members of each of the following groups in your city be feeling economic harm from COVID-19?" (Graph: BU Initiative on Cities)

Survey participants were also asked when they expected various business and cultural institutions to return to normal. About half expected real estate and banking and lending to achieve this by the end of 2020.
About a third replied "eventually" or "never" in regard to city government and even more felt this way about mass transit and schools. More than half placed arts and cultural institutions in the "eventually" or "never" categories. Following a year when the average earnings of American artists and creatives dropped to $14,000 some hope to push back against this through the recreation of Great Depression programs such as the Federal Art Project, or local efforts such as Denver's COVID-19 Arts and Culture Relief Fund.

Returning to Normal


"When, if ever, will each of the following industries and institutions in your city 'return to normal' after COVID-19?" (Graph: BU Initiative on Cities)
This survey was conducted in the summer of 2020, says Glick, and it's possible that the continuous accumulation of data and experience with the virus since then could have shifted attitudes about what's possible to some extent. For example, early assumptions that cities with the highest density would have the highest case rates have not borne out. "Usually, the world doesn't change that fast," he says.

Financial Strategies
Mayors were also surveyed regarding their preferences for state and federal policies that could help offset the economic impact of COVID-19. Only 13 percent felt that the CARES Act funding was enough to meet their needs.
"There were concerns that CARES Act money for small businesses in particular was insufficient," says Glick. It remains to be seen how this or other local needs will be addressed in the next stimulus package. A September update to the HEROES Act includes funding for Paycheck Protection and Economic Injury Disaster Loan programs aimed at small businesses.
At the local level, residential eviction moratoriums, universal paid sick leave and a $15 mininum wage had the strongest support. Enthusiasm varied by party, however. Half of Republicans supported or strongly supported eviction moratoriums, as compared with 93 percent of Democrats. Ninety percent of Democrats favored universal paid sick leave, while 27 percent of Republicans did.

State/Federal Policy Reponses


"How strongly would you support the implementation of the following policies at the state or federal levels?" Graph: BU Initiative on Cities

The Future of City Life
Views regarding the future of city life are mixed. Sixty percent of the mayors believe that downtown office buildings will be "less desirable" and 40 percent expect public transit use will drop, possibly reflecting a 90 percent expectation that remote work will increase even after a vaccine is available.
On the other hand, the great majority believe that city residents will walk, bike and visit parks and greenspace more frequently. Only 40 percent believe that shopping at retail stores will return to the same levels.
Despite pessimism about progress in addressing systemic inequalities and a belief among more than three-fourths of those surveyed that "racial health disparities will persist," the report notes that "the mayors were most optimistic about the overarching issue of cities and opportunity."
"That's one of the contradictions that I've been puzzling over," says Glick. Carl Smith, GOVERNING, www.governing.com, December 4, 2020.

4. TROUBLED ASSET RELIEF PROGRAM; TREASURY CONTINUES WINDING DOWN HOUSING PROGRAMS:
In response to the 2008 housing crisis, the Treasury Department used Troubled Asset Relief Program funding to establish 3 housing programs to help struggling homeowners avoid foreclosure and preserve homeownership. Since 2009, Treasury has obligated $32.56 billion for such housing programs.
As of Sept. 30, 2020, it had disbursed $30.85 billion (95%) of the funding. Treasury continues to wind down the programs.
A program that targeted the hardest hit housing markets has been extended through June 2021 because of the economic impact of the COVID-19 pandemic on some participants.
The Hardest Hit Fund is one of three TARP-funded programs designed to help homeowners. Little of its funding remains.




What GAO Found
The Department of the Treasury (Treasury) continues to wind down housing assistance programs funded by the Troubled Asset Relief Program (TARP). Treasury has extended one program to assist certain program participants who have been affected by the COVID-19 pandemic, although limited program funds remain at this point. As of September 30, 2020, Treasury had disbursed $30.85 billion (95 percent) of the $32.56 billion TARP funds obligated to the three housing programs (see figure).
The Making Home Affordable program allowed homeowners to apply for loan modifications to avoid foreclosure. Treasury will continue to provide incentive payments for loan modifications through 2023.
The Housing Finance Agency Innovation Fund for the Hardest Hit Housing Markets provided funds to 18 states and the District of Columbia to help struggling homeowners through programs tailored to the state. Treasury extended this program through June 2021 because of the COVID-19 pandemic's negative economic effects on some program participants.
The Federal Housing Administration (FHA) Short Refinance program allowed eligible homeowners to refinance into an FHA-insured loan. Under this program, Treasury made TARP funds available to provide additional coverage to lenders for a share of potential losses on these loans for borrowers who entered the program by December 31, 2016.

Status of Troubled Asset Relief Program Housing Programs, as of September 2020

aAccording to the Department of the Treasury (Treasury), these funds have been committed to future financial incentives for existing Making Home Affordable transactions, as of September 30, 2020. bRepresents the amount of funds that states and the District of Columbia have drawn from Treasury. cIncludes about $11.6 million in administrative expenses and $10 million of reserve funds, as of September 30, 2020. Treasury will be reimbursed for unused reserve amounts. dAmounts do not add up due to rounding.

Why GAO Did This Study
In response to the 2008 housing crisis, Treasury established TARP-funded housing programs to help struggling homeowners avoid foreclosure and preserve homeownership. Since 2009, Treasury has obligated $32.56 billion for such housing programs. The Emergency Economic Stabilization Act of 2008 provided GAO with broad oversight authorities for actions taken related to TARP.
This report provides an update on the status of TARP-funded housing programs, as of September 30, 2020. GAO reviewed Treasury program data and documentation, and interviewed Treasury officials. This report contains the most recently available public data at the time of GAO's review, including obligations, disbursements, and program participation. Click here to view thefull report. John H. Pendleton, GAO-21-39, December 8, 2020.

5. IS THERE A PLACE FOR ETFS IN RETIREMENT PLANS?:
Millennials favor exchange-traded funds (ETFs) more than other generations, according to a report by Charles Schwab about trends in retirement plan self-directed brokerage accounts (SDBAs). Millennials are a considerable portion of the U.S. workforce,
The low cost of ETFs is often cited as a positive feature of the funds. Yet, even as retirement plan fees are driven down and have been the subject of much litigation, ETFs have not been widely accepted by defined contribution (DC) plan sponsors. Tom Skrobe, head of product solutions at WisdomTree Asset Management, says ETFs are not very popular in DC plans for a variety of reasons, including recordkeeping hurdles and fiduciary concerns about allowing intra-day trading. Some worry that intra-day trading could distract participants from long-term investing goals.
However, Edward Gottfried, director of product at Betterment for Business, says the majority of assets in 401(k)s are invested with legacy platforms that were built with the assumption that only mutual funds were available to them. He adds that the DC plan recordkeeping platforms that existed early on were built on the backs of mutual fund trading systems. "They were built to recordkeep mutual funds and can't handle the intra-day trading of ETFs," he says. "The reason ETFs are not mainstream for DC plans has nothing to do with retirement investors. It is purely about who has been recordkeeping 401(k)s for the last 30 years."
Gottfried continues on to say that there are no issues natively posed by ETFs to prevent them from being used in retirement plans. In fact, Betterment is one of several providers that has built its own recordkeeping and custody platforms for an all-ETF 401(k).
"We believe this is better for retirement plan investors. ETFs have lower fees and expense ratios than mutual funds in general," he says. "Also, the ETFs are independently offered from Betterment so there is no possibility of conflicts of interest. As a result, plan sponsors can feel confident in fulfilling their fiduciary responsibilities."
Collective investment trusts (CITs) and separate accounts are often touted as low-cost alternatives to mutual funds for DC plan investors, but Gottfried says ETFs are different from CITs and separate accounts. "We stress for plan sponsors and individuals that ETFs are accessible, flexible and low-cost, and they are highly liquid--designed to track mass market movement. There are diversified ETF offerings and because they are flexible, participants have the ability to buy in at fractional shares," he says. "In addition, we believe that through ETFs, participants get access to underlying investment vehicles that are easier to understand and that creates less stress for them when selecting investments."
ETFs enjoy more popularity in defined benefit (DB) plans than DC plans. Skrobe says very large, or mega, DB plans can access beta products inexpensively through separate accounts and commingled trusts, so ETFs aren't used extensively by larger plans. However, for other DB plans, ETFs can be a great way to access a variety of investment themes and styles in an efficient way and at a lower cost, he says.
Skrobe says there is definitely a place for ETFs in retirement plans. "Plans come in all types and sizes, and, depending on the objective, an ETF product can be a great solution for a plan sponsor," he says. "For example, if a mid-size DB plan wants to access an emerging markets equity fund, an ETF may be the right way to put that in motion because of the cost, efficiency and broad exposure of the asset class in one ticker."
Adam Levine, investments director within Aberdeen Standard Investments' Client Solutions Group, says he has seen more DB plan sponsors show an interest in ETFs as they're in need of cheap, liquid products following the pandemic. In particular, some ETFs can offer exposure to private markets, which make them attractive.
"The use of ETFs is indeed growing due to its simplicity, liquidity and transparency and will likely continue to grow," Levine says. "They offer easier access to investments that are more customized than broad indices, as well as additional flexibility allowing for intra-day trading. ETFs also have lower fees relative to actively managed funds, which is a benefit for both DB and DC plan investors."
Gottfried says he believes the use of ETFs in DC plans will continue to grow. "One positive trend we've seen is a strong competition in the 401(k) space that drives fees down, and the lower the fees, the greater the retirement benefit for participants," he says. "Price pressure is not just about recordkeeping costs, but also investment fees. ETFs by nature have very low fees, and there will be continued movement of money from high fee mutual funds.

"We've seen many providers share talking points about why mutual funds are preferable investments, but that's not about what's in the best interest of participants--it's about what providers can do," Gottfried says. "Plan fiduciaries have a duty to make sure fees are reasonable and that means looking at a variety of vehicles." Rebecca Moore, Plansponsor, www.plansponsor.com, December 8, 2020.

6. PSCA; 91% OF 401(K)S KEPT CONTRIBUTIONS DURING PANDEMIC:
An overwhelming majority of 401(k) plan sponsors didn't change their employer contributions to their plans during the COVID-19 pandemic, a report by the Plan Sponsor Council of America said recently.
The report, based on responses from 139 plan executives, noted that 91.2% took no action, 3.7% suspended company matches and 1.5% reduced company matches. The report added that 1.5% reduced non-matching employer contributions, 0.7% suspended non-matching contributions and 0.7% were "considering changes."
PSCA also reported that plan executives' responses to the pandemic were less dramatic than plan executives' reactions during the 2008-2009 economic crisis.
"We often are asked how companies are responding to current economic conditions as compared to the financial crisis of 2008/2009," Hattie Greenan, research director for PSCA, part of the American Retirement Association, said in a news release. "The short answer is that, over a somewhat longer time horizon, four times as many employers suspended or reduced the match (during 2008-2009) than compared to now." Remarking that employers' responses "seem more measured" now than during the economic crisis, Ms. Greenan added, "We may be seeing the impact of lessons learned."
Nevin Adams, chief content officer for the American Retirement Association, speculated that many sponsors "went into this period expecting it wouldn't last all that long, likely muting the potential impact on retirement savings," according to the news release.
"Since then, there have been other mitigating factors, such as the recent broad-based government assistance in the form of the Payroll Protection Program, and that has almost certainly helped as well," Mr. Adams added.
The PSCA survey was conducted in early November with 21.6% of respondents representing plans with 5,000 or more employees, 15.8% representing plans with 1,000 to 4,999 employees and 23% representing plans with 200 to 999 employees. The rest of the respondents were from plans with fewer than 200 employees. Robert Steyer, Pension & Investments, www.pionline.com, December 8, 2020.

7. PANDEMIC LOWERS EMPLOYER HEALTH CARE COSTS FOR FIRST TIME IN DECADES:
"A global pandemic did what no health expert or innovation has been able to do in decades," Aon declares. Its survey of health insurance carriers shows the pandemic significantly lowered health care spending costs compared to original 2020 projected levels for most U.S. employers that pay employee medical, dental and vision claims through carriers.
While carrier responses varied significantly, 2020 medical claims are projected to decrease at a rate that is on average 5 percentage points lower than initially projected. The COVID-19 impacts for 2020 dental and vision benefit claims will also decrease budgeted costs further. Insurance carriers expect average downward cost impacts of 15% for dental benefits and 8% for vision benefits. One factor in lower health care cost trends is the deferral of non-essential care by Americans during the pandemic.
"During the 2020 plan year, we believe most self-funded employers will spend less money than what they have budgeted per employee," says Tim Nimmer, Aon's chief global actuary for health solutions. "This is a historic occurrence for the U.S. health care industry, but there is still uncertainty regarding COVID-19's impact on deferred treatments and long-term health care. While employers navigate through different outbreak phases, our current expectation is that medical plan utilization will continue to normalize during 2021."
However, employers don't know if their employees will return to their traditional levels of health care spending, and many employers might have had trouble estimating benefit costs for next year.
Carriers in Aon's survey forecast COVID-19 will increase U.S. employer medical claims by an additional 2 percentage points on average above normal trends in 2021. This will include costs for care that was postponed or skipped in 2020 as well as COVID-19 prevention and treatment that will be delivered next year.
The Business Group on Health's "2021 Large Employers' Health Care Strategy and Plan Design Survey" found that employers expect a 5.3% increase in the total cost of health benefits in 2021, and project the average cost of health care to reach $15,500 per employee in 2021.
PwC's Health Research Institute projects that medical cost trends could range from 4% to 10% in 2021. PwC points out that employers are incurring unplanned COVID-19 testing and treatment costs in 2020, and those costs likely will continue in 2021. "In 2020, these unplanned costs are expected to be more than offset by the savings from delayed care during the pandemic. An increase in spending is expected in 2021 as the demand for care returns," it says.
Employers said they expect moderate health benefit cost growth for 2021 of 4.4% on average compared with 2020, according to early results from Mercer's "National Survey of Employer-Sponsored Health Plans 2020." Health plans face many unknowns in developing cost projections for 2021.
"Different assumptions about cost for COVID-related care, including a possible vaccine, and whether people will continue to avoid care or catch up on delayed care, are driving wide variations in cost projections for next year," says Tracy Watts, a senior consultant with Mercer.

"Despite the short-term cost savings for many payers this year, the COVID-19 pandemic will continue to provide a level of uncertainty that employers must monitor carefully. Employers must continue to be more creative with their health strategies to control costs and use more insightful tools to help them make better decisions, both for themselves and for their employees," says Will Sneden, U.S. Health Solutions practice leader for Aon. Rebecca Moore, Plansponsor, www.plansponsor.com, December 1, 2020.

8. FREE WEBINAR - HEALTH CARE, INTERRUPTED; HELPING MEMBERS NAVIGATE THEIR RETURN TO CARE:
The COVID-19 pandemic has resulted in unprecedented global disruption, which has created significant gaps in care across chronic, acute and behavioral health needs.

Providing plan members with tools to navigate the complex health care system is foundational to how organizations should approach tomorrow's health care needs. Primary and specialty care, complex treatments and behavioral health needs have taken a back seat to the virus, but that trend will soon reverse. Members will be more confused than ever--Now is the time to go above and beyond in planning your benefits strategy, focusing on improving the member experience.

As a labor or human resource/benefits leader, you've likely started thinking through the longer term impact of the virus and how to help your members get the care they need to keep their families safe and healthy. Join Grand Rounds to better understand the need for expert medical opinions and health care navigation, and learn why acting now is more important than ever.
Date: Wednesday, January 13, 2021
Time: 03:00 PM Eastern Standard Time
Duration: 1 hour

Click here to register. International Foundation of Employee Benefit Plans, www.ifebp.org, December 8, 2020.

9. NEARLY 1 IN 3 AMERICANS SAY PANDEMIC HAS CHANGED RETIREMENT AGE:
The pandemic has upended the personal finances of many Americans, leading some to delay their retirement plans and others to speed them up.

Nearly one-third of consumers -- 30% -- said their timeline for retiring has changed because of the COVID-19 health and economic crisis, according to a study by financial services company Northwestern Mutual. While some perceive new obstacles to retirement in light of this challenging year, others appear to be preparing for life after work with a new sense of urgency.

Barriers to retirement have changed
Before the pandemic, 42% of Americans found a lack of savings to be the greatest obstacle to achieving financial security in retirement. That was followed by 38% who cited health care costs and 34% who named the economy as the biggest barriers.
However, the pandemic has shifted many consumers' viewpoints. Since the start of the coronavirus outbreak, the economy has risen to the top of survey respondents' list of obstacles with nearly half -- 49% -- saying it is the top barrier to achieving a financially secure retirement. The economy was followed by:
A lack of savings (33%)
Health care costs (32%)
The pandemic is also changing some consumers' long-term retirement plans. While 48% say their retirement timeline is still the same, 20% said they will now retire at an older age because of the pandemic.
On the other hand, 10% said the pandemic has changed their retirement timeline in a different way, as they plan to retire at a younger age than they planned before COVID-19.

Millennials most likely to speed up plans
Perhaps some younger Americans view the pandemic as a call to be more aggressive about saving money for retirement since they were more likely to move their retirement timelines up. In fact, 15% of millennials said they now expect to retire sooner than they did before the pandemic, followed by:
8% of Generation Z
6% of Generation X
4% of baby boomers
However, Gen Xers were most likely to push their retirement dates back as a result of the crisis. A quarter of Gen Xers (25%) said they now will have to wait longer to retire, followed by:
22% of Gen Z
19% of millennials
14% of baby boomers
One reason consumers may have to push back retirement is because pandemic-related financial challenges may prompt them to sacrifice long-term savings in order to pay for everyday expenses. For example, some may feel compelled to withdraw money from their 401(k) plan.
More than 1 in 5 adults -- 21% -- expect to work past the traditional retirement age of 65, though 45% expect to do so because they have to and 55% expect to do so by choice.
Among those who expect to work past 65 because of necessity:
60% believe they won't have enough saved to retire comfortably
58% said they don't think Social Security will cover their needs
49% said they will need to work to take care of rising costs such as health care
Methodology: Northwestern Mutual commissioned public opinion and research firm The Harris Poll to survey 2,702 adults between June 26–July 10, 2020. The study also referred to a previous survey of 2,650 adults polled between Feb. 12–25, 2020 and 2,077 adults polled between April 29–May 1, 2020. Note: The Northwestern Mutual survey didn't include definitions for the various generations, but many pollsters use cutoffs similar to those of Pew Research, which describes Generation Z as those aged 18-23, millennials as those 24-39, Generation X as covering the ages 40-55 and baby boomers as 56-74. Tamara E. Holmes, Yahoo Finance, https://finance.yahoo.com, December 4, 2020.

10. YEAR-END ESTATE PLANNING: PLANNING IN A TIME OF UNCERTAINTY:
2020 may rank as the most turbulent year in memory for many Americans, resulting in a highly uncertain estate planning environment. In addition to the tragic health consequences, COVID-19 caused severe disruptions to daily life and dramatic fluctuations in asset prices. Uncertainty is high in the political sphere as well. As of this writing, Joe Biden has been declared the winner of the presidential election by all major news outlets, but control of the Senate will depend on the outcome of two runoff elections in Georgia in January 2021. This unsettled environment will reward sophisticated, flexible, and proactive estate planning.
Overview of Current Transfer Tax Laws
The federal gift, estate and generation-skipping transfer (GST) tax exemptions (i.e., the amount an individual can transfer free of any of these taxes) are currently $11.58 million per person, increasing to $11.7 million in 2021. Thus, beginning in 2021, a married couple can theoretically transfer up to $23.4 million free of federal transfer tax – an unprecedented amount. The transfer tax exemption will be adjusted upward for inflation in future years, but under current law is scheduled to be reduced by 50 percent on January 1, 2026. A "marital deduction" is allowed for assets passing directly or in qualifying trusts for the benefit of a surviving spouse. Thereafter, the tax rate on any assets above the transfer tax exemption is a flat 40 percent. The federal transfer tax exemptions can be used either during lifetime or at death. Using exemption during lifetime is generally more efficient for transfer tax purposes, as any appreciation on the gifted assets escapes estate taxation.
The Treasury Department has confirmed that the additional transfer tax exemption granted under current law until 2026 is a "use it or lose it" benefit, and that if a taxpayer uses the "extra" exemption before it expires (i.e., by making lifetime gifts), it will not be "clawed back" causing additional tax if the taxpayer dies after the exemption is reduced in 2026. Practically, this means that a taxpayer who has made $5.85 million or less (adjusted for inflation) of lifetime gifts before 2026 will not "lock in" any benefit of the extra exemption, while a taxpayer who makes use of the additional exemption before 2026 (e.g., by making gifts of $11.7 million before 2026) will "lock in" the benefit of the extra exemption.

The Illinois estate tax exemption is $4 million per person. This exemption does not receive annual inflationary increases. As with the federal estate tax, a marital deduction is allowed for assets passing directly or in qualifying trusts for the benefit of a surviving spouse for Illinois estate tax purposes. Thereafter, the effective marginal tax rate for assets above the Illinois estate tax exemption ranges from 8 percent to approximately 29 percent.
As with income taxes, state estate taxes are deductible for federal estate tax purposes. The cumulative federal and Illinois estate tax rate (for estates above both the federal and Illinois exemptions), taking deductions into account, is approximately 48 percent.
Possible Effects of 2020 Elections
Tax laws are, of course, subject to change by Congress. With Democrats capturing the presidency and retaining control of the House of Representatives, legislation to increase the federal transfer tax exemptions is highly unlikely. Furthermore, President-elect Biden has during the campaign called for a "rollback" of the increased federal transfer tax exemptions. This may include reducing the $11.7 million transfer tax exemption for 2021 to $5.85 million, or even as low as $3.5 million, potentially with legislation becoming effective as early as January 1, 2021. However, such measures would require passage in the Senate. This will be difficult if Republicans remain in control of the Senate (by winning one or both Senate runoff elections in Georgia), but not impossible, as one or more Republican senators could be persuaded to vote for a Democratic tax package, potentially in exchange for other concessions.
Incorporating Flexibility into Estate Plans
The highly uncertain political environment results in a premium on estate planning that is proactive yet flexible enough to take changing circumstances into account. Fortunately, estate planners have developed a number of techniques that provide significantly more flexibility than was available in past years.
Spousal Lifetime Access Trusts (SLATs): A "Spousal Lifetime Access Trust" or "SLAT" is often an ideal solution for married couples facing potential transfer taxes. As discussed above, using transfer exemption during lifetime by making gifts generally provides estate tax savings, as the appreciation on any gifted assets escapes estate taxation. Traditionally, such gifts have been made to the children of clients or to trusts for their benefit. However, many couples would be unwilling to transfer $11.7 million (let alone $23.4 million) to their children during their lifetime. A SLAT, on the other hand, is created by one spouse for the current benefit of the other spouse, generally with children only as remainder beneficiaries. This lets the beneficiary spouse "access" the trust assets, while still providing a vehicle that allows the appreciation on the gifted assets to escape estate taxation. (Additional information on planning with SLATs is available here.)
Qualified Terminable Interest Property (QTIP) Trusts: Many estate plans for married couples provide that upon the death of the first spouse to die, some or all of the predeceasing spouse's assets are to be distributed to a trust that qualifies for the "marital deduction" from estate tax. This reduces the estate tax due upon the death of the first spouse to die, but potentially increases the estate tax due upon the death of the surviving spouse. But, depending on the assets of the spouses at their deaths and the estate tax laws in effect at those times, it may or may not be beneficial to utilize the marital deduction.
A "qualified terminable interest property" trust, or "QTIP" trust, is ideal in such circumstances. With a QTIP trust, an election can be made upon the death of the first spouse to die as to whether or not to qualify the trust for the estate tax marital deduction. If the assets of the couple are relatively low at the time of the first death, or if the estate tax exemptions are relatively high at that time, it may be best to qualify the trust for the marital deduction given the change in basis for income tax purposes at death (discussed below). However, if the assets of the couple are relatively high at the first death, or if the estate tax exemptions are relatively low, it may be best to not qualify the trust for the marital deduction in order to let the trust escape estate taxation at the death of the surviving spouse. Planning using QTIP trusts gives clients flexibility to defer this decision until the death of the first spouse to die, at which time additional information will be available and a better decision can be made.
Furthermore, QTIP trusts can be used proactively during lifetime rather than only at death. If a QTIP trust is created and funded during lifetime and a marital deduction election is made on a timely filed gift tax return, no exemption is used and the trust assets will be included in the spouse's taxable estate (receiving a basis change at death). Alternatively, if a QTIP trust is created and funded during lifetime but the marital deduction election is not made, a completed gift is made and the trust assets will not be includible in the spouse's taxable estate (but receiving no basis change at death). Marital deduction treatment may be desired if the exemption remains high, and non-marital treatment may be desired if the exemption is decreased. The decision to make or not make the marital deduction election can be deferred until the gift tax return reporting the transfer is filed – potentially until October of the year following the transfer. This provides a great deal of flexibility in an uncertain environment.
Planning for Basis Change: Good estate planning incorporates income tax and other considerations rather than focusing myopically on estate and GST taxes. In general, upon an individual's death, the cost basis of any assets that are included in his or her gross estate for estate tax purposes receive an adjustment to their fair market value at the date of death. For appreciated assets, this can result in substantial income tax savings. Assets that are not included in the gross estate, however, do not receive a basis adjustment. Therefore, there is often a tradeoff between making lifetime gifts (to reduce estate taxes, but with the donee receiving the donor's "carry over" basis) and keeping assets in the gross estate (to obtain the basis adjustment and reduce income taxes).
Fortunately, there are a number of techniques to help plan for possible change in basis while still retaining estate tax benefits. Irrevocable trusts that receive lifetime gifts can be structured to allow for a possible basis change. One way to do so, especially for a SLAT, is by including a broad distribution standard by which an independent trustee can make distributions out of the trust to the beneficiary. Additionally, a trust can be structured to grant an independent trustee the power to grant (or not grant) the beneficiary a "general power of appointment," which would cause the trust assets to be includible in the beneficiary's estate for estate tax purposes and therefore receive the basis adjustment. Finally, if an irrevocable trust is structured as a grantor trust, the grantor can retain a "swap power" that can be used to transfer high basis assets to the trust and take back low-basis assets, in order to obtain the largest possible "step up" in basis. Luke Harriman and Gregg M. Simon, www.WealthManagement.com, December 03, 2020.

11. FTC WARNS EYE CARE PRESCRIBERS TO FOLLOW THE LAW - OR ELSE:
The FTC's Eyeglass Rule makes it easier to comparison shop -- which can help you save money. After you get an eye exam that determines your best vision with eyeglasses (a refraction), your eye care prescriber has to give you a copy of your prescription -- whether you ask for it or not. You can use your prescription to buy eyeglasses wherever they are sold -- from another prescriber, a store, or online. Cost, quality, and supply can vary a lot from seller to seller, so it pays to shop around for the best deal.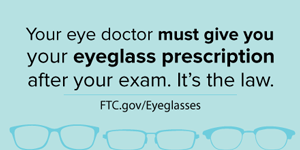 Your prescriber also can't make you pay an extra fee, buy eyeglasses, or sign a waiver or release in exchange for your prescription. That's the law. Even so, not all prescribers do the right thing. That's why the FTC sent warning letters to 28 prescribers telling them about possible violations of the Eyeglass Rule. Complaints involving five of the prescribers also allege violations of the Contact Lens Rule, which has similar requirements for giving patients contact lens prescriptions. The letters tell prescribers to review the rules, comply with the requirements, and that failure to do so could result in legal action and financial penalties.
If you suspect an eye doctor is violating the Eyeglass Rule or the Contact Lens Rule, let us know about it at ReportFraud.ftc.gov.
For more information, see Understanding Your Prescription Rights for Glasses and Contact Lenses. It includes a list of what you should see in your prescription.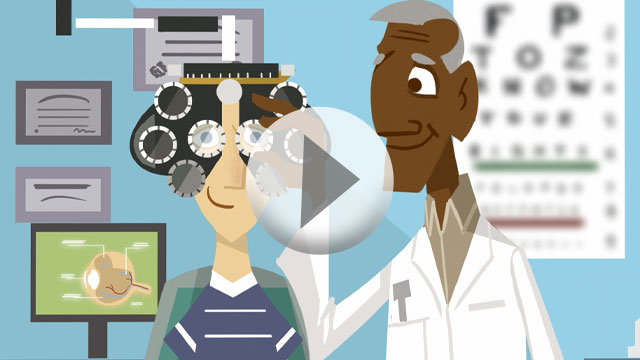 Colleen Tressler, Division of Consumer and Business Education, FTC, www.ftc.gov, December 8, 2020.

12. INCORRECT BACKGROUND REPORTS CAN DENY YOU A HOME:
Whether you're just starting out or starting a new life, information on your background report can determine if you get credit, a job, or even housing. That's why the law requires background screening companies to take steps to ensure the accuracy of the information they collect and share about you. But some companies don't take enough of these steps and put together inaccurate background reports that can stand between you and a place to live.
The FTC says AppFolio, a tenant screening company, didn't have procedures to ensure the information they reported on prospective tenants was accurate. AppFolio allegedly gave landlords reports with incorrect criminal and eviction information, outdated or duplicate information, records for a different name or date of birth, or records that left out important details, like the outcome of a court case. Because AppFolio allegedly didn't take steps to ensure accurate information, the FTC says applicants may have been denied apartments or other housing.
If you're looking to rent a place, find out what's on your background and credit reports and be prepared to correct any errors and resolve any issues with your credit:
Get a free copy of your credit report and fix any errors before you apply. Right now, you can get a free credit report every week.
If you have negative but correct information on your credit report, start working on fixing your credit with steps you can do yourself-- without paying anyone.
Be sure to give the landlord your correct full name and date of birth.
Ask the landlord for the name of the background screening company they use. Then try to get a copy of your report to check for errors.
If you have a criminal history or previous housing court actions, gather any paperwork showing how the action was resolved.
Read more about background checks for housing (and employment) to understand your rights
If a landlord rejected you because of incorrect information on your background report, dispute the information with the background screening company -- and let the landlord know. Also, report it to the FTC.
If you think a landlord discriminated against you, contact the Department of Housing and Urban Development. Lisa Lake, Consumer Education Specialist, FTC, www.ftc.gov, December 8, 2020.

13. IRS WARNS PEOPLE ABOUT A COVID-RELATED TEXT MESSAGE SCAM:
The IRS and its Security Summit partners are warning people to be aware of a new text message scam. The thief's goal is to trick people into revealing bank account information under the guise of receiving the $1,200 Economic Impact Payment.

Here's how this scam works
People get a text message saying they have "received a direct deposit of $1,200 from COVID-19 TREAS FUND. Further action is required to accept this payment… Continue here to accept this payment …" The text includes a link to a phishing web address.

This fake link appears to come from a state agency or relief organization. It takes people to a fake website that looks like the IRS.gov Get My Payment website. If people visit the fake website and enter their personal and financial account information, the scammers collect it.

Here's what people should do if they receive this message
Anyone who receives this scam text should take a screenshot and include the screenshot in an email to phishing@irs.gov with the following information:
Date/time/time zone that they received the text message
The phone number that received the text message
The IRS doesn't send unsolicited texts or emails. The agency will never demand immediate payment using a gift card, prepaid debit card or wire transfer or threaten to have a taxpayer arrested.

More information:
IRS Impersonation Scam Reporting
Consumer Alerts
Phone Scams

Share this tip on social media -- #IRSTaxTip: IRS warns people about a COVID-related text message scam. https://go.usa.gov/x7M5A. IRS Tax Tips, COVID Tax Tip 2020-167, www.irs.gov, December 8, 2020.

14. IRS PROVIDES GUIDANCE ON LEGISLATION THAT INCREASES AUTOMATIC ENROLLMENT CAP PERCENTAGE AND EASES BURDENS FOR CERTAIN SAFE HARBOR PLANS:
The Internal Revenue Service today issued Notice 2020-86 addressing certain provisions of the Setting Every Community Up for Retirement Enhancement Act of 2019 (SECURE Act) affecting safe harbor plans, including safe harbor 401(k) plans and certain 403(b) plans.
A safe harbor 401(k) plan is similar to a traditional 401(k) plan but is structured in a way that certain compliance testing can be avoided. Among other things, a safe harbor 401(k) plan must provide for employer contributions that are fully vested when made. These contributions may be employer matching contributions, limited to employees who defer, or employer contributions made on behalf of all eligible employees, regardless of whether they make elective deferrals.
Notice 2020-86 is written in the form of questions and answers to assist small businesses and other employers that maintain safe harbor plans comply with the SECURE Act.
The SECURE Act generally increases from 10 percent to 15 percent the maximum automatic elective deferral under an automatic enrollment safe harbor plan. It also eliminates certain safe harbor notice requirements for plans that provide safe harbor nonelective contributions and adds new provisions for the retroactive adoption of safe harbor status for those plans.
The notice provides initial guidance on these provisions of the SECURE Act and impacts certain safe harbor 401(k) and 401(m) plans (including 403(b) plans that apply the 401(m) safe harbor).
Notice 2020-86 is intended to assist taxpayers by providing guidance on particular issues while the Treasury Department and the IRS develop regulations to fully implement these provisions of the SECURE Act. For more information about this and other tax information, visit IRS.gov. IRS Newswire, IR-2020-273, www.irs.gov, December 8, 2020.

15. FOR THOSE WHO LOVE WORDS:
Is the phrase 'for all intensive purposes' or 'for all intents and purposes'? Find out here.

16. A THOUGHT FOR TODAY:
"Do not go where the path may lead, go instead where there is no path and leave a trail." -Ralph Waldo Emerson

17. TODAY IN HISTORY:
On this day in 1906, US President Theodore Roosevelt is the 1st American awarded the Nobel Peace Prize.

18. REMEMBER, YOU CAN NEVER OUTLIVE YOUR DEFINED RETIREMENT BENEFIT.
Items in this Newsletter may be excerpts or summaries of original or secondary source material, and may have been reorganized for clarity and brevity. This Newsletter is general in nature and is not intended to provide specific legal or other advice.