1. FOUR PUBLIC PENSION FUNDING STRATEGIES BESIDES EMPLOYER CONTRIBUTIONS:
Maybe it's time for pension plans to explore other funding strategies aside from public employer contributions. Plan sponsors typically use the annual required contribution (ARC) or the actuarially determined employer contribution (ADEC) to meet public pension liabilities. But a number of states have found success experimenting with lesser-known methods.
It could be useful for other public retirement programs to consider these strategies, according to a report released this week from the National Institute on Retirement Security. While resilient markets have buoyed public pension funding levels, many state governments will continue to face budgetary challenges next year, which is likely to impact contributions and hurt funding levels, researchers said.
Here are four funding strategies to help keep pension costs stable over time, according to the study:
Employer Side Accounts. A funding idea borrowed from the private sector, an employer side account allows plan sponsors to pre-pay into separate accounts that allow them to reduce future contributions. Theoretically, this means employers can pay more during better economic periods so they can get away with paying less during fiscally tougher times.
An early adopter of the approach is the Oregon Public Employees Retirement System (PERS), which in 2002 was permitted to use these separate funds to reduce minimum pension contributions for a 20-year amortization period, and has since expanded the program to six, 10, or 16-year amortization periods. About $5.2 billion in a $65.7 billion total system portfolio was in employer side accounts in 2018.
Pension Obligation Bonds. Researchers admitted this funding strategy is less "innovative" than others, but they argued pension bonds can help fund state plans, so long as issuers pay attention to timing risk. After all, a 30-year equity horizon has significantly less volatility than a 10-year horizon.
Issuers who want to make sure their returns outpace their borrowing costs will want to do two things: One, issue smaller amounts of pension bonds over time, instead of one large issuance, to help diversify entry to equity markets and interest amounts, the report said. (Caveat: This can come with higher administrative fees). Two, invest the proceeds into equities markets through several years.
Withdrawal Liabilities. This is a fee, for when employers stop contributing to a plan.
In 2015, a withdrawal liability in Indiana was signed into law after winning unanimous approval in the state legislature. Lawmakers were alarmed after a few large employers in the Indiana Public Retirement System (INPRS) started excluding future workers, meaning remaining employers would have to pay more to the system to cover legacy costs. It would also mean future retirees would lose out on benefits.
After it was passed, four plan sponsors affected by the retroactive bill had to pay a total of $73 million in fees to the INPRS.
Dedicated Revenue Streams. Some state leaders have implemented, or at least proposed, dedicated revenue streams from such sources as gambling or tobacco settlements to bolster funding levels at public retirement systems.
Several states, including Illinois and Oregon, have proposed or passed bills allowing legal sports betting revenue to help fund contributions into retirement systems. In Kentucky, a bill introduced in the state legislature this year would set aside 95% of legal sports betting revenue to pay down the state pension fund's unfunded liabilities. While the bill did not pass, it's expected to come back in future sessions, and has support from a number of legislators, including the state governor.
Other states have come up with other revenue solutions. In 2017, New Jersey transferred the entirety of the state lottery revenues to the state pension system. In 2013, Montana set aside a portion of its coal severance tax to fund the state pension fund. And in West Virginia, a lump-sum contribution into the state pension fund from a tobacco settlement helped increase the plan's funded status to 50%, from 25%, over a two- year period. Sarah Min, Chief Investment Officer, www.ai-cio.com, December 10, 2020.

2. ESTABLISHING A RETIREMENT PLAN COMMITTEE:
Plan sponsors need to establish who will be responsible for plan administration and plan and investment decisions. Carol Buckmann, co-founding partner at Cohen & Buckmann P.C., says committees aren't legally required, but if plan sponsors appoint a committee as a "named fiduciary," as defined in the Employee Retirement Income Security Act (ERISA), they will not only see it pay more careful attention to plan issues, but a company's owner or board of directors will be relieved of most responsibilities for the plan. The owner's or board of directors' responsibility would be limited to prudently appointing committee members and monitoring their overall performance, she says.
Having a committee or committees can greatly help with defense if a plan or plan sponsor is sued, Buckmann adds.
"We say a committee is necessary," says Millie Viqueira, executive vice president and manager of Callan's Fund Sponsor Consulting group. "There are instances in which we see a sole trustee responsible for the plan, but the most common approach is a committee because--at a basic level--there needs be someone making sure the plan is managed according to ERISA and state or local guidelines." Viqueira says the most common instance in which there would be a sole trustee responsible for a plan is with public pensions, such as the New York State Common Retirement Fund. "However, the norm for both corporate and public retirement plans is to have a committee," she adds.
Viqueira says retirement plan committee members' rules and responsibilities are set out by a committee charter or investment policy statement (IPS). When committees get together, they make sure the plan is managed in a way that is consistent with the culture of the organization and existing laws and regulations, she says. The committee determines how to do this in a way that meets the plan sponsor's fiduciary responsibilities.
Committees are also typically responsible for setting the plan's asset allocation or investment policy and making sure the policy is being adhered to, Viqueira says. Committees are also responsible for the selection and monitoring of plan providers, including asset managers, custodians, recordkeepers and consultants or advisers. The committee manages all this with an eye toward creating good outcomes while mitigating risks, Viqueira adds.
For defined contribution (DC) plans that need to be ERISA Section 404(c) compliant, committees also ensure participant communications are available, and that clear and appropriate notifications are provided to participants, Viqueira says. "This is in addition to making sure the plan offers the right building blocks for participants to create effective investment portfolios," she says.
Larger plan sponsors often appoint both administrative and investment committees, but Buckmann says she has seen one committee handle both duties effectively. More recently, larger employers might even set up settlor committees to handle things such as plan design decisions that aren't treated as fiduciary decisions.
Individuals making settlor decisions are protected from ERISA's fiduciary duty to act in the best interest of participants, Viqueira notes. On the other hand, individuals making plan investment decisions must do so with the best interest of the plan and its participants in mind, and they are fiduciaries.
Viqueira says she has one client that bifurcates its committee agenda to make clear which items are settlor decisions and which items are fiduciary decisions.
Committee members are often corporate officers, usually including the chief financial officer (CFO) and a representative from human resources (HR), Buckmann says. But if the plan holds company stock, it may be advisable to appoint an independent fiduciary rather than the top executives.
Viqueira says committees also often have some representation from the corporation's legal team. She says that sometimes the legal representative is a voting member, but sometimes he is not and he just acts as a recording secretary. Other committee members could be from major departments. For example, Viqueira says, if the plan sponsor is a sales organization, it might include someone from the marketing department or business development team on the committee.
"Committees need broad representation without becoming unwieldy. Five to seven members is the sweet spot," she says. When considering committee members, it is important to have low turnover, Viqueira says. "Continuity of perspective is important. I'm not saying it should be like the Supreme Court, where terms are for life, but terms could be staggered so there is always a core group of people with institutional memory," she explains.
Viqueira adds that having a dedicated committee staff is helpful, but it is not always doable, especially in the smaller plan market. Most committee members have to do their "day jobs" as well.
It is important to appoint people with a willingness to learn--since nobody is born knowing the ERISA rules--and people with the time to do the job properly, Buckmann says. It is also important to select people who will consult or appoint experts when they lack the expertise to handle matters, such as choosing plan investments. That is what ERISA requires.
Plan sponsors should select committee members who will be patient and are willing to own their decisions, Viqueira says.
Plan sponsors should also prepare to educate committee members. "There is fiduciary training for new and existing committees," Viqueira says. "Plan sponsors should carve out time on an ongoing--maybe quarterly--basis for some kind of committee training."
She says training is needed in both the corporate and public plan settings. "There may be a public fund committee made up of teachers or police officers, and retirement plan decisionmaking is not their day job," Viqueira explains. "They need to understand their responsibilities and the correct process to be able to separate their personal views from what is best for the plan and its participants."
Fiduciary liability insurance is always optional, Buckmann says. ERISA generally requires anyone who handles plan funds to be bonded. "So, if the committee members engage in activities such as transferring money, signing checks or authorizing payment of expenses or benefit distributions, they would be handling funds and required to be bonded," she explains. But Viqueira says it would be a challenge to get individuals to stick their necks out if the plan sponsor doesn't secure fiduciary liability insurance. Rebecca Moore, PLANSPONSOR, www.plansponsor.com, December 15, 2020.

3. A RETIREMENT DASHBOARD FOR THE U.S.?:
Noting that the U.S. retirement system is not easy to navigate, a recent white paper calls for the creation of a retirement dashboard to help savers better manage and keep track of their savings.
"While it would not address systemic problems such as coverage, a dashboard could reduce the strain that a complex retirement system imposes on households," authors David John of the AARP Public Policy Institute, Grace Enda of the Urban-Brookings Tax Policy Center, and William Gale and J. Mark Iwry of the Brookings Institution, explain in "A Retirement Dashboard for the United States."

"American workers could more easily find and recover lost accounts if an easily navigable website housed a database that included the existence and current location of all their accounts and explained how to claim and consolidate those accounts," they note. Moreover, the suggest that a dashboard could help reduce leakage by helping people understand the consequences of cashing out funds and the ways to preserve savings through retention or rollover.
Other Countries Do it
To help address these issues, the authors observe that several governments and pension providers throughout the world have created pension registry websites where people can see all their retirement benefits in one location, including Social Security, employer-sponsored plans, and IRAs, along with the contact information for the administrator of each plan or account. What's more, they note that other countries have gone further and developed national, online retirement "dashboards" that include a registry and offer expanded functions, such as recovering and consolidating lost accounts, projecting estimated retirement income, expanding financial literacy and providing financial advice.
The authors further contend, however, that the private sector does not currently provide such a dashboard and is unlikely to be able to do so. "Fintech applications typically help retrieve only those accounts the user is already aware of and often charge for their services. Some applications can search databases, but recordkeepers and asset managers may be reluctant to allow access to possible competitors," they write.
"Accordingly, while the private sector could conceivably provide a dashboard, we believe it would be most effectively and reliably provided through a website sponsored or co-sponsored by the federal government," they further emphasize.
Recommended Requirements
As such, the paper suggests that policymakers should address the most urgent needs first and phase in other solutions. An online registry would be the most common purpose, showing users all their retirement benefits and enabling them to find lost or missing accounts from previous jobs.
The paper further recommends that the dashboard should be easy to access and use, and should be available free of charge. Moreover, the authors note that it should require data standardization so that information from different providers can be compiled and provide users a complete picture of their benefits. And in addition to being secure, it should require participation from all retirement plan providers, as is the case in most other countries with dashboards, they further recommend.
The authors do acknowledge that a dashboard would need to overcome various obstacles, including that the scale and complexity of the U.S. private retirement system is much larger and more diverse that other counties, that many industry stakeholders may feel threatened by a dashboard, challenges with cybersecurity safeguards, and funding the cost to the industry. Ted Godbout, ASPPA, www.asppa-net.org, December 14, 2020.

4. COVID-19 PANDEMIC PUTS SQUEEZE ON PENSION PLANS:
America's pension managers are facing a tough choice nine months into the Covid-19 pandemic: take on more risk, or ask for more money from employers and workers.
Pensions and other retirement-benefit programs have struggled for years to figure out how to close the gap between the assets they have on hand and the cost of benefits they have promised to pay out in future decades. Their concerns continued to grow as investment returns fell.
The pandemic is adding urgency to that long-term problem. While the S&P 500 index has surged 15% this year, analysts are projecting weaker long-term stock-market performance than expected at the end of 2019. Bond rates are expected to remain low in the wake of federal stimulus measures, meaning that fixed-income portfolios, traditionally the bread and butter of pension funds, will return little. Together, those factors are pushing retirement-fund managers across the country to take action to keep shortfalls from growing.
"What rate can I expect a dollar of my investment to grow? That's more challenging now," said Steve Foresti, chief investment officer at Wilshire Consulting, an adviser to many large pension funds.
In September, Wilshire lowered its 10-year annual return projection to 5.5% for U.S. stocks from 5.75% at the end of last year. The projection for long-term core bonds, the bread and butter of old-age savings, fell to 1.75% from 3.25%. Even projections for some alternative assets dropped, with private equity dropping to 7.45% from 7.95% and real assets declining to 5.35% from 5.9%.
Covid-19 added urgency to longstanding concerns about low interest rates, according to Ash Williams, executive director and chief investment officer of the State Board of Administration of Florida.
"We could come back and say we told you this last year, we told you this the year before...and in addition to those factors we're now in a pandemic," said Mr. Williams.
In October, the Florida Retirement System lowered its expected investment return to 7% from 7.2%, despite having made a similar cut last year. It now expects to collect about $380 million more from the state and other participating employers next year, a spokesman said.
In November, board members of the California Public Employees' Retirement System lowered investment-return projections on a long-term-care benefit fund and increased the amount workers pay to participate after a Wilshire consultant warned that the fund's long-term expected returns had dropped more than a percentage point this year as of Sept. 30.
The drop was "primarily a reflection of the extraordinarily low interest rate environment brought on by the pandemic," the consultant wrote.
The long-term-care program, which is separate from Calpers's pension fund, doesn't rely on taxpayer dollars and invests premiums from about 120,000 workers to pay for old-age care. Directors also last month endorsed increasing the maximum risk level of the long-term-care portfolio, through steps such as the addition of private market assets and the use of leverage, despite the concerns of some board members. The board is expected to decide the specific asset mix in February.
Stacie Olivares, the board's insurance-industry representative, was one of four members to vote for a failed proposal to adopt even more conservative investment expectations that a fund staffer predicted would cause premiums to rise even more. "I think additional exposure to risk actually compromises the plan safety and will ultimately increase the rates" workers pay, Ms. Olivares said.
At Calpers, pre-pandemic projections for its long-term-care fund already showed insufficient assets to cover future benefits. The program is closed to new employees.
Retirement shortfalls aren't a new industry phenomenon. Even before the pandemic, retirement and pension funds were already short trillions of dollars in assets needed to pay future benefits, according to Federal Reserve data.
U.S. public pensions projected a median long-term return of 7.22% on their portfolios in 2018, down from 8.05% in 2002, according to the National Association of State Retirement Administrators.
"I wouldn't be surprised if they continue to come down more in the next few years," said Todd Tauzer, an actuary at Segal, an employee-benefits consulting firm.
Lowering return expectations is politically difficult for pension funds because doing so increases the expected shortfall between assets and liabilities, often leading to higher costs for government employers and workers and sometimes prompting talk of service cuts.
If pension assets were to earn 7.2% a year, the $2.5 trillion held by the 25 largest U.S. pension plans as of 2018 would fall about $780 billion short of the value of the liabilities, according to a recent study from New York University's Stern School of Business. The shortfall would double if the assets were to earn the more conservative 5.6% expectation used in Canada.
A separate study by Omri Even-Tov of the University of California, Berkeley, and two colleagues found that counties reduced spending on welfare and payroll and cut employee numbers after accounting standards required them to disclose their pension liabilities.
Retirement funds generally met or approached their investment targets for the year ended Sept. 30, after stimulus programs helped fuel stock gains, analysts said. Public pensions earned a median return of 7.33% according to Wilshire Trust Universe Comparison Service, the firm's benchmarking arm. But keeping that up will be tough.
Some retirement funds have been looking at rock-bottom bond rates and seeing an opportunity for arbitrage. S&P Global rated 16 pension-obligation bonds this year, up from seven last year. Government decisions to issue this type of debt pay off only if investment returns on the borrowed money exceed interest costs. The Government Finance Officers Association, a trade group, recommends against that strategy because of the level of risk involved. Heather Gillers, The Wall Street Journal, December 9, 2020.

5. COURT RULES PENSIONS CAN'T EXIST IN A STATE OF LIMBO:
The 11th U.S. Circuit Court of Appeals has ruled in a "most unusual case" that a company that went bankrupt and dissolved in the 1990s was still liable for its pension's obligations 20 years later.
The case centers on Chicago area-based Liberty Lighting Co. Inc, a unionized electrical supply manufacturing company and plan sponsor and administrator of the Liberty Lighting Co. Inc. Pension Plan for IBEW Employees. According to court documents, Liberty entered bankruptcy and surrendered its assets to a creditor in 1992, and it was dissolved under state law.
Joseph Wortley, Liberty's sole owner, filed for personal bankruptcy in 1993 and, as part of the bankruptcy proceedings, all of his assets were surrendered to a trustee, including his stock in Liberty. However, Wortley continued to act as the plan's administrator and signed papers on behalf of the plan at the request of its actuary for years after Liberty's dissolution, which was necessary to continue payments to pensioners.
When the plan's funds ran low in 2012, the bank administering the plan notified the Pension Benefit Guaranty Corporation (PBGC) about the plan's impending insolvency. The PBGC, which acts as a lifeboat for financially struggling pensions, contacted Wortley to reach a settlement regarding the unfunded remaining liability of the plan. The settlement indicated Liberty dissolved in the 1990s and the agreement contained language that Wortley believed set a final cutoff date for his remaining liability.
However, in 2018, PBGC sued other companies owned by Wortley, arguing that federal law dictates that they may be held liable for the Liberty pension's unfunded liability. PBGC said the other companies owned by Wortley were part of a "controlled group" with Liberty and were therefore still liable for Liberty's unpaid pension benefits, premiums, interest, and penalties. PBGC argued that because Liberty wasn't able to meet its Employee Retirement Income Security Act (ERISA) obligations to its former employees, Wortley's other companies must foot the bill. The companies pushed back, saying that they can't be considered owned in common with Liberty because Liberty closed down years earlier.
"We disagree," the circuit court judges said in their ruling. "In the unusual circumstances of this case, Liberty still existed in 2012 sufficiently to act as the plan's sponsor under ERISA."
The court said that the companies' view of ERISA held that "nobody was responsible for the pension plan," which it added "cannot be squared with ERISA as a whole," as the law "does not allow pension plans to exist in a state of limbo, devoid of any caretaker."
The court also said Wortley's actions on behalf of Liberty after its dissolution are "strong evidence" that Liberty continued to serve as the plan's de facto sponsor. It said that for years after its dissolution, Liberty, through Wortley, continued to authorize payments out of the plan.
"Liberty played an active role in the plan years after its bankruptcy," the court said, pointing out that Wortley filed ERISA forms that identified Liberty as the plan's sponsor with the government and the bank that held the assets in 2002 and 2004. The court also noted that Wortley sent a letter to the plan's actuary on Liberty letterhead inquiring about benefit entitlements.
"These steps--necessary to the plan's continuing maintenance--can only have been undertaken by the plan's sponsor," the court ruled. Michael Katz, Chief Investment Officer, www.ai-cio.com, December 14, 2020.
6. WHAT WILL RETIREES OWE IN TAXES ON RETIREMENT INCOME?:
How much will retirees owe in taxes on their retirement income? In a new paper, researchers estimate the taxes a group of recently retired households will pay on what they earn during their retirement.
In "How Much Taxes Will Retirees Owe on Their Retirement Income?" Alicia H. Munnell and Anqi Chen use data from the Health and Retirement Study--a project sponsored by the Social Security Administration and the National Institute on Aging that looks at Social Security benefits and estimated state tax liabilities--to project income and taxes over retirement for each household. Munnell is a Peter F. Drucker Professor of Management Sciences at Boston College's Carroll School of Management and serves as the director of the Center for Retirement Research at Boston College; Chen is the assistant director of savings research at the Center for Retirement Research at Boston College.
Munnell and Chen say that households nearing retirement consider Social Security, pensions, defined contribution balances and other assets to evaluate their resources during retirement--but many forget that they will have to pay federal and state taxes on those funds. But what exactly does that spell for retirees?
"It is unclear," Munnell and Chen say, "just how large the tax burden is for the typical retired household and for households with different income levels." Still, for many, it spells payments that could be hefty. They write that approximately half of households must pay federal taxes on Social Security benefits, and that taxes will be due on pension income and defined contribution plan withdrawals for the approximately two-thirds of households that have at least some income from employer-sponsored retirement plans. And that means, say Munnell and Chen, that "households approaching retirement may think they have more saved up than they will actually have available."
Households, in the aggregate, will have to pay approximately 6% of their income in taxes, Munnell and Chen found. However, the primary responsibility for those taxes lies with top 20% of earners; the other 80% will pay between nothing in taxes to 1.9% of their income in taxes. More specifically, they say, taxes break down thus:




Those percentages take on added meaning, Munnell and Chen observe, when they point out that the top 20% of earners are predominantly married couples whose average assets amount to: $50,900 in Social Security benefits annually; $325,400 in 401(k)/IRA balances and $441,400 in financial assets. They further warn that such households "are not what many would consider wealthy," and that the fact that they are in the top 20% "highlights the fact that most households do not have a lot of money in retirement."
And Munnell and Chen remind that "taxes" means more than just federal taxes, and that state income taxes generally "piggyback on federal taxes--using federal taxes as the "starting point" for their own calculations.
Munnell and Chen write that "the results show the tax burden on retirement income is negligible" for most households. But taxes are meaningful for more than just the top 20%, Munnell and Chen found. They report that if retirement and financial assets were fully annuitized, a household would receive the equivalent of approximately $3,000 a month, and face tax liabilities of around 11%." Munnell and Chen conclude that "for many households reliant on 401(k)/IRA or financial assets for security in retirement, taxes are an important consideration." John Iekel, ASPPA, www.asppa-net.org , December 14, 2020.

7. MANAGERS FOCUS ON EMPLOYEE HEALTH, PRESERVING CULTURE:
Money managers are as razor-focused on the preservation of their corporate cultures and the well-being of their employees as they are on their investment strategies and clients with the COVID-19 pandemic continuing to wreak havoc worldwide.
Employees of firms as large as PGIM Inc., with 2,637 U.S. employees, as well as a small firms like Aetos Alternatives Management LP, with 33 U.S. staffers, described collaborative, supportive company cultures that helped them to work remotely during the coronavirus pandemic.
Both PGIM and Aetos are among the newcomers this year to Pensions & Investments' annual Best Places to Work in Money Management program, which recognized 94 firms in 2020.
"Money management executives are finding that their cultures are at a pivotal point right now and the decisions they are making about their company's future are likely to be transformational," said Kevin P. Quirk, the Darien, Conn.-based principal of Casey Quirk, a practice of Deloitte Consulting LLP.

Some start to plan for future
Mr. Quirk said that while "many firms still are in survival mode, a significant minority are beginning serious planning for their firms' futures post-pandemic."
These firms are mapping out operational issues including workforce deployment (in the office or not); their real estate footprint; more use of virtual communication to strengthen and enhance employee and client engagement; technology and outsourcing; and most importantly, attracting and retaining the best talent during and after the COVID-19 pandemic, Mr. Quirk said.
P&I's BPTW questionnaire asked money managers to rate the difficulty of sustaining corporate culture during the COVID-19 outbreak. Nearly 60% of the 80 firms that responded to the question indicated that they were having some difficulty, while 5% said it was very difficult. The remaining firms that responded reported no difficulty.
These survey responses may mask to some extent the true difficulty of managing a mostly remote workforce.
For example, in terms of negative impact on company culture, senior money management executives interviewed for this story each stressed the difficulty – to some extent emotional – that employees at all levels and departments are experiencing because they have been unable to work together in person.
"The employees who are really struggling are our younger employees. We really enjoy being together and having fun," Peter Stelian, co-founder and CEO of real estate specialist Blue Vista Capital Management LLC, Chicago, said in an interview.
For example, a dozen of Blue Vista's analysts regularly rent a house during fall weekends so they can watch football together, Mr. Stelian said, noting that younger employees have said they want to come back to the office now.

Challenges -- and solutions
The firm is making do -- culturally -- until employees can safely return to the office by leveraging Zoom meetings; offering more frequent educational lectures via the online Blue Vista University; virtual bingo and other social activities; and get-to-know-you interviews with senior executives and investment team leaders.
Like other CEOs and human resources officers P&I spoke with, Mr. Stelian said he is very concerned about the mental health of Blue Vista's workforce.
He determined that the firm would survive without layoffs and could grant employee bonuses for two years even if the firm didn't do any real estate transactions in 2020 or 2021 and shared that information with staff.
"Everyone is stressed out. People can't easily separate their personal and work lives. The best thing we could do is offer them reassurance about their jobs and their work life," Mr. Stelian said.
Blue Vista, a newcomer to the Best Places program, reported 58 U.S. employees and $4.5 billion in assets under management as of June 30 in its survey responses.
Analysts at Aetos Alternatives Management are accustomed to regularly going back and forth between the firm's New York and Menlo Park, Calif., offices to work together on investments and are finding "not traveling and not being together really weird. This has been the biggest impact for us from the pandemic," Michael F. Klein, the New York-based managing director, co-president and chief risk officer, said in an interview. Aetos managed $8.9 billion as of June 30.
Aetos' senior executives are "very concerned that the current working situation isn't sustainable indefinitely. It's not at all clear how long the runway is," Mr. Klein said.
"People like going into the office and it's essential for us to try to replicate the water-cooler chatter," Mr. Klein said, noting that executives are trying to accomplish that with more frequent Zoom meetings between team members and ramping up the firm's support for charitable activities, including paid time off for volunteering.
On a more personal note, Mr. Klein said that as a boss "it's hard, very hard to be sitting by yourself, trying to balance all the demands. You want to fix all the problems. I'm grateful for being able to talk with my partner, Anne Casscells, every day. You need to share the burden." Ms. Casscells is a managing director and Aetos' co-president and CIO, based in Menlo Park.

Getting to yes
Another pandemic-related problem is recruitment via virtual channels, money manager executives said.
Chicago-based Adams Street Partners LLC, which manages $41 billion in alternative strategies, hired new employees during the pandemic virtually, Jeffery T. Diehl, managing partner and head of investments, said in an interview.
"We've adapted to the practice of meeting by Zoom, including onboarding these new employees. However, it's hard for me to not to have met 10% of our employees in person," he said.
"We're doing all we can do to build relationships with these new and existing employees through more frequent meetings. Before COVID-19, our all-hands meetings were every six months. Now, we meet every two weeks. Employees know a lot more about the company and like the frequency of meetings so we might continue this schedule when we're on the other side of the pandemic," Mr. Diehl said.
Employees said they appreciate Adams Street Partners' efforts. Adams Street also was designated a Best Place in 2018 and 2019.
"We have a very special culture. We work hard but genuinely enjoy what we do and collaborate incredibly well. During the pandemic, the firm's culture has only shined through more with great communication, demonstrated care, and providing the necessary resources and technology to work remotely," an Adams Street employee said in a survey response.
Adams Street Partners reported 170 employees in its survey responses. ClearBridge Investments LLC, New York, has "tried to mimic normal hiring and onboarding processes using Zoom and Microsoft Teams" and has been able to "maintain active recruiting … and were also able to continue our summer internship program," Terrence Murphy, CEO, said in an email.
But Mr. Murphy said "engaging candidates in terms of our culture is something that's special and valuable during the interview process that has been missing" and added that "some of our new hires have never seen our physical office space." "Our operations and technology teams have done an amazing job creating an absolutely seamless transition to remote working for everyone across the country. But there is no substitute for the camaraderie of being together," he wrote.
ClearBridge, with 213 employees, managed $149.4 billion as of June 30. The firm ranked first in the BPTW category of firms with 100-499 employees, and has been designated a Best Place every year since the program launched in 2012.
Amid the trials of managing people and corporate culture from a distance, investment management company executives have found some surprisingly positive effects.

More empowered
Executives said they're seeing higher participation in virtual meeting venues than before the COVID-19 crisis and are finding that younger and less senior employees feel more empowered to speak their minds about investment management, operations and distribution practices.
"One unintended blessing of the pandemic has been the democratization of virtual conversation. There have been so many moments where teams are finding ways to create deeper engagement to get to know each other better," said Stephanie G. Braming, partner and head of William Blair Investment Management LLC, Chicago, which has been recognized eight times in the Best Places program since 2012.
One William Blair employee said in the survey: "With our remote work environment, engagement has increased. Stephanie (Braming) meets with small groups frequently to discuss our current financial outlook, progress (in) our initiatives, successes and hurdles. And we have a lot of team-building activities and interaction on Microsoft Teams to substitute for not being in the office. In some ways I feel more connected!"
Another surprise was the ease with which William Blair has been able to maintain the creative tension and debate that's a hallmark of the firm's investment teams in a virtual forum, Ms. Braming said.
Ms. Braming added "that kind of creative tension usually sparks from more casual, in-person connections between team members'' but stressed that she's been "positively surprised by how well the teams are doing."
William Blair, with 316 employees, managed $61.7 billion as of June 30.
Before the COVID-19 outbreak, PGIM, Newark, N.J., already relied on digital onboarding of new employees and the firm continues the process as it adds new employees to its workforce, Pamela Sinclair, global head of human resources, said in an email. As of June 30, PGIM had $1.4 trillion in AUM.
"While it's certainly unusual that we have PGIM employees that have never set foot (in) a PGIM office, managers and teams are aware of the need to go the extra mile to welcome people and embrace them into the fold," Ms. Sinclair said, noting one good thing about the firm's business travel ban is that it "has meant that our senior leaders have had greater availability than (in) years past to participate in our onboarding programs including teach-in and virtual fireside chats."
PGIM ranked No. 3 in the BPTW category of 1,000 or more U.S. employees.

Top of mind
Money managers have a lot on the line when it comes to maintaining their corporate cultures through the COVID-19 pandemic and beyond, industry observers said.
"The culture of money management firms has become a very big topic," said Luba Nikulina, global head of research based in consultant Willis Towers Watson PLC's London office.
"A firm's working culture has very significant value when it comes to the quality of investment management and is a critical differentiator for us in recommending managers to our clients."
Ms. Nikulina said many asset owners among Willis Towers Watson's investment consulting clients have become more proactive in asking questions about manager culture during the pandemic "because it's in the forefront of everyone's thinking right now" as managers have been forced to manage their remote workforces.
As for what's ahead for money managers after the COVID-19 pandemic is under control, Michael S. Falk, a partner at Focus Consulting Group Inc., Long Grove, Ill., said in an interview that "managers won't presume that employees need to work in the office. Offices will become more of a gathering place than a 9-to-5 workspace."
He said that of the three general categories of money management company personnel, "the biggest question will be how operations employees fare in what may be a largely remote-working model for the industry. Distribution and marketing people were rarely in their offices anyway and investment staff have proven that they can work anywhere." Christine Williamson, Pension & Investments, www.pionline.com, December 14, 2020.

8. FREE WEBINAR - DIVERSITY IN THE WORKPLACE; HOW TO BUILD A CULTURE OF INCLUSION TO ADVANCE PROGRESS:
The time for empty promises about diversity and inclusion shared on corporate websites has passed. We are now at an inflection point when current and future employees are demanding real action to create truly equitable and inclusive experiences at work. This will call upon employers to take a hard look at their policies and practices to make meaningful progress.
And as organizations move into 2021, they must demonstrate that they not only believe in the value of diversity but that they are committed to fulfilling the promise of inclusion. While important, diversity is a passive view of workforce composition, and initiatives often fall short of making meaningful progress. Inclusion is a more active, non-negotiable view that focuses on creating an empathetic workplace environment. When employees feel welcome, included, valued and connected, they feel a sense of belonging. What are the concrete steps to get there?
In this track, you will learn:
A three-pronged approach to fostering a culture of inclusion and belonging.
The evidence showing how coaching can accelerate progress toward diversity, equity, inclusion and belonging.
The downstream and upstream impacts of optimizing the value of diversity, inclusion, and belonging.
Speakers:
Shonna Waters, Vice President of Customer Solutions, BetterUp
Stacè Middlebrooks, BetterUp Fellow Coach & Chief Empowerment Officer - Purpose Powered Coaching and Consulting
Duration: 1 hour, 12 minutes
Available On Demand by registering here. Chief Learning Officer, www.chieflearningofficer.com.

9. THE MOST FINANCIALLY FRAGILE AMERICANS DURING COVID-19 HAVE DIFFICULTY ANSWERING THESE 15 MONEY QUESTIONS - CAN YOU?:
The more someone understood about interest rates, inflation, risk diversification and other financial concepts, the less likely they show signs of financial "fragility" at a time of serious money pressures for many people across the country, a new study concludes.
There is a link between financial literacy and financial resilience, according to Olivia Mitchell of University of Pennsylvania's Wharton School, Annamaria Lusardi of George Washington University's School of Business, and Robert Clark of North Carolina State University's Poole College of Management.
Their survey, published Monday, polled 3,000 people, ages 45 to 75, between April and May in 2020.
At the beginning of the first coronavirus surge in March 2020, 40% of households making under $40,000 per year lost the jobs they had one month earlier. In April, the jobless rate soared to 14.7% and $1,200 direct checks and supplemental $600 federal-unemployment benefits from the $2.2 trillion started rolling out.
Against this backdrop, the researchers asked who could come up with $2,000 for an unexpected emergency within the next month. Overall, 18.9% said they certainly couldn't, or probably couldn't do that, which the researchers said made them "financially fragile."
"In other words, even with the promise of substantial government payments, about 1 in 5 older respondents reported they could not handle a mid-sized unexpected expense," the researchers said, noting that women, Black and Hispanic participants were all more likely to be in this group.
(This outsized economic effect has been show in various places.)
Here's where they noticed the literacy link: The so-called "fragile" survey participants correctly answered about half of the three questions about how interest rates are calculated, inflation and risk. People in better money condition answered almost all three (2.5 on average) correctly.
"Big 3" financial literacy questions created by Annamaria Lusardi and Professor Olivia Mitchell:
1. Suppose you had $100 in a savings account and the interest rate was 2% per year. After 5 years, how much do you think you would have in the account if you left the money to grow?
A. More than $102
B. Exactly $102
C. Less than $102
D. Do not know
E. Refuse to answer
2. Imagine that the interest rate on your savings account was 1% per year and inflation was 2% per year. After 1 year, how much would you be able to buy with the money in this account?
A. More than today
B. Exactly the same
C. Less than today
D. Do not know
E. Refuse to answer
3. Please tell me whether this statement is true or false. "Buying a single company's stock usually provides a safer return than a stock mutual fund."
A. True
B. False
C. Do not know
D. Refuse to answer
(Answers to Big 3: 1. A., 2. C., 3. B.)
Additional 12 questions formulated in the latest study by Annamaria Lusardi, Olivia S. Mitchell and Robert Clark:
1.Suppose you had $100 in a savings account and the interest rate was 2% per year. After 5 years, how much do you think you would have in the account if you left the money to grow?
A. More than $102
B. Exactly $102
C. Less than $102
D. Don't know
2. Imagine that the interest rate on your savings account was 1% per year and inflation was 2% per year. After 1 year, how much would you be able to buy with the money in this account?
A. More than today
B. Exactly the same
C. Less than today
D. Don't know
3.Please tell me whether this statement is true or false. "Buying a single company's stock usually provides a safer return than a stock mutual fund."
A. True
B. False
C. Don't know
4.Suppose you owe $1,000 on a loan and the interest rate you are charged is 20% per year compounded annually. If you didn't pay anything off, at this interest rate, how many years would it take for the amount you owe to double?
A. Less than 2 years
B. At least 2 years but less than 5 years
C. At least 5 years but less than 10 years
D. At least 10 years
E. Don't know
5.Suppose you had $100 in a checking account that pays no interest. If you withdrew 5% of what was left in the account each year, how much do you think you would have left in the account at the end of 2 years?
A. More than $90
B. Exactly $90
C. Less than $90
D. Don't know
6.There's a 50/50 chance that Jay's old car will need repair in the next year, which will cost him $800. Also, in the next year, there is a 10% chance that Jay will need to replace the carpeting in his home and basement which will cost him $3,000. Which poses the greater expected cost to Jay?
A. The car repair
B. The carpeting replacement
C. There is no way to tell in advance
D. Don't know
7.Which statement is true? Alex has a low credit score. This means that:
A. He has a history of late payments and carrying balances on his credit cards
B. He can get a low interest rate on loans and credit cards
C. He can get a low premium on car and homeowner's insurances
D. Don't know
8.Susan worries about living a long life and running out of money. How could she manage that possibility?
A. There is nothing she can do about this
B. Buy life insurance
C. Buy an annuity
D. Don't know
9.Jesse is a retired worker. Which statement is correct about Jesse's Social Security?
A. Jesse's monthly Social Security benefits will be the same no matter how old he was when he started to receive them
B. Social Security will pay Jesse a benefit sufficient to maintain his pre-retirement living standard
C. Social Security will pay a benefit to Jesse until he dies
D. Don't know
10.Chuck plays the lottery, spending $50 per month on tickets. Which statement is correct?
A. This is a good strategy to accumulate wealth
B. To accumulate wealth, Chuck should save the money each month rather than buy lottery tickets
C. It is a good strategy if Chuck has a good system to pick numbers
D. Don't know
11.Bill and Mary own a house which they would like to sell to move to a smaller place. Which statement about selling the house is correct?
A. Bill and Mary must pay off their existing mortgage before they can put their old house on the market.
B. Bill and Mary cannot get a new mortgage unless they get back their purchase price.
C. When Bill and Mary sell their house, they will receive the price they sell their house for, minus their outstanding mortgage and other expenses associated with selling the house.
D. Don't know
12.Suppose Andy purchases an appliance that retails for $1,000 with equal monthly payments of $100 per month for 12 months. The total payments Andy made by the year's end total $1,200. What is the interest rate that Andy paid for this purchase?
A. More than 10% but less than 20%
B. More than 20%
C. Not enough information to calculate the interest rate on his purchase

(Answers to additional 12 are: 1. A, 2. C, 3. B, 4. B, 5. A, 6. A, 7. A, 8. C, 9. C, 10. B, 11. C, 12.B)
"A person with three correct answers is 6.3 percentage points less likely to report being unable to cover a $2,000 unexpected expense compared to a person who answered none of the three questions correctly," the researchers wrote. In the 12-question index, every right answer reduced the chance of financial fragility by one percentage point, they said.
The same trend played out when researchers asked extra questions about annuities, compound interest, credit scores and other money matters. The more financially prepared correctly answered on average 8.5 of the 12 question, versus 6.3 for the financially fragile.
People with a better understanding of money were already making better spending and saving decisions ahead of the pandemic, when many household budgets were put to the test, "and this still holds true after controlling on socio-demographic characteristics, including education and income," the authors said.
Less than half of Americas's 50 states require a personal-finance course. As of this year, 21 states require high-school students to take a personal-finance course, up from 17 in 2018, according to the Council for Economic Education, an organization focused on K-12 financial education. Half of U.S. states mandate a high-school economics course, up from 22 in 2018.
Despite the increase in mandated financial education, other studies ahead of the pandemic have suggested that Americans' grasp on financial literacy is slipping.
Compared to 2009, more people across various age groups couldn't correctly answer basic questions on topics like mortgage rates, financial risk, and inflation, according to the FINRA Investor Education Foundation, the educational arm of the nonprofit organization regulating the brokerage industry.
Of course, financial savvy can't solidify someone's finances if they face dim job prospects during a global pandemic. There are many people who are just trying to stay in financial "survival mode" right now which could affect they handle money matters now. Some financial literacy proponents note the limits on financial instruction.
Monday's study noted that drawback too, but emphasized the value in financial education in the broader school system. "Of course, financial education cannot erase deep socioeconomic inequalities overnight," they wrote, "but it can equip people with the knowledge to better deal with economic shocks, and plan for the future." Erin Clark, Report Door, www.reportdoor.com, December 14, 2020.

10. COVID-19 SCAMS LIKELY TO INCREASE AS VACCINE NEARS:
Sometimes, scam alerts get out there to warn consumers about an ongoing trouble spot -- such as a flurry of robocalls from someone pretending to be from the Detroit, Mich., based DTE Energy and ready to shut off your heat or someone pretending to be from Amazon or Apple support as you're shopping online. Other times, consumer watchdogs want to get the word out ahead of the curve. They're not hearing from upset consumers just yet but they know that scammers are waiting in the wings and ready to pounce.
Enter the warnings about scams and COVID-19 vaccines. Limited supplies of some vaccines could be out before Christmas -- but again, we're not talking about a wide supply. And it's expected that frontline health care workers in Michigan and elsewhere would get vaccinated first. Who's sure to have the hard-to-get vaccines? Criminal networks are ready to roll out counterfeit versions of approved vaccines, much like fake Gucci bags and Nike sneakers.

What Kind of Vaccine Scams Can We Expect?
Already, consumer watchdogs are hearing reports of imposters claiming to be Social Security Administration workers in order to get sensitive information from people.
"For example, the scammer calls saying that they are from the Social Security Administration and they're calling to sign the person up to receive their vaccine," said Jon Miller Steiger, director of the East Central Region for the Federal Trade Commission. The regional office, based in Cleveland, serves Ohio, Michigan, Pennsylvania, Virginia, West Virginia, Maryland, Delaware and the District of Columbia. As part of the sign-up, the scammer is going to ask for important information such as your Medicare number, name, address and possibly even bank account information. "This is a scam," Steiger said. "The Social Security Administration will not sign you up to receive a vaccine and will not ask for sensitive information by phone, email or text."

What Are Some Red Flags of a COVID-19 Scam?
Here's a quick list of potential scams to avoid in the coming months, according to the FTC and others:
If someone tells you they can get you on a waiting list to get a vaccine, forget about it. They're going to tell you that you need to buy gift cards or hand over cash to get on that list. Hang up, it's a scam. No one is going to be calling you about the vaccine and asking for your Social Security number, your credit card number or your bank account number in order to make sure you can get the coronavirus vaccine. Again, it's a scam. Scammers are likely to pitch other "products, treatments, or medicines," according to the FTC, that they might claim prevent the virus. You want to check with your health care provider before paying for or receiving any COVID-19-related treatment.
We know these things to be true because they happen over and over again when a big event hits the news. The vaccine is likely to be the hot thing in December and for much of 2021.
Two things drive most scams: Fear and greed.
Many people, particularly the elderly, remain extremely fearful about getting COVID-19. Scammers can play with your emotions, sound convincing and get you to hand over your cash. The sooner you get a vaccine, well, maybe the sooner you can see your grandkids.
Who needs to run a sweepstakes scam -- though you know those aren't going away -- when you know everybody's on edge and you can catch them off guard with promises that the vaccine is heading their way?
Attorney General, Others Warning Us Now
Michigan Attorney General Dana Nessel, in coordination with the Michigan Department of Health and Human Services, is warning consumers to avoid "false claims, products and services that promise to cure, treat or prevent COVID-19. Vaccines, treatments, test kits and clinical trials are all examples of what scammers may be offering."
Consumers must keep in mind that a vaccine has not yet been approved for distribution by the Food and Drug Administration, as of early December. The distribution process is unclear now. Your best bet will be to pay attention to information from your doctor and local health department.
"We all want this devastating virus to go away," said Nessel in a statement.
"But until a vaccine is approved for distribution by the FDA, if someone offers you a COVID-19 vaccine, do not take it!"
U.S. Immigration and Customs Enforcement also anticipates a surge in attempts by crooks to sell counterfeit versions of approved vaccines.
"Despite widespread illness and death caused by COVID-19, many individuals and criminal networks are continuing to exploit the pandemic for illegal financial gains, using fraudulent schemes to source, produce, export or sell fake vaccines and related products," according to investigators.
As of Nov. 25, ICE said it had seized more than $26 million in illicit proceeds from COVID-19 related fraud and criminal activity. The agency made 170 arrests, executed 148 search warrants and reviewed more than 69,000 COVID-19 domain names.
"Working with U.S. Customs and Border Protection, more than 1,600 shipments of mislabeled, fraudulent, unauthorized or prohibited COVID-19 test kits and other related items have been seized," the agency said.
Michigan consumers can report fraud or make a complaint by calling 517-335-7599 weekdays for the AG's consumer protection division or go to www.michigan.gov/ag to file a complaint online.

Watch Out for Phony Testing
This year, many consumers are already getting hit by phishing emails and texts involving COVID-19 tests and COVID-19 studies, according to Laura Blankenship, director of marketing for the Better Business Bureau Serving Eastern Michigan & the Upper Peninsula.
One so-called COVID-19 study promised up to $1,220 in compensation. An unsolicited message may claim that you may qualify for a COVID-19 study. Kind of a new version of one of those mystery shopper deals. Instead of getting paid to shop, though, you supposedly get paid to be a COVID-19 vaccine pin cushion. The fraudsters know we're hard up for cash in this up-and-down economy.
In other cases, the con artists impersonate the Centers for Disease Control and Prevention or the World Health Organization. Again, the phishing email is likely to include a link. By clicking on a link in these emails, Blankenship said, the consumer often would end up downloading malware onto a device, potentially compromising any personal information stored on the device.
The scammers could get access to your usernames, passwords and other personal information stored on your computer. The scammers use the same platforms that they use for romance scams, sweepstakes scams and the like. They're reaching out through email, text messages and through fake websites.
No matter how anxious you are about your health -- or your dating life or the heating bill at your home -- you've got to step back and recognize that the crooks are well versed on how to steal your ID and your money. Susan Tompor, Detroit Free Press, GOVERNING, www.governing.com, December 11, 2020.

11. WHO'S AFFECTED BY INCOME SCAMS?:
The FTC and its law enforcement partners announced actions against several income scams that conned people out of hundreds of millions of dollars by falsely telling them they could make a lot of money. One of those scams was 8 Figure Dream Lifestyle, which touted a "proven business model" and told people they could make thousands of dollars in a couple of weeks if they paid to join the program. The FTC says those income claims were false. Customers paid between $2,395 and $22,495 to get started, and many took personal loans or racked up credit card debt to buy in. Approximately 94% of those customers lost money, with losses averaging almost $10,500 per person. That's equal to two months of take-home pay for someone making the median household income.
FTC economist Devesh Raval matched the addresses of the 8 Figure Dream Lifestyle customers to U.S. Census Bureau data to learn how the scam impacted different communities. He found that the percentage of customers who lost money and live in zip codes that skew older (median age of 55 or above) was 43% greater than their share of the population. In other words, they were over-represented in the 8 Figure Dream Lifestyle customer database.
Raval did a similar study of several cases the FTC has brought against other income scams. The analysis showed that these income scams affected different communities at different rates. Where the average loss to scams was more than $500, more of the people affected tended to live in zip codes that skewed older. Where the average loss to scams was less than $500, more of the people affected tended to live in zip codes with a majority Black population.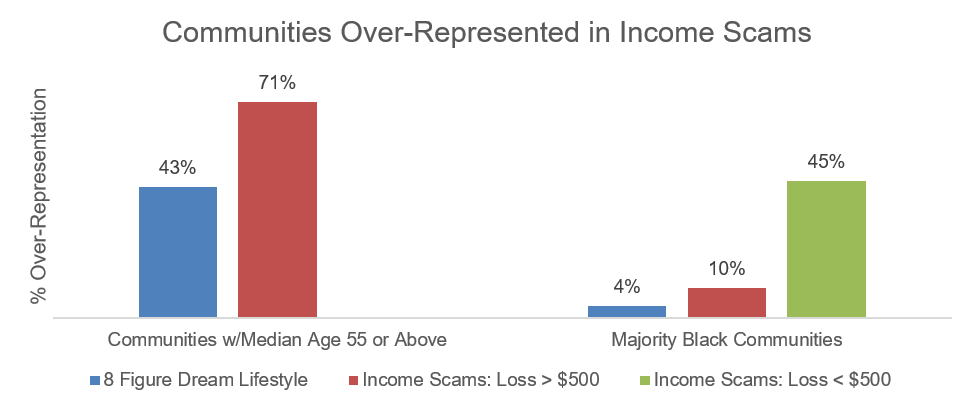 Savvy scammers know that many of us want financial freedom or to be our own boss. But as FTC cases show, many of these so-called opportunities are money-losing propositions. That's why it pays to learn how to recognize these scams. If you're tempted by an opportunity like this, read When a Business Offer or Coaching Program is a Scam. It might save you from losing hundreds – or even thousands – of dollars. Share it in your community to help others recognize these scams. And if you see a scam like this, tell the FTC at ReportFraud.ftc.gov. Rhonda Perkins, Attorney, Division of Marketing Practices, FTC, www.ftc.gov, December 14, 2020.

12. FROSTY THE CON MAN: AVOIDING FAMILY EMERGENCY SCAMS:


"Hello? It's me -- Frosty. Look it's a long story but without my top hat, I'm melting. Please, I need your help -- send money now or I'll be nothing but a puddle!"
OK, so that's a silly example and real impostors aren't funny. But, on the 8th day of Consumer Protection, it's definitely worth remembering that scammers can be really convincing. And they don't take a break, even at this time of year. It's surprisingly easy for a scammer to impersonate someone to snow you. Networking sites make it easier than ever to sleuth out personal and family information. And they play on your emotions. Scammers are banking on your love and concern to outweigh your skepticism.

You might get a call or message supposedly from an out-of-town family member or friend claiming to be in an accident, arrested, or hospitalized. To make their story seem legitimate, they may involve another crook who claims to be an authority figure, like a lawyer or police officer. What do you do if you get a message like this?
Stop – and check it out. Resist the urge to act immediately, no matter how dramatic the story is.
Call a phone number for your family member or friend that you know to be genuine. Or reach out to another family member or friend to check out whether what the message claims is true.
Don't wire money -- or send a check, money order, or gift card by overnight delivery or courier.
And then tell the Federal Trade Commission: ReportFraud.ftc.gov. Carol Kando-Pineda, Attorney, Division of Consumer & Business Education, FTC, www.ftc.gov, December 15, 2020.

13. IRS TAX TIP - MOST TAXPAYERS CAN DEDUCT UP TO $300 IN CHARITABLE CONTRIBUTIONS WITHOUT ITEMIZING DEDUCTIONS:
Following tax law changes, cash donations of up to $300 made this year by December 31, 2020 are now deductible without having to itemize when people file their taxes in 2021.

The Coronavirus Aid, Relief and Economic Security Act includes several temporary tax law changes to help charities. This includes the special $300 deduction designed especially for people who choose to take the standard deduction, rather than itemizing their deductions.

This change allows individual taxpayers to claim a deduction of up to $300 for cash donations made to charity during 2020. This deduction lowers both adjusted gross income and taxable income – translating into tax savings for those making donations to qualifying tax-exempt organizations.

Before making a donation, taxpayers should check the Tax Exempt Organization Search tool on IRS.gov to make sure the organization is eligible for tax deductible donations.

Cash donations include those made by check, credit card or debit card. They don't include securities, household items or other property. Though cash contributions to most charitable organizations qualify, some don't. People should review Publication 526, Charitable Contributions for details. Cash contributions made to supporting organizations are not tax deductible.
The CARES Act includes other temporary allowances designed to help charities. These include higher charitable contribution limits for corporations, individuals who itemize their deductions and businesses that give food inventory to food banks and other eligible charities. For more information, visit the Coronavirus Tax Relief page of IRS.gov.

By law, recordkeeping rules apply to any taxpayer claiming a charitable contribution deduction. Usually, this includes getting a receipt or acknowledgement letter from the charity before filing a return and retaining a cancelled check or credit card receipt.
More information:
A Closer Look: Special tax deductions available this year
Share this tip on social media -- #IRSTaxTip: Most taxpayers can deduct up to $300 in charitable contributions without itemizing deductions. https://go.usa.gov/xA3GJ. COVID Tax Tip 2020-170, IRS, www.irs.gov, December 14, 2020.

14. FOR THOSE WHO LOVE WORDS:
Why Do "Left" And "Right" Mean Liberal And Conservative? Learn the origin here.

15. A THOUGHT FOR TODAY:
"You don't stop laughing when you grow old. You grow old when you stop laughing." - George Bernard Shaw

16. TODAY IN HISTORY:
On this day in 1903, the Wright brothers make the 1st sustained motorized aircraft flight at 10:35 AM, piloted by Orville Wright at Kitty Hawk, North Carolina.

17. REMEMBER, YOU CAN NEVER OUTLIVE YOUR DEFINED RETIREMENT BENEFIT.
Items in this Newsletter may be excerpts or summaries of original or secondary source material, and may have been reorganized for clarity and brevity. This Newsletter is general in nature and is not intended to provide specific legal or other advice.