1. COVID-19 HAVING MAJOR IMPACT ON PENSIONS:
"The Impact of COVID-19 on Retirement Plans," a webinar hosted by the American Academy of Actuaries Pension Practice Council, explored how the coronavirus pandemic has affected various types of pension plans.
Linda Stone, senior pension fellow, American Academy of Actuaries, said, "Equity markets have recovered following a significant downturn during the first quarter of 2020. Year-to-date through November 30, U.S. equities have returned 15%. However, that has been offset by interest rates falling to historic lows. As a result, long-term corporate bond yields are down 70 basis points [bps] year-to-date through November 30."
That aside, Stone said that "interest rate and asset smoothing mechanisms mitigate much of the effect of recent volatility on 2021 funding calculations. Recognition of asset gains or losses will be delayed for plans using asset smoothing, while stabilized interest rates used by single employer plans may fall less than market rates."
Stone also said that the impact COVID-19 has on plans will vary widely across geographies, industries, plans and participants. She also noted that layoffs and furloughs have accelerated retirement and that the impact this has on plans will depend on whether the plan offers any early retirement subsidies.
Eric Keener, chairperson of the Retirement System Assessment and Policy Committee at the American Academy of Actuaries, noted that single employer pensions offered by companies in the S&P 500 had a funded status of 87% at the beginning of the year. At the height of the market volatility in March and February, that slipped to 80%, but the funded status has since risen to 89.3%.
"Sponsors of single employer plans likely need to consider the impact of the pandemic in preparing 2020 year-end disclosures and 2021 expenses," Keener said. "While mortality may seem like the area where adjustments are most needed, turnover, retirement salary increases, lump-sum elections and other factors may be more material."
Keener said that even though more than 300,000 people have died from COVID-19 in the United States, this increased mortality is unlikely to have a significant impact on benefit obligations for most pension plans. As to whether it might in the future, it depends on how quickly the nation can overcome the pandemic, Keener said.
To reflect their experience in 2020, single employer pension plans need to adjust data for impacted groups, i.e., those who have been terminated from the plan or who have retired, Keener said. They also need to estimate the impact from these factors on this year and reflect them as an adjustment to roll-forward assumptions, he said.
Citing Aon's September "COVID-19 Employer Pulse Survey," Keener noted that about one-third of employers have taken workforce actions in response to the pandemic. Thirty-one percent had either downsized their workforce via layoffs or were considering doing do, and 33% were implementing or considering long-term restructuring of their operations and workforce. Thirty-one percent had canceled or deferred base salary adjustments or merit increases, or were considering doing so.
So, while employers have made rather drastic changes to their workforce, Keener said, changes to their retirement plan have been more muted. Only 9% had either temporarily suspended or reduced employer contributions to defined contribution (DC) plans.
However, single employer defined benefit (DB) funding relief is under considerable strain, Keener said. "Some businesses are facing challenges that make it more difficult to manage pension contributions, even if such contributions were anticipated prior to the pandemic," Keener said. "But the impact varies widely by company and industry."
Christian Benjaminson, chairperson, Multiemployer Plans Committee at the American Academy of Actuaries, said the full impact of COVID-19 mortality on multiemployer plans is not yet known. "It will likely depend on the industry, geographical location of the plan and where retirees live," Benjaminson said.
Like single employer pension plans, multiemployer pensions have seen a spike in retirements in some industries, with some participants choosing to retire if they are laid off, Benjaminson said. "Increased retirement is generally a loss to the plan," he said.
Plan funding will depend on the industry. Among all industries, 63% of multiemployer plans are in the green zone. But 53% of manufacturing plans are either in the critical or declining zone. Forty-eight percent of retail/food plans are in in that state, and this is true for 39% of transportation industry plans.
"Multiemployer plan funding will depend on hours and plan contributions," he said. A big question is "will hours return fully to pre-COVID levels or will there only be partial improvement? Will there be an increase in bankruptcies? Will the pandemic affect future bargaining by putting pressure on health and welfare costs?"
Benjaminson noted that the Pension Benefit Guaranty Corporation (PBGC)'s fiscal year 2020 report shows the insolvency of the multiemployer program occurring in fiscal year 2026. PBGC says COVID-19 has not accelerated that insolvency.
However, Benjaminson says he believes that "COVID-19 is likely to accelerate the insolvency of already troubled plans and push more plans into critical and declining status. Even healthy plans will need extended time to recover from the market and demographic losses. The need for pension reform remains high for both PBGC and plans."
Addressing public plans, Todd Tauzer, chairperson of the Public Plans Committee at the academy, said the estimated average funded status of public plans is around 71%. Most of these plans have June 30 fiscal years. "They experienced the full downturn as well as partial recovery," Tauzer said. "Fiscal year median plan returns were up around 3.2%. Longer-term impact remains to be seen, but economic volatility is anticipated."
Plans that have medical workers and first responders could experience some COVID-19 mortality, Tauzer said.
Like the other types of pension plans, public plans are seeing increased voluntary terminations and retirement, directly and indirectly related to COVID-19, Tauzer said. "This directly impacts contributions coming into plans. There are broad, sweeping revenue declines anticipated for state and local governments, resulting in economic disruption. Those revenue declines have created heightened competition among expenditures, including pension contributions. Some plans have eliminated supplemental pension contributions, postponed anticipated contribution increases or taken out loans." Lee Barney, PLANSPONSOR, www.plansponsor.com, December 15, 2020.

2. CENTER FOR RETIREMENT RESEARCH: PUBLIC PENSION PLANS SHOULD AVOID INVESTING BASED ON SOCIAL AND ENVIRONMENTAL MOVEMENTS:
The Center for Retirement Research at Boston College published a brief saying public pension plans should avoid tailoring their investment strategies to satisfy calls for political, social and environmental justice, known as ESG (environmental, social and governance) investing.
The movement toward more socially and environmentally activist investing has gained traction in recent years and some investors are using it as a strategy to increase returns based on political, social and environmental movements.
According to CRR, "The mechanism apparently must work through a decline in the value of stocks at 'bad' companies and an increase in the value of stocks at 'good' companies – thereby encouraging more companies to adopt 'good' behaviors." However, CRR found that states adopting an ESG mandate for public pension plan investments earned lower returns than traditional investment strategies, "often by a considerable margin," the authors wrote.
"Even assuming that divestment and ESG inclusion were effective mechanisms to stop terrorism and slow the rise in the earth's temperature and that state legislatures and pension fund boards are the right bodies to make foreign and climate policy, pension funds are not an appropriate vehicle for social investing," the CRR report states.
"To put this finding in context, plans with state mandates have had them for an average of 10 years," the authors wrote. "So the average annualized return for those with a state mandate would be 20 basis points lower than for those without a mandate."
Part of the problem is that ESG investing involves a number of different issues, ranging from guns and carbon emissions to the more nebulous "social justice," which can all be distinct from each other.
Secondly, the researchers found that ESG investing "is unlikely to affect the price of either the 'good' or the 'bad' companies." The report also noted that fees related to ESG investing tend to be significantly higher than traditional counterparts.
Connecticut manages over $37 billion through its Connecticut Retirement Plan Trust Fund investments, and in 2006 Connecticut was a signatory to the United Nations' Principles for Responsible Investment, which gives guidelines to selecting investment partners based on ESG issues.
In a press release issued by the UN, former State Treasurer Denise Nappier said "Financial markets tend to focus too heavily on short-term results at the expense of long-term and non-traditional financial fitness factors that could affect a company's bottom line. For many institutional investors it is the long-term that matters and in this context environmental, social and governance issues take on new meaning."
According to the 2019 Investment Policy Statement for Connecticut's retirement fund, which was authored by State Treasurer Shawn Wooden and approved by the Investment Advisory Council, the state is also taking a more active role in ESG investments. Article VIII of the Investment Policy Statement says Connecticut will "Integrate the potential risk and value impact that environmental, social, and governance (ESG) factors may have on CRPTF's investment program." "A main driver behind the integration of ESG into the investment process is the desire to identify and select investment partners and money managers that carefully review the effect of ESG on companies and to use appropriate criteria to invest in better managed companies to improve on invested capital," the policy statement says.
The statement continues to indicate that part of that ESG criteria will be to afford more opportunities to "emerging, minority and women-owned and Connecticut-based investment partners." In 2020 Wooden announced the Connecticut would divest roughly $30 million from civilian gun and ammunition manufacturers, part of Wooden's Responsible Gun Policy.
According to the CRR, ESG has its roots in the 1970's when states moved to divest from tobacco, alcohol and gambling stocks, as well as divesting from companies who did business with South Africa which, at the time, had a policy of apartheid. The investment movement has since moved on to encompass terrorist states, Iran, gun manufacturers and fossil fuel companies.

According to CRR, public pension plans "applied ESG to at least $3 trillion in assets, which represents more than half of all assets in public pension funds." Marc E Fitch, Yankee Institute for Public Policy, https://yankeeinstitute.org, December 15, 2020.

3. US URGED TO ADOPT AUTO-ENROLMENT TO ADDRESS PENSIONS CRISIS:
Tens of millions of US workers could be saved from spending their old age in poverty if the federal government adopted a nationwide pensions auto-enrollment system, according to a study. More than 57 million US employees, close to half of the nation's private sector workforce, do not have access to a workplace retirement savings plan.

Modelling by the Center for Retirement Initiatives at Georgetown University in Washington indicates that up to 40 million more workers could be saving for retirement by 2040 if private sector companies were required to provide retirement savings options to their employees. "Addressing the savings crisis can be done in a simple, cost-effective way. Millions of American workers would benefit," said Angela Antonelli, executive director of Georgetown's CRI.

The US has the biggest economy globally but its pension system ranks only as the 18th strongest in an analysis of 39 countries published annually by Mercer, the consultancy. Lower-income workers, minorities, women and younger employees are more likely to be excluded from US workplace pension savings schemes. Two-thirds of millennials have little or no retirement savings.

The ageing of the US population is contributing to the deepening pensions crisis. The dependency ratio -- the number of working households compared with the number of retired households -- is projected to drop from 3.9 in 2005 to just 2.3 by 2040 as the baby-boomer generation born after the second world war moves into retirement.

The decline in the dependency ratio will shrink tax income streams for the government just as more spending will be required on medical assistance and other benefits for the growing population of US pensioners.

Total US retirement savings stood at $33 trillion at the end of September, according to ICI, the investment association. An additional $1.4 trillion to $1.9 trillion could be added by 2040 to the total pool of US retirement savings via the creation of a national pensions auto-enrollment program, known as an "Auto-IRA."

Employees contribute in an Auto-IRA scheme but employers do not. Oregon, Illinois and California have already introduced auto-IRA programs, but Ms. Antonelli said a national program was required.

"A national, universal access approach would substantially increase participation and retirement savings levels, particularly among low- and middle-income workers," she said.

Addressing the pensions savings crisis at a national level could also deliver annual cost savings of $8.7 billion by 2040 for federal and state budgets by reducing the assistance needs of pensioners who do have sufficient income after retiring. Universal access to retirement savings would also add up to $96 billion to US gross domestic product growth by 2040, said Ms. Antonelli.

Auto-enrollment schemes where employers contributed alongside employees, similar to existing 401(k) plans, would deliver higher pension benefits but were likely to capture fewer workers because more companies would seek opt-outs.

Millions of additional workers have been recruited into auto-enrollment retirement savings schemes in Australia, New Zealand and the UK, which have created valuable new sources of revenues for asset managers that provide investment services to these programs. Chris Flood, Financial Times, www.ft.com, December 19, 2020.

4. NEW ORLEANS POLICE HAVE USED FACIAL RECOGNITION FOR YEARS:
Although the practice was long shrouded in secrecy, the New Orleans Police Department has used a partnership with the Louisiana State Police to run face recognition searches since at least 2018, newly released records show. The records obtained by the American Civil Liberties Union of Louisiana detail the formal process used by NOPD detectives to request facial recognition searches from the State Police Fusion Center. The civil rights non-profit made the documents public Monday.
The records also show several examples of police requesting help identifying people, from a simple robbery to a gun theft. The documents underscore the need for the city to impose a ban on facial recognition technology in policing, the ACLU of Louisiana said. Several U.S. cities have done so this year. "Facial recognition technology is a dangerous and racially biased tool that invades people's privacy and is ineffective at combating crime," said Alanah Odoms, executive director of the civil rights group. "These disturbing revelations underscore the need for the New Orleans City Council to end these abuses and pass sensible reforms that will ban the use of facial recognition technology and allow for more effective approaches to reducing crime."
Before last month, the NOPD had never made public its use of facial recognition software and repeatedly stated that it doesn't own such software. A city official said this summer that the city doesn't use facial recognition. However, in November the Lens reported that the NOPD instead went through partnerships with state and federal agencies to run those searches. City Council members like Jason Williams and Jay Banks told the outlet that they had never been informed.
The city had also told the ACLU in response to a public records request that it does not "employ" facial recognition software -- although a spokesman later claimed that "employ" meant own the software directly.
Recently, an NOPD spokesman said Superintendent Shaun Ferguson had "never denied" using facial recognition "in certain violent cases." However, the spokesman, Kenneth Jones, didn't answer a question about how long the department has used facial recognition software. He said the department has "strict guidelines" around the use of the technology, although he didn't answer a question about whether those guidelines are written.
"Currently, the NOPD is in the process of updating the use of a number investigatory tools and techniques. As for the use of Facial Recognition Technology, we have been working with Councilman Jason Williams' office to develop the most appropriate use of this tool," Jones said.
The records obtained by the ACLU show that the State Police warn local partners that facial recognition matches are intended to be used as "an investigative lead only and not to be considered a positive identification of any subject."
But the ACLU and other groups question whether cops presented with a positive match from a database will leap to conclusions about a person's guilt, despite research that shows facial recognition algorithms are 10 to 100 times more likely to misidentify a Black person versus a White person.
Detroit police in January wrongfully accused a Black man of shoplifting as a result of a facial recognition match and nothing else -- despite being presented with a similar warning that the match should be treated as an "investigative" lead only, the New York Times reported.
Williams, who was elected the city's next district attorney on Dec. 5, has proposed an ordinance limiting the NOPD's use of surveillance technology, including facial recognition. A spokesman didn't immediately comment Monday on whether the legislation will receive a vote before Williams takes office as DA on Jan. 11, 2021. Matt Sledge, The Times-Picayune, December 16, 2020.

5. LOS ANGELES FIRE & POLICE CIO TO RETIRE IN 2021:
Tom Lopez, longstanding CIO of the $27 billion of the Los Angeles Fire & Police Pensions, is retiring sometime next year, General Manager Ray Ciranna said in an email. Mr. Lopez has been CIO since 1980. During his tenure the pension plan grew from $400 million in assets with four managers investing in stocks and bonds to 40 managers investing in more than a dozen asset classes.

"The LAFPP commissioners wholeheartedly thank Tom Lopez for his years of service. His steady hand and wise advice are a pillar to the success of this fund," said board President Brian Pendleton in a written statement. LAFPP has hired Korn Ferry to search for a new CIO, with selection expected in late March or early April 2021. Arleen Jacobius, Pension & Investments, www.pionline.com, December 18, 2020.

6. ANNUITIES VS. PENSIONS; WHAT RETIREMENT PLAN ADVISORS SHOULD KNOW ABOUT 'DE-RISKING':
Pension obligations are a major liability on many corporate balance sheets. Retirees are living longer than ever, sometimes claiming pension payments for decades. Advisors to pension plans may be called upon for suggestions of how to de-risk employer-sponsored benefit plans. Weighing available options is crucial.
One idea that's gaining traction: annuities. In recent years, Lockheed Martin, FedEx, Raytheon, Alcoa and others have transferred billions of dollars worth of pension liabilities to insurance companies through group annuities -- and others are likely to follow suit.
Is such a move -- called a risk transfer -- good or bad for those companies' balance sheets, their employees and their retirees? What should you advise your corporate clients who want or need to ease their pension liabilities? They don't want to be left behind, but are annuities truly a good solution?
The relative strengths and drawbacks of using annuities as pension alternatives are hotly debated. Here are a few things you need to know when considering this option.

Offloading Risk
The idea behind shifting pension obligations to annuity providers is to offload a degree of risk. Employer-sponsored defined benefit plans are a liability, particularly as retirees live longer.
"By passing liabilities to an insurer through a 'pension risk transfer' transaction, the company can focus its attention on what it does best — running its business," says George Palms, president of Legal & General Retirement America, an insurance company in Stamford, Connecticut. "It takes the responsibility [of maintaining pension plans] off the plan sponsor's shoulders."
Indeed, the transfer "not only separates the company's day-to-day financial performance from the long-term obligations [to retirees]; it enables insurance companies that specialize in things like mortality pooling to do what most employers are not equipped to do," adds Michael Harris, a Fort Wayne, Indiana-based senior education advisor for the Alliance for Lifetime Income, referring to an actuarial calculation related to life expectancy.
To put it another way, shifting liabilities enables employers to "focus on their core businesses [and] let life insurers do what they do best — provide solutions that manage long-term risk and protect retirement security," says James Szostek, vice president and deputy of retirement security at the American Council of Life Insurers, a trade group based in Washington, D.C.
These arrangements, he says, "don't change the benefits retirees receive. That's because annuities, like traditional pension plans, provide guaranteed payments for life."

Degrees of De-risking
There are different ways of managing such transfers. Eric Henderson, president of Nationwide Annuity in Columbus, Ohio, says plan sponsors can either partner with an insurance company to share pension liabilities -- known as a "buy-in" risk transfer--or move all of the defined benefit plan's assets to an insurer -- called a "buyout" risk transfer -- which is what Lockheed Martin and the rest did.
Either way, employers can substantially de-risk their balance sheets. "Purchasing annuities to satisfy existing pension liabilities enables companies to move those obligations off their balance sheets and is generally done in conjunction with eliminating pension benefits in favor of defined contribution plans such as 401(k)s," explains Frank O'Connor, vice president of research and outreach at the Insured Retirement Institute, in Washington, D.C.

In-Plan Annuities
These days, most employers favor defined contribution plans. A growing number of them are likely to start offering annuities as an in-plan option. That's because the Secure Act, passed at the end of 2019, extended the "safe harbor" protections for plan sponsors, enabling them to offer annuities without fear of being sued if the annuities don't deliver.
So it's now easier for employers to offer "the benefits of a pension without harboring the long-term costs," says Ben Lewis, a senior managing director and head of strategic sales at New York-based TIAA. This, he adds, will "increase retirement security for more Americans."

Fans and Foes
But annuities aren't right for everybody. Some find them overly complicated, or overly expensive. Others complain they tie up your money too long, with steep "surrender charges" for pulling out early. Recently, however, the market has changed.
"An annuity guarantee is a contractual obligation to the policyholder," says David Lau, founder and CEO of DPL Financial Partners, a Louisville, Kentucky-based annuity platform for fee-based advisors. "The benefits the annuity owner receives cannot get altered, whereas pensions often adjust the benefits of the plan."

Annuity Safeguards
To be sure, insurance companies can and do fail. Are annuities safe?
"In my view, the annuity guarantees are even stronger than those that safeguard pensions," says Matt Gray, assistant vice president for employer and middle markets at Allianz Life, in Minneapolis. "You cannot have unfunded annuity liabilities like you can with pension liabilities."
Moreover, before offloading pension liabilities to an insurance carrier, "the pension plan fiduciary performs an assessment of the participant protections," says Ethan Bronsnick, a Jersey City, New Jersey-based managing director and head of U.S. pension risk transfer at AIG.
In general, annuity providers must maintain a capital cushion and are limited as to where they can invest. You can research every carrier's credit rating with A.M. Best, Standard & Poor's and Moody's. Still, if something does go wrong, every state plus D.C. and Puerto Rico has an insurance guaranty association that guarantees at least $250,000 in annuity benefits. (These are base protections, not caps.)
Few annuity carriers ever actually default, though. Even the AIG debacle of 2008 involved only the parent company, not the annuities operations, which it recently announced it's spinning off into a separate company.
"There are many other investments that present a greater risk," contends David Stone, founder and CEO of San Francisco-based RetireOne. Annuity protections, he says, "provide a level of comfort … that does not exist with many other investments." Ben Mattlin, Think Advisor, www.thinkadvisor.com, December 20, 2020.

7. EBRI ISSUE BRIEF & WEBINAR - OLDER AMERICANS' SPENDING PROFILES; ONE SIZE DOES NOT FIT ALL:
Understanding the spending patterns of the elderly and forming an educated estimate of households' budgets throughout households' old age is a key element of retirement planning. In this Issue Brief, the Employee Benefit Research Institute (EBRI) explores variations in spending of older households using the Health and Retirement Study (HRS) and the Consumption and Activities Mail Survey (CAMS). The analysis also seeks to identify the factors that are correlated with spending patterns in order to provide additional insight for approaches to saving and investment for retirement. Such analysis can also help in the development of more effective withdrawal strategies during retirement.
Assessing the HRS CAMS data, we find there are four spending profiles: Typical, Home, Health, and Discretionary.
Typical Spender: Typical Spenders had no large variation in spending relative to the overall sample average. Typical Spenders within the 55–64 age group were characterized as slightly more likely than not to be part of a couple. Just under a quarter had a college degree. Nearly half (48 percent) were either retired or partially retired. Just under a third (29 percent) received pension or annuity income, and the median age of those claiming Social Security was 61.5 years old. Slightly more (54 percent) Typical Spenders ages 65–74 were single vs. their younger counterparts, and 62 percent of Typical Spenders ages 75–85 were single. Both older Typical Spender age groups were more likely than the younger Typical Spenders to have pension or annuity income: 57 and 61 percent, respectively.
Home Spenders: Home Spenders are households allocating 60 percent or more of their total spending to housing expenses. They were far more likely to be single, had low levels of income and wealth, and were the least likely to hold a college degree. They were also more likely to report their labor market status as disabled, unemployed, or out of the labor force. Those falling into this category were least likely to have pension or annuity income across all age cohorts, and those ages 55–64 were the most likely to claim their Social Security benefits early.
Health Spenders: Health Spenders are households allocating 20 percent or more of their total spending to out-of-pocket health expenses. Those in the 65–74 and 75–85 age cohorts had the highest likelihood of reporting poor health status (26 and 30 percent, respectively) and the highest levels of utilizing medical care. Health Spenders that are 55–64 years old were the most likely to be retired or partially retired (58 percent) and were the second most likely to claim Social Security benefits early, after Home Spenders.
Discretionary Spenders: Discretionary Spenders are households allocating 25 percent or more of their total spending on the entertainment, gifts, and contributions categories. Discretionary Spenders were more likely to be part of a couple and had the highest likelihood of holding a college degree compared with other spenders. They also had higher levels of income and wealth across all age cohorts and were the least likely to report poor health status. Many of these spenders said they were partly retired -- more than any other spenders in the 55–64 and 65–74 age cohorts. This suggests that they are taking a gradual transition path to retirement. They also had the highest likelihood of receiving pension or annuity income, and those 55–64 years old were more likely to claim their Social Security benefits at older ages.
The research also examined how spenders transition over time. The spending type that was most likely to remain consistent from ages 55–64 and 65–74 was the Typical Spender. After Typical Spenders, Discretionary Spenders remained the most likely to remain in their same spending category over time. Home Spenders in the 55–64 age group had the highest probability of switching to a Typical Spender (48 percent) when they were ages 65–74. Health Spenders showed the most movement, with only 28 percent remaining in this spending category from ages 55–64 to 65–74. Zahra Ebrahimi, EBRI, www.ebri.org, Dec 10, 2020.

Webinar Details:

Date: Tuesday, January 26, 2021 at 2:00 p.m. EST
Speakers:
Dr. Zahra Ebrahimi, Research Associate, Employee Benefit Research Institute
Dr. Wei-Yin Hu, Vice President, Financial Research, Edelman Financial Engines
James Veneruso, Senior Vice President, Callan Associates, Moderator
Click here to register. EBRI, www.ebri.org.

8. IS 70 REALLY THE NEW 60?:
We often hear that 60 is the new 50 and 70 the new 60. It is a bromide borne out by old photos. Just check out images of your grandparents or great-grandparents (depending on your age) and notice their stooped and soft bodies, their lined faces and how they seem anchored in their chairs when they were barely pushing 60. What a contrast with vigorous, gym-going sexagenarians of today!
Recent studies comparing populations born in different decades have looked beyond these surface impressions to nail down actual physical and mental differences in the ways we are aging. This research has identified particular areas of improvement. But these gains are not across the board, and they appear to depend on social, behavioral and economic factors.
A pair of new studies from Finland--one looking at physical aging and one looking at cognitive aging--strikingly demonstrates some of the details of generational change. The research, overseen by gerontologist Taina Rantanen of the University of Jyväskylä, compares adults born in 1910 and 1914 with those born roughly 30 years later. The two age groups were assessed in 1989 and 1990 and in 2017 and 2018, respectively. The beauty of this work is that both birth cohorts were examined in person at age 75 and again at 80 with the same substantial battery of six physical tests and five measures of cognition. Most cohort studies look at a narrower range of measures, and many of them rely on self-assessments.

The later-born group could walk faster, had a stronger hand grip and could exert more force with their lower leg. Such metrics are reliable predictors of disability and mortality. On cognitive tests, the later cohort had better verbal fluency (naming more words beginning with a K in three minutes), clocked faster reaction time on a complex finger-movement task, and scored higher on a test matching numbers to symbols.
But not everything changed across the generations: measures of lung function were surprisingly static, and there was no improvement in the short-term-memory task of recalling a string of digits--possibly because rote memorization has been de-emphasized in school and in daily life in recent decades, the researchers suspect.
Many of these findings fit with other cohort studies. For example, a Dutch study of cognitive aging published in 2018 showed that elderly adults born between 1931 and 1941 outshone same-age adults born in the 1920s on a range of cognitive measures--though again not on short-term memory. And a 2013 Danish study revealed that birth-year-related differences can persist into very old age: 95-year-olds born in 1915 outperformed 93-year-olds born in 1905 on a cognitive exam. The later-born Danish cohort did no better on measures of gait speed and grip strength, but its members were more adept at activities of daily living--such as bathing and dressing--perhaps because of their improved cognitive status.
There are many reasons that people are aging better, including improved medical care and a drop in smoking, but the factors that loomed largest in the Finnish study of physical function, lead author Kaisa Koivunen says, were that the later-born adults were more physically active and had bigger bodies, which suggests better nutrition. (In 1943 Finland became the world's first country to require universal free lunch at school.) For brain function, the key seems to be more years of education. In both the Finnish and the Dutch studies, cognitive differences between the cohorts largely disappeared when researchers controlled for this factor.
Education is a powerful influence on aging and health, says Luigi Ferrucci, scientific director of the U.S. National Institute on Aging: "With more education, you are probably going to have a larger income, which means you are more likely to go to the doctor, have good nutrition and have a job that is not eviscerating your body." In prosperous countries, these advantages have not only lengthened life but most likely ensured that more years are spent in good health.
In the U.S., Ferrucci says, the benefits of prosperity are less equally distributed than in Finland or Denmark. He points out that the average life span is seven years shorter in a poor state such as Mississippi than in a wealthier one such as California. "Here we still have lots of people who cannot take the drugs they need because they cannot pay for them," he says, and they may lack access to healthy foods and opportunities for exercise and learning that extend our vital years. In short, 70 may be the new 60 for many of us but not for all. Claudia Wells, Scientific American, www.scientificamerican.com, to be published January 1, 2021.

9. TOP 10 RETIREMENT TIPS FOR 2021:
For many Americans, retirement may look different in 2021 than it has in years past. The severe economic impact of the Covid-19 pandemic could push many people to consider retiring early, with less saved than they may need.
Whether or not your retirement plans are looking secure, the new year is a great time to review where you stand. Regardless of your particular financial situation, the same retirement principles apply this year as always: reduce spending, plan for surprises, make conservative decisions on retirement savings and Social Security, and keep earning income if you can.
Here are 10 tips to help you tune up your retirement planning in the new year. Some might sound familiar; some will sound brand-new, thanks to Covid-19. All of them are essential--as is getting started on them as soon as possible.

Be Ready for Early, Unplanned Retirement
It's a fact of life--many workers are forced to retire before they want to. According to a 2019 Employee Benefit Research Institute (EBRI) survey, nearly half of retirees left the workforce before their target retirement age. Covid-19 has accelerated this trend, says Desmond Henry, a Topeka, Kansas-based certified financial planner (CFP).
"Sometimes it's involuntarily, due to layoffs, or older workers who are at higher risk not feeling comfortable returning to their offices and potentially exposing themselves to the virus. Unfortunately, no matter what the case, the timing is earlier than many had planned," says Henry.
That strongly suggests that workers in their 50s and 60s should start making contingency retirement plans. With luck, a vaccine-led economic recovery in 2021 will make jobs easier to find and layoffs less common. But hope is not a plan, so even if retirement seems far off, now is a good time to start making a break-glass-in-case-of-emergency strategy for early retirement.

Deal with Your Debt Immediately
The best time to pay off debt is while you're still working. If you plan to retire within the next 12 months--or even if retirement is a more remote possibility--prioritize eliminating those credit card balances, student loans and car loans, and even mortgages.
The number of 60 and 70-somethings with mortgages, credit card debt, and student loans has skyrocketed. It's very challenging to pay down debt when you're on a fixed income, so put in the extra overtime while you can to ease the debt burden later.

Prepare a Health Insurance Strategy
Americans are eligible to enroll in Medicare at age 65--there can even be penalties for failing to enroll on time. Make a plan to sign up in the months leading up to your 65th birthday, giving the coverage time to kick in.
Medicare enrollment is only the beginning of your retirement healthcare strategy. Fidelity estimates that a typical American couple will spend almost $300,000 on things like co-pays, additional premiums and other uncovered medical expenses during their retirement years. You'll probably be paying any out-of-pocket expenses from your retirement savings, so you should factor them into your plans.
If you are forced to retire before age 65, you'll also need to obtain health insurance on your own until Medicare kicks in. Can COBRA provide a bridge? The Affordable Care Act? Does your company provide some kind of retiree health coverage? Make a plan now, before these choices are forced upon you.

Maximize Your Health Savings Account (HSA) Contributions
One way to pay for health insurance premiums in early retirement or other uncovered expenses later in life is with a robust nest-egg socked away in a health savings account. If you started funding an HSA this year, your contributions could grow tax free for up to two or three decades, providing a great pot of emergency cash later in life.
"Health savings accounts offer a triple and sometimes quadruple benefit," says Liz Weston, a CFP, columnist and author of several books, including The 10 Commandments of Money. "Contributions are tax-deductible, the money grows tax-deferred from year to year and withdrawals are tax free if used for qualified medical expenses. Plus, many employers will contribute cash to the accounts as an inducement to sign up."
HSAs are generally tied to high-deductible health insurance plans, so they aren't for everyone. But Weston points out that they are a good option for both consumers who are very healthy, with few healthcare expenses, and for patients who often exceed their annual deductible.

Understand Your Retirement Income Options
You can start collecting Social Security benefits at age 62. But should you? You can start taking 401(k) distributions penalty-free at age 59 ½. Is that too early? Many people are better served putting off both for as long as possible. But by age 72, most savers have to start making required minimum distributions (RMDs).
There are some general guideposts for retirement spending, like the 4% rule, but it's best to make a long-term plan with a financial advisor who understands the nuances of these choices, including the tax and estate planning consequences. It's best to get started on spending plans well in advance of retirement.
A professional might suggest you spend your last working year converting some of your retirement savings into Roth accounts, for example. You may face extra taxes upon conversion, but you'll be able to make tax-free withdrawals in the future, which could make sense for your plans.
Even with all this talk of drawing accounts down, you still need to maintain an investing strategy: Retirement can last for decades, so you need to keep investing for the future, even as you begin to spend your savings.
"I like to use a bucketing strategy with my clients, which involves planning your withdrawals with different time segments, or buckets," says Henry .
One bucket might be for the next couple of years, which you'd accordingly invest very conservatively. "This ensures that (retirees) have a 'war chest' of safe money to survive a market downturn without having to sell their stocks at the lows," Henry says. Another bucket might be intended for spending after 2030, so it can be put into riskier investments.

Practice Retirement Spending Now
A common guideline you'll hear is that retirees should be prepared to replace 80% of their income in retirement. Rules of thumb can be useful, but this one is fairly random. It's better to develop a plan around real spending needs.
Over the course of the next year, meticulously track your spending to provide yourself a realistic picture of your income requirements in the first year of retirement. Make adjustments as needed--you might not spend as much on commuting costs when you aren't working; perhaps you'll spend more on travel--but you'll find this to be a good guide to what life may cost during early retirement.
On this front, there is a silver lining to the Covid-19 crisis. "One positive I've seen from the pandemic is that discretionary spending has decreased because people are staying at home, and the savings rate is at an all-time high," says Henry. While this may help those behind on retirement savings catch up some, keep in mind that it may also mean spending during the coming year may not be a good metric for estimating future spending patterns.

Did You Take Out a Coronavirus Hardship Withdrawal?
The Coronavirus Aid, Relief and Economic Security Act (CARES) Act eased the rules for taking early withdrawals from tax-advantaged retirement accounts. People who were impacted by Covid-19 were permitted to withdraw up to $100,000 from retirement accounts like 401(k)s and IRAs. CARES waived early withdrawal penalties, but you still owed any applicable income taxes on the amount--although you had the option to spread the tax bill over three years.
Liz Weston advises you to pay the tax bill all at once, if you can.
"If you took the withdrawal because you lost your job but you're re-employed by the time your taxes are due, you might want to go ahead and pay the whole tax bill when you file your next return. That's because your tax bracket is likely to be lower in 2020 than afterward" due to your temporary loss of income, says Weston.
Savers also have three years to repay the money into their retirement accounts, which prevents you from owing any taxes and, even more important, allows that money to get back to work compounding your investment returns for retirement. If you are planning to retire soon, you should focus on replenishing early withdrawals.

Reassess Your Post-Crisis Risk Tolerance
We've all been through a major trauma in 2020, and that included watching our retirement savings swoon. That'll never happen again, right? Wrong, according to Bobbi Rebell, CFP and host of the Financial Grownup podcast.
"Be really honest about whether you could--and how you would--course correct if another 'surprise' like a pandemic impacted your income streams," says Rebell. "I would proceed cautiously and with a big safety net.
Desmond echoes the same concerns. "We've always faced uncertainty and that's not going to change. It's almost inevitable that a recent retiree will have to withstand multiple financial crises during their retirement, which is why it's so important to prepare for them."
How can retirees and those approaching retirement plan for risks like this? It's not easy at the moment. Old-fashioned safe retirement tools like certificates of deposit (CDs) or Treasury bonds offer paltry returns, thanks to the historically low interest rates. That's probably not going to change any time soon.
"This makes it tough for those trying to preserve wealth or generate income from their investments," says Henry. "It's an even bigger problem for those retirees who don't have enough money saved for retirement and pension funds without enough capital to cover their obligations."
He believes the low-rate environment is pushing people to take on more risk, which could lead to some "interesting asset allocation decisions" in the years ahead.

Consider Part-Time Work for Retirement
Whether you're already retired or you're making plans for retirement, now's a good time to think about how you might earn additional income in retirement by taking a part-time job.
If you are planning to retire in the next 12 months, you should be forging relationships that might lead to occasional consulting gigs down the road or negotiating some form of part-time work wind-down.
"Are you going cold turkey or keeping some part-time work options?" asks Rebell.
Another option: Get to work figuring out how a hobby or skill might turn into extra income. The gig economy, for all its flaws, also offers retirees plenty of choices to earn a few extra dollars. Now might be the time to turn the basement into an Airbnb rental or to try out a ridesharing service.
Remember, every extra dollar you earn is a dollar that can keep gaining value in a retirement account for another 10, 20 or even 30 years.

Should You Postpone Retirement?
Lists of retirement tips like this one might make you gun-shy about leaving the workforce in 2021. That's OK. Given all the economic uncertainty facing the United States and the world, it could be wise to temporarily postpone your retirement plans.
"If you haven't saved enough for retirement, the harsh reality is you might need to consider delaying it, even if it's for a year or two," says Henry. "If you've been laid off, try finding any work, even part-time work, that can help postpone the time when you start your Social Security benefits and begin tapping into your retirement savings." Then you can save all the thinking you did today for 2022 or 2023, so you'll be even more ready when the time comes. Bob Sullivan and Banjamin Curry, Forbes, www.forbes.com, December 4, 2020.

10. BABY, I STOLE OUTSIDE: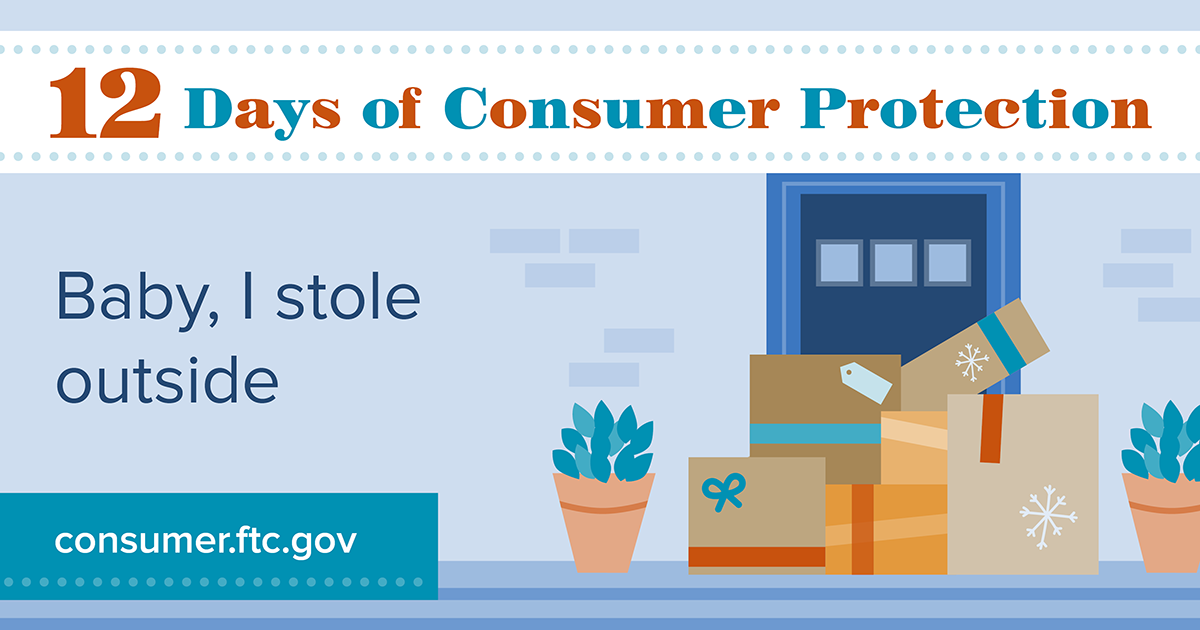 You've finished your online shopping, your gifts have shipped and you're waiting for them to arrive – but some Grinch decides to ruin your holiday. On this 9th day of Consumer Protection, we're talking about how to stop porch pirates in their tracks.
Every year millions of people have packages stolen right from their doorsteps. So what's the best way to stop them?
Require a signature. When your shopping cart is full and it's time to choose your shipping details, take a moment to check "signature required." A contact-free way to sign may be available through major package delivery services. You can request delivery confirmations, too.
Give specific delivery instructions. Many shippers will let you specify where to leave packages — maybe in your back yard, or even redirecting them to a trusted neighbor's address, if you won't be home.
Install motion activated lights. Outdoor lights with a motion sensor might make your home a lot less attractive to would-be thieves, making them much more visible than they'd likely want to be.
Jim Kreidler, Consumer Education Specialist, FTC, www.ftc.gov, December 16, 2020

11. MORE MONEY FROM THE GOVERNMENT?:
Congress has just passed another bill to help the people whose finances are taking a beating from the pandemic. Once again, some of us will be getting money by check or direct deposit. The timing and details are still TBA, but here's what we know:
The government won't ask you to pay anything up front to get this money. Anyone who does is a scammer.
The government won't call, text, email, or contact you on social media to ask for your Social Security, bank account, or credit card number. Anyone who does is a scammer.
There's no such thing as getting your money early, or faster. Anyone who says they can hook you up now (or soon) is both lying and a scammer.
We know from the early days of the CARES Act that scammers will be using numbers 1, 2, and 3, above, as part of their playbook. So, if you spot someone who says any of these things, you (a) know they're a scammer; (b) can warn someone you know about the scam, because (chances are) they'll get that call, text, or email, too; and (c) can tell the FTC so we can work to stop scammers and warn people about them: ReportFraud.ftc.gov. Jennifer Leach, Associate Director, Division of Consumer & Business Education, FTC, www.ftc.gov, December 22, 2020.

12. GET YOUR NEW STANDARDIZED BENEFIT VERIFICATION LETTER ONLINE:
If you receive a Benefit Verification letter, sometimes called a "budget letter," a "benefits letter," a "proof of income letter," or a "proof of award letter," we have good news for you! A new standardized Benefit Verification letter is now available when you need proof of Social Security benefits, Supplemental Security Income, or Medicare.
In addition to name, date of birth, and the benefits received, the new Benefit Verification letter includes other identifiers to prevent misuse and fraud. This is an added benefit to you as proof of income for loans, housing assistance, mortgage, and other verification purposes.
The same standardized letter is also available if you need proof that you do not receive benefits, or proof that benefits are pending. If you are an individual representative payee, you can use the my Social Security Representative Payee portal to access the same standardized Benefit Verification letter online for your beneficiaries.
This new standardized Benefit Verification letter is another example of our commitment to improve our service to you.
No matter how you request your letter, whether calling our National 800 Number, your local office, the Interactive Voice Response system, or online with your personal my Social Security account, the Benefit Verification letter now contains a seamless look. Grace M. Kim, Deputy Commissioner, Operations, SSA, www.ssa.gov, December 3, 2020.

13. IRS VIDEO TAX TIP; CHOOSE A TAX PREPARER WISELY:
Here is a video tax tip from the IRS:
Choose a Tax Preparer Wisely English |Spanish | ASL
Subscribe today: The IRS YouTube channels provide short, informative videos on various tax related topics in English, Spanish and ASL.
IRS Tax Tips, www.irs.gov, December 18, 2020.

14. GET READY FOR TAXES; STAY HOME AND STAY SAFE WITH IRS ONLINE TOOLS:
The Internal Revenue Service today encouraged taxpayers to take necessary actions now to help file federal tax returns timely and accurately in 2021.
This is the fourth in a series of reminders to help taxpayers get ready for the upcoming tax filing season. A special page, updated and available on IRS.gov, outlines steps taxpayers can take to make tax filing easier in 2021.
With continued social distancing, taxpayers can stay home and stay safe with IRS online tools and resources that help them find the information they need. These IRS.gov tools are easy to use and available 24 hours a day. Millions of people use them to find information about their accounts, get answers to tax questions or file and pay taxes.
Free File
Almost everyone can file electronically for free. The IRS Free File program, available only through IRS.gov or the IRS2Go app, offers brand-name tax preparation software packages at no cost. The software does all the work of finding deductions, credits and exemptions. It's free for those who earned $72,000 or less in 2020. Some of the Free File packages also offer free state tax return preparation.
Taxpayers comfortable filling out tax forms electronically, can use Free File Fillable Forms, regardless of income, to file their tax returns either by mail or online.
Choosing a preparer
The IRS has several options for finding a tax preparer. One resource is Choosing a Tax Professional, which offers a wealth of information for selecting a tax professional. The Directory of Federal Tax Return Preparers with Credentials and Select Qualifications can help taxpayers find preparers in their area who currently hold professional credentials recognized by the IRS, or who hold an Annual Filing Season Program Record of Completion.
Other online help
The Interactive Tax Assistant answers general tax questions, including helping to determine if a type of income is taxable or if someone is eligible to claim certain credits and deductions. With changes to income and other life events for many in 2020, tax credits and deductions can mean more money in a taxpayer's pocket and thinking about eligibility now can help make tax filing easier next year.

Taxpayers may qualify for credits like the Child Tax Credit and Child and Dependent Care Credit. Taxpayers whose dependent does not qualify for the CTC might be able to claim the Credit for Other Dependents. Individuals paying higher education costs for themselves, a spouse or a dependent, may be eligible to save some money with education tax credits or deductions. Additionally, low- to moderate-income taxpayers may qualify for the Earned Income Tax Credit.
Beginning in January 2021, the Interactive Tax Assistant will be updated to include answers to more tax law questions.
Taxpayers can check the status of their refund using the "Where's My Refund?" tool. The status is available within 24 hours after the IRS receives their e-filed tax return or up to four weeks after they mailed a paper return. The "Where's My Refund?" tool updates once every 24 hours, usually overnight, so taxpayers only need to check once a day.
The best and fastest way for taxpayers to get their tax refund is to have it direct deposited into their financial account. Taxpayers who don't have a financial account can visit the FDIC website for information to help open an account online.
For more information about planning ahead, see Publication 5348, Get Ready to File, and Publication 5349, Year-Round Tax Planning is for Everyone. IRS Newswire, IR-2020-277, www.irs.gov, December 16, 2020.

15. NEW THINGS TAXPAYERS SHOULD CONSIDER AS THEY GET READY TO FILE TAXES IN 2021:
When people get ready to file their federal tax return there are new things to consider when it comes to which credits to claim and what deductions to take. These things can affect the size of any refund the taxpayer may receive.

Here are some new key things people should consider when filing their 2020 tax return.
Recovery rebate credit
Taxpayers may be able to claim the recovery rebate credit if they met the eligibility requirements in 2020 and one of the following applies to them:
• They didn't receive an Economic Impact Payment in 2020.
• They are single and their payment was less than $1,200.
• They are married, filed jointly for 2018 or 2019 and their payment was less than $2,400.
• They didn't receive $500 for each qualifying child.

Refund interest payment
People who received a federal tax refund in 2020 may have been paid interest. The IRS sent interest payments to individual taxpayers who timely filed their 2019 federal income tax returns and received refunds. Most interest payments were received separately from tax refunds. Interest payments are taxable and must be reported on 2020 federal income tax returns. In January 2021, the IRS will send a Form 1099-INT, Interest Income, to anyone who received interest of at least $10.

New charitable deduction allowance
New this year, taxpayers who don't itemize deductions can take a charitable deduction of up to $300 for cash contributions made in 2020 to qualifying organizations. For more information, people should review Publication 526, Charitable Contributions.

Other refund-related reminders
• Taxpayers shouldn't rely on receiving a refund by a certain date, especially when making major purchases or paying bills. Some tax returns may require additional review and processing may take longer.
• Refunds for taxpayers claiming the earned income tax credit or additional child tax credit can't be issued before mid-February. This applies to the entire refund, not just the portion associated with this credit.
• The fastest and most secure way to receive a refund is to combine direct deposit with electronic filing, including the IRS Free File program. Taxpayers can track the status of their refund using the Where's My Refund? tool.

More information:
Publication 5348, Get Ready to File
Publication 5349, Year-Round Tax Planning is for Everyone

Share this tip on social media -- #IRSTaxTip: New things taxpayers should consider as they get ready to file taxes in 2021. https://go.usa.gov/xA37g. IRS Tax Tips, Covid Tax Tip 2020-172, www.irs.gov, December 16, 2020.

16. FOR THOSE WHO LOVE WORDS:
"That" vs. "Which": When Do You Use Each? Click here to learn.

17. A THOUGHT FOR TODAY:
"Retire from your job, but never retire your mind." –Unknown

18. TODAY IN HISTORY:
On this day in 1943, US President FDR appoints General Eisenhower Supreme Commander of the Allied forces.

19. REMEMBER, YOU CAN NEVER OUTLIVE YOUR DEFINED RETIREMENT BENEFIT.
Items in this Newsletter may be excerpts or summaries of original or secondary source material, and may have been reorganized for clarity and brevity. This Newsletter is general in nature and is not intended to provide specific legal or other advice.